Barbalien Red Planet #1
Dark Horse Comics Review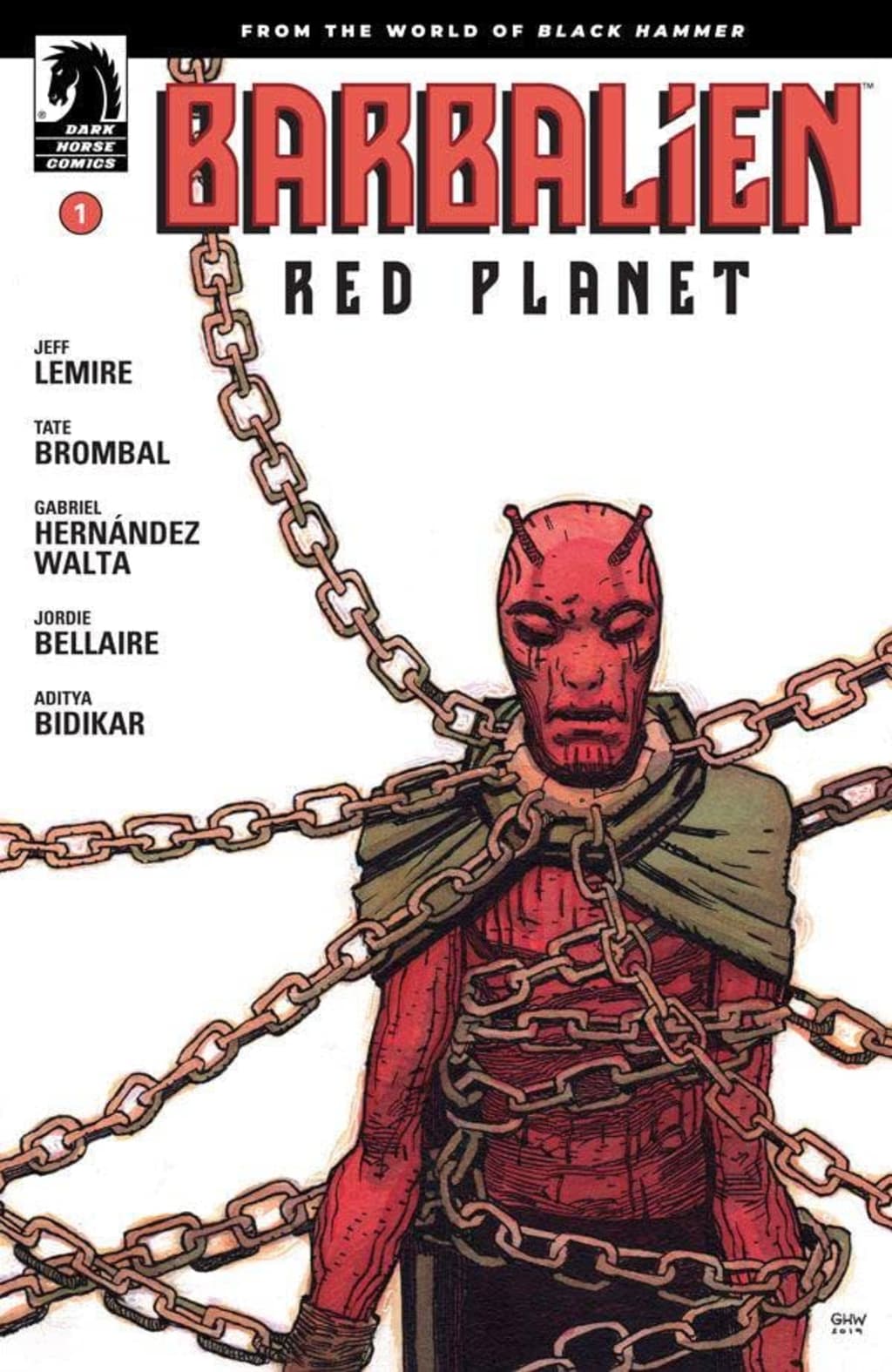 Barbalien Red Planet #1
Dark Horse Comics 2020
Story by Jeff Lemire & Tate Brombal
Written by Tate Brombal
Illustrated by Gabriel Hernandez Walta
Coloured by Jordie Bellaire
Lettered by Aditya Bidikar
A groundbreaking new sci-fi action series in the world of the Eisner Award-winning Black Hammer universe, about prejudice, honor, and identity. Mark Markz has found his place on Earth as both a decorated police officer and as the beloved superhero, Barbalien. But in the midst of the AIDS crisis, hatred from all sides makes balancing these identities seem impossible--especially when a Martian enemy from the past hunts him down to take him back, dead or alive.
This is the best franchise to come around in ages and Dark Horse is lucky to have it. For me what started off as this darker spoof version of a classic team has taken on a life all it's own and has continued to skyrocket so that folks want to do stories, want to play in this particular sandbox and that's the sign that you've gone and done something incredibly right. That this book in particular is showcasing something that's never been addressed in comics let alone by the President of the United States at that time is a monumental moment in history.
I am loving the way that this is being told! The story & plot development that we see through how the sequence of events unfold as well as how the reader learns information is presented exceptionally well. The opening is so well constructed so that it sets up what we are going to see moving forward perfectly. This is how you generate interest in a new reader and keep fans on the edge of their seats. The character development here is already extraordinary and having the opportunity to show us how as Mark Markz he is developing his earthly sexuality during this time period well it isn't easy. It is a wonderfully relatable experience what we see him go through in this issue alone and honestly this is far and away and Eisner Award winning issue already. The pacing is amazing and as it takes us through the pages revealing the story and the work Mark in habits at this time is just bloody brilliantly rendered.
I love the interiors here as well. The linework is sensational and how we see the varying weights being utilised to create the detail work that we see is sublime. From the use of backgrounds to how we see faces and facial expressions what we get here is the fully monte as it were. There are a lot of details that some may take for granted that just really enhance the way we see the story. The creativity and imagination that is on display here is utterly marvellous as well and more so on Mars but to get the 80's right is also something special and more so with the rallies and how people were positioned. Kudos on a spectacular job rendering all that. The utilisation of the page layouts and how we see the angles and perspective in the panels show a stupendous eye for storytelling. The colour work that we see is gorgeous. How the various hues and tones within the colours are being utilised to create the shading, highlights and shadow work is exemplary. I love how the techniques we see are utilised and how they are used to bring us the mood, tone and feel of the moments.
​
How we see this being structured and how the layering within the story makes its presence known is superb to see. I like this look at a coming of age story that is so unlike anything else we've seen to date. How everything works together to create the story's ebb & flow is brilliantly done. This is a phenomenal story already and it's only going to be getting better and that's kind of a scary thought. We really are in a "renaissance" age for new storytelling.