Animal House is on Netflix and You Should Watch it if You Haven't Seen It
"TOGA TOGA TOGA"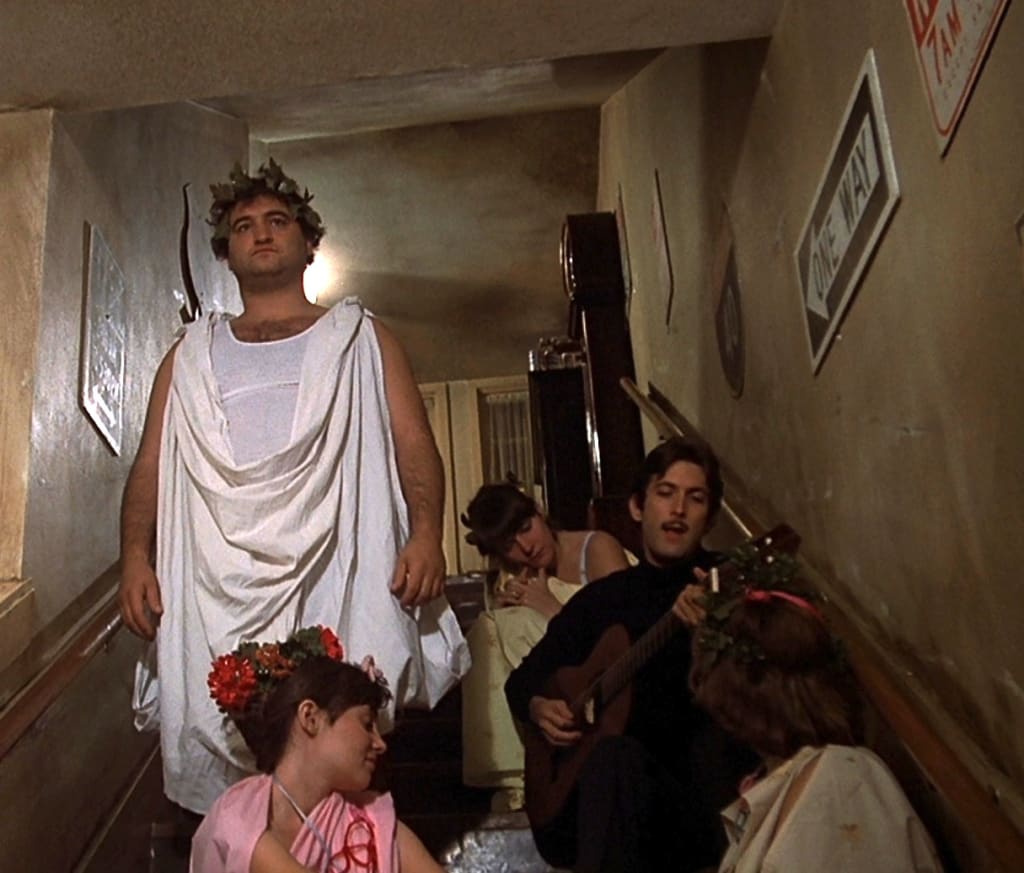 Courtesy of Universal Pictures
It may be the fact that six months have gone by since I graduated from Cornell. It may be the fact that Animal House is now on Netflix and I've watched it every other day. Or, maybe, it's the fact that college is cinematic in nature in so many ways.
The title to this piece says it all, as anyone who has experienced undergrad life away from home to any degree, from being president to your frat to party crawling because your friend's roommate's classmate knows a pledge, should see Animal House.
It epitomizes the frat lifestyle, and even though I've never been a part of my alma mater's Greek life, I don't think any film comes as close, or has remained a classic over the years quite like this.
If you live in a frat house and have never seen the movie Animal House (1978), you should evaluate your life choices. The film was based on the book of the most notorious fraternity of Dartmouth College, Alpha Delta Phi (known more commonly as Alpha Delt).
That being said, I would find it highly appropriate if fraternity houses had mixers in which they would screen this movie and watch it together. It is one of the quintessential college movies out there, if not the very gold standard itself. It has a remarkable cast, including of Kevin Bacon, John Belushi, Karen Allen and Tom Hulce.
The film is based on Chris Miller's book Animal House, which is a memoir of short stories of his time at Alpha Delt. The college dean is determined to disband this mischievous fraternity, but no matter what they are insistent on causing a ruckus. Animal House is a hysterical romp through the glorified and raunchy frat lifestyle, that we love to hate and hate to love.
The film itself is a legacy, as it birthed the lexicon "toga party." John Belushi's shouting, "TOGA! TOGA!" is quite often incorporated into movies about college life. Students even hold toga parties today in their dorms on campuses everywhere. Such an iconic phrase has become a lexicon for films that are college centric. The American FIlm Institute had declared it the 82nd item on the "100 Years ...100 Movie Quotes" list.
It is a gimmick frat party theme on college campuses across the country, thanks to this film. The fad was born in the 1950s and continued through the 60s, but it had gotten on its feet thanks to this movie. So, if you attend a toga party, you have John Belushi to thank for that.
Belushi is a comic genius in his own right. The cafeteria scene was entirely improvised, including the "I'm a zit" bit, as the cast sitting with him were truly shocked. The director, John Landis, encouraged the cameraman to follow him around as he collected food on his lunch tray and ate everything in sight. He was right for doing so.
Belushi's part as Bluto was so good that the director felt it was best to "use him sparingly" and not over saturate the movie with his appearance in order to keep it fresh.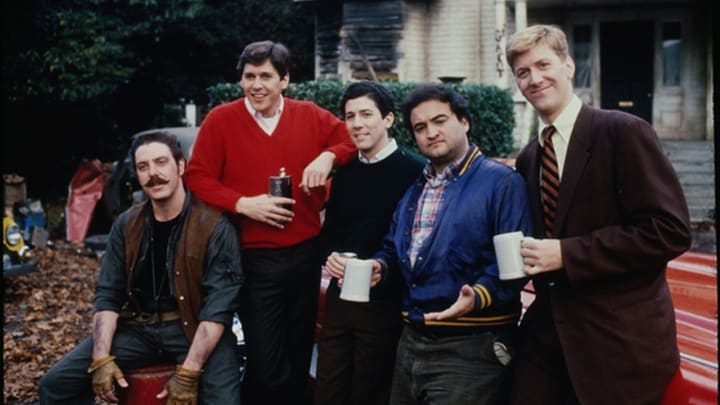 Although the grads of Delta Tau Chi was remarkably low, the cast did manage to complete some homework in order to be be as authentic as possible while portraying the fraternity lifestyle. In order to prepare for their roles, the main cast members (with the exception of Belushi) attended a real frat party. The actual frat house members were angered by their intrusion, and fights broke out.
The way that the cast members behaved and were placed in the mindset of the competitive frat bros was clever; this way there really could be some borders set between who was in and who was not. The Delta cast members were brought to the set five days before the Omega actors, in order for them to bond and create a cliquey feel. This tactic was very successful ... almost too successful. Off-screen, the cast members of the Deltas and the Omegas would constantly tease and harass each other in order to keep the air of animosity between the two groups alive and well.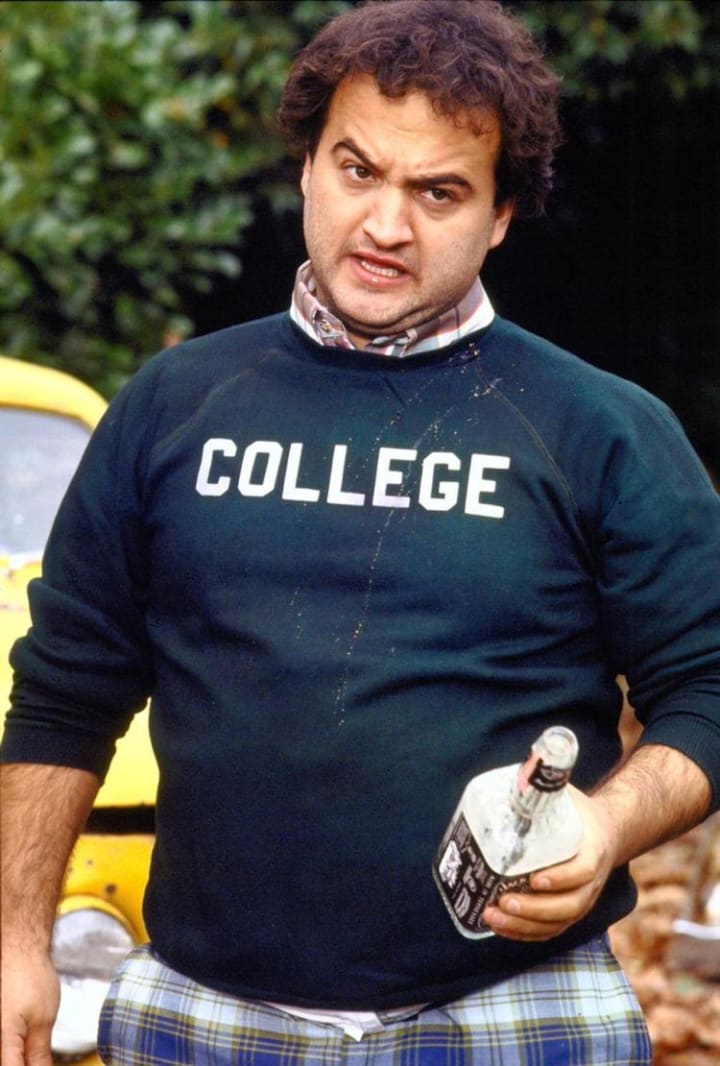 The credits are recorded are even in typical bro form. Four of the extras used were credited as "mean dude," "meaner dude," "meanest dude" and "gigantic dude." Seriously, dude.
I haven't even scratched the surface on how remarkable this film is. It is just under two hours of solid laughing, filled with iconic lines. This film is a great satire on the fraternity lifestyle, but in some bizarre ways, it couldn't be anymore accurate. The stereotypes in this film are outrageous, but it only helps make Animal House super incredible.
Fellow college students, if you haven't seen this movie yet, a viewing is highly recommended to appreciate your college experience even more.
About the Creator
Marina loves Frank Sinatra and hates decaf coffee. The native New Yorker and Cornell grad knows every word to "Ferris Bueller's Day Off" and thinks Shakespeare is cool. If you need her, she's waiting for Godot. Twitter: @marina_caitlin
Reader insights
Be the first to share your insights about this piece.
Add your insights