An Afternoon at Alcon's Cosplay Café
A Light-hearted Review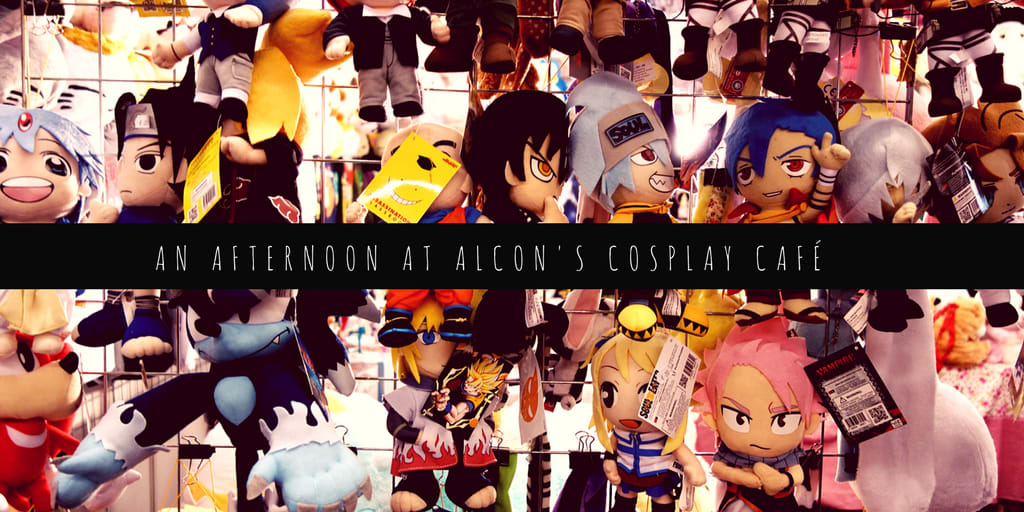 Cover created at Canva.com
Alcon 2017 was my first Alcon. It wasn't the best convention that I've been to, but I can still say that I enjoyed myself. I heard that a lot of people enjoyed the previous versions of Alcon more. Some have vowed never to return. But I will try my best to avoid discussing the AL drama here for the time being.
For the benefit of those who don't know, Alcon is a British Anime convention hosted by Anime League. It is held in Leister at De Monfort University usually at summer time. They also run other conventions around the country such as LAGC and organise their own geek meets generally two weeks before their planned conventions.
The best thing about AL's cons is the people. I happen to know a lot of people who go, many of whom I would consider very close friends. Whilst the reputation of AL has gone down, it still remains a place important to people's hearts.
I loved meeting up with my friends, hanging out and of course getting drunk, which a lot of other people also loved doing. Despite the issues the con had, I still enjoyed the panels especially the voice acting work shop. Another concept that I really liked was the Cosplay Café.
So the annual anime convention held at the DMU went in full swing, even though the numbers were smaller than last year. And the concept of a Cosplay Café really interested me. I haven't experienced it at other conventions, but it did remind me of the experience I had in a maid café in Japan.
To my surprise, I enjoyed myself a lot than I expected to. The venue (a classroom), does leave a lot to be desired because it lacks the colours of a real maid café, but the volunteers really made the most of what they had.
Breakfast was £2 entry and for the afternoon it went up to £4. This might seem crazy, but most of the stuff afterwards is free after that. I did manage to save some money going in for the breakfast and coming back later for lunch. They had a wide range of teas, coffees and cakes. So it's quite easy to get your money's worth out of it. There were only a few things that you had to pay extra for like 50p for canned drinks or bottles and £3 for a plate of nachos.
On the whole, I thought it was pretty good value. I thought the prices were very sensible. And I also liked the atmosphere. The staff were very friendly and I loved the music that they played. The playlist consisted of catchy anime music and video game music, so it was right up my street.
It was just such a nice place to chill and meet up with my friends. Conventions can be pretty chaotic at times, so it was good to unwind. I also found out that my French isn't that bad considering I haven't practised it since school.
I came to Leicester stocked with lots of Pukka tea bags and since I knew I wasn't going to use all of them, I decided to donate them to the café. They were ever so grateful and I noticed that the Vanilla Chai tea bags that I brought in were very popular. And of course, I also tried that along with the Wonder Berry Green tea and Apple & Cinnamon tea. And they get a thumbs up from me for including Earl Grey.
So overall, I thought it was a really nice concept that I think they can develop and work on to make it even better for the next convention. I hope that more cons do something like this, and if you know any cons that do something like this or a maid café in the UK, do let me know on twitter.
After all, there's no way to mess up tea and cake time! Or is there?
About the Creator
Former healthcare worker and lab worker from Oxfordshire. Author of ten books including Drinking Poetry and Game of Mass Destruction. Travelled to over 20 countries.
Reader insights
Be the first to share your insights about this piece.
Add your insights