Almost Pyaar with DJ Mohabbat Hit or Flop?
Almost Pyaar with DJ Mohabbat Review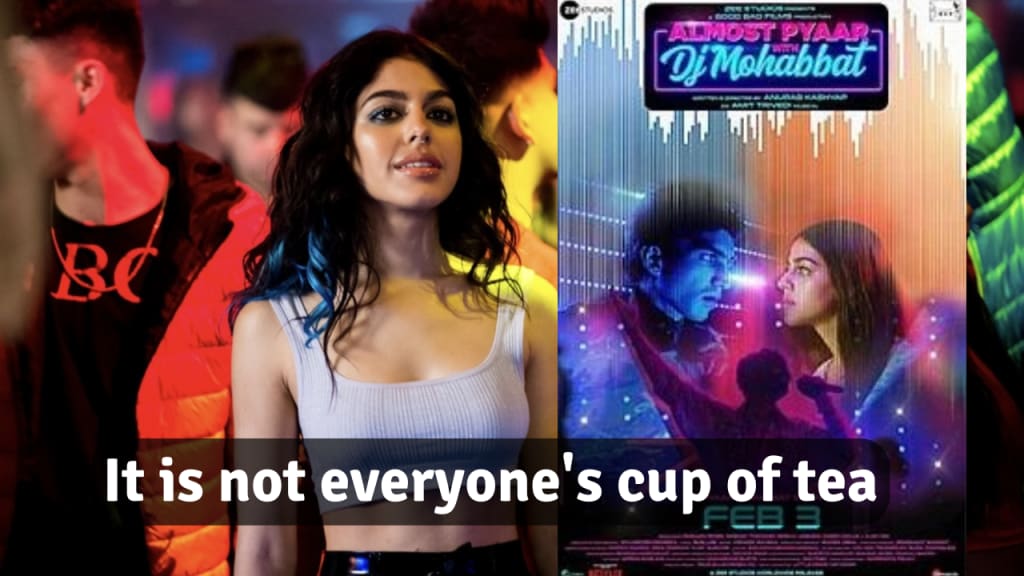 Almost Pyaar with DJ Mohabbat Hit or Flop?
Friends, I have just seen the most boring film of 2023 called Almost Pyaar with DJ Mohabbat, written and directed by Anurag Khashyab.
The whole theatre was completely empty; apart from me, two other couples had come; I had gone alone; both couples were sitting in different corners, and one couple got up and left before the interval.
The director of this film is Anurag Khashyab, who has made very good films in the past like Gangs of Wasseypur, Black Friday, Manmarziyaan, etc. But this film doesn't look like Anurag Khashyab's at all.
There was a time when watching Anurag Khashyab's film was a lot of fun, but now it is playing pranks on people.
Almost Pyaar with DJ Mohabbat Review
I didn't enjoy watching this movie even a percent; I don't know anything about the story or screenplay, and the dialogue is negligible.
Guys I should be recognized for my ability to sit through this movie for 2 hours and 1 minute.
If you have a girlfriend or a boyfriend, then both of you can go to watch this movie because, first of all, you will get a chance to fall in love with each other, and while watching this movie, you will get the feeling of "Love Aaj Kaal 2."
This film has been shown in two different locations, and judging by the way Vicky Kaushal has been kept as a guest appearance, I am pretty sure you have seen the film "A Dil A Mushkil," which is an Indian romantic musical drama.
Ranbir Kapoor and Anushka Sharma are living together in Adil Hai Mushkil when Shahrukh Khan walks in.
Now, Vicky Kaushal has been introduced as a Shahrukh Khan, and in some ways it is an extended cameo, and the way he lectured on his love, "Vishwas Ut Chuka Maa Kasam Mera Mohabbat se,"
If you are finding the cost of OYO Room higher and you are not getting any shows of Pathaan, or if you are, you are not getting privacy, then definitely watch Almost Pyaar with DJ Mohabbat.
Apart from this, I do not want to say anything; there is nothing to say about this film.
I want you to stay away from such movies as much as possible, save your money, and invest it in some good places. If you still want to watch this movie, then God bless your head.
Only the music was able to work very well in this movie; the rest will bore you. This is one of the worst films Anurag Khashyab has ever made.
By the way, there is no doubt that all the actors have done a good job, but if they had gotten a good story, then this film would have been worth watching. There is no fault on the part of the actors; they were just following their work.
Almost Pyaar with DJ Mohabbat All Cast & Crew
Karan Mehta
Alaya F
Vicky Kaushal as DJ Mohabbat
Produced by
Kabir Ahuja - Producer
Pankaj Batra - Executive Producer
Gaurav Bose - Executive Producer
Dhruv Jagasia - Producer
Ajay Rai - Producer
Ranjan Singh - Producer
Akshay Thakker - Producer
Sarmad Varraich - Line producer
Music
Music by - Amit Trivedi
Cinematography
Cinematography by - Sylvester Fonseca
Film Editing
Film Editing by - Konark Saxena
Casting
Casting By - Gautam, Kishanchandani
Costume Design
Costume Design by - Sawant Prashant
Conclusion
So guys, this was my review of the movie Almost Pyaar with DJ Mohabbat. I hope you like it.
Look, I am not spreading any kind of hate; this is just my overall opinion. If you have any problem with it, then it is not my fault.
Reader insights
Be the first to share your insights about this piece.
Add your insights