All Together Now - A Netflix Movie Review
'All Together Now' is a wonderful feel-good film that reminds you of the good in the world.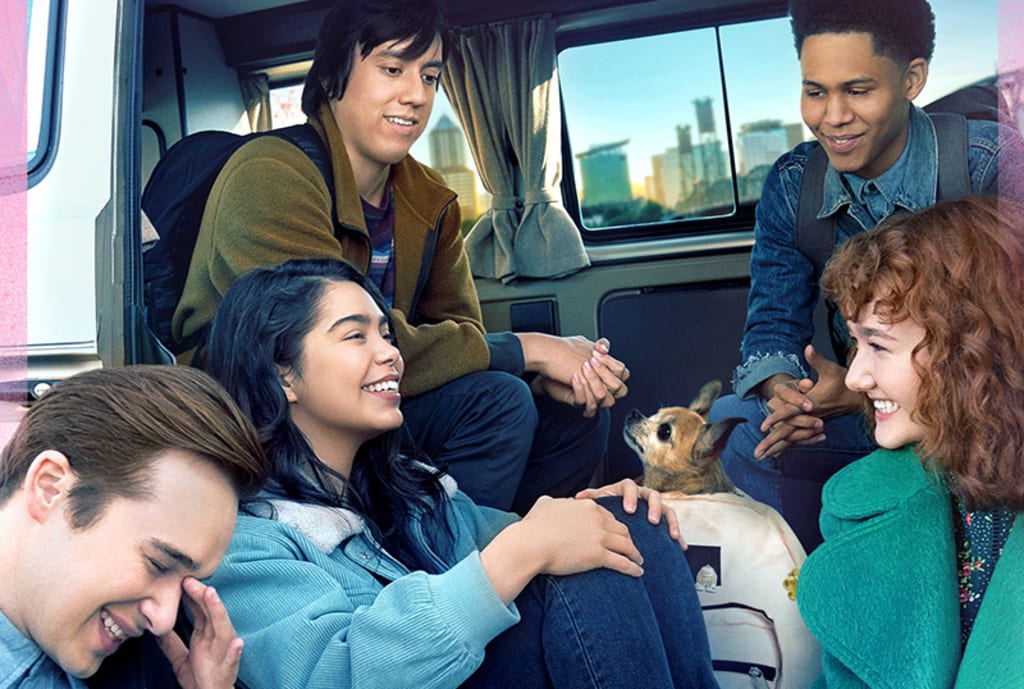 Never be afraid to reach out for help.
All Together Now is a 2020 Netflix film about a young girl fighting to stay persistent in the midst of many dilemmas. Given a once in the lifetime opportunity, Amber has a chance to showcase her talents to the world.
I could not stop smiling as I was watching this heartfelt film. All Together Now is the movie that we need, especially in midst of the pandemic. Everything from the characters, story, and songs, All Together Now is a wonderful film for the whole family to enjoy. The message of the story is important. We should never be afraid to ask for help.
After her star-making voice-over role as Moana in the hit Disney film, Auli'i Cravalho is spectacular. For a girl so young, Amber has gone through many tragedies. But they have made her stronger. A little too strong. Amber is persistent, kind, and she looks out for everybody. Cravalho is wonderful in her uplifting and energetic performance, gifting audiences with her musical talents.
Knowing her faults, Becky (Justina Machado) struggles to give her daughter the best life that she deserves. Cravalho and Machado were terrific in their scenes where they're joking around or confronting one another in dramatic moments. Sometimes doing the right thing is tough.
Superheroes don't always wear capes. All Together Now defines what a hero is. Ty (Rhenzy Feliz) easily became one of my favorite characters. Because of his strong friendship with Amber, he refuses to let Amber lose to her battles. Not only Ty but all of Amber's friends contribute to help. Friendship is beautifully defined in this film.
All Together Now has a wonderful cast. Judy Reyes, Anthony Jacques, Gerald Isacc Waters, Taylor Richardson, C.S Lee, Max Gail, Fred Armisen, an adorable dog, and many more talented individuals brought out the message of the film. Expect an appearance by the wonderful Carol Burnett in the most inspiring role I have seen in a while.
One of my favorite parts about the casting is the diversity and contrasting backgrounds in acting experiences. Scenes involved with the friends are authentic. Filmmakers really went above and beyond to distribute a film that all audiences can relate to.
The soundtrack is lovely. Right when the film started I was dancing in my seat. Listen closely, and you may hear a recognizable tune from Moana. Cravalho treasures audiences with beautiful songs. That's what I adore about this film. It has fun being what it is, is serious when it needs to be, and makes you laugh.
We all have our struggles. A lesson that everyone can learn from Amber is that we can't do everything alone. Accept help, gifts, or compliments that come your way. Asking for help is never something that you should feel embarrassed by. Just because we're going through a rough time, everything will be okay in the end.
Nobody is alone. Nobody is fighting battles alone. Brett Haley released All Together Now during a precarious time amidst the pandemic. Life has been tough, but kindness has not ended. I have been given the time to think about what I am thankful for. No matter what, someone is always here to give a helping hand.
I will warn you that All Together Now is sad. To me, I felt like too much was happening to Amber. Aside from that, this is a lovely film that needs to be seen by all audiences.
All Together Now is a wonderful feel-good film that reminds you of the good in the world. Always follow your dreams. Find it on Netflix and have a smile.

Marielle Sabbag
Writing has been my passion since I was 11 years old. I love creating stories from fiction, poetry, fanfiction. I enjoy writing movie reviews. I would love to become a creative writing teacher and leave the world inspiring minds.
See all posts by Marielle Sabbag →