Alaska Daily Series Review
We need more shows like 'Alaska Daily'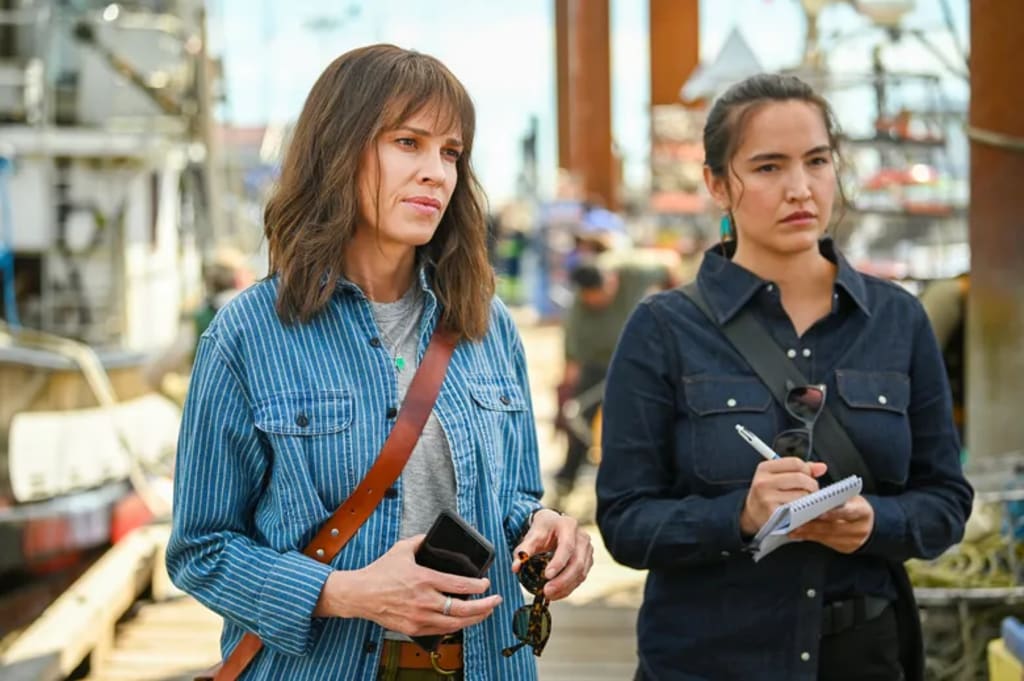 Don't stop now. The story is just getting good.
Alaska Daily is a 2022 series. A hardworking journalist seeks a fresh start in Alaska working for a small newspaper company. Developing stories from around the town, Eileen is on her toes when she gets a threatening message regarding one of her stories.
I always appreciate stories about journalism which is how I was drawn to Alaska Daily. We need more shows like this. Each episode covers a new story. The series has helpful lessons for anyone who wants to be a journalist.
Hilary Swank has established that she is a motivated actress who persistently channels a powerhouse attitude. Except, I didn't like her character. I wasn't fond of Eileen and her selfish attitude. Swank's characters tend to have abrasive personalities but they're always willing to let people in. With Eileen, it's the total opposite.
Making it clear that she works alone, Eileen is not willing to let others in or take a chance. She gets ahead for her own benefit. One aspect that I hope gets more focus is Eileen's panic attacks. It's sad that Eileen doesn't want to be seen as weak the more frequently she has them. This is an important topic regarding mental health.
I liked the other characters in Alaska Daily more than Eileen who is the protagonist. They're open and they do the work for the fun of it. Their work is not just a job. The reporters want to help people find their voices.
An ensemble of terrific actors lends believable performances. Credits include Jeff Percy, Grace Dove, Meredith Holzman, Matt Malley, Pablo Castelblanco, and Ami Park. They each have subplots.
Something is always happening. Often it doesn't have to do with the main story. We don't have to pay attention to the journalism aspect the entire time. Take a step out from that to explore other territories.
Examples include a couple figuring out their feelings or one character's guilt journey when her story melds a completely different reaction from what she hoped. Roz (Dove) was my favorite character. She is the total opposite of Eileen.
The series explores the character's backstories. I liked the writing of the story. That is the most important aspect of any series that highlights co-worker relationships. I have been seeing that in more media recently.
The series doesn't focus on one big news story like I thought it would. Instead, a new story surfaces in each episode. That's a good technique to keep the series realistic. Journalism is about writing stories for a living to get the word out to the public.
I had an internship at my local newspaper company in college. I learned a lot. Journalism is a different form of writing that we need to practice more.
The tone of the show is serious, but in the last two episodes, it's reminiscent of the goofy atmosphere in The Office. A woman brings her pet ferret to work and it goes missing. One news story depicts a woman live streaming on a boat, only to fall in the water and disappear. These moments felt off-kilter to the overall tone.
Swank is the only part of the show that has garnered an awards nomination which was just for the Golden Globes. Why hasn't the series garnered attraction? Alaska Daily is a refreshing series about something new. Each episode is exciting. I thought it was going to be a boring series but I was proved wrong.
With the suspenseful conclusion, I look forward to Alaska Daily to return. Watch episodes on Hulu.
About the Creator
Writing has been my passion since I was 11 years old. I love creating stories from fiction, poetry, fanfiction. I enjoy writing movie reviews. I would love to become a creative writing teacher and leave the world inspiring minds.
Reader insights
Be the first to share your insights about this piece.
Add your insights