Adrift - A Movie Review
'Adrift' is a commemorating story about courage.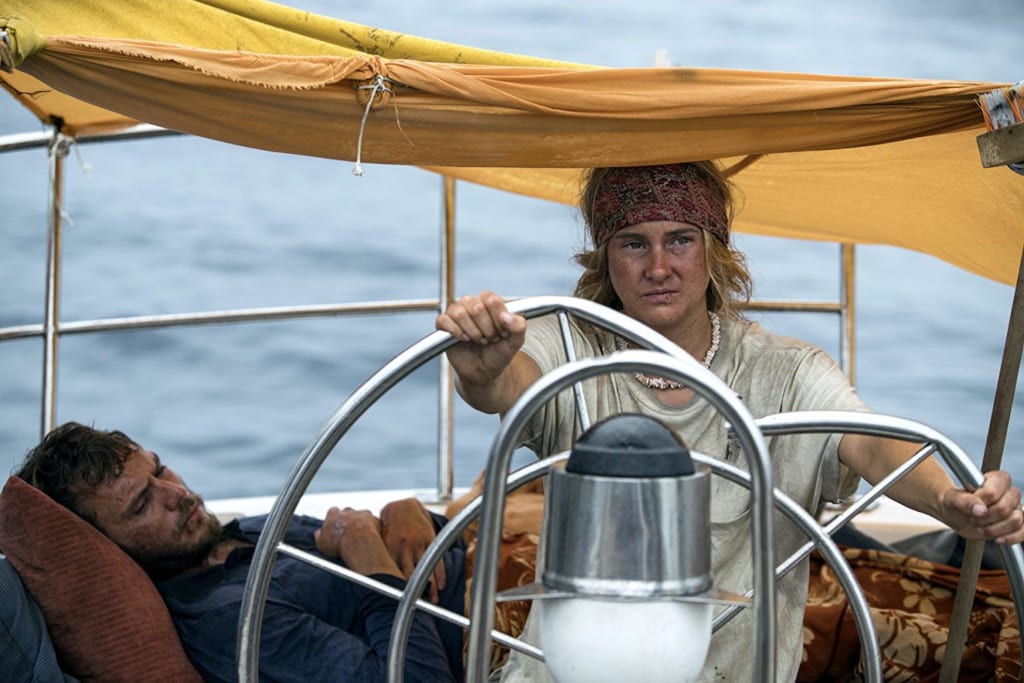 No matter the toughest situation, we can never lose hope.
Based on true events, Adrift is a 2018 film about a couple who are stranded in the middle of the ocean following a disastrous hurricane. Fighting for survival, they refuse to lose hope as they are adrift out in the ocean.
Adrift wasted no time getting into the grueling story. This is how you start a film. It's a story that is split between reality and flashbacks. Disaster films are my cup of tea. Combined with terrific suspense and an astonishing performance implemented by Shailene Woodley, Adrift is a commemorating story about courage.
Shailene Woodley is the core of Adrift. For most of the film, Woodley had to be in utter hysteria as Tami struggles to put the wrecked boat back together, take care of her injured boyfriend, but most importantly come to terms with a difficult resolution. Tami's courage, resilience, and hard-working motivation don a message of how one should never give up even in the impossible.
For most of the film, I questioned Richard's (Sam Claflin) behavior and his overall arc in the film. When Tami and Richard met it was love at first sight. Their interactions are sweet and I like how they get to know each other. Other than his relationship with Tami, we're not given the chance to get to know him enough.
Injured from the catastrophic hurricane, Richard is utilized to permanent bed rest. Because of a well-crafted detail, one has to watch Adrift a second time in order to understand Richard's behavior. His arc also expresses a vital detail that it's not only the man's duty to take care of their partner but also the woman's. The duty is mutual.
Adrift has a minimal cast. Interwoven with flashbacks to how Tami and Richard meet, date nights, and important conversations, some of the flashback scenes didn't feel necessary to the film. At some moments, they took away from the action and introduced viewers to characters that didn't have anything to do with the plot.
The entirety of Adrift was filmed out on the ocean. Filming was not easy. Woodley noted how she had to wake up at 4 am on some days to begin shooting. And most of the crew became seasick due to filming out on the rough ocean. Not letting these obstacles discourage them, Adrift is an eyecatching film with beautiful locations.
Everything feels genuine. Isolation, minimal food, and the hot sun that is so fierce it gives the worst sunburn. I felt like I was experiencing this awful predicament with them. It makes me wonder what seeing Adrift in the theater would have been like. I was quiet throughout most of this film because of the tension.
Baltasar Kormakur cleverly took the layers from a true story and transformed it into a heart-pounding film. He took the opportunity to film out on the ocean. As difficult as it was, Kormakur succeeded in the making of Adrift. I commend him for a job well done with a twist that I didn't expect.
Love is a theme in Adrift. Adrift is an in-depth demonstration of love. We all have our own love story. Love is what keeps Tami motivated to survive. We can survive any predicament as long as we put our minds in the right frame.
Adrift is a touching tearjerker. The film gives closure to the real couple who went through this horrible ordeal. At times the film is intense specifically during the storm. Don't research the film. It's best that you watch it with fresh eyes. Find Adrift and watch it on Netflix.

Marielle Sabbag
Writing has been my passion since I was 11 years old. I love creating stories from fiction, poetry, fanfiction. I enjoy writing movie reviews. I would love to become a creative writing teacher and leave the world inspiring minds.
See all posts by Marielle Sabbag →