Actor's Life
Andrea Sooch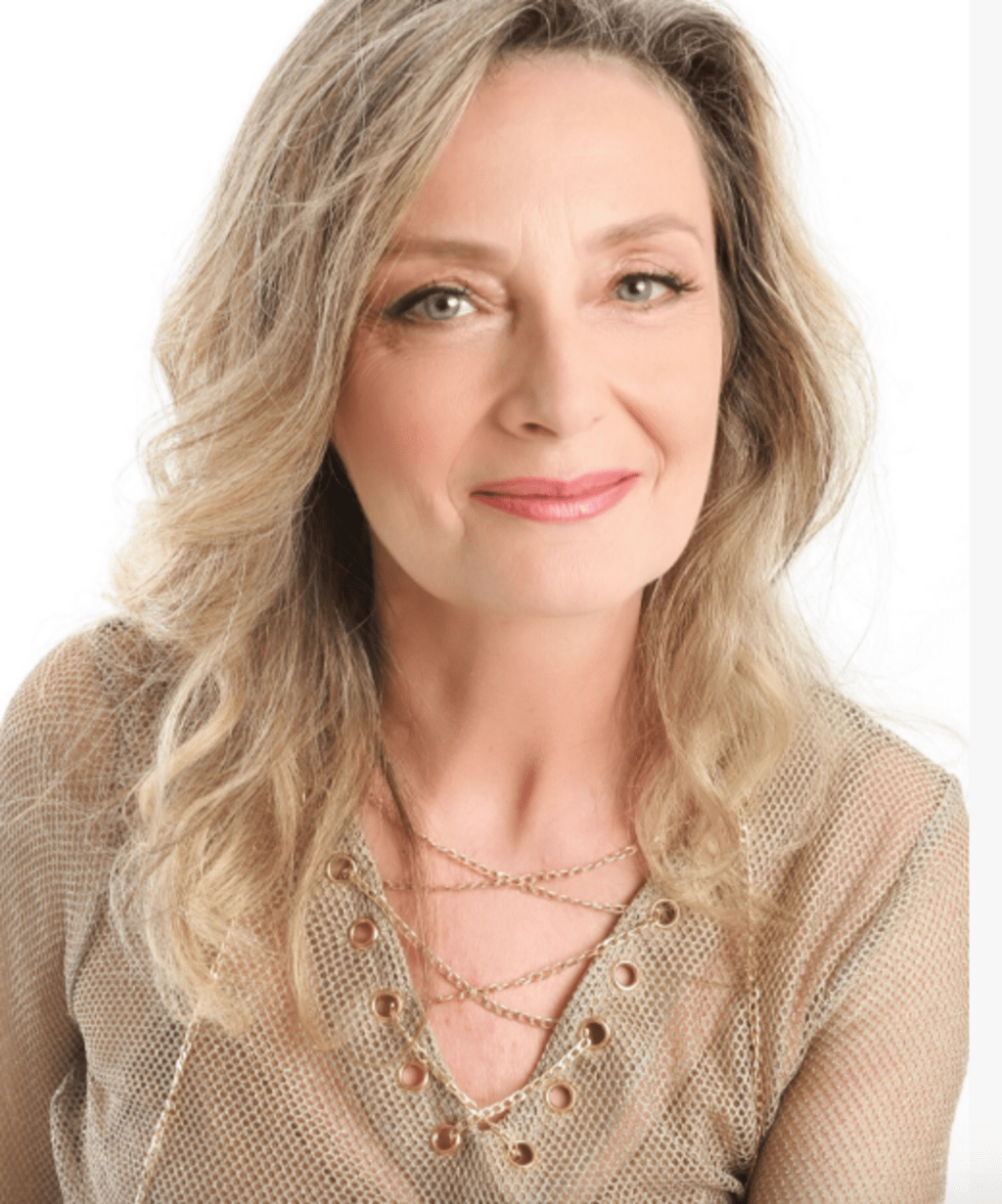 If you have seen the hit TV show, Claws, you might know Andrea Sooch. She plays Riva, a crime boss for the Russian Mob. She has also guest starred on Law & Order, Taxi Brooklyn, Gotham, Boardwalk Empire, Broad City, and The Blacklist. In addition to being an actor, she is also a Drama Therapist and is the co-creator of the ACTing Cure Group Model. In fact, I interned with her at AHRC, an organization that helps adults with intellectual and developmental disabilities, where she used tools of drama therapy and positive interventions to maximize potentials in a therapeutic recreational setting, and to help people flourish.
Please welcome, Andrea Sooch!
Kevin Higgins: Thank you, Andrea, for being here.
Andrea Sooch: You're very welcome. Thank you for having me.
So how did you become interested in acting?
I was a professional singer and violinist as a child. In Hungary, there was the world-famous Children's choir which belonged to the Hungarian Radio and Television. We traveled the world and had domestic and international concerts and many recordings. I was one of the moderators, soloists, and violinists. This is just how I became a performer when I was 6-years-old.
We were in a special school for kids in the choir. Because of our traveling schedule, we had to fulfill academic expectation in an accelerated speed compared to kids in other schools. This experience gave me an ironclad respect for the performing arts and gratitude for the audience.
How long were you with the choir?
Children were there in ages 6-14.
What did you do after you aged out of the school?
My Mother was a pianist. I grew up with music in our household. At 14, I decided not to continue my studies as a Violinist. I went to a high school which specialized in mathematics and physics. My Father was a mathematics and physics professor so it was my mother's—or shall we say my father's—milk to me. That was the moment when I started to integrate my love for the Arts and my love for Science.
In High School, did you start trying to do anything professionally?
I continued singing and I started dancing. Originally I was studying classical singing. I was trained as an opera singer but later I discovered that I enjoyed musical theater more.
Were you in the Drama Club at High School?
There was no Drama Club at our high school.
So what did you do after High School?
After High School, I wanted to go to medical school so I got an internship at a dermatology clinic. I couldn't stand the sight of blood, so we soon discovered that med school is a no-go for me. During my internship, I continued dancing and singing. I auditioned for the ensemble for The Kabos Show, a play with music that was starring a famous Hungarian comedian.
I was hired to sing and dance around him in the ensemble. This blossomed into a 4-year engagement at the Vidam Szinpad in Budapest, which was a repertory theater specializing in musicals and comedies. I started off in smaller roles than got bigger roles. I decided to audition for the only Acting Academy in Hungary to learn more and to get my professional degree in theater. At the time, we were communists so choices were very limited. This was the only Acting Academy at that time—unfortunately, I wasn't accepted into the program. That didn't stop me and I wasn't willing to give up my dream.
I ended up going to Vienna (Austria) to audition for the Universitat fur Music und Darstellende Kunst. The problem was that I didn't speak German, which they figured out very quickly no matter how I tried to hide it. They gave me the option to come back in 3 months—if I can speak German at a basic level by then, they not only accepted me to the program but also give me a full scholarship.
I studied German for 2 months, every day, 8 hours a day. After classes and doing my homework, I was watching movies in German. I moved to Vienna in 1989 when the Iron Curtain fell. After finishing school, I taught dance and fitness while auditioning. I was fortunate to have steadily worked as a dancer, singer, and actor in Austria until I moved to NYC.
So you lived in Vienna. What brought you to New York City?
I was cast in Leonard Bernstein's Mass in Klagenfurt. A lot of Americans were working in that production. So I got very friendly with a girl called Amy and she invited me to spend some time in New York with her and her family, which I did. That was amazing, and the most exhausting vacation of my lifetime; I saw all the Broadway shows, took dance classes, went to Amy's singing teacher, and used all the opportunities to learn more.
One day, I tried to get on the 72nd Street Subway but the wind was so strong I ended up being blown into the building where the American Musical & Dramatic Academy (AMDA) is. I chatted with the receptionist and told her about my experience. She asked me to audition and I decided to do so. I thought it would make a good story later. I never expected to get in, I was just happy to try out. 2 months later, I got a call that they accepted me to the program. I could not afford it so they gave me a very substantial financial aid, which I'm still very grateful for—they gave me the career I have now in the U.S.
Did they introduce you to any agents, managers, or casting directors?
At the end of the program, AMDA had a showcase where they invited agents and managers. I was very lucky to connect with my first agency in the U.S., The Hann Wolters Agency.
How long did you work with them?
I worked with them until very recently. Last year, we had entered in an exclusive agreement with my new agency, the Carson Kolker Organization.
So you have done a lot of guest spots. I see your first one, according to IMDB, was on an episode of All My Children in 2001. What was the auditioning process for that like?
Like with every project, I was fortunate because I was matching what they were looking for—a Hungarian woman who speaks Hungarian. That's definitely me. When I went to the casting at ABC, it was amazing because it was my first time auditioning for television. I wasn't hoping to get it, I was just amazed and grateful to be there. I don't remember the exact auditioning process, I just remember it was an amazing feeling to get invited. When I got the phone call that I booked the job, I was floating over clouds, I was so happy.
I see that you've been a lot of soap operas. Do you think that guest appearance on All My Children might've had anything to do with that?
I don't know. Probably yes. I guess once people trust you, that you can do the job and know how a set works, it's an assurance that you are hirable, and you're skilled and professional enough.
In addition to doing a lot of soaps, you've also done a lot of crime dramas. Do you think it's the same thing, that people see you as hirable?
I think every person brings a kind of energy into the room. This energy either resonates with the creator's vision and fits with the character, or it doesn't. Then the writers and directors pick the person who is the best possible vehicle to tell their story.
So how did you get back into school?
Things slowed down for me as a performer and I found myself frustrated and depressed. After some soul digging and work on myself, I realized that I need more control over my future. I needed more of an agency in what's going to happen to me. Plus, I came from a family of art and science. I was always doing two things at once. I have a degree from Hungary as a teacher because my father wanted me to have a "real" diploma. To honor his request, I got a degree. I went to Teacher's College during the day, while I was working at the theater every night.
As far as going back to school in my 40's, it was scary to go back to an academic program after not being in school for 20 years, but I took a deep breath and did it. I graduated with an MSW as a clinical social worker from Fordham University. While I was already in the Master's program, I got introduced to Psychodrama and Drama Therapy and fell in love with both.
Parallel to my studies at Fordham, I completed the alternative track at the Alternative North American Drama Therapy Assocation with Nancy Sondag's supervision. I got my registration as a Drama Therapist around the same time when I got my license as a Social Worker.
So what was it like looking for a job in Drama Therapy?
I didn't have to because my field placement was at AHRC. They hired me when my internship was over.
So, according to your IMDB and your website, when you started working at AHRC, you also started getting a lot more guest starring gigs. Do you think that was a coincidence?
It's not a coincidence. It's alignment—when we are happy and fulfilled, good things start to happen. I see it as an integration of my skills, talents, and passion. All experiences are ingredients in a special soup that nobody else has. That's what makes every person unique and one of a kind. My new academic experience influences my acting, and my acting background definitely influences my practice as a therapist. Working with an ID/DD population, where many people have low or no literacy, it was a naturally good fit to use action methods as a vehicle. Instead of the Talking Cure, we have created the ACTing Cure with Dr. Dan Tomasulo.
Tell me more about the ACTing Cure.
The ACTing Cure is a hybrid group model which leans on theories such as positive psychology, group dynamics, character strength, using tools of improvisational theater, positive interventions, and action methods.
How successful would you see the ACTing cure has been not only in AHRC but in your other jobs, at Columbia University and NY Certificate of Applied Psychology?
Everything is influenced by everything. I got invited to Columbia by supervising their MSW interns at AHRC. I love to teach and give the torch to the next generation. I love to mentor young social workers and young therapists and watch them grow. At the certificate program, I am the teaching assistant to Dr. Tomasulo. This 6-month program teaches participants about Positive Psychology and how to use the principles in their personal and professional lives. This course helped and influenced me to create the ACTing Cure. It also inspired me to spread the word about positive intervention both domestically and internationally. I will be co-teaching a workshop in Germany, and presenting in Hungary this summer.
Now let's talk about Claws. How was the auditioning process like and how do you feel about the show's success?
I got invited to the audition for WB Casting in NYC. Initially, they were looking for a different type. When the producers and creator of the show chose me, they changed Riva's age and appearance to better fit my type. I was so honored and happy. This is how Riva was born. I love the show, it's about women's empowerment and sisterhood. It's about never losing hope and always following your dreams.
What's in store for Season 2?
I don't want to spoil it for you. Season 2 airs on Sunday, June 10 on TNT.
Well, thank you for your time!
Absolutely.
And thank you, everyone, for reading my first interview in For Actors By Actors. In the future, I will be doing more interviews like this so be on the lookout for more of these because many actors have a story to tell and we'd love it if you could stick around and listen.