A Man Among Ye #5
Top Cow Productions/Image Comics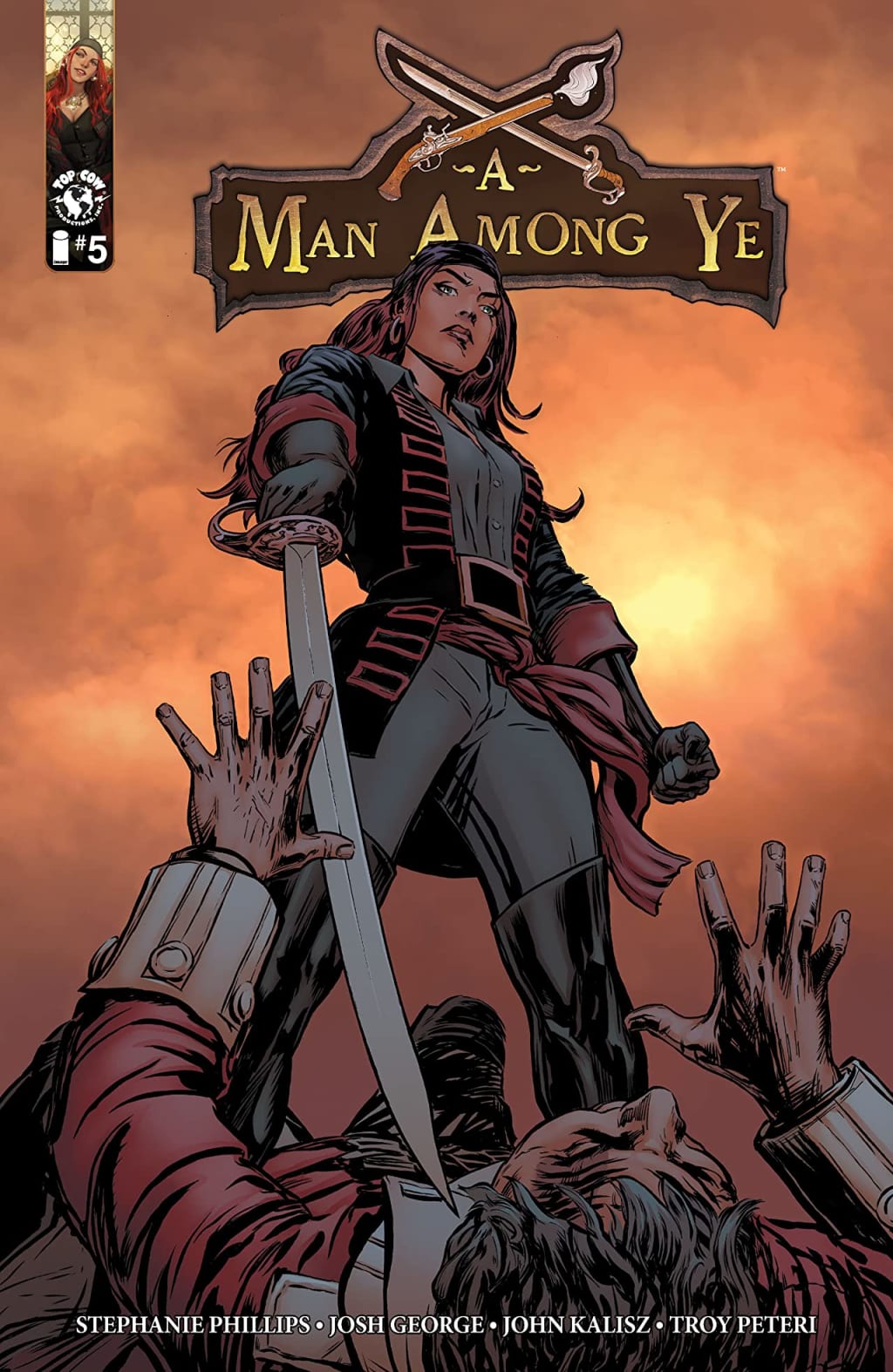 A Man Among Ye #5
Top Cow Productions/Image Comics 2020
Written by Stephanie Phillips
Illustrated by Josh George
Coloured by John Kalisz
Lettered by Troy Peteri
Pirate queen Anne Bonny is back with her crew of lady buccaneers after a harrowing escape from a Caribbean prison! But can they find a safe haven on land or sea after Calico Jack Rackham's betrayal and the governor's promise to hunt down and execute Anne?
I like Anne mainly because she's a live for the moment kind of gal. As a pirate and a woman in this era she's earned herself a nasty reputation as a cruel dude, they said she was ruthless said she was crude, and she among the most wanted at this point. She makes love to the women she chooses, drinks, swears, kills wantonly and lives like there is no tomorrow and that's all any of us can do. So yeah I like her. Her crew mind you, they like her too but can be frustrated by her antics and in the case of the opening that she's disappeared and cannot be found so easily. What this book is is fun pure and simple. Stephanie found a way to take a female pirate and make her into an extraordinarily interesting and fascinating woman we want to see and know more of.
I like the way that this is being told. The story & plot development that we see through how the sequence of events unfold as well as how the reader learns information is presented extremely well. The character development that we see through the dialogue, the character interaction as well as how they act and react to the situations and circumstances which they encounter does a magnificent job in continuing to flesh out their characters. The pacing is superb and as it takes us through the pages revealing the story we're caught up in this like it's the wild hunt.
I like the way that this is being structured and how the layers within the story continue to grow, evolve, strengthen and emerge. The avenues we've seen being explored and the new ones opening up, finding Jane for example, is what add that extra depth, dimension and complexity to the story. How we see everything working together to create the story's ebb & flow as well as how it moves the story forward is achieved exceedingly well.
I love the way we see the interiors here. The linework is strong, clean and crisp and how we see the varying weights and techniques being utilised to create the detail work is utterly marvellous. I greatly appreciate the way we see backgrounds here, especially the alleyways, as they enhance the moments and are able to show such confined spaces. Also how they work within the composition of the panels to bring out the depth perception, sense of scale and the overall sense of size and scope to the story is incredibly well achieved. The utilisation of the page layouts and how we see the angles and perspective in the panels show a remarkably talented eye for storytelling. The colour is brilliantly rendered. The various hues and tones within the colours being utilised to create the shading, highlights and shadow work show a fabulous eye for how colour works and can be utilised to its maximum effect. Plus that we see different ways it's being laid down just reinforces that knowledge of colour.
​
This series is being really well done and with each issue that comes out it seems to elevate the work just enough to be noticeable. It is exactly what we should see happening and it's great to see Stephanie finding her own as a writer and showing she's growing, learning and finding some great rhythm. This is a fascinating series with one of the deadliest pirates around and she makes no bones about her methods or her madness and it's a refreshing thing to see. With some superb writing and dynamic characterisation wrapped up in some gorgeous interiors this series just keeps getting better and better.