A Good Person - A Movie Review
'A Good Person' is about finding help amidst difficult times.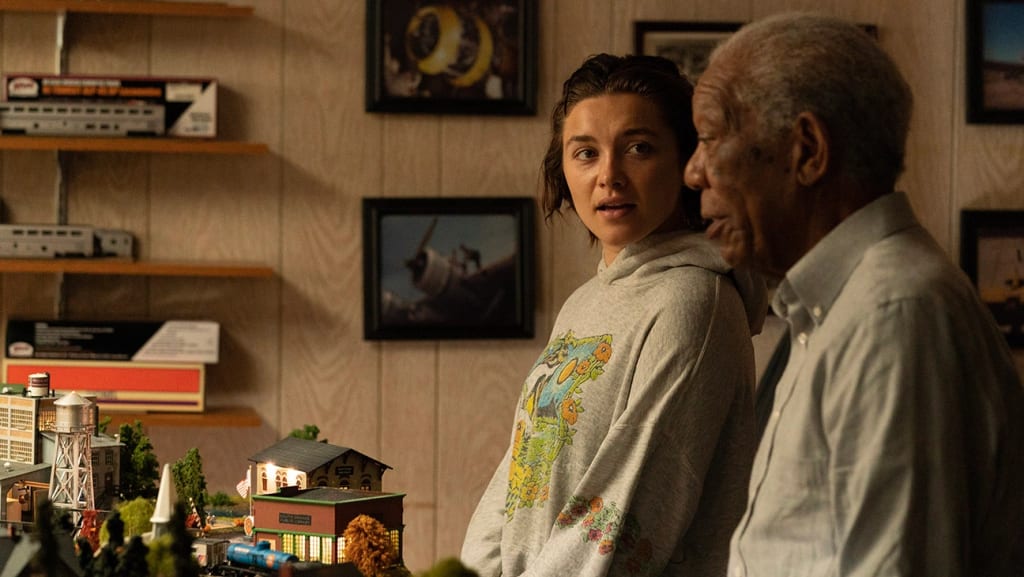 Take each day one step at a time.
A Good Person is a 2023 film. Following a tragic accident, Allison struggles to move on. With her life falling apart and becoming addicted to opioids, she seeks comfort from Daniel and his 16-year-old granddaughter undergoing a similar grief battle.
What makes a person good? Regaling a story about human emotions, A Good Person is about finding help amidst difficult times. A Good Person has several notable talents. It's an engaging film with a powerful story, but the climax didn't originate the best ending.
Florence Pugh once again unveils an astounding performance. She knows how to connect with her characters, notably in her impressive emotional work. It was not an easy role, embellishing difficult emotions. Pugh delivered a resonating speech at the support group.
Allison is at a loss, abusing herself with drugs and self-hate. It's difficult asking for help, but she makes the right decision to find the right people to help her heal.
Morgan Freeman has already proved that he is a talented actor. Freeman institutes a remarkable performance. Daniel tells it like it is and doesn't let you forget it. Freeman was so compelling in his performance.
Pugh and Freeman were fantastic in all their interactions. They did an incredible job in their interactions, being friendly but on the inside bearing challenging sentiments. They come together for a reason.
Molly Shannon deserved a more prominent role! She was excellent as Allison's mom. The pair had a huge argument which got physical. While Diane is a supportive mother and tentative about Allison's mental health, she is not used to her full potential in the climax.
I didn't find it believable how she'd ignore Allison's mental health in one pivotal scene. Diane is not present in the climax. The climax is crucial for all the characters. With her absence, the ending leaves the action to Pugh and Freeman. They've battled it out for most of the film.
I first saw Celeste O'Connor in Freaky. Ryan's decisions were aggravating. She is also hurting from the death of a loved one. Without thinking, Ryan carelessly institutes a plan that backfires immediately. I don't think she got enough punishment for her actions.
Zach Braff did an excellent job with the film's screenplay. The dialogue is engaging and authentic in all conversations. Braff developed the characters, making them believable. The film is an emotional rollercoaster of heartwrenching scenes. Braff managed to work in little comedic moments.
I didn't like the second half of the film. It didn't match the complexities explored in the first half. Spitting harsh words and battling in this traumatic bar scene, the situation led to a near-tragic event for one of the characters. The climax didn't offer anything new for the characters or the plot. The film went on too long. It also ended too fast with a happy ending.
We have already had films that dealt with addiction recovery, but Braff supplied a genuine take on the subject. Nobody's grief journey has a deadline. Find the help and people who will make a positive difference. No matter what anybody says, we can pick ourselves up from our demons and learn to be better people.
A Good Person includes several heavy topics, like death, grief, and addiction. Substance abuse may trigger audiences. I felt tears at several moments, mainly from Pugh's moving performance. Everyone was raw in their performances.
See a Good Person in theaters. It's worth a watch. Hard to watch at times due to its sad themes, audiences will connect with the story.
About the Creator
Writing has been my passion since I was 11 years old. I love creating stories from fiction, poetry, fanfiction. I enjoy writing movie reviews. I would love to become a creative writing teacher and leave the world inspiring minds.
Reader insights
Be the first to share your insights about this piece.
Add your insights