A Filmmaker's Review: 'Capote' (2005)
5/5 - An incredible performance of one of my favourite writers of all time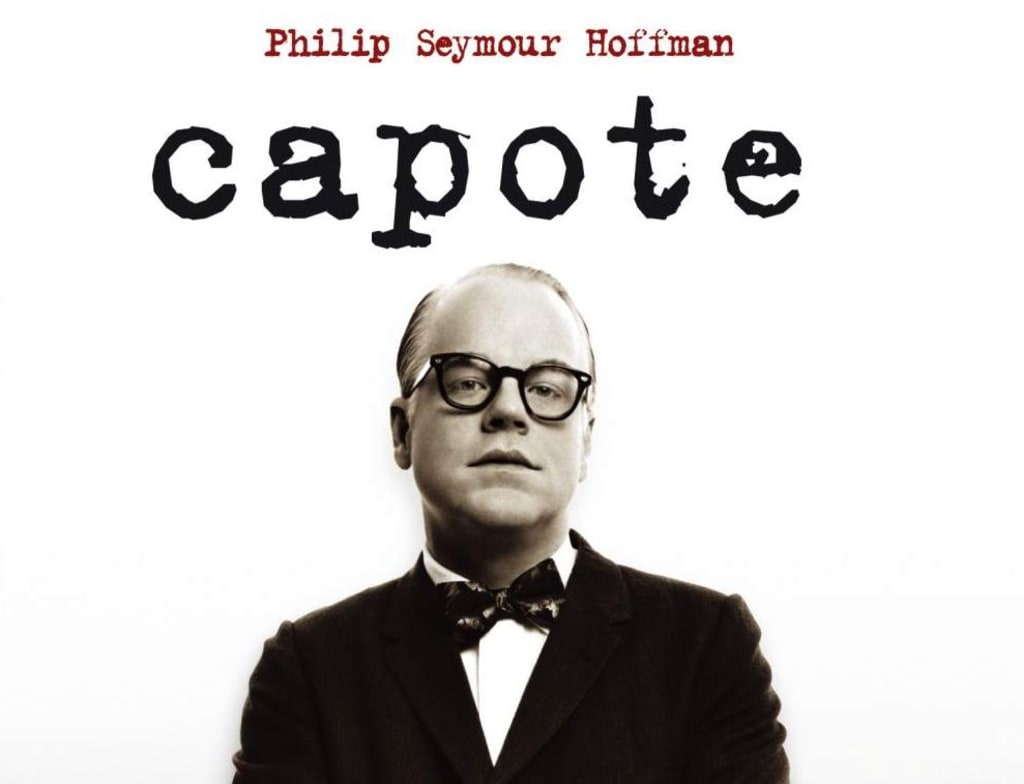 "Capote" (2005)
A performance of a lifetime, a film to end all biopics, Capote (2005) was the absolute height of the legendary actor, Phillip Seymour Hoffman's career. His portrayal of Truman Capote is indelibly inked in my brain, it was one of the most accurate performances of any biopic I have ever seen. The look, the act, the famous voice—Hoffman gave a stellar performance that won him the Best Actor Academy Award in 2006. It was very, very well deserved. It was one of the greatest performances of a real-life person I had ever seen in my film-watching existence.
First and foremost we have the atmosphere of the film, the celebrity atmosphere that starts us off and then the more serious case of Truman Capote actually getting down to doing his writing. Both of these atmospheres played well off each other and allowed the lead actor to involve himself in two very different aspects of Capote's life; his personal life and his professional life. We can pretend like they were the same thing, but in reality, Capote was a very serious writer. His personal life though, was constantly shaded in scandal.
Now, I have been reading Truman Capote's books for most of my life and I believe that he, as a writer, has a grasp on the notion of human nature better than any other writer of his time. Hoffman always portrayed this as the main concern when looking at the writing style and composition of In Cold Blood which happens to be the entire premise of the movie. This secured Hoffman into what would become a great performance. He would perform the main cultures and concerns of the late, great Truman Capote.
The next thing that was great about the film was the cinematography. We get these scenes of great length and depth, scenes from windows and scenes of landscape. These are supposed to represent the sheer depth of what Truman Capote has to deal with when writing In Cold Blood. The amount of strain on his conscience and the amount he has to research and write in order to make this a clear account of one of the most confusing homicides in American History. Every landscape is a representation of that amount of work and accountability, every window a different look at each smaller section of it. The scene where he is sitting talking to the daughter's friend with Harper Lee is probably the best example of the use of a window to represent possible depth.
The accuracy of the film is also to be discussed because it is, in itself, incredibly accurate. I believe that the accuracy allowed the actor to act in a very particular way and also for the film to form in a very particular style. It was this celebrity that surrounded Truman Capote all his life that had to be imitated on to the screen and, in all aspects, it was done correctly. The relationship between Truman Capote and Harper Lee was also explored in many accurate ways and, what I have read of Truman Capote has been an absolute pleasure when exploring the intricacies of this movie and its vision of his life. We also have to remember that Truman Capote didn't die ages and ages ago—there are people alive today that remember him very well and so, the film had a part to play up to in order to make these people nod their heads and agree that this, in fact, was Truman Capote and not Phillip Seymour Hoffman. Hoffman completely succeeds in this; it is the performance of the decade.
To conclude, yes I have watched the film multiple times because it is one of my favourite films ever and I love it so much. It is really the performance of Truman Capote that makes the centre of the film and then, everything else is built around him. It is much like Truman Capote would've imagined his life, everyone else surrounding himself. It is an enchanting film about one of the 20th Century's most enigmatic, extreme and extravagant writers—it really is a masterpiece of cinema.