A Filmmaker's Review: "All About Eve" (1950)
5/5 - Theatre and duplicity with Bette Davis at the centre...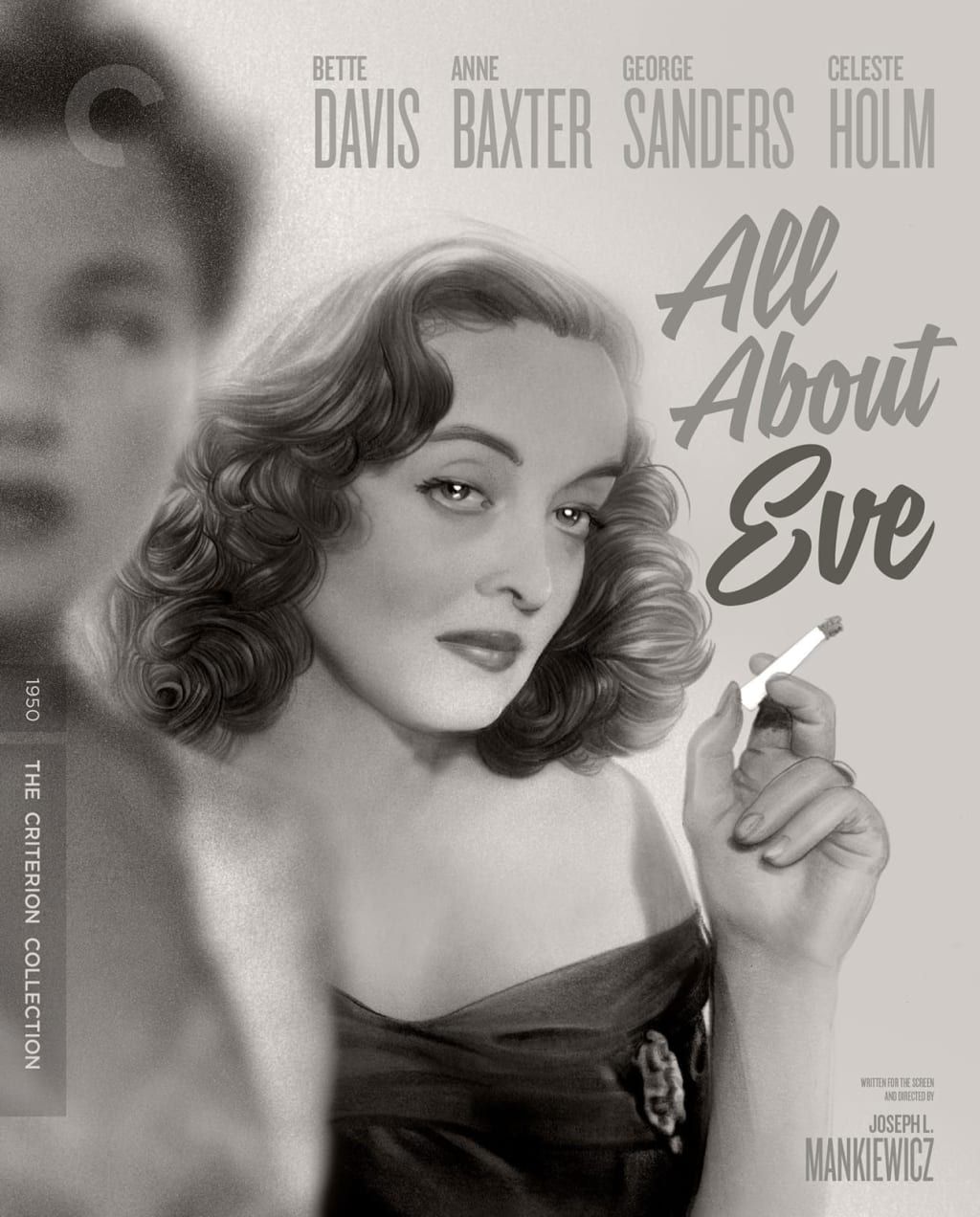 A brilliant film that I have seen a couple of times now, "All About Eve" is a difficult film to do a review on because you really do not know which concept you want to choose first as your main bit of the review. The genre is a brilliant thing to do it on, but so are the characters and the way in which the power dynamic changes throughout the course of the movie from one character to another is also brilliant. But let us first take a look at what the film is actually about.
Margo is an actress, and a very successful one until an 'understudy' called Eve comes in and starts out as shy and unassuming, then shows her true colours. When it comes to a part that seemed to be written for Margo, Eve wants in on it - the only problem is that the part wasn't written for her. Eve will make things happen or will blackmail people in order to make them happen. When fall-outs and double-crosses happen, Eve and Margo are left both in despair but it is Eve that seemingly lives a very strange life in comparison.
The theme of power is massively played out over the course of the film with Eve eventually trying to gain the majority of the power via maintaining this attitude that she has always shown on outer face of being humble and unassuming. However, the audience are tossed between characters and find it confusing about who they are supposed to like since everyone seems to be playing some sort of game. But when it comes to games, there are not many people playing them better than a man called Mr. Addison DeWitt.
Apart from this, we have Bette Davis's incredible acting talent going for the gold yet again. This is probably one of her most memorable roles and even though it is not my personal favourite, I have to say that she did this role better than anyone else I could have imagined. It fit her perfectly and mixed her previous characters and their defiance of authority together in order to make a woman both flawed and incomprehensibly powerful.
When it comes to the various dynamics between the characters, I think I enjoyed this strange dynamic between Eve and Addison the most, of course, apart from the one between Bill and Margo. But when it comes to power itself and the dynamics of relationships, it seems like a different character is in turmoil in each scene and with each scene, more of the characters are in turmoil. The one thing I enjoyed the most though is that the ending does not bring this to a complete halt, but seems to cleverly interweave it into a teasing new arc.
The way in which the story is structured is pretty great to with the film starting off a couple of scenes from the end, going back all the way to the beginning, having many different characters narrate bits and pieces of their plot lines, going all the way through to the scene at which the flashback happened and then, beginning to go through to the end where it reinvents itself yet again. A very post-modern idea and completely new and inventive for storytelling, this is something that I really remembered when I watching the film for the first time.
In conclusion to this piece, I want to say that even though "All About Eve" is not my personal favourite Bette Davis film it still holds well, powerful and popular in her filmography and when it comes to Marilyn Monroe, I'm sure that everyone agrees it gave her a good starting point in the bigger world of film that since, we had not seen her in. I'm not going to lie, there are characters that could have been casted better and there are some parts of the script that were a bit odd - but it is a film about the theatre and you expect in that sometimes, things are going to get a bit over-dramatic and a bit theatrical. All in all, I think it is a great movie and that every movie lover should watch it at least once before they die.
movie
About the author
Film and Writing (M.A)
150K+ Reads on Vocal
IG: @AnnieApproximately
Pronouns: (she/her/hers)
Reader insights
Be the first to share your insights about this piece.
Add your insights