A Filmmaker's Guide: Tim Burton's 'Ed Wood' (1994)
Unconventional Biopic Techniques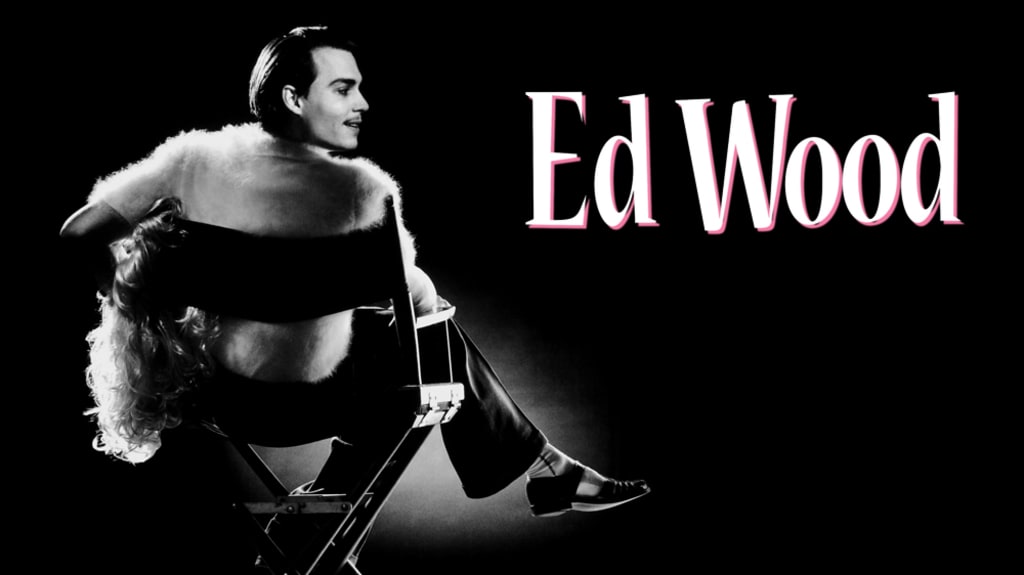 (Note: In order to get the most out of the article, it is recommended that you watch the film in question in its entirety at least once. Notes are not required but are encouraged).
Ed Wood (1994) was one of Tim Burton's most famous movies of the 1990s, with Johnny Depp portraying the man that was named the worst director in cinema history. With his crumbling reputation, the real Ed Wood made films such as Planet 9 from Outer Space and Glen or Glenda, most with very little success and are now considered to be cult movies. The irony is that the film about his life is more famous than he is and when this film was made, the film industry did see a slight rise in the sales of Ed Wood's filmography. The man behind the biopic resurfaced if only for a short amount of time.
We are going to look at some of the unconventional methods that are used in this film to portray the life of Ed Wood and how they impact the overall meaning of the movie and finally, what they do to keep the audience entertained. Let's face it, some biopics make you want to leave after the first five minutes of watching it (*stares intently at Bohemian Rhapsody (2018) in disappointment). Anyways, let us go on. Here's what we're going to be analysing today:
Using Black and White
Character
And remember, we're focusing on how these things are presented in an unconventional way.
Section 1: Using Black and White
Black and white is used throughout the entire film for the effect of making it look like one of Ed Wood's own films. To be honest, I found this a little bit difficult to understand, but got the point of it once I had watched the movie a few times.
Check this out:
Look at the way black and white filmmaking is used here. We have this constant sense of film noir. This depiction of pessimism through the darkening of the bar scene and that is why black and white filmmaking is used to depict the life of Ed Wood. Not just because his own films were so, but because his life and career were packed with tragedies.
Another aspect of this black and white filmmaking is that Ed Wood used the same greyscale as this film about his life uses. Now some greyscales are different to others as some, are darker and some, are lighter (this is normally created by certain placements of light sources in a scene). But, in this, there is a very dark greyscale and so, it does really go the extra mile to imitate Ed Wood's own films.
Section 2: Character
Character is very important in a biopic, especially when the character hasn't been dead for a very long time. By the time Ed Wood (1994) came out, Ed Wood himself hadn't been dead for more than 20 years and so, with this close material—it was essential to get the character correct because there were people still alive that remembered him and the way he was.
Check out the trailer and how you really get a sense of that eccentric and flamboyant character:
Notice how the character not only speaks in the trailer, but we also get narration. Narration in a trailer is a very old technique and Tim Burton is definitely playing off the film noir aspect. Something strangely dark and comedic also is played with since this man is being talked of so positively, even though he was named the worst director in history only some time before.
Section 3: Application and Conclusions
In order to use this in your own film, you need to make sure that if you're using this stuff for dark comedic and film noir effect (like Burton is) you need to overuse for that intended impact. If you underplay it then it won't look as flamboyant as the character you're attempting to portray. The whole point of this film is that it is supposed to look like it was filmed by Ed Wood himself. It's a bit messy, a bit funny, a bit of romance, a bit of identity politics, and mostly a bit of a hack job. It makes the film not only gain the dark comedic value it has throughout, but also gives it a sense of authenticity.
In conclusion, this is a film that is great to study if you're looking for techniques to use to film your biopic, especially if your biopic is about a filmmaker. There's a ton of stuff to analyse and we've just scratched the surface. I hope you've enjoyed this short analysis and good luck on your next project.