A fake Keanu Reeves account is racking up millions of views on TikTok
'POV: you're checking the comments to figure out if it's a look alike guy or some kind of face swap filter.'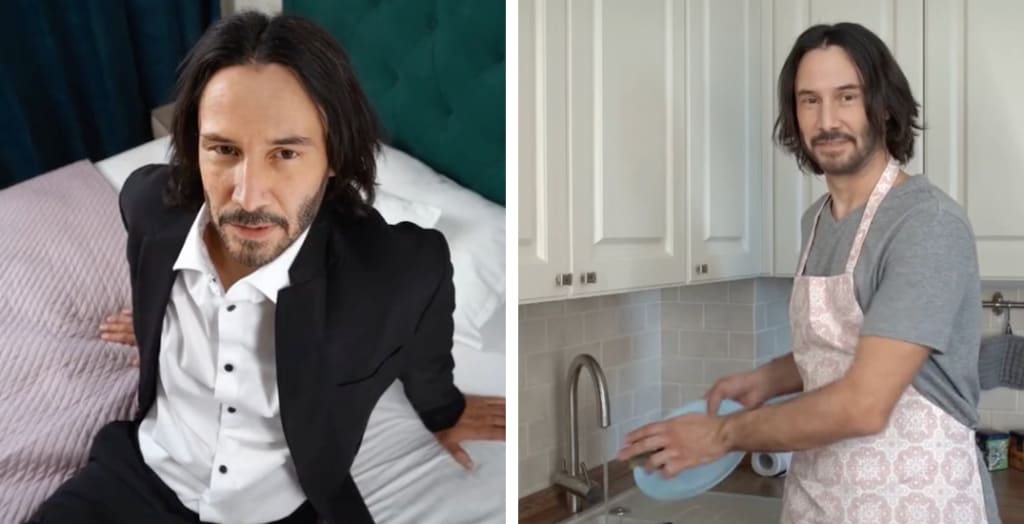 TikTok is rife with celebrity doppelgangers. Just take the famous Scarlett Johannson and Margot Robbie lookalikes that went viral for their uncanny resemblance to the Marvel and DC actresses.
A parody account pretending to be Keanu Reeves is racking up millions of views on TikTok as users are convinced the viral deepfake is actually the famous 'Matrix' actor.
However, some TikTokers are using deepfake software to imitate famous actors… and they're racking up millions of followers.
Deepfake software refers to programs that can successfully overlay an image of someone else's face onto another person's body, some of which are so convincing it's downright disturbing.
A TikToker has been uploading videos apparently using deepfake programs to put Reeves' face over his own — and he's rolling in the algorithm as viewers can't help but laugh at a fake Keanu doing ridiculous things (or are actually convinced it's him).
User 'unreal_keanu' boasts over 6.5 million followers on TikTok, and it's all because he's using deepfake software to appear as Keanu Reeves while doing all manner of activities.
In some, he's doing popular dances; in others, he's recreating viral TikTok trends. Earlier videos look a bit stiffer compared to his most recent content, but that isn't stopping some viewers from being convinced this is actually Keanu's secret burner account that he uses to let off some steam.
Examination of any of the account's 41 viral videos shows dozens of such comments. One video in which the digitally created Reeves is seen dancing, which has amassed over 115.8 million views, has been inundated with comments applauding the famed actor.
"Congrats on the success…..and for being being the first person I intentionally followed on this platform…..keep it real and keep safe," one user wrote.
"POV: you're checking the comments to figure out if it's a look alike guy or some kind of face swap filter," one user said.
"I'm still not convinced this isn't Keanu," one viewer commented.
"This dude looks more like Keanu than Keanu does now," another joked.
"I fully followed this dude thinking it was the real Keanu," yet another admitted.
Someone in the comments called him "John Wish" — if you get it, you get it.
One of Unreal Keanu's most popular TikToks was posted on June 8. In it, he's wearing a stick-figure LED light suit and doing a goofy little dance to a Katy Perry song.
But not everyone has been fooled. In the account's most recent video from Thursday, which has already garnered 13 million views, may commenters are making it a point to inform others that the individual featured is not Reeves.
"Hope y'all know this isn't real???…it's cgi!!" one user wrote.
"How is this possible?" another user asked. "I know that this is not Keanu, but the similarity…. Unbelievable!"
Is Keanu Reeves on TikTok?
Unfortunately, this is not the case as Keanu doesn't have a TikTok profile (although he reportedly made an account back in 2020) – but there are a slew of other top celebrities on the platform, including (but not limited to) Jason Derulo, Will Smith, Billie Eilish, and more.
Even with the account's bio admitting that the content is "parody," @unreal_keanu continues to fool many online with its realistic deepfakes.
And some even admitted to only recently learning about the account's use of deepfake technology. It's a fascinating but dangerous new technology that's on the rise: Here's how you can spot a deepfake, and here's how a deepfake gets made.
We shouldn't be surprised that so many were fooled by the technology. Earlier this year, research revealed that fake faces created by artificial intelligence appear more trustworthy to human beings than real people do.
About the Creator
Writer focused on film, media, fandom, music, comic, and all things geeky. Here you'll find Breakdowns, Analysis, Easter Eggs of Movies and series. Every universe comes together at this place. So just sit back, relax and enjoy the ride.
Reader insights
Be the first to share your insights about this piece.
Add your insights