A Christmas Carol (2009) - A Movie Review
'A Christmas Carol' is a story for all generations to read.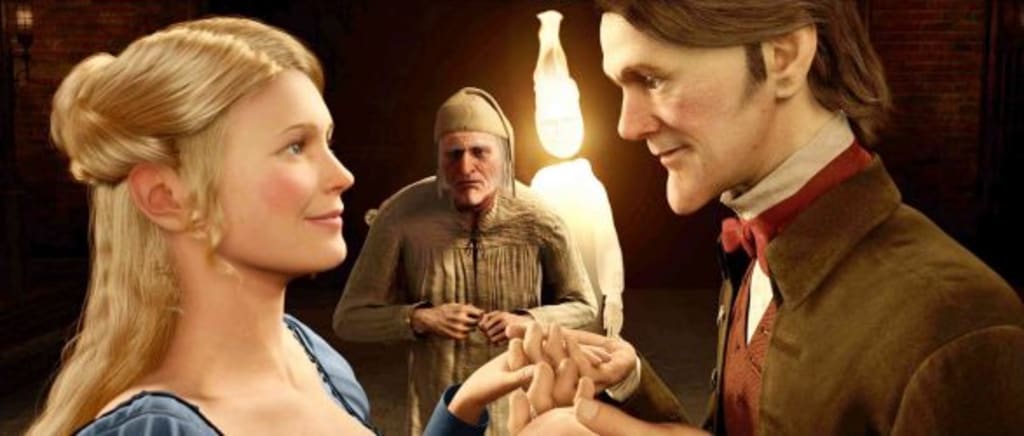 What will the ghosts of Christmas Past, Present, and Yet to Come have to show me?
A Christmas Carol is a 2009 adaptation of Charles Dickens' classic novel. Ebenezer Scrooge does not believe in the spirit of Christmas. One Christmas Eve, three ghosts take Scrooge back to the past, show him the present, and take him into the future. Facing his misfortunes, he learns a meaningful lesson.
For over a century, there have been several adaptations of A Christmas Carol. It's essential that each one must obtain a new message. Seeing this animated exhibition on the big screen was a fun experience that I will never forget. The 2009 animated adaptation fleshes out a mesmerizing story to audiences about the true meaning of Christmas.
Jim Carrey's performance as Ebenezer Scrooge was profound. Scrooge is a complex character. He has been through countless turmoils in life. Whether they were his own doing, Scrooge learns to embody those faults instead of forgetting. Popular to the world of comedy, Carrey manages to find suitable bits to make audiences laugh.
Carrey is the highlight of the film. Not only does he play Scrooge, but he also performs multiple parts. I have not seen Carrey in many dramatic roles, but doing this film was a chance for audiences to witness what else he is capable of. His performance as Christmas Present was tremendous. I love the hearty laugh he bellows.
A Christmas Carol is not your typical animated film. Motion capture is a unique world in itself. The animation looks so realistic to the point that it looks like actual people on the screen. I recommend that you take a look at the behind the scenes footage.
A long list of memorable actors filled in for the ensemble of A Christmas Carol. Gary Oldman, Colin Firth, Bob Hoskins, Robin Wright Penn, and Cary Elwes did an outstanding job. Voice actors not only lent their voices but also acted out their characters' actions.
Seeing this film on the big screen was an amazing experience. I wish more film companies would distribute motion capture. However, this version of A Christmas Carol is more about the animation than character depth. Because motion capture is a chance to create tons of exotic effects, filmmakers got carried away with it.
There are scenes of characters flying (or falling) through the sky. My favorite sequence is the part where Christmas Present and Scrooge are hovering over locations with a see-through floor. I felt like I was flying with them.
I also enjoyed this terrific white-knuckle sequence of a shadow of horses chasing Scrooge through the streets of London. It is noticeable where writers and animators filled in gaps to mesmerize audiences. Yes, it looked splendid but it didn't have a lot to do with the story.
Out of all the film adaptations of A Christmas Carol, this is the darkest. Be aware of dramatic sequences and scary images that may be overwhelming for children. Marley's presence is startling. I still remember flying out of my seat when Marley bellows loudly. A Christmas Carol is an emotional story, too so take caution.
All in all, Robert Zemeckis did an outstanding job adapting one of his favorite stories to life. Although he got a bit carried away with the animation, A Christmas Carol is a memorable film. Every version successfully delivers the message behind the story. We cannot lose ourselves to mistakes. Live life to the fullest.
A Christmas Carol is a story that all generations should read. I recommend that you watch a film adaptation of this story. It's not Christmas unless you watch A Christmas Carol.
review
About the author
Writing has been my passion since I was 11 years old. I love creating stories from fiction, poetry, fanfiction. I enjoy writing movie reviews. I would love to become a creative writing teacher and leave the world inspiring minds.
Reader insights
Be the first to share your insights about this piece.
Add your insights