Best of Netflix
6 New Titles That Come To Netflix On January 31st
#BestOfNetflix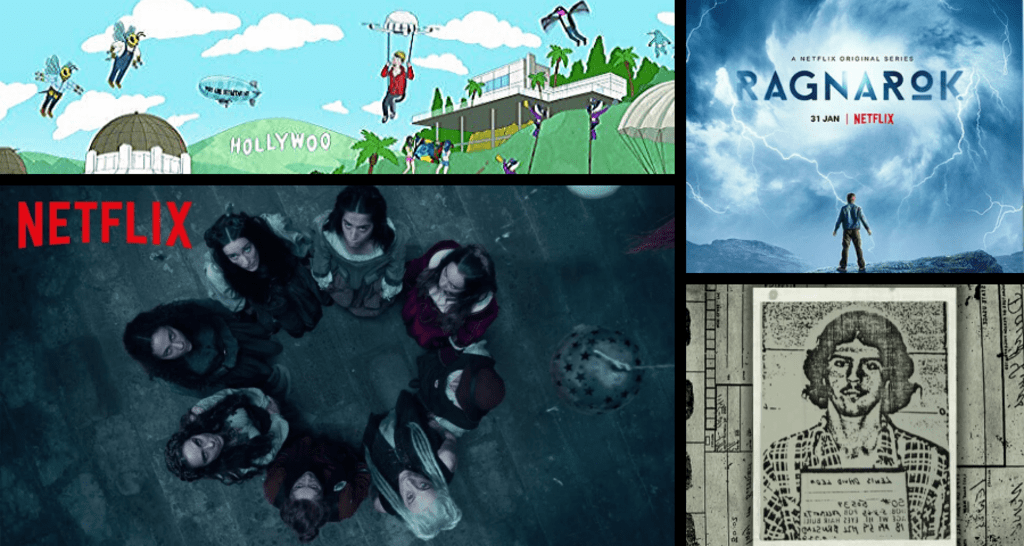 Don't feel like putting up with Disney+'s glitches and slow loading? Why bother with Hulu's extra fees and upgrade packages? Don't worry, Netflix has more content coming out to keep you entertained! Here are 6 titles that coming out on January 31st 2020. Yup, 6 new different choices all ready to stream on the same day. Happy Streaming!
1. Ragnarok

"A small Norwegian town experiencing warm winters and violent downpours seems to be headed for another Ragnarok -- unless someone intervenes in time." -IMDb
Miss Thor? Need more Norse mythology in your life? Or maybe you just really want a new show? If you anserwered yes to any of these questions. Than this show is for you! The best part is that it's a Netflix exclusive, so when it comes out on January 31st. You get to be one of the first to watch it.
Ragnarok doesn't have any ratings or reviews ... yet.
2. BoJack Horseman - Season 6/Part B

"BoJack Horseman was the star of the hit television show "Horsin' Around" in the '80s and '90s, now he's washed up, living in Hollywood, complaining about everything, and wearing colorful sweaters." -IMDb
I'm happy to get closure for the story and I'm happy to get these last few episodes, but I am pretty upset that there won't be anymore episodes of Bojack Horseman after this. As for ratings, be ready to be impressive. Bojack Horseman has an 8.6/10 on IMDb and a 93% critic score on Rotten Tomatoes. However, this last season, season 6, has an even more impressive 97% critic score on Rotten Tomatoes. I guess the creators wanted to end the show on a positive note. In other words, these last episodes are definitely something to be excited for.
"Bittersweet and brilliant to the very end, BoJack Horseman's final season manages to keep surprising viewers with its empathy and depth, solidifying its place as one of TV's greatest offerings." - Rotten Tomatoes
3. Diablero - Season 2

"A fallen priest, a legendary demon hunter, and a modern day superhero join forces to battle evil." -IMDb
I do feel that I should warn you, this show is dark and gory ... it may not be for everyone.
Diablero has scored a 6.7/10 on IMDB.
4. 37 Seconds

"Yuma is a young Japanese woman who suffers from cerebral palsy. Torn between her obligations towards her family and her dream to become a manga artist, she struggles to lead a self-determined life." -IMDb
Every now and again I feel the need to watch a more real 'Down to Earth' movie like this. It helps remind me that t.v. is exaggerated just for the sake of entertainment. Movies like these tell the more real stories about life, the good and bad all rolled into one.
37 Seconds has scored a 7.8/10 o IMDb and a 67% critic score on Rotten Tomates.
5. I AM A KILLER - Season 2

"Follows Death Row inmates, who tell the story of how they ended up there." -IMDb
This show can be disturbing at times, it may also not be for everyone.
I AM A KILLER has scored a 7.5/10 on IMDb and a 79% audience score on Rotten Tomatoes.
6. Luna Nera

"A group of women are suspected of witchcraft in 17th century Italy." -IMDb
Want to be one of the first to watch this show? It's all new on the 31st.
Luna Nera doesn't have and score ratings yet.
Need more Netflix recommendations in your life? I have your back! Check out my profile for more great Netflix recommendations!
Work Cited
Greenspan, Rachel E. "Here's Everything New on Netflix in January 2020." Time, Time, 31 Dec. 2019, time.com/5752064/new-on-netflix-january-2020/.
"Ratings and Reviews for New Movies and TV Shows.", IMDb.com, www.imdb.com/.
Rotten Tomatoes: Movies | TV Shows | Movie Trailers ... https://www.rottentomatoes.com/.
Weinman, Jaime. "Netflix Canada in January 2020: What's New This Month." Macleans.ca, 20 Dec. 2019, www.macleans.ca/culture/netflix-canada-in-january-2020-whats-new-this-month/.
"What's New on Netflix Canada This Week: January 10th, 2019. www.whats-on-netflix.com/whats-new/ca/whats-new-on-netflix-canada-this-week-january-10th-2019/.
"See What's next." Netflix, www.netflix.com/.