6 Books to Devour During Droughtlander
Time travel? Check. Scottish landscapes? Check. Epic love stories? Check.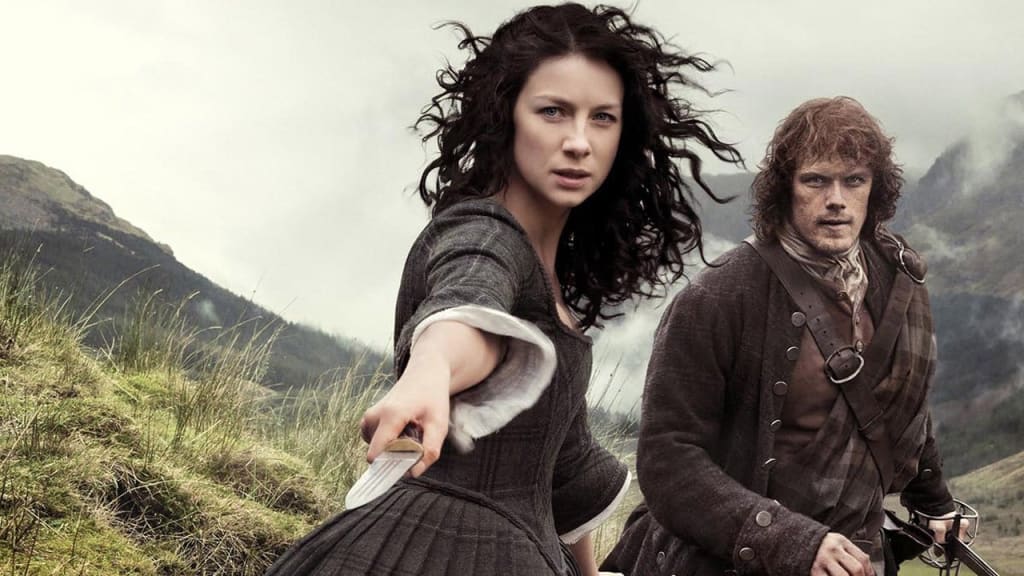 Time travel? Check. A main female character called Clare? Check. A sweeping romance strong enough to withstand the oddities of a life of time travel? Check. Ok, so Niffenegger's debut novel may be set in modern-day Chicago rather than the romantic landscapes of the Scottish Highlands, but we're this beautiful novel will pull you in from page one.
As the narrative's first-person perspective switches between artist Clare and librarian Henry, we quickly learn that Henry has a rare genetic disorder that causes him to involuntarily travel through time. What follows is a winding tale of two people whose love story is not linear. During their first meeting, for example, when Clare is 20, and Henry 28, while he is meeting Clare for the first time, she claims to have known him for most of her life.
Just as Henry's life, from the age of 5 years old, consists of sporadic jumps back and forth throughout his own timeline, as is the course of their relationship.
Following an unusual structure, Atkinson's novel tells of the many alternative lives - and the many alternative deaths - of Ursula Todd, told in a beautiful winding narrative of repetition. Born 11 February 1910, Ursula Todd is strangled by her umbilical cord, and dies. Born 11 February 1910, Ursula Todd, the doctor snips the umbilical cord, and she survives, only to drown at four years old. Born 11 February 1910, Ursula Todd again survives her birth, only to fall out of a window at five years old. At eight, she dies of the Spanish flu shortly after Armistice day.
Driven by an overwhelming feeling of deja-vu, Ursula attempts to change the future in each new 'version' or reincarnation of her life, sometimes with more success than others. One version of her life takes her to Germany, where she socialises with Eva Braun and Hitler. Another takes her to London, and dies when her building collapses during the blitz. In another, she joins the Air Raid Precautions department to rescue people from collapsed buildings, rather than be the one who is trapped.
Her obsession with changing her fate, and the fates of her family, reaches a head, however, when an uncontrollable event takes a loved one from her, and she is drive to find the true secret to a happy life.
This little-known novel, by self-published author, Amy Harmon, popped up on my Kindle suggested reads recently, and reading the premise immediately reminded me of Outlander.
Anne Gallagher grew up enthralled by her grandfather's stories of Ireland. Left heartbroken at his death, she travels to his childhood home with the intention of spreading his ashes. However, on her arrival, she finds herself not just reminiscing over the stories and memories he shared with her, but quite literally pulled through time, to 1921 Ireland.
Sure enough, 1920s Ireland is a dangerous place in which to awaken, the promise of war hanging heavy in the air as the country fights for its independence. Anne finds herself under the care of a Dr. Thomas Smith, guardian to a young boy who is oddly familiar. Mistaken for the boy's long-missing mother, Anne adopts her identity, convinced the woman's disappearance is connected to her own.
Austen and time travel. A precarious match, but one that seems to work well in Kathleen A. Flynn's little-known novel. Two time travellers, Rachel Katzman and Liam Finucane, journey back to 1815 in order to meet Jane Austen. They are not simply fans in search of an autograph, however; they aim to diagnose the illness that would take Austen's life just two years later, and find an unfinished manuscript hinted at in her letters.
Rachel finds herself struggling to stifle her independent nature and let Liam take the lead as they adapt to Regency society and attempt to infiltrate Austen's circle via her favorite brother, Henry. Meanwhile, despite their apparently having little in common, her relationship with Liam grows increasingly complicated.
Greater yet is their struggle to stick to their pledge to leave history exactly as they found it - no matter what.
Two dashing heroes roaming around a rugged rural terrain in the 18th century, albeit at completely opposite ends of the now-United Kingdom. Two epic historical book series adapted for our TV screens. Is it any wonder that these two series have been compared countless times before? If you are more drawn to the history and attention to detail, rather than the fantasy and sci-fi elements of Outlander, or if you're specifically craving more 18th century-set novels, this is another series to set your teeth into.
Returning from having fought in the American Revolution, Ross Poldark returns home from war, only to find that his sweetheart, Elizabeth, is engaged to another man; his cousin, having long assumed her beloved to be dead. With his father dead, and his estate derelict, Poldark has no choice but to rebuild his life from the ground up.
Nevertheless, a chance act of kindness in rescuing a street urchin proceeds to change the entire course of his life.
Craving both history and Scotland - and a plenty of romance? Try Helen Susan Swift's Lowland Romance Series. Set in 1811, Alison Lamont has travelled from the Highlands to Edinburgh in search of a husband. Alison seems to have a knack for finding herself in awkward and borderline-scandalous situations, however; from been thrown out of a society ball after being caught stealing a kiss in a dark corner, to fleeing from a riot in the dangerous neighbourhoods of Edinburgh's Old Town.
And of course, she stumbles across a man who would, in the eyes of her family, make the most unsuitable husband; Willie Kemp, an eccentric boatbuilder. Her aunt, on the other hand, is determined to push her towards the wealthy, but unpleasant, John Forres.
This is Jane Austen, had she ever ventured as far north as Scotland (which, to the best of my knowledge - and quick Google search - she did not).