5 Wickedly Funny Raunchy Christmas Comedies
These Christmas comedy titles are anything but family-friendly and will most likely make Santa Claus's naughty list.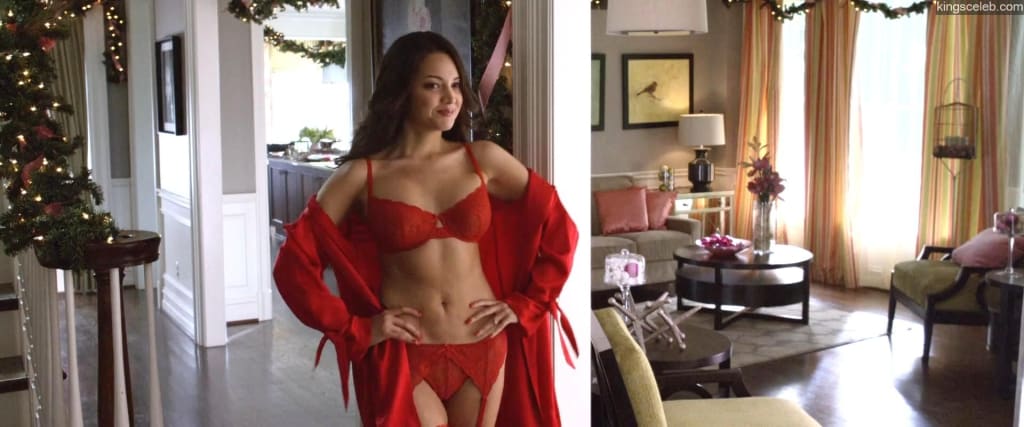 Image from 'A Very Harold & Kumar 3D Christmas' (2011)
There are so many options to choose from when seeking out a proper holiday-themed motion picture to put anybody in the Christmas spirit. Whether it's romantic yuletide endeavors, colorful cartoon capers, or family-friendly stories taking part in the noel-centric genre, there is no denying the number of options is certainly robust.
But for those that want to venture on the wild side of the entire affair, there are some rather raunchy flicks of the comedy-variety that offer viewers a gut-busting good time. Here are five that stand out as some of the raunchiest Christmas comedies that deserve pole positions in everyone's holiday rotation.
Office Christmas Party (2016)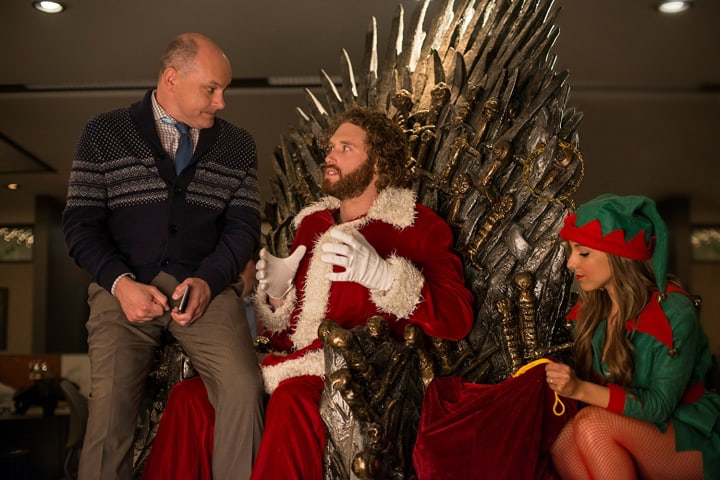 For most people, that annual office Christmas party can be a very dull affair, and many workers can only dream of letting loose with booze and laugh out loud shenanigans that everyone will be talking about all year long. Luckily nobody has to risk their job in trying to make that dream a reality, as the 2016 yuletide comedy flick Office Christmas Party literally leaves nothing to the imagination.
This hilarious ordeal has no shortage of highlights, making it one of the raunchiest of all. The star-studded affair includes Olivia Munn, Jason Bateman, T.J. Miller, and Jennifer Aniston, as well as a magnificent turn from Jillian Bell, who plays a very threatening pimp like a champion. Imagine every party fantasy anyone's ever had, including jumping cars over bridges, Reindeer's drinking out of the toilets, and a personal appearance from Jimmy Butler. That is just a small taste of the hard-hitting hilarity Office Christmas Party has to offer.
Bad Santa (2003)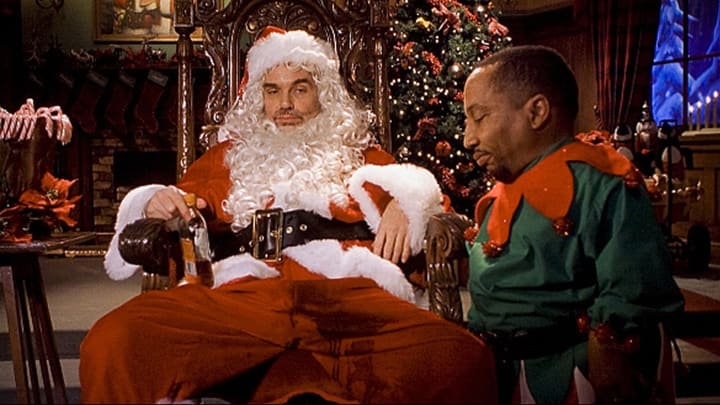 There is a good chance that not every mall Santa Claus will be any kind of an expert when it comes to spreading holiday cheer. But nobody would ever expect one to resort to passing out drunk, fornicating in dressing rooms, and planning to rob the place blind on Christmas Eve. The 2003 Christmas comedy Bad Santa set the tone for Raunchy yuletide affairs and reigns supreme as one of the best of the comically cringeworthy cinematic endeavors.
Billy Bob Thornton brings the deplorable counterfeit Saint Nick to life as a safecracker named Willie, who robs the mall he works at every year and wastes his money on alcohol and prostitutes the rest of the time. Fed up with the hassle, he plans one more job that ends up having him takeover a rich suburban home, hooks up with a hot bartender with an incredibly naughty Santa fetish, and so many other remarkably hilarious ordeals. It's pretty clear that Bad Santa is a must-watch raunchy Christmas comedy deserving of a place in anyone's holiday rotation.
Bad Santa 2 (2016)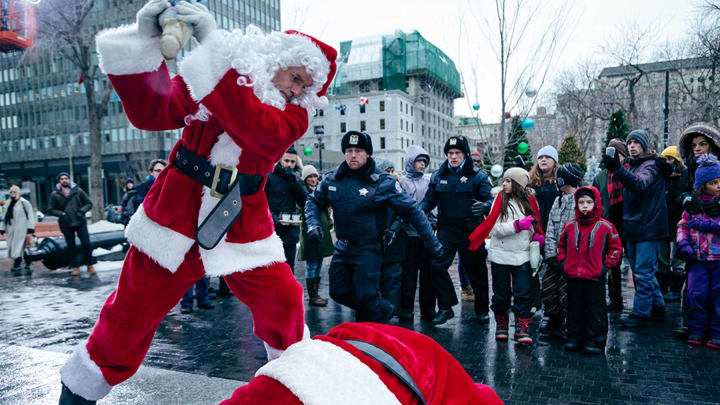 Bad Santa would return to the big screen more than a decade later but would remain just as bawdy if not more so the second time around. Bad Santa 2 saw everything fall apart for the happy ending Willie the safecracker had found, forcing him back into the world of nefarious yuletide behavior when his former partner who betrayed him last time out Marcus gets out of prison with a job to con a charity for cash. The only downside is the job is with the one person Willie won't work with, his mom.
Jam-packed with even more hilarious debauchery than the initial endeavor, Bad Santa 2 offers up plenty of holiday hilarity with Billy Bob Thornton, Tony Cox, and Brett Kelly, reprising their roles with Christina Hendricks and Kathy Bates being added to the roster. It's no secret the vulgar follow-up should be on everyone's radar as a sequel with no raunchier equal.
A Very Harold & Kumar 3D Christmas (2011)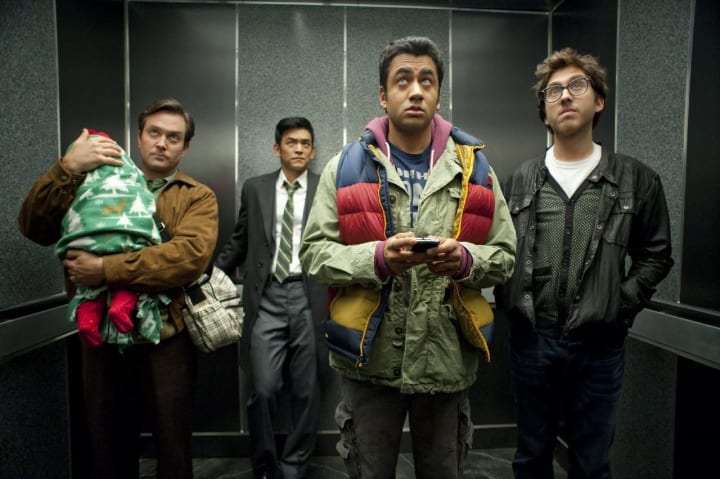 Whether it's going to White Castle or escaping from Guantanamo Bay, there is no denying Harold & Kumar are two stoners who know how to turn any endeavor into an amusing adventure anyone will want to watch over and over again. John Cho and Kal Penn have done great things in their careers, whether it's work at the Whitehouse or become the new Sulu in Star Trek reboot. But no one will ever forget that yuletide flick that cracked audiences up around the holidays called A Very Harold & Kumar 3D Christmas.
The third film in the laugh-out-loud stoner comedy franchise sees Harold and Kumar reunite after a long absence from one another to embark on yet another uproarious odyssey in a noel-centric journey to replace the Christmas tree the former burnt down, which belonged to his father-in-law. Filled with plenty of laughs and a next-level turn from franchise favorite Neil Patrick Harris, A Very Harold & Kumar 3D Christmas is an exceptional raunchy holiday laugh-fest.
The Night Before (2015)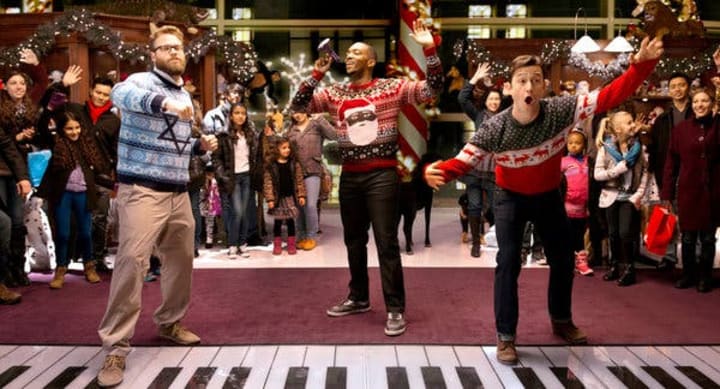 The eve of Christmas can be a dull affair for most, and for others, it's just full of anxious thoughts about what's going to happen after Santa visits. But some do things differently before the festivities of Xmas commence. For an idea of what that entails, The Night Before provides a solid raunchy comedy glimpse armed with a smorgasbord of perfectly calibrated holiday humor from a plethora of top-notch talent executed in an exquisitely explicit fashion that should rank very high on everyone's Christmas watch-list.
The Night Before's story tells the yuletide tale of three friends spending their last holiday together after a lifelong tradition created in a friend's time of need and the efforts they take to make sure it eclipses every iteration that came before. The Falcon and The Winter Soldier star Anthony Mackie leads alongside Seth Rogan and Joseph Gordon Levitt in what can only be described as a brilliant, heartfelt hilarity with plenty of jaw-dropping moments, making it an ideal choice for anyone looking for a raunchy choice for move night around Christmas time.