5 Absolutely Amazing American Dad Christmas Episodes
Here are five yuletide episodes of American Dad that will provide plenty of holiday hilarity on Christmas.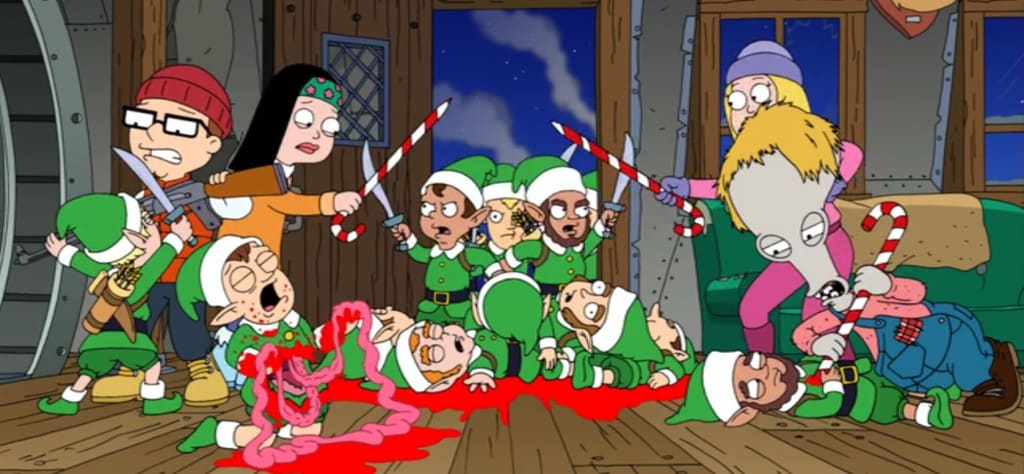 Image from American Dad Christmas episodes - "For Whom the Sleigh Bells Toll"ll
That time of year has arrived once again, where the inevitable holiday episode of everyone's favorite shows will make their way to the forefront in a desperate attempt to spread Christmas cheer and get everyone in the yuletide spirit. While every show has several top-tier contenders to call the best among the rest when it comes to noel-centric chapters, none compare to the festive adventures that go down around that special time of year as they do on the long-standing animated comedy series American Dad. There are many options to choose from when it comes to the Xmas endeavors the Smith family has endured over the years, and out of them all, here are five that undoubtedly eclipse the rest.
Dreaming Of A White Porsche Christmas - Season 10, Episode 6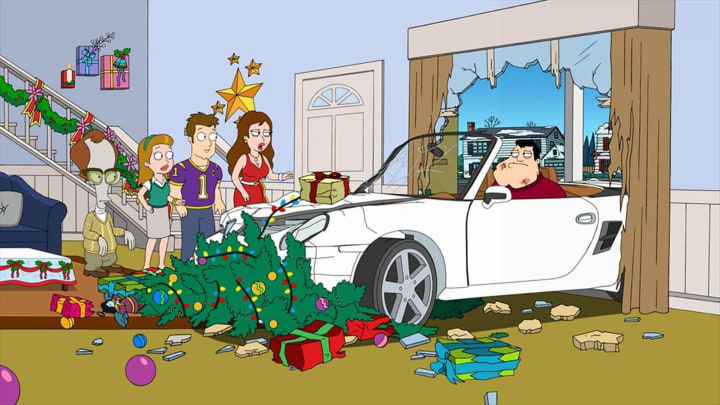 A lot of shows can't resist utilizing the infamous It's a Wonderful Life concept in their holiday-themed chapters, and while it may seem like a cheap ploy for others, American Dad pulls off a solid Xmas entry. "Dreaming of a White Porsche Christmas" has Stan wishing he was a single playboy like Principal Lewis, which leads to a wish causing reality to change.
Roger and Stan find themselves in an alternate world where Stan never married Francine or had kids with her, causing him to realize what's important and experience several side-splitting shenanigans in order to get back to his family before it's too late, resulting in a satisfactory outing from the long-running series.
Minstrel Krampus - Season 9, Episode 8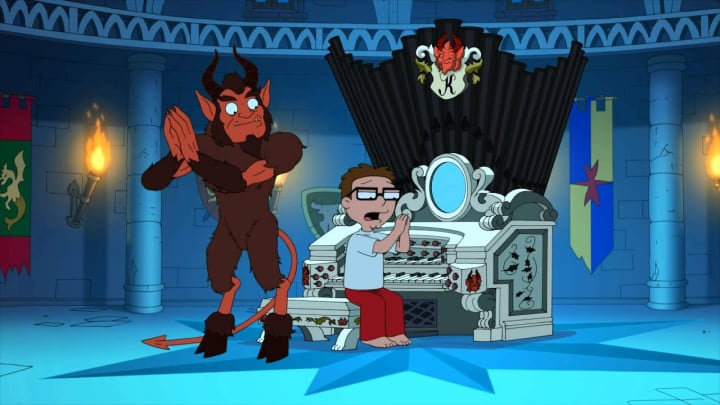 Everyone knows that singing is an intricate part of the holiday, and traditionally many yuletide episodes allow their characters to let loose when it comes to musical numbers. American Dad does that in a superb fashion in the "Minstrel Krampus" iteration.
There is no shortage of jams in this Xmas installment, from Steve's incredibly comical Bad Boy music video to kick things off all the way to Krampus's clever Christmas carol. The mythical beast kidnaps Steve resulting in some brutally funny holiday hijinks making this ordeal a perfect choice for that special time of year.
Season's Beatings - Season 7, Episode 7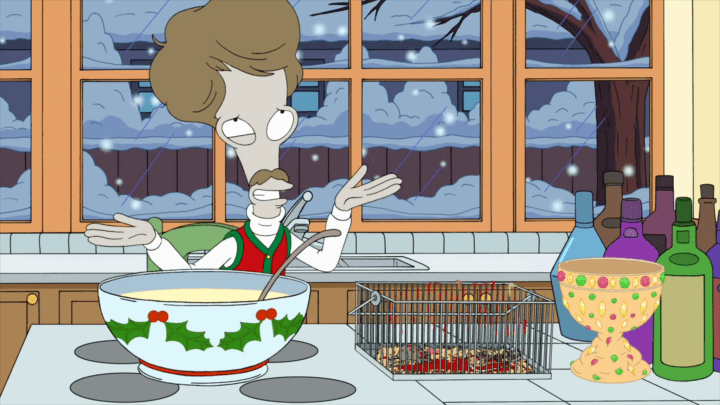 Not many shows would take on a story where its main character must venture to the Vatican and back in order to kill a child possessed by the Antichrist, but American Dad has never been one to follow the crowd. In "Season Beatings," Stan beats up Roger, who is dressed as Jesus on live TV and gets excommunicated.
Luckily for him, Hayley's stoner boyfriend Jeff adopts a baby possessed by a demonic entity mostly known for being the exact opposite of Jesus because slaying the Antichrist is one of the only ways to get back into the Church. This wild yuletide adventure showcases the series's above-average creativity skills when it comes to concocting unique and convivial Christmas episodes.
Rapture's Delight - Season 5, Episode 9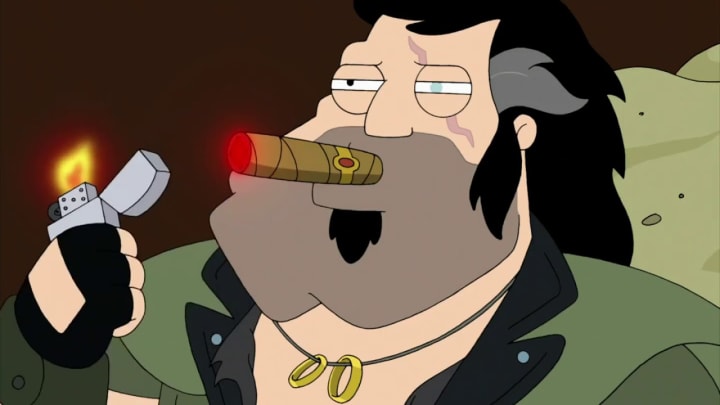 In "Rapture's Delight," Stan and Francine fornicate in Church, causing the rapture to occur just in time for Christmas, and the Smith couple gets left behind while their kids and almost everyone else ascends to heaven. Francine leaves Stan, leading to a post-apocalyptic future where her new beau, Jesus Christ, recruits the former CIA family man for a gut-busting mission to kill the Antichrist.
This Xmas entry is packed to the brim with gratifying one-liners and humorous jokes resulting in an action-packed adventure proving American Dad's holiday endeavors are unlike anything else out there on the small screen.
For Whom The Sleigh Bells Toll - Season 6, Episode 8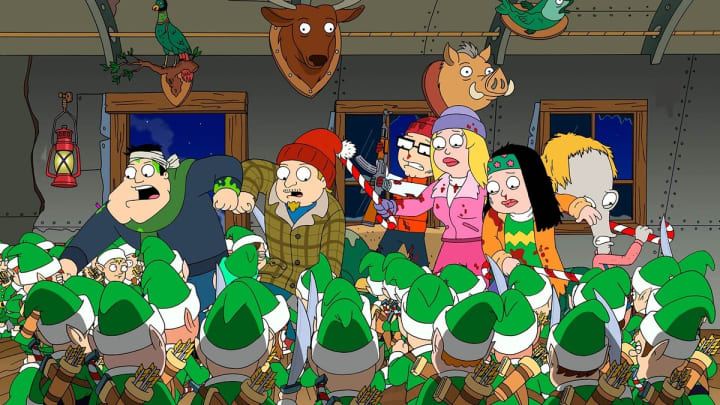 "For Whom The Sleigh Bell Tolls" is not only the number one contender for holding the title of best Christmas episode American Dad has ever unleashed on viewers but also makes a serious case for a high ranking spot on the list of best holiday-themed entries of any show ever made. In the entertaining ordeal, Steve kills Santa Claus accidentally with a gun that Francine told Stan not to get him.
But Old Saint Knick doesn't die and vows revenge. After he heals in an Empire Strikes Back Bacta tank, he sends out a Lord of the Rings-style yuletide army of bloodthirsty elves, murderous reindeer, and colossal snowmen to march against a heavily armed Smith family. This magnificent endeavor is pure greatness from start to finish and should be revered as an iconic piece of television history.
For more stories, articles and great content make sure to check out WrittenByDJR.com and ProducedByDJR.com. Also make sure to check out my work on Vimeo, Amazon Prime, and on Twitter @WritttenByDJR.