4 Unusual Yet Meaningful Art Installations Across the World
Activism with art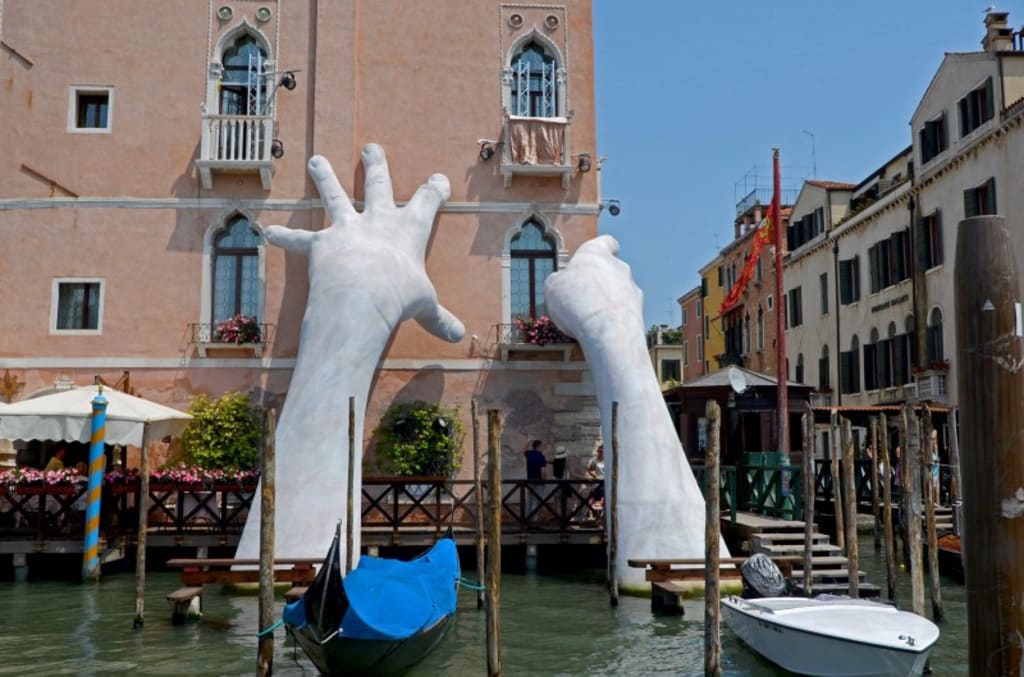 Giant Hands in Venice by Lorenzo Quinn. Source-Pixabay
Since time immemorial, art has played a quintessential role in enriching people's perspectives and translating experiences across space and time. Beyond the individual level, art has helped in exposing socio-political habits discussing environmental problems and animal cruelty.
Installation art is an artistic genre of three-dimensional works that are designed to transform the perception of a space. It can be temporary or permanent.
In this article, I will delve into four art installations worldwide, which are unique and meaningful but have left an indelible mark on our society and culture.
1. Sirens of the Lambs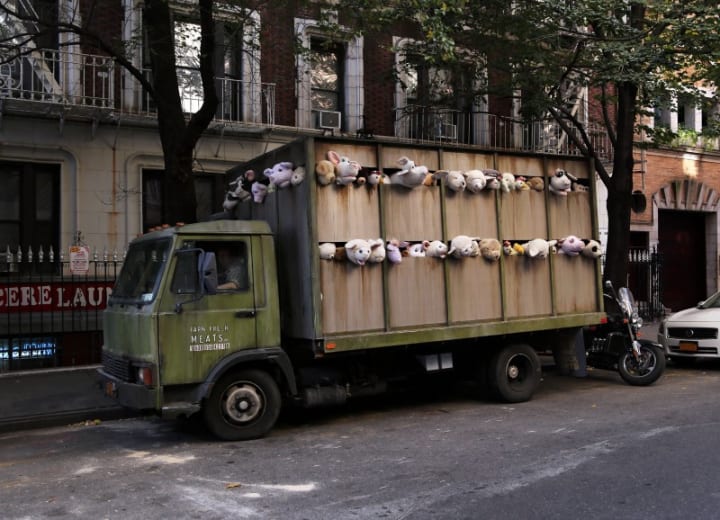 Banksy, an influential and enigmatic street artist and activist, constantly uses his art as a medium to bring social and political change. In 2013, he introduced "Sirens of the Lambs" - a slaughterhouse delivery truck filled with stuffed animals, imitating screeching of animals. The display on wheels toured the Meatpacking District and then citywide for two weeks.
This bizarre way was to picture the cruelty towards animals and send a message to abandon the meat industry.
2. Support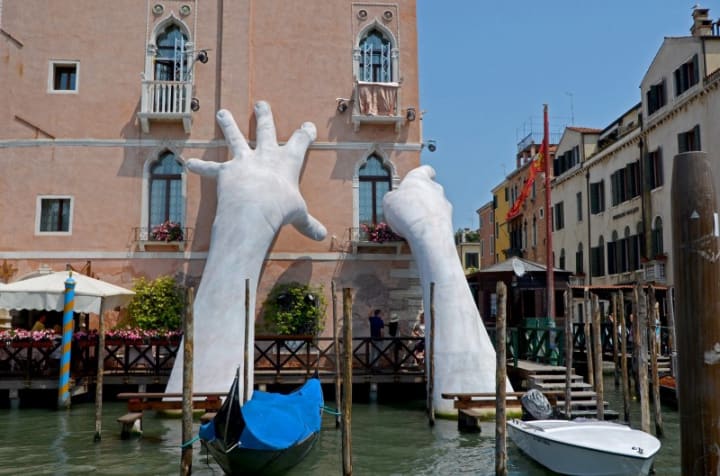 A monumental sculpture of giant human hands was installed in Venice's Grand Canal. The artwork "Support" was created by artist Lorenzo Quinn, the son of actor Antony Quinn, who established a pair of 5000-pound white hands intricately designed with hand creases. The sculpture literally and metaphorically supported Venice's historic hotel, Ca'Sagredo.
The giant hands were created to address the problem of global warming and climate crisis with the probability of Venice completely submerging into the water by the next century.
3. Museo Atlantico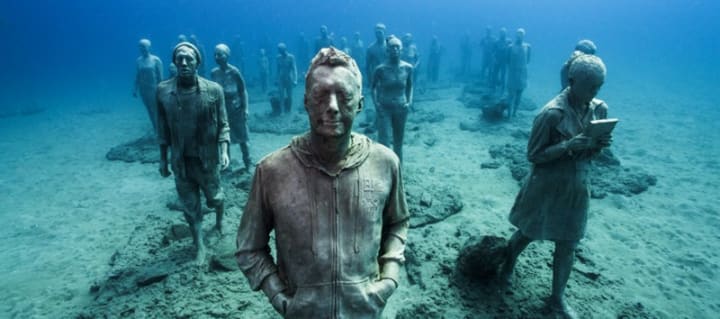 Not everyone could visit this artwork personally. If you are comfortable inside the ocean and well-versed with scuba diving, then this art installation is for you. Museo Atlantico is Europe's first underwater museum, created by renowned British artist Jason deCaires Taylor in 2017. Hundreds of human sculptures made from pH-neutral cement are designed and installed onto the seabed, off the coast of Colorados Bay on the Canary Islands.
The lifelike figures standstill as schools of fish and other marine creatures swim around them in a magical undersea dance. This installation explores themes of humanity and water conservation.
4. Sunflower Seeds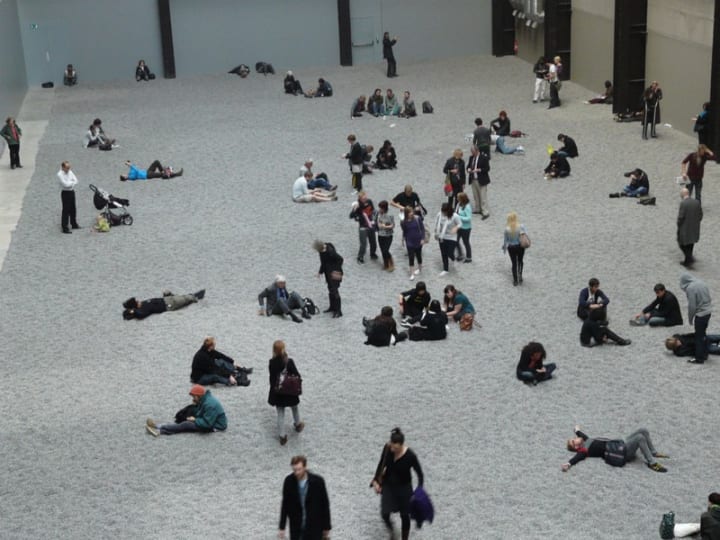 Seeds is an art installation created by Chinese contemporary artist and political activist Ai Weiwei. The work consists of more than a hundred million handcrafted porcelain sunflower seeds that filled the gallery's 1,000 square meter turbine hall to a depth of ten centimeters.
Symbolically, this is a satire on the conformist Communist Party of China. The millions of seeds spread across a wide space in Tate Modern's Turbine Hall were meant to represent the vastness of China. An individual seed (1 person) is unique in its own sense but instantly gets lost in 100 million seeds.
This art directed at how a person loses their identity in a labor-intensive country like China and an individual does not have the right to freedom of expression.
Last thoughts
In "Art and Objecthood", Michael Fried derisively labels art that acknowledges the viewer as "theatrical". There is a strong parallel between installation and theater: both play to a viewer who is expected to be at once immersed in the sensory/narrative experience that surrounds him and maintain a degree of self-identity as a viewer.
These are a few of the unique art installations on the planet and have established themselves as activism with art. They are meaningful, powerful and immerse us in thoughtful conversations.
Have you been to any of these installations?
References-
1. 15 UNUSUAL Art Installations - what were they thinking?
If you like what you read, check our YouTube channel Frame of Reference, where we upload weekly videos on art, culture, and history.
art
About the author
Art enthusiast. I engage with art at a deep level. I also share insights about entrepreneurship, founders & nascent technologies.
https://linktr.ee/kamnakirti