30 Years Of Nicktoons: Counting Down The 10 Best Nicktoons Of All Time
Not just cartoons, they're Nicktoons!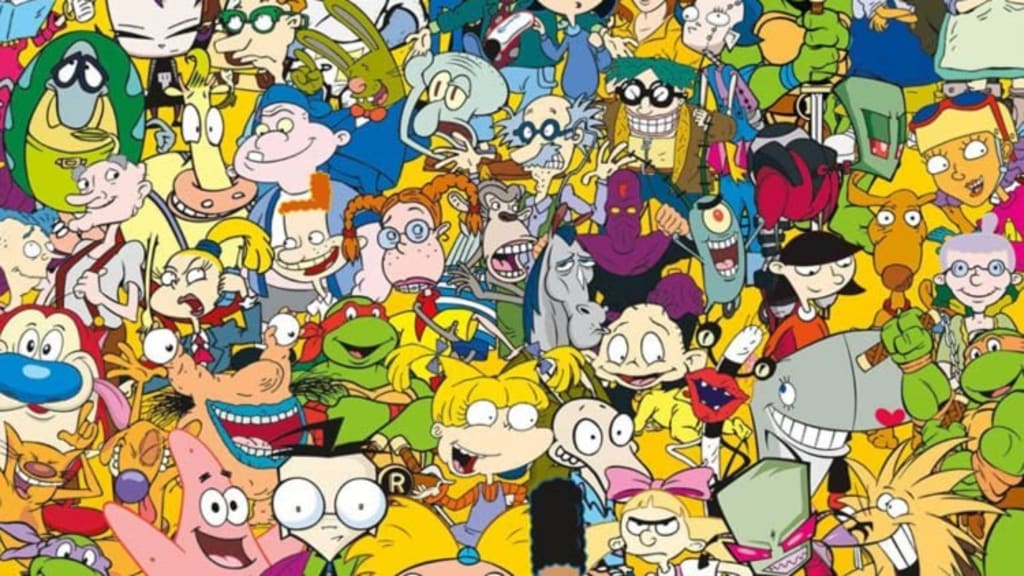 Credit: Nickelodeon.
On August 11, 1991, the Nicktoons were born. Starting out as a 90-minute programming block including Doug, Rugrats, and Ren & Stimpy, the Nicktoons name was soon expanded to encompass all animated series produced by Nickelodeon. Eventually, the brand was expanded to include movies and video games, such as the Rugrats and Spongebob theatrical films, and the popular Nicktoons Racing video game series.
Now, thirty years since the term was first coined, the Nicktoons brand is still going strong. To celebrate this grand occasion, we've compiled a list of the ten greatest Nicktoons of all time.
10. Invader Zim
In the early 2000s, Nickelodeon, seeing a gap in their programming, sought out a series that would appeal to children in their early teens, and approached comic book artist Jhonen Vasquez for a pitch. The result of their efforts was Invader Zim.
The Irken alien Zim, disrespected due to his over the top behaviour and short stature, is sent to invade and conquer Earth, an assignment that no-one else wanted. Zim, unaware that he was given the assignment simply to get rid of him, throws himself into his task with gusto, taking up residence on Earth and going undercover in a School for human children, where he hopes to gather the intel he needs to eventually conquer the planet. Unfortunately for Zim, his plans are constantly thwarted by his classmate, Dib, the only human who sees through his disguise.
Due to poor ratings and budget issues, Invader Zim was cancelled early in the production of its second season. However, the series later developed a cult following, leading to a comic book continuation penned by Jhonen Vasquez. In 2019 a film sequel, Invader Zim: Enter The Florpus, was released on Netflix.
9. Aaahh! Real Monsters!
After the massive success of Rugrats, Nickelodeon approached the series creators, Arlene Klaskey and Gabor Csupo, for a new show. Hoping for a point of difference at a time when other creators were pitching shows featuring animal characters, Csupo sought inspiration from his children's interests, and pitched a show about the lives of monsters.
Aaahh! Real Monsters follows a trio of young monsters, Ickis, Oblina, and Krumm. They spend their days in School being taught the art of Scaring by The Gromble, and their nights making use of what they've learned. They must also avoid attracting the attention of Simon, a Monster Hunter.
Aaah! Real Monsters ran from 1994 to 1997. It became a cult classic owing to its unique art style, inspired by The Beatles movie Yellow Submarine, and attracted a number of notable guest stars during its run, including Bronson Pinchot, Michael Dorn, and Jim Belushi. The show is even the subject of an urban legend regarding a supposedly cancelled movie-length special. Some fans claim it was listed in the TV Guide but pulled at the last minute, while others swear that they have actually seen the film. However, no hard evidence of the movie exists.
8. As Told By Ginger
In the back end of the year 2000, As Told By Ginger, another Klaskey-Csupo production, debuted on Nickelodeon. Aimed at a slightly older age group than the Network's usual demographic, the series focused on Ginger Foutley and her friends as they navigated the social dilemmas of Junior High, and later, High School. The series kicks off when the most popular girl in school, Courtney Gripling, takes a liking to Ginger, boosting her social status.
The series was unique as many animated series go in that it acknowledges the passage of time and follows a strict continuity. Most of the main characters change clothes regularly, they move up school years as the series progresses, and events from past episodes are regularly referenced. The series was also praised for not shying away from dark themes, dealing with topics such as depression, addiction, and even the death of a semi-regular character.
As Told By Ginger is probably not the most marketable of the Nicktoons, which probably keeps it from being remembered as well as it should be (you won't see Ginger popping up in Nicktoons Racing, or the upcoming Nickelodeon All-Star Brawl). However, it remains one of the most critically successful, earning three Emmy nominations for 'Outstanding Animated Program' during its run.
7. The Adventures Of Jimmy Neutron, Boy Genius
While many Nicktoons, including Rugrats, Hey Arnold!, and Spongebob Squarepants spawned theatrical films during their run, Jimmy Neutron was unique in that the film came first. After the success of Jimmy Neutron: Boy Genius at the box office in 2001, Nickelodeon approved a follow up TV series, The Adventures Of Jimmy Neutron. The show was of notably higher quality than other CGI animated shows of its time, as the production team was able to reuse the programs they had developed for the movie.
The series focused on a young child prodigy, Jimmy Neutron, and the fun hijinks caused by Jimmy's inventions. One of the most popular elements of the show was the love/hate relationship between Jimmy and Cindy Vortex. Initially fierce rivals, over the course of the series they develop into reluctant allies, and eventually friends, with the final few episodes hinting at a possible future romance (As the pair are, at most, nine years old, it makes sense that Romance was only hinted).
During it's three season run, Jimmy Neutron featured in three crossovers with another Nicktoon, Fairly Odd Parents, and spawned a short-lived spin-off, Planet Sheen.
6. Rocko's Modern Life
Rocko's Modern Life is somewhat like the 'weird little cartoon that could', considering that the show's creator, Joe Murray, never expected that Rocko would be ordered to series. He sold the idea to Nickelodeon to fund an independent project he'd been working on, and was surprised when the network asked for a pilot a few months later. Murray warned the company that he did not write specifically for children, but that was alright with Nick, who hoped to build a secondary audience of teens and young adults.
Rocko, a wallaby who has migrated to the weird and wacky O-Town before the series begins, is the straight man of the show, oblivious to or unfazed by the weirdness going on around him. Like Invader Zim, Rocko's Modern Life has become a cult classic, and was popular with college students during its run. The series is known for launching many big names in the cartoon industry. Tom Kenny, who voiced Rocko's best friend Heffer, went on to become the voice of Spongebob Squarepants. After Rocko's cancellation, many of the show's production team went to work on Spongebob.
In 2019, a one-off special, Rocko's Modern Life: Static Cling, premiered on Netflix.
5. Danny Phantom
Danny Phantom was the second major Nicktoon developed by Butch Hartman, creator of the popular series Fairly Odd Parents. Many fans and critics argue that the series is Hartman's best work.
Just as it says in the theme song, Danny Fenton, youngest child of Ghost Hunters Jack and Maddie, was just fourteen years old when an accident inside his parents newly built Ghost Portal gifts him with ghostly powers, allowing him to become a superhero, Danny Phantom. Aside from giving Danny his abilities, the portal also allows ghosts to escape from 'The Ghost Zone' into Danny's home town, Amity Park. Danny must recapture the escaped ghosts while also keeping his ghost identity a secret from his family.
Danny Phantom has developed a cult following, and is particularly popular with fan theorists, who enjoy speculating how each of Danny's ghostly enemies may have died. In recent years, fans have mounted the #GoGhostAgain campaign to get the series revived.
4. The Wild Thornberrys
In the late 90s, after the result of a string of focus groups showed a need for more healthy parent-child relationships in children's programming, Nickelodeon turned to the tried and true Klaskey-Csupo team to develop a series with a strong family unit at it's core. Eventually, they ended up with The Wild Thornberrys.
The show followed Eliza Thornberry, a girl blessed with the ability to talk to animals. Eliza travelled the world with her family, including wildlife documentarians Nigel and Marianne, moody sister Debbie, pet chimp Darwin, and Donnie, a boy raised by Gorillas who was found and adopted by the family before the series begins. For the first few seasons, Eliza must keep her powers a secret in order to keep them, but eventually, in The Wild Thornberrys Movie, Debbie finds out, remaining in on the secret for the rest of the series.
The Wild Thornberrys was known for the high calibre of its voice cast. Eliza was voiced by Lacey Chabert, who went on to star as Gretchen Weiners in Mean Girls, while Donnie was voiced by Flea, bassist of the Red Hot Chili Peppers. Nigel was voiced by the legendary Tim Curry. Nigel Thornberry keeps the series alive today in the form of regularly circulating memes featuring the character. The crossover movie Rugrats Go Wild, released in 2004, served as a grand finale for both Rugrats and The Wild Thornberrys.
3. SpongeBob SquarePants
After the cancellation of Rocko's Modern Life, the series Art Director, Stephen Hillenburg, recruited many members of that show's production team to help him develop his passion project, a little series that would eventually be known as SpongeBob SquarePants. It took three years of development, and a few back and forth arguments between Hillenburg and Nickelodeon over the title characters age (Nick wanted a schoolboy, Hillenburg was adamant that the character be an adult), before SpongeBob was ordered to series.
We should all be grateful that Hillenburg stood his ground. SpongeBob SquarePants quickly became a hit with the kids, and a cult favourite with older audiences thanks to it's quirky humour. At thirteen seasons and 268 episodes, SpongeBob is the longest running Nicktoon, and still going strong.
The series has now spawned three theatrical films and two spin-off series. More are said to be on the way, so SpongeBob isn't going anywhere anytime soon.
2. Hey Arnold!
After Rugrats completed its initial sixty-five episode order, it was not initially believed there would be anymore, and so much of the team moved on to new projects. Many joined Rugrats story editor Craig Bartlett in his efforts to translate his existing Claymation character, Arnold, into a 2D animated series. The result was Hey Arnold!.
Arnold, a boy often portrayed as wise beyond his years, lives in an old inner-city boarding house, the Sunset Arms, with his Grandparents, Phil and Gertrude. While often helping classmates with their problems, Arnold remains oblivious to the affections of his classmate Helga, who hides her feelings for him behind a mask of disdain. The series was known for occasionally dealing with dark themes, a number of adult characters having back stories involving the Vietnam War.
Later seasons of the show raised the mystery of what had happened to Arnold's parents. The mystery was intended to be solved in the second of two planned movies for the series, but when the first film, Hey Arnold!: The Movie, flopped at the box office, the second was cancelled. The story was finally completed in Hey Arnold!: The Jungle Movie, released in 2017, nearly fifteen years after the show ended.
1. Rugrats
After learning that Nickelodeon were searching for ideas for their own line of animated shows, the then married creative duo of Arlene Klasky and Gabor Ksupo, former animators on The Simpsons, pitched a series inspired by the antics of their own infant children. After a well received pilot, 'Tommy Pickles And The Great White Thing', Rugrats was ordered to series.
The series chronicled the day to day life of Tommy Pickles and his friends, Phil, Lil, and Chuckie, showing the world through their eyes. The babies were often antagonised by Tommy's older cousin, Angelica. The series was praised for its unique art style and clever humour, able to appeal to both children and adults. Originally slated to end after sixty-five episodes, high ratings in repeats and positive reception to the 'Passover' and 'Chanukah' resulted in Rugrats being revived for more episodes, and a theatrical film.
Rugrats was the longest running of the three original Nicktoons, lasting for nine seasons. It spawned three theatrical films, and two spin-off series. It has also lived on in various forms long after the series ended, with merchandise from the series still regularly rolled out. A CGI reboot, which has so far earned positive reception, premiered in May of 2021.
Happy 3oth Birthday, Nicktoons!
tv
About the author
Reader insights
Be the first to share your insights about this piece.
Add your insights