20 Binge-Worthy Young Adult Fantasy Novels
Fill your bookshelf with new adventures!
Fantasy has become one of the most popular genres in the literary world, especially in young adult fiction that captivates adults as well as teens. However, everyone has heard of The Hunger Games by Suzanne Collins and the likes of Divergent by Veronica Roth, but there are so many more gripping fantasy novels that don't just focus on a teenage girl in a dystopian world. Not that there's anything wrong with that trope, but I get the feeling that you may be after something a bit different; something unique that takes you away from this harsh world we live in. So, without further ado, here are 20 of the best young adult fantasy novels that you may have missed, but are definitely worth a read!
1. The Hazel Wood by Melissa Albert
Publication Date: 30th January 2018
Book Description: Seventeen-year-old Alice and her mother have spent most of Alice's life on the road, always a step ahead of the uncanny bad luck biting at their heels. But when Alice's grandmother, the reclusive author of a cult-classic book of pitch-dark fairy tales, dies alone on her estate, the Hazel Wood, Alice learns how bad her luck can really get: Her mother is stolen away--by a figure who claims to come from the Hinterland, the cruel supernatural world where her grandmother's stories are set. Alice's only lead is the message her mother left behind: "Stay away from the Hazel Wood."

Alice has long steered clear of her grandmother's cultish fans. But now she has no choice but to ally with classmate Ellery Finch, a Hinterland superfan who may have his own reasons for wanting to help her. To retrieve her mother, Alice must venture first to the Hazel Wood, then into the world where her grandmother's tales began - and where she might find out how her own story went so wrong.
2. Half Bad by Sally Green
Publication Date: 3rd March 2014
Sequels: Half Wild (Book Two), Half Lost (Book Three)
Book Description: He's half White Witch, half Black Witch.

His mother was a healer, his father is a killer.

He's been kept in a cage since he was fourteen.

But if White Witches are good and Black Witches are evil, what happens if you are both?

An unsettling tale that will chill you to the bones!

If you loved The Hunger Games, you'll love this!
3. Ash Princess by Laura Sebastian
Publication Date: 24th April 2018
Book Description: Theodosia was six when her country was invaded and her mother, the Fire Queen, was murdered before her eyes. On that day, the Kaiser took Theodosia's family, her land, and her name. Theo was crowned Ash Princess--a title of shame to bear in her new life as a prisoner.

For ten years Theo has been a captive in her own palace. She's endured the relentless abuse and ridicule of the Kaiser and his court. She is powerless, surviving in her new world only by burying the girl she was deep inside.

Then, one night, the Kaiser forces her to do the unthinkable. With blood on her hands and all hope of reclaiming her throne lost, she realizes that surviving is no longer enough. But she does have a weapon: her mind is sharper than any sword. And power isn't always won on the battlefield.

For ten years, the Ash Princess has seen her land pillaged and her people enslaved. That all ends here.
4. An Ember in the Ashes by Sabaa Tahir
Publication Date: 28th April 2015
Book Description: Under the Martial Empire, defiance is met with death. Those who do not vow their blood and bodies to the Emperor risk the execution of their loved ones and the destruction of all they hold dear.

It is in this brutal world, inspired by ancient Rome, that Laia lives with her grandparents and older brother. The family ekes out an existence in the Empire's impoverished backstreets. They do not challenge the Empire. They've seen what happens to those who do.

But when Laia's brother is arrested for treason, Laia is forced to make a decision. In exchange for help from rebels who promise to rescue her brother, she will risk her life to spy for them from within the Empire's greatest military academy.

There, Laia meets Elias, the school's finest soldier--and secretly, its most unwilling. Elias wants only to be free of the tyranny he's being trained to enforce. He and Laia will soon realize that their destinies are intertwined -and that their choices will change the fate of the Empire itself.
5. To Kill a Kingdom by Alexandra Christo
Publication Date: 6th March 2018
Book Description: Princess Lira is siren royalty and the most lethal of them all.

With the hearts of seventeen princes in her collection, she is revered across the sea. Until a twist of fate forces her to kill one of her own. To punish her daughter, the Sea Queen transforms Lira into the one thing they loathe most - a human. Robbed of her song, Lira has until the winter solstice to deliver Prince Elian's heart to the Sea Queen or remain a human forever.

The ocean is the only place Prince Elian calls home, even though he is heir to the most powerful kingdom in the world. Hunting sirens is more than an unsavoury hobby - it's his calling. When he rescues a drowning woman in the ocean, she's more than what she appears. She promises to help him find the key to destroying all of sirenkind for good.

But can he trust her? And just how many deals will Elian have to barter to eliminate mankind's greatest enemy?
6. Trial By Fire: I Am a Witch and Witches Burn by Josephine Angelini
Publication Date: 28th August 2014
Book Description: Love burns. Worlds collide. Magic reigns.

This world is trying to kill Lily Proctor. Her life-threatening allergies keep her from enjoying many of the experiences that other teenagers take for granted . . . which is why she is determined to enjoy her first (and perhaps only) high-school party. But Lily's life never goes according to plan, and after a humiliating incident in front of half her graduating class Lily wishes she could just disappear.

Suddenly Lily is in a different Salem - one overrun with horrifying creatures and ruled by powerful women called Crucibles. Strongest and cruellest of all the Crucibles is Lillian . . . Lily's identical other self in this alternate universe. This new version of her world is terrifyingly sensual, and Lily is soon overwhelmed by new experiences.

Lily realizes that what makes her weak at home is exactly what makes her extraordinary in New Salem. It also puts her life in danger. Thrown into a world she doesn't understand, Lily is torn between responsibilities she can't hope to shoulder alone, and a love she never expected.

But how can Lily be the saviour of this world when she is literally her own worst enemy?
7. Flame in the Mist by Renée Ahdieh
Publication Date: 16th May 2017
Book Description: The daughter of a prominent samurai, Mariko has long known her place--she may be an accomplished alchemist, whose cunning rivals that of her brother Kenshin, but because she is not a boy, her future has always been out of her hands. At just seventeen years old, Mariko is promised to Minamoto Raiden, the son of the emperor's favorite consort - a political marriage that will elevate her family's standing. But en route to the imperial city of Inako, Mariko narrowly escapes a bloody ambush by a dangerous gang of bandits known as the Black Clan, who she learns has been hired to kill her before she reaches the palace.

Dressed as a peasant boy, Mariko sets out to infiltrate the Black Clan and track down those responsible for the target on her back. Once she's within their ranks, though, Mariko finds for the first time she's appreciated for her intellect and abilities. She even finds herself falling in love--a love that will force her to question everything she's ever known about her family, her purpose, and her deepest desires.
8. The Boneless Mercies by April Genevieve Tucholke
Publication Date: 2nd October 2018
Book Description: They called us the Mercies, or sometimes the Boneless Mercies. They said we were shadows, ghosts, and if you touched our skin we dissolved into smoke...

Frey, Ovie, Juniper, and Runa are Boneless Mercies – death-traders, hired to kill quickly, quietly and mercifully. It is a job for women, and women only. Men will not do this sad, dark work.

Frey has no family, no home, no fortune, and yet her blood sings a song of glory. So when she hears of a monster slaughtering men, women, and children in a northern jarldom, she decides this the Mercies' one chance to change their fate.

But glory comes at a price …
9. Frozen by Melissa de la Cruz
Publication Date: 14th September 2013
Book Description: Welcome to New Vegas, a city once covered in bling, now blanketed in ice. Like much of the destroyed planet, the place knows only one temperature--freezing. But some things never change. The diamond in the ice desert is still a 24-hour hedonistic playground and nothing keeps the crowds away from the casino floors, never mind the rumors about sinister sorcery in its shadows.

At the heart of this city is Natasha Kestal, a young blackjack dealer looking for a way out. Like many, she's heard of a mythical land simply called "the Blue." They say it's a paradise, where the sun still shines and the waters are turquoise. More importantly, it's a place where Nat won't be persecuted, even if her darkest secret comes to light.

But passage to the Blue is treacherous, if not impossible, and her only shot is to bet on a ragtag crew of mercenaries led by a cocky runner named Ryan Wesson to take her there. Danger and deceit await on every corner, even as Nat and Wes find themselves inexorably drawn to each other. But can true love survive the lies? Fiery hearts collide in this fantastic tale of the evil men do and the awesome power within us all.
10. The Cruel Prince by Holly Black
Publication Date: 2nd January 2018
Book Description: Of course I want to be like them. They're beautiful as blades forged in some divine fire. They will live forever.

And Cardan is even more beautiful than the rest. I hate him more than all the others. I hate him so much that sometimes when I look at him, I can hardly breathe.

One terrible morning, Jude and her sisters see their parents murdered in front of them. The terrifying assassin abducts all three girls to the world of Faerie, where Jude is installed in the royal court but mocked and tormented by the Faerie royalty for being mortal.

As Jude grows older, she realises that she will need to take part in the dangerous deceptions of the fey to ever truly belong.

But the stairway to power is fraught with shadows and betrayal. And looming over all is the infuriating, arrogant and charismatic Prince Cardan . . .
11. The Novice by Taran Matharu
Publication Date: 5th May 2015
Book Description: Fletcher is working as a blacksmith's apprentice when he discovers he has the rare ability to summon demons from another world. Chased from his village for a crime he did not commit, Fletcher must travel with his demon, Ignatius, to an academy for adepts, where the gifted are taught the art of summoning.

Along with nobles and commoners, Fletcher endures grueling lessons that will prepare him to serve as a Battlemage in the Empire's war against the savage Orcs. But sinister forces infect new friendships and rivalries grow. With no one but Ignatius by his side, Fletcher must decide where his loyalties lie. The fate of the Empire is in his hands.
12. Dead Beautiful by Yvonne Woon
Publication Date: 21st September 2010
Similar to: The Twilight Saga by Stephanie Meyer
Sequels: Life Eternal (Book Two), Love Reborn (Book Three)
Book Description: Desire. Danger. Destiny. Little did I know that this is what I would find at Gottfried Academy. Coming from sunny California, the mist-shrouded Academy was a shock, with its strange customs, ancient curriculum and study of Latin - the language of the dead. Then I discovered that the school has more than one dark secret... I also discovered Dante. Intelligent, elusive and devastatingly gorgeous, most people can't decide whether they love, hate or fear him. All I know is that when we're together, I've never felt more alive - or more afraid.
13. The Hawkweed Prophecy by Irena Brignull
Publication Date: 14th June 2016
Book Description: A gorgeous, bewitching story of two outcast girls whose lives are twisted by an ancient prophecy. Who will be queen of the witches?

The babies were born as the clock struck twelve. A bat fell from the air mid-flight. A silver salmon floated dead to the surface of the river. Snails withered in their shells, moths turned to dust on the night breeze and an owl ate its young. The spell had been cast.

Poppy Hooper has managed to deceive her father into believing that there is nothing mysterious or unnatural about her. He ignores the cats that find her wherever she goes, the spiders that weave beautiful lacy patterns for her, even her eyes - one blue, one green with an extra black dot orbiting the pupil.

Ember Hawkweed is a pitiful excuse for a witch. When the other girls in her coven brew vile potions, Ember makes soap and perfume. Fair and pretty, Ember is more like a chaff than a witch.

When the two girls meet, Poppy discovers her powers, and finds out the truth. Bound by their unlikely friendship and the boy they both love, the girls try and find their place in the world. But the time of the prophecy draws nearer - and the witches won't give up the throne without a fight.
14. Frostfire by Amanda Hocking
Publication Date: 6th January 2015
Book Description: Bryn Aven is determined to gain status amongst the Kanin, the most powerful of the hidden tribes. But as a half-blood, winning respect is a huge challenge. Bryn's almost-human community distrusts people, and those from other tribes are almost as suspect.

She has just one goal to get ahead: to join the elite guard protecting the Kanin royal family. And Bryn's vowed that nothing will stand in her way, not even a forbidden romance with her boss, Ridley Dresden.

But her plans are put on hold when fallen hero Konstantin starts acting dangerously. Bryn loved him once, but now he's kidnapping Kanin children - stealing them from hidden placements within human families. She's sent to help stop him, but will she lose her heart in the process?
15. Incarceron by Catherine Fisher
Publication Date: 3rd May 2007
Sequel: Sapphique
Book Description: Incarceron - a futuristic prison, sealed from view, where the descendants of the original prisoners live in a dark world torn by rivalry and savagery. It is a terrifying mix of high technology - a living building which pervades the novel as an ever-watchful, ever-vengeful character, and a typical medieval torture chamber - chains, great halls, dungeons. A young prisoner, Finn, has haunting visions of an earlier life, and cannot believe he was born here and has always been here.

In the outer world, Claudia, daughter of the Warden of Incarceron, is trapped in her own form of prison - a futuristic world constructed beautifully to look like a past era, an imminent marriage she dreads. She knows nothing of Incarceron, except that it exists. But there comes a moment when Finn, inside Incarceron, and Claudia, outside, simultaneously find a device - a crystal key, through which they can talk to each other. And so the plan for Finn's escape is born ...
16. Under the Never Sky by Veronica Rossi
Publication Date: 1st December 2011
Sequels: Through the Ever Night (Book Two), Into the Still Blue (Book Three)
Book Description: Exiled from her home, the enclosed city of Reverie, Aria knows her chances of surviving in the outer wasteland--known as The Death Shop--are slim. Then Aria meets an Outsider named Perry. He's wild--a savage--and her only hope of staying alive. A hunter for his tribe in a merciless landscape, Perry views Aria as sheltered and fragile--everything he would expect from a Dweller. But he needs Aria's help too; she alone holds the key to his redemption.

In alternating chapters told in Aria's and Perry's voices, Under the Never Sky subtly and powerfully captures the evolving relationship between these characters and sweeps readers away to a harsh but often beautiful world. Continuing with Through the Ever Night and concluding with Into the Still Blue, the Under the Never Sky trilogy has already been embraced by readers in twenty-six countries and been optioned for film by Warner Bros.
17. Empress of all Seasons by Emiko Jean
Publication Date: 6th November 2018
Book Description: In each generation, a competition is held to find the next empress of Honoku. The rules are simple. Survive the palace's enchanted seasonal rooms. Conquer Winter, Spring, Summer and Fall, and you can marry the prince. All are eligible to compete - all except yokai, supernatural monsters and spirits whom the human emperor is determined to enslave and destroy.

Mari has spent a lifetime training to become empress. Winning should be easy. And it would be, if she weren't hiding a dangerous secret. Mari is a yokai with the ability to transform into a terrifying monster. If discovered, her life will be forfeit. As she struggles to keep her true identity hidden, Mari's fate collides with that of Taro, the prince who has no desire to inherit the imperial throne, and Akira, a half-human, half-yokai outcast.

Torn between duty and love, loyalty and betrayal, vengeance and forgiveness, the choices of Mari, Taro and Akira will decide the fate of Honoku.
18. The Last Namsara by Kristen Ciccarelli
Publication Date: 2nd October 2017
Sequels: The Caged Queen (Book Two), The Sky Weaver (Book Three)
Book Description: Asha is a dragon-slayer. Reviled by the very people she's sworn to protect, she kills to atone for the terrible deed she committed as a child.

One that almost destroyed her city, and left her with a terrible scar.

She wears her scar with pride, but to others, her skin tells a story of devastation, of fiery deaths, of Asha's irredeemable wickedness.

Only the death of Kozu, the First Dragon, will bring Asha true redemption and unite her father's fractured kingdom. But no one battles Kozu and lives, so to defeat him she will have to do some very wicked things . . .
19. Forest of a Thousand Lanterns by Julie C. Dao
Publication Date: 10th October 2017
Book Description: Eighteen-year-old Xifeng is beautiful. The stars say she is destined for greatness, that she is meant to be Empress of Feng Lu. But only if she embraces the darkness within her.

Growing up as a peasant in a forgotten village on the edge of the map, Xifeng longs to fulfill the destiny promised to her by her cruel aunt, the witch Guma, who has read the cards and seen glimmers of Xifeng's majestic future. But is the price of the throne too high? Because in order to achieve greatness, she must spurn the young man who loves her and exploit the callous magic that runs through her veins--sorcery fueled by eating the hearts of the recently killed. For the god who has sent her on this journey will not be satisfied until his power is absolute.
20. The Young Elites by Marie Lu
Publication Date: 7th October 2014
Sequels: The Rose Society (Book Two), The Midnight Star (Book Three)
Book Description: Adelina Amouteru is a survivor of the blood fever. A decade ago, the deadly illness swept through her nation. Most of the infected perished, while many of the children who survived were left with strange markings. Adelina's black hair turned silver, her lashes went pale, and now she has only a jagged scar where her left eye once was. Her cruel father believes she is a malfetto, an abomination, ruining their family's good name and standing in the way of their fortune. But some of the fever's survivors are rumored to possess more than just scars-they are believed to have mysterious and powerful gifts, and though their identities remain secret, they have come to be called the Young Elites.
ABOUT THE AUTHOR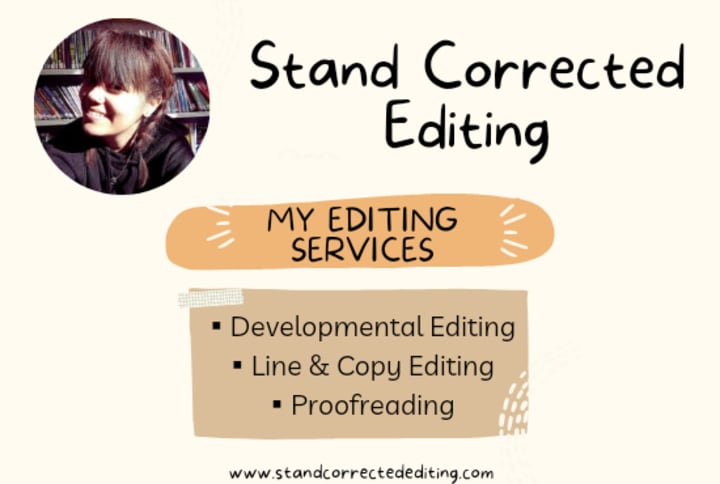 Hey! I'm Chelsea and I'm the book editor and proofreader at Stand Corrected Editing, my editorial business in the UK. I help passionate writers and authors to get their novels ready for literary agents or self-publishing.
In weekly blog posts, online courses and daily Instagram posts, I hope to spread my knowledge and expertise on how to make your novel a success, and be a mentor to others who desperately want to pursue a fruitful career as an author! :)
Feel free to check out my website here: standcorrectedediting.com
literature
About the author
Hiya! I'm Chelsea and I'm a book editor & proofreader at Stand Corrected Editing, my editorial business in the UK. Feel free to get in touch! :)
Website: standcorrectedediting.com
Instagram: @standcorrected_editing
Reader insights
Be the first to share your insights about this piece.
Add your insights