10 Moments in the MCU that Were Improvised
Popular scenes that weren't in the scripts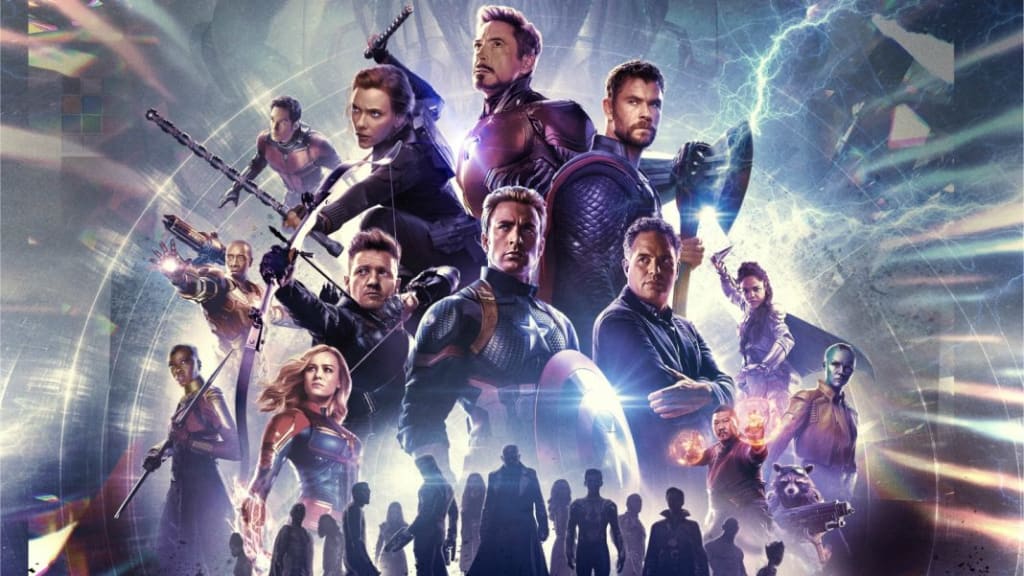 Poster for Avengers: Endgame
The Marvel Cinematic Universe is filled with amazing scenes and incredible actors. Did you know that it's possible your favorite scene from the films was improvised? Here is a list of 10 incredibly popular scenes throughout the Marvel Cinematic Universe that were actually improvised.
1. Why is Gamora?
According to screenrant.com, this hilarious line delivered by Dave Bautista as Drax in Avengers: Infinity War was improvised. Throughout Drax's time in the MCU, he has no doubt shown off his physical strength and lack of intelligence. As a character who often does not understand social cues and takes everything a little too seriously, this line was perfect for a character like Drax to say. The line eases the tension between our heroes and improves the context of the scene.
2. Mr. Stark, I don't wanna go...
In Avengers: Infinity War, many heroes fell victim to Thanos' snap, and one of those was Peter Parker. According to an interview reported by flickeringmyth.com with Tom Holland, they had improvised the death scene at first, and after they finished, they decided to rework the scene. So, although the scene is not 100% improvised, this powerful death scene's lines weren't in the script of the film.
3. Shawarma
Ew.com reported that in The Avengers (2012), Robert Downey Jr. had improvised a lot of different lines during the scene in which he first mentions the Shawarma restaurant. Then, two days after the film had its premiere, the filmed this scene to add to the end of the film. In this scene, the only one not eating is Captain America due to the fact that the actor had been growing out his beard after they finished filming. Instead, they had him cover his face with his hand while the rest of the Avengers are enjoying their shawarma.
4. Just Wong? Like Adele? / Try me, Beyonce.
According to screenrant.com, this joke was improvised. In these scenes that are in the film Doctor Strange, Stephen Strange refers to Wong as Beyonce and Adele as a joke, in reference to the fact that they all only go by one name.
5. Another!
In Thor, Thor makes his way to Earth for the first time. Therefore, that means that the character isn't aware of the way society on Earth runs. In this film, we see a lot of scene that show Thor adjusting to an human's lifestyle, and an example of that is shown in this scene. Thor has a cup of coffee, and once finished, he demands for another while throwing the mug onto the ground. According to gizmodo.com, this part of the scene was improvised.
6. Hanging Mjolnir on a Coat Hanger
Also according to gizmodo.com, this moment in Thor: The Dark World was improvised. In this scene, Thor hangs his hammer on the coat hanger before he joins his friends. However, this raises the question: does this make the coat hanger worthy?
7. He transformed himself into a snake...
Yet another Thor provided improvised moment occurs in Thor: Ragnarok. In this scene, Thor tells Valkyrie and Bruce banner a story from his childhood when Loki tricked Thor. Loki had transformed himself into a snake so Thor would pick it up. Then, Loki took the opportunity to stab him. According to pupperish.com, there was also a version of this story where Loki turned into a Turkish rug and Thor went to stand on it. When Loki transformed back into himself, it was revealed there was a hole in the ground and Thor fell through it and got impaled by a bunch of spikes.
8. I'm going to sit here, so you move the leg.
Tony Stark visits Peter Parker in Captain America: Civil War in order to recruit him for the upcoming airport battle. However, what you may not have known was the part where Tony sits on the bed next to Peter has an improvised line. According to marvelstudiosnews.com, Tom Holland had forgotten the blocking in the scene. Cleverly, Robert Downey Jr. delivered this line that not only reminded Tom of the blocking so he could move over, but also worked with the awkwardness of the scene.
9. B*tch Please, You've Been to Space!
In Spider-Man: Far From Home, Nick Fury delivers a fan favorite line "B*tch please, you've been to space!" According to comicbook.com, Jake Gyllenhaal confirmed that this popular line was improvised in an interview.
10. Sam and Bucky's Couples Therapy
The newest addition to the MCU, The Falcon and the Winter Soldier, includes this fan favorite scene where Sam Wilson and Bucky Barnes are participating in a couples therapy exercise. In an interview with the actress who played Dr. Raynor (the therapist) Amy Aquino, she confirms that the scene had a general direction it was supposed to go but the way it was executed was improvised (according to cheatsheet.com).
Final Thoughts
It seems as though many of the most popular Marvel Cinematic Universe scenes were improvised, proving how talented the actors are and how well they understand their characters. As the MCU continues to grow, hopefully we'll get to see more of these creative and enjoyable improvised lines.
Read similar: Why Turning MCU Stories into TV shows was a Genius Move by Marvel and Disney+

Annie
she/her
I have a small sticker shop on Etsy called DynamiteArtStickers, so if you can, please check that out. The IG for it is @dynamiteart368.
See all posts by Annie →