10 Expensive Things Owned By Paul McCartney
Paul McCartney is one of the great legends of rock and roll, today we look at 10 Expensive Things he owns.
10 - Beverly Hills Mansion
McCartney owns a mansion in Beverly Hills, California, which is estimated to be worth around $20 million.
The mansion, which spans over 9,000 square feet, is situated on a private lot of over one acre and boasts incredible views of the city below.
The property was built in 1989 and features seven bedrooms, nine bathrooms, a media room, a gym, a library, and a large living room with high ceilings and a fireplace.
The mansion also has a gourmet kitchen, complete with high-end appliances and a center island, as well as a formal dining room for entertaining guests.
One of the most impressive features of the property is its outdoor space and the grounds are beautifully landscaped, including a large pool and spa, a tennis court, barbecue area, and a covered patio with an outdoor fireplace.
There are also several terraces and balconies throughout the property that offer stunning views of the surrounding hills and city.
The mansion has a number of luxurious finishes and features, including hardwood and marble floors, custom lighting, and high-end fixtures and appliances throughout.
The property is gated and has a long driveway that leads to a large motor court and a three-car garage.
One of the most successful musicians of all time, Paul McCartney purchased the property in the early 1990s and lived there for several years before the home was sold to a new owner.
9 - Gulfstream IV Private Jet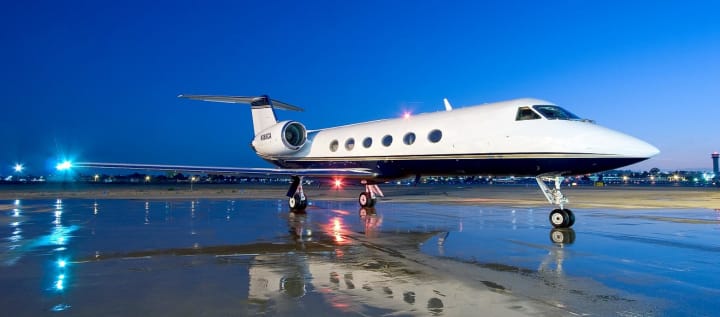 Paul McCartney is known to own a Gulfstream IV private jet, which is estimated to cost around $40 million and is a popular business aircraft that was first introduced in 1985.
It has since become one of the most recognizable and sought-after private jets in the world thanks to its advanced technology, superior comfort, and impressive range.
The plane can fly nonstop for over 4,000 nautical miles, making it ideal for long-haul flights and has a maximum speed of Mach 0.88, which is nearly the speed of sound.
The cabin of the GIV is designed for comfort, with seats that can recline into fully-flat beds, a spacious interior, and advanced noise-cancelling technology.
The latest avionics and flight systems are featured on-board including an advanced flight management system, an enhanced ground proximity warning system, and a dual GPS system,.
The jets can be customized to meet the unique needs and preferences of each owner, with a wide range of options for interior design, entertainment systems, and other features are included in the insane price-tag.
Designed for maximum fuel efficiency, with advanced aerodynamics and efficient engines that reduce operating costs, this plane offers McCartney an unparalleled combination of speed, range and comfort.
8 - London Townhouse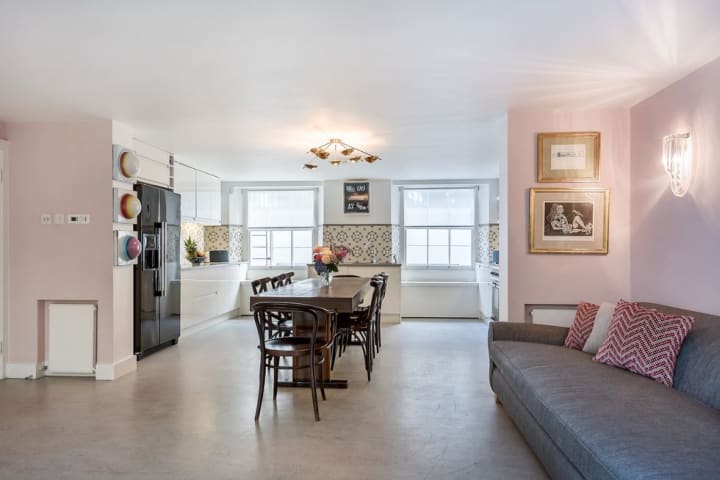 Located in the St. John's Wood neighborhood of London, the house has been home to McCartney for over 50 years.
The townhouse is a three-story Victorian property, which was built in the 1890s was purchased by McCartney in the 1960s and he has made numerous renovations and updates over the years.
The house is decorated with a mix of classic and contemporary furnishings and features many personal touches, including McCartney's extensive art collection.
One of the standout features of the townhouse is the recording studio that McCartney installed in the basement and he studio has been the site of many famous recordings, including several of McCartney's solo albums.
Estimated to be worth around $20 million, the house also includes a spacious living room, dining room, and kitchen on the ground floor, with bedrooms and additional living areas on the upper floors.
The outdoor spaces include a private garden and a rooftop terrace with stunning views of the London skyline.
7 - Hamptons Estate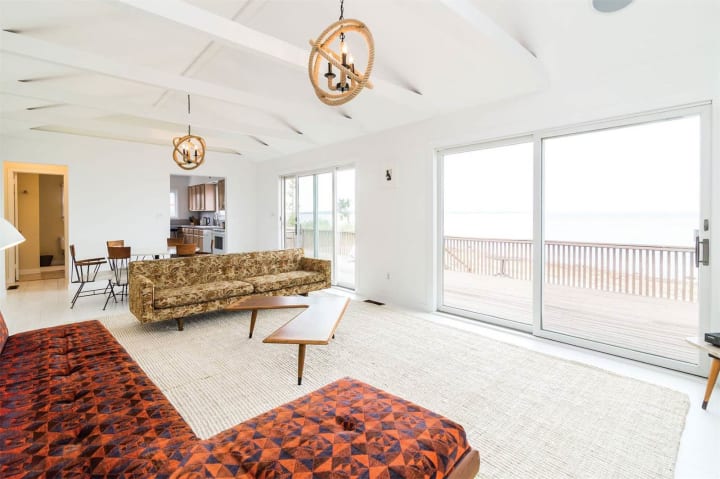 Located in the town of East Hampton, New York and situated on over five acres of land, McCartney's estate, named The Pond House is estimated to be worth around $15 million.
Purchased in the 1990's, features include a main house, guest houses, and several outbuildings, as well as a swimming pool and a tennis court.
The main house is a stunning, cedar-shingled mansion that boasts over 7,000 square feet of living space and features six bedrooms, a large kitchen, and a spacious living room.
Its beautiful gardens, which include a koi pond, a greenhouse, and a variety of plants and flowers are a beautiful and serene place to relax and enjoy the natural beauty of the Hamptons.
The estate is located in one of the most exclusive and desirable areas of the Hamptons, and is a popular destination for celebrities and high-profile individuals
6 - Sussex Country Estate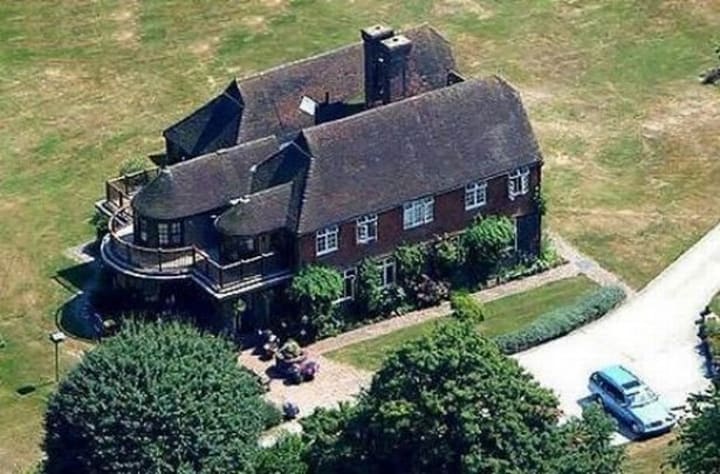 Known as "Peasmarsh," this 1,500-acre property located in the South Downs National Park in West Sussex, England was purchased by McCartney in 1973.
Estimated to be worth around $12 million the estate includes a main house, guest houses, and several outbuildings.
Its organic farm, which is managed by McCartney's daughter, Mary, produces a variety of organic vegetables and meats, which are used by McCartney and his family as well as sold to local markets and restaurants.
The estate also includes several gardens, which have been designed and maintained by McCartney's late wife, Linda and feature feature a variety of plants and flowers, as well as sculptures and other artistic features.
The property is also home to a variety of wildlife, including deer, badgers, and a wide variety of birds.
5 - Car Collection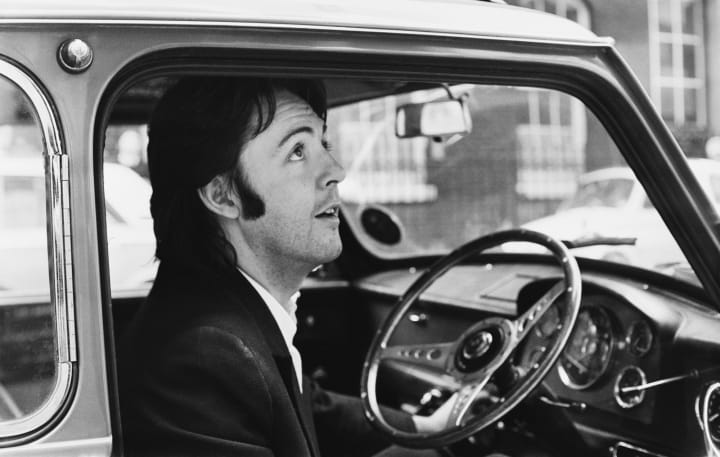 Paul McCartney is known for his love of cars, and his collection includes a variety of high-performance vehicles and vintage classics.
Some of the most notable cars in McCartney's collection include a 1964 Aston Martin DB5 worth over $1.5 million and a 1987 BMW Isetta 300 valued at around $50,000.
Other cars in his collection include a 1965 Morris Mini Cooper S DeVille, one of his favorites and a $25,000 2001 Audi RS4 Avant.
One of the most valuable cars in McCartney's collection, his 1967 Lamborghini 400GT 2+2 is valued at roughly $500,000.
He has also owned some other models, now sold, including a 1957 Cadillac Eldorado Brougham and a 1969 Boss 302 Mustang.
4 - Art Collection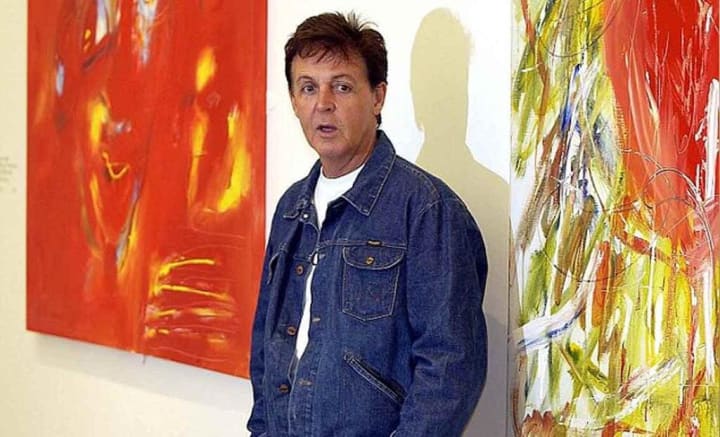 Paul McCartney's art collection is as varied and eclectic as his music, reflecting his wide-ranging artistic tastes and interests.
McCartney is an avid collector of contemporary art and has amassed a collection that includes works by some of the world's most renowned artists.
One of the highlights of McCartney's collection is a painting by Willem de Kooning, one of the most influential artists of the Abstract Expressionist movement.
McCartney is also a fan of the Pop Art movement, and his collection includes works by Andy Warhol and Richard Hamilton, among others.
McCartney's collection also includes a number of works by his close friend, the artist and designer Peter Blake.
Blake is best known for creating the iconic cover art for The Beatles' album "Sgt. Pepper's Lonely Hearts Club Band," and his work is well represented in McCartney's collection.
In addition to paintings and prints, McCartney's collection includes sculpture, photography, and even vintage posters and advertisements.
3 - Music Memorabilia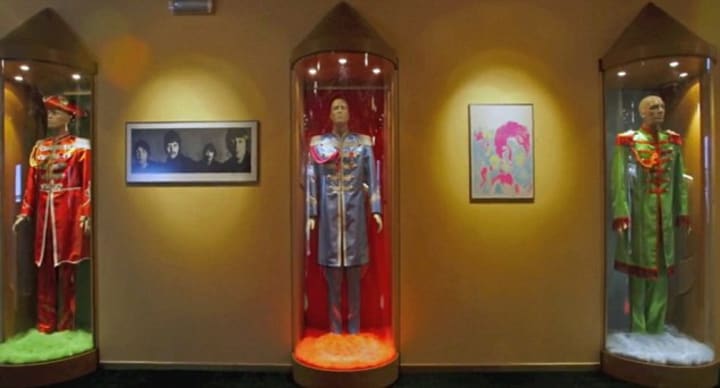 Paul McCartney's extensive music memorabilia collection reflects his legendary career as a member of The Beatles, as well as his solo work and collaborations with other musicians.
The significant collection of music memorabilia, includes instruments, stage costumes, and awards from his time as a Beatle and his solo career.
One of the most notable items in McCartney's collection is his 1964 Hofner "violin" bass guitar, which he played on many of The Beatles' most famous recordings.
The Guitar has become one of the most recognizable instruments in the world and it has also become an icon of rock history.
McCartney's collection also includes handwritten lyrics and notes from some of his most famous songs, including "Hey Jude" and "Let It Be."
Other highlights of McCartney's collection include original artwork from his album covers, stage costumes worn on tour, and rare recordings of live performances.
The collection is so vast that McCartney has even curated his own museum exhibit, which has been displayed in cities around the world.
2 - Yacht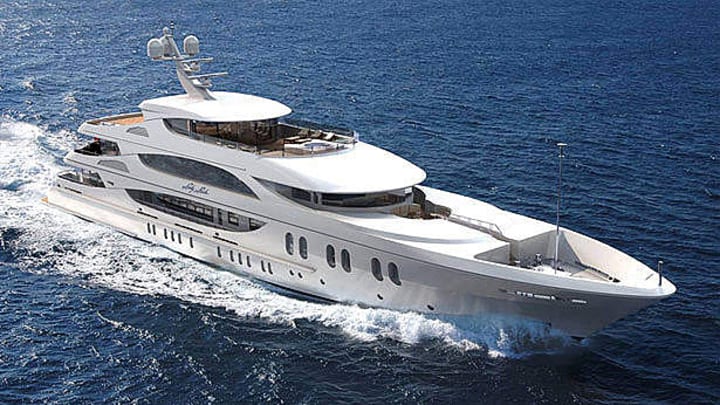 Formerly named "Lady Linda" and now known as "Muse," this luxurious vessel that has been a part of McCartney's life for many years.
Estimated to have cost around $5 million, the yacht was named after McCartney's late wife, Linda McCartney, and has been used for both family vacations and as a recording studio.
Measuring 49.9 meters in length and featuring five cabins with accommodation for up to 10 guests, the interior is designed with a modern and minimalist aesthetic featuring clean lines and neutral tones.
The main living area includes a spacious lounge and dining area, as well as a fully equipped galley and bar.
One of the most notable features of the yacht is the recording studio, which was installed by McCartney in the early 1990s.
The studio has been used to record several of McCartney's albums, as well as for collaborations with other musicians.
The outdoor areas of the yacht include a spacious sun deck with a Jacuzzi and a dining area, as well as a second dining area on the main deck.
The yacht is also equipped with a range of water sports equipment, including a jet ski and a kayak.
1 - Ranch in Arizona
Known as High Valley Ranch, this 160-acre property is located in the town of Tucson, was purchased in 1979, and it has been a beloved retreat for him and his family ever since.
Situated in the foothills of the Rincon Mountains, the $4 million, the ranch is surrounded by natural beauty and stunning views.
The property includes a main house, guest houses, and several outbuildings, as well as a swimming pool, tennis court, and a stable for horses.
It has an extensive collection of Native American art and artifacts including a world-class selection of pottery, textiles, and jewelry from various tribes.
A large amount of wildlife, including deer and a wide variety of birds, live on the estate while McCartney has worked to preserve the natural habitat of the area and has planted thousands of trees and shrubs to provide food and shelter for the local wildlife.
Thanks for watching this video on 10 expensive things owned by Paul McCartney, please smash up the like button to help me reach new followers in the YouTube algorithm, subscribe for more videos coming weekly and check out another video on this screen.
About the Creator
My name is William Jackson, a YouTube content creator and crypto enthusiast with over 142,000 subscribers and I make videos that are focused on the billionaire lifestyle and crime.
Content consists of top list videos.
Home North-East England
Reader insights
Be the first to share your insights about this piece.
Add your insights