Why Old Classic Video Games are Priceless
Exploring Old Memories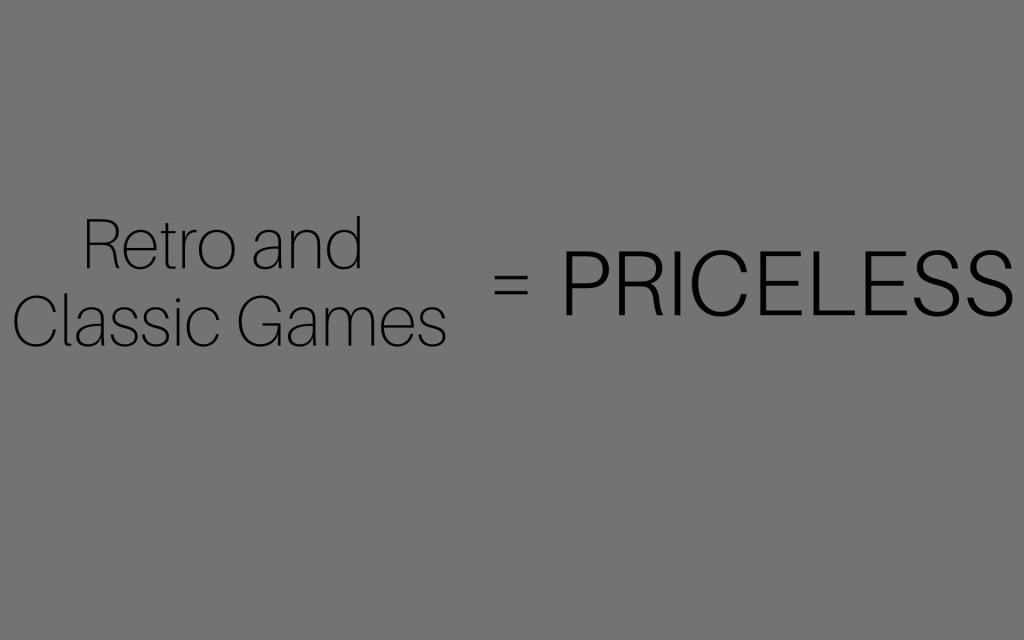 During my transition from being a High School student to becoming a young adult, I've learned why the standard classic video games are priceless. While going through this time of my life, I've been very busy with college. With this priority at hand, I am unable to spend as much time buying and playing the newest video games on the newest gaming consoles. (Not to mention how expensive that would get.) Therefore, whenever I take a moment to play video games, I choose to play retro games. These types of games are very simple and easy to understand. They are some of the most basic video games out there that just about anyone could learn how to play. In my experience, the depth of these games is fitting for how long I want to take a break from my responsibilities. Within just a few rounds of retro games (about 10 minutes total), I'll be ready to turn the games off and go back to work.
If I want to play video games for a longer duration, then I'll resort to games that were popular when I was in elementary and middle school. These slightly newer games have more complexity and require more time to successfully complete. Whenever I've played these games in the past few years, they've provided a nice trip down memory lane. They take me back to the environment I was in while a student in grade school. This includes the countless gaming sessions with my friends during this time of my life, and makes me think of all the people who I knew at this stage of my life.
When I was a child, I was obsessed with video games. Whenever I wasn't doing something else, I wanted to play video games. As soon as I got home from school or from helping run errands, I immediately wanted to play video games. Video games, in a sense, were magnetic. I would always gravitate to them if there were no other tasks to complete.
Due to this strong interest in video games as a kid, this led to a huge collection of games that were popular at this time. Therefore, when I play video games today, I will have a large selection of games to choose from. In addition, each game will feel new to me because I haven't played them in years. Then, as I play through them, I will begin to remember the details in them.
In addition to recalling the happy memories associated with the games, revisiting them has also been a way to save money. I have barely spent any money on video games these past several years due to less free time and other priorities in life. (I can just imagine how much money you'd have to spend to constantly keep up with the newest games and consoles.)
Nowadays, whenever I acquire a new video game, it is often an exercise type of game. This way I can stay in good physical shape while playing video games. It's definitely not the same as traditional video games, but it makes exercise more interesting by watching something on the TV screen and following the directions provided. As a young adult, I very much recommend these types of games. Playing these types of games will help the consumer stay in good physical health while doing something leisurely.
In general, I can very much see myself moving forward with these video game related habits for the remainder of my college experience. With college comes a demand on your time as well as a financial bill for every semester. Therefore, other things tend to take priority and can provide new value to games you played at a younger age.