Twitch.tv: Some Of The Hottest Gamer Girls That Are Probably Smarter Than You
Here are some of the most accomplished & popular gamer girls that also happen to be extremely hot.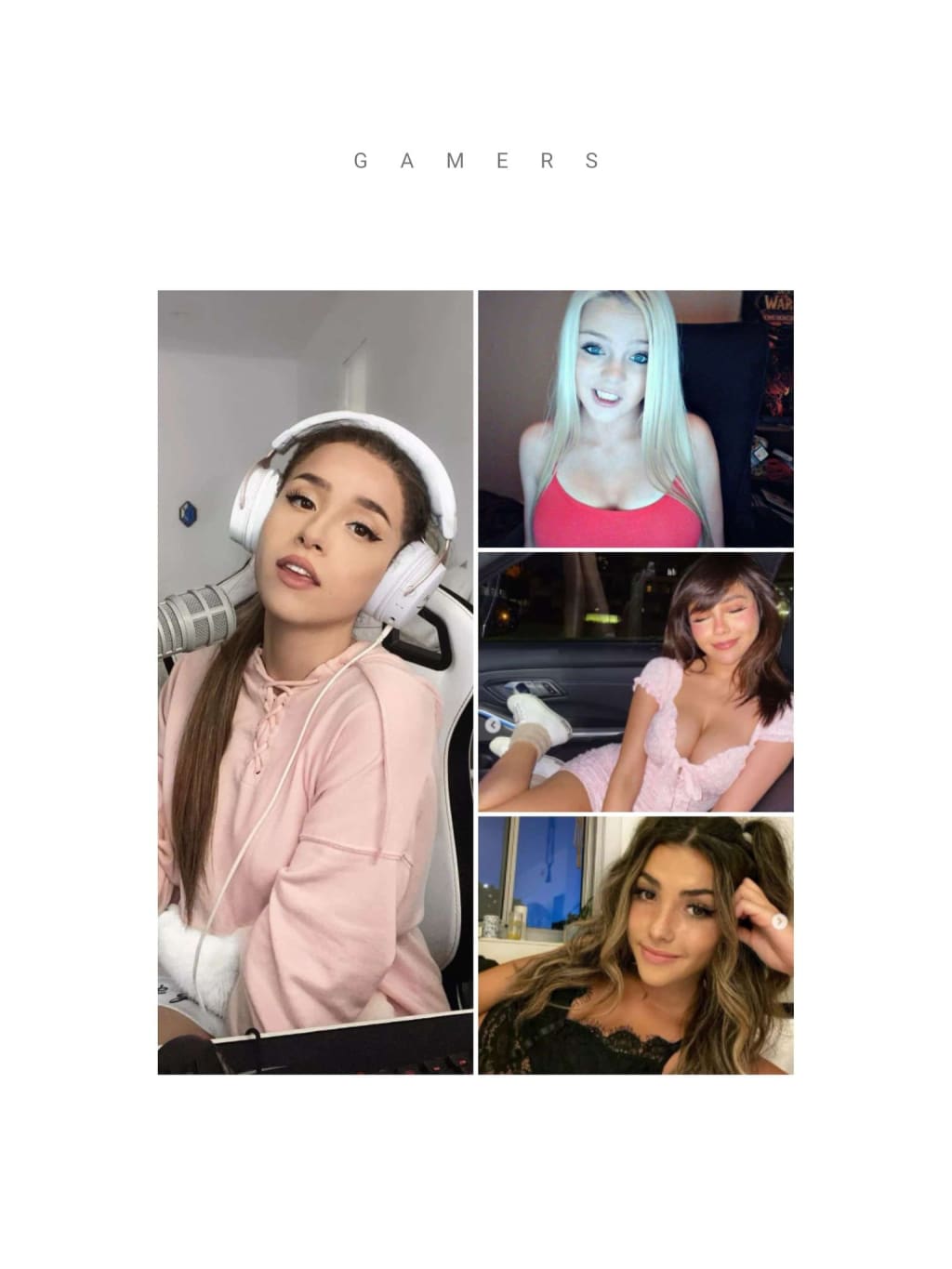 Collage of twitch streamers/gamer girls
Nerdy Is Hot
Twitch is crowded with borderline camgirls that plague the former gaming haven. However, a huge chest and big bum won't cut it alone, which is apparent time after time in the world of Twitch.
When people think of attractiveness they imagine curvy bodies or pretty faces. But for most viewers, especially gamers the personality, intelligence, and 'geekiness' of a person matters much more in order to make a real connection.
Andrea Botez
Born in 2002, Andrea Botez is the ultimate girl next door. Her personality is young and pulsing with fiery energy. She streams and shares the channel with her sister Alexandra, who also very much belongs on this list. Both girls are extremely charming with Alexandra being the mellow, level headed sibling taking charge of their shared streaming career.
Chess Career
Andrea was introduced to chess by her father when she was only 6 years old. Not only extremely attractive, she is also an extremely skilled player and has been winning tournaments since she was 7 years old.
In chess, only a handful of players (3% to be exact) cross the 2000 ELO threshold. Andrea's fearless and aggressive approach to chess earned her a boastful bullet ELO rating of 2164.
Her skills have shined bright in the chess section and both she and her sister got noticed and immediately signed by Team Envy, which is a major Esports team on the scene.
Pokimane
Imane Anys, otherwise known as Pokimane is pretty much the face of Twitch and one of the highest paid individuals on the site. She is the embodiment of a geek girl. Her streams are always focused on the games and activities she's playing. Her channel has no need for overly exposed body parts or daring outfits. Her personality and cute face alone lift OfflineTV's content to new heights.
While her figure is quite small and petite she's often referred to as a "ruthless businesswoman", this is a very well-deserved nickname. Pokimane is an extremely independent woman that takes no punishment and isn't scared to gamble and take risks, which is part of her attractiveness.
Ana Stanković
Toned, sporty and kind. Ana is a charming and gentle brunette from Croatia that also streams on PressPlayTTV with another teammate. Duos on Twitch are more refreshing and luckily becoming more and more popular these days.
While gentle and friendly Ana isn't afraid of the unknown and takes risks! She and her friend Laura, battle daily against the odds in the slot section of Twitch. Their channel is focused on gambling and creating an interactive community.
You can watch and support their channel on Twitch or even bet alongside Ana with stream bet, a feature of GamblersArea that connects streamers and viewers even closer.
Neekolul
Born in 1997, Nicole Sanchez, or better known by her online alias Neekolul, is an American Twitch streamer and a MASSIVE Tik Tok personality. She is most famous for her nation-wide viral "Bernie Sanders" video.
The tweet of the video accumulated over 45 million views alone and elevated her career into another level of stardom.
At first glance, you would never expect that Nicole to be an actual gamer, her attractiveness, and exotic Mexican and Portuguese heritage made the whole internet go crazy for a few solid months.
Neeko has however, moved on from the whole controversy and is starting a new chapter in Esports. One of the most prestigious teams in the Esports genre -- 100 Thieves has signed Neeko in July of 2020.
Sweet Anita
The kind and sweet Anita can only be described as a wild card. The popular streamer became a spotlight of Twitch in the past few years 'thanks' to her disability -- the Tourette's syndrome.
Born in 1990, Anita is a variety streaming. She streams daily for her viewers and mixes up the content to keep it fresh. On the first impression, Anita can come off as rude and unpleasant. However, her Tourette's is to blame and her outbursts are not meant to be taken personally. Vulgar and dirty jokes are thrown frequently during gameplay or in general conversations.
This of course compliments her looks that much better. The occasional profanities can be sometimes received as a form of unintentional "sexy dirty talk".