The Top 3 Most Popular Casino Games in Asia
Asia has the world's largest and fastest-growing population. The continent is home to nearly 60 percent of the world's population. Furthermore, Asia has a rich cultural diversity, including a long history of gambling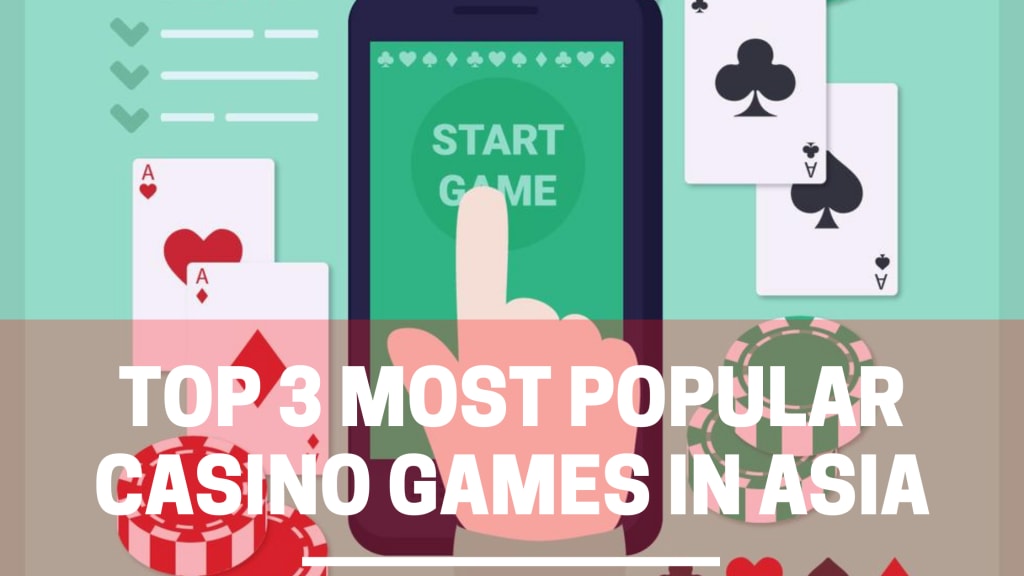 Asia has the world's largest and fastest-growing population. The continent is home to nearly 60 percent of the world's population. Furthermore, Asia has a rich cultural diversity, including a long history of gambling. Macau, the largest Asian gambling city, continues to grow year after year and has already surpassed Las Vegas in the United States as the world's gambling capital. There are numerous casino games available in both land-based and online casinos in India today. The most popular gambling games among Asian players are as follows.
1. Baccarat
Baccarat is currently one of the most popular and widely played casino games in Asia. It is available in a variety of land-based and online casinos in India, China, Singapore, Korea, and Indonesia. This game's popularity is undeniable, as it accounts for more than 90% of revenue in Macau alone. Aside from that, almost all Asian casinos offer a wide range of Baccarat variants. They consist of commission-free baccarat, Speed baccarat, and live dealer baccarat.
Baccarat appears to be complicated, but it is actually quite simple to play. There is no winning strategy, and the odds are the same as betting on a coin toss, which translates to a 50/50 chance of winning. To begin playing baccarat, you must first place your bet. Following that, the dealer distributes the cards face down to each player. The goal of the game is for the hand you are betting on (banker or player) to be the best out of the cards dealt.
2. Poker
In recent years, poker has grown in popularity in Asia. Many players in China, India, and Singapore adopted the game in 2020, with players in Japan, Korea, and Taiwan quickly following suit. Today, the number of people who play this game is growing, with many casinos offering it in a variety of variations. Pai Gow Poker, on the other hand, is the most popular poker variant in Asia. This variant has friendly rules and is enjoyable to play, which has helped it become a favourite among many fans looking for a different type of poker.
Poker is typically played by a group of players gathered around an oval-shaped table. The game begins with the dealer dealing each player a hand of cards. Depending on the game, the dealer may deal all of the cards at once, in sets, or in a community-card pile. Bets are placed after each player has received a round of cards. During the betting round, players can choose to Check, Fold, Call, or Raise.
3. Blackjack
Blackjack is another popular option among Asian casino goers. There are luxurious land-based casinos all over Asia that offer exclusive Blackjack tables. Furthermore, the number of offshore online casinos that accept Asian players has increased, and they offer a wide variety of online versions of the game. Chinese Blackjack, for example, is one of the most popular blackjack variants in China. In Malaysia, a variant known as Kampung Blackjack has emerged and gained popularity among the local gambling community.
Blackjack is commonly played with a 52-card deck. The game begins with players purchasing chips and placing wagers. The dealer then deals two cards to each player, who then plays his hand. Then, each player uses their hands to play. When a player draws a hand with a value of 21 or less that is higher than the dealer's, that player wins the game. When the opposite is true, or the player's hand value exceeds 21, the player loses the round.
Conclusion
The above-mentioned are three of the most popular casino games among Asian players. Sic Bo, Pachinko, Mahjong, and craps are also mentioned. Given their popularity, it's easy to see why these games are so popular in this area. Each of them is exciting, entertaining, and offers attractive payouts. Even if they're having a good time, players should make sure they're playing at legitimate and trustworthy casinos.
READ MORE GAMING RELATED NEWS HERE:
PokerBaazi Brings New Tournament '10 mein 10 Lakhpati'
Cornerstone Sport Enters into Esports Industry
RummyBaazi Unveils India's First Multi-Card Gaming App with CardBaazi
list
About the author
Hi I am Amit Kr from India. I love writing on various topics. I love nature, music, pets and weekend traveling.
Reader insights
Be the first to share your insights about this piece.
Add your insights