The Importance of Poker
What childhood poker lessons did for us
Our eight identical blue eyes quietly stared at her, as a pack of wolves would a sick deer. With a floral house dress floating over her plumpish body, seventy-four-year old Mrs. Ramsey looked like one of our great aunts. Piece of cake – we'd run her off in no time. After all, we'd dispatched five babysitters in the year since Mom started working.
I led the pack at ten; my brothers were nine, seven and five years old. We attended church, earned Scout badges and played ball. We were active – very active – and hard on babysitters. One sitter departed soon after a brother brandished his Louisville Slugger bat and shouted "I ain't going to" when asked to pick up the sofa cushions. We'd used them to build a fort in the living room. Much of our play revolved around simulated warfare.
My Dad fired another sitter when his ritualistic evening count of the Rolling Rock beer cache under the sink came up one short. I can still see and hear her at the front door. With her final paycheck in hand and a melodic Kentucky "I thank ye," Shirley pivoted on her heel and left forever.
The four of us were in unspoken agreement – Mrs. Ramsey would be no problem. Things began with everyone on their good behavior. They always did. But like all good poker players – and indeed, a player she was – Mrs. Ramsey kept her hand to herself, letting the cards come out in due time. The old lady was quiet, polite, calm.
Every morning my mother wrote out a sheet of crystal-clear instructions for us. As the oldest and only girl, I did dinner chores. I'd preheat the oven and slide in the casserole Mom had assembled at five that morning. Mrs. Ramsey offered to help me if Mom wanted to assign more complex tasks. Mom, of course, readily agreed. Over the next months, with Mrs. Ramsey's tutelage, I took on increasing responsibility for the evening meal.
The first real card to be played by Mrs. Ramsey dropped on the table in November. That evening's Dayton Daily News carried a front-page story of movie star Clark Gable's sudden death. Mrs. Ramsey burst into tears. Nostalgic, and loosened up by grief, she went on to regale us with the story of her sister's ties to Hollywood as an organist for silent films. My ears perked up. No one in our Ohio farm town held any connections with Hollywood. Heck, we had to drive to another county just to see a movie. At age ten, I was impressed. I started to pay a little more attention to Mrs. Ramsey, wondering what else she knew. She did not disappoint.
My mother, with true Lutheran reserve, never spoke to us directly about sexual matters. She deferred to experts such as Walt Disney and Dear Abby: Disney, for his cartoon about female puberty shown to fifth grade girls and Dear Abby, for her free pamphlet about the perils of various sexual habits. Not so Mrs. Ramsey. She readily shared the warning story of her daughter's shoe shopping experience. Mrs. Ramsey was careful to keep in all the important details, like how pretty her teenage daughter had been that day, how her red hair had just shone. And she was explicit, making sure I understood what behavior on the part of the slimy shoe salesman was not tolerable. She told how he slipped the shoe on her daughter's foot. And how he then slid his hand behind her leg and ran it up her calf. She, the innocent girl's mother, had "let him have it." I took it all in.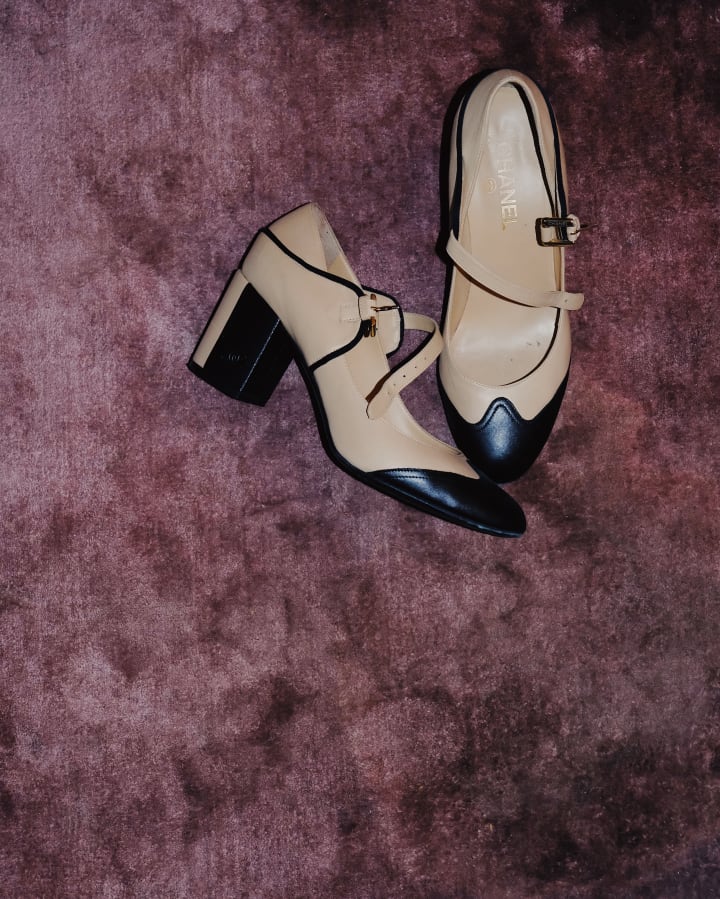 Mrs. Ramsey and her husband lived in nearby Crystal Lake. Old newspaper articles refer to Crystal Lake as a "resort," but by the 1950's the cottages clustered about the lake's meandering shoreline had become year-round homes. The area held an aura of outlawry rooted in the Depression. In 1933, John Dillinger holed up in Crystal Lake after his first bank robbery. The little brick National Bank four miles up the road in New Carlisle had yielded $10,000. One of my fellow Brownies bragged that her aunt had been one of Dillinger's girlfriends, a tidbit I'm sure her parents would have preferred she kept to herself. In 1937 mayhem broke out at Harry Dingledine's Crystal Lake cabin in a gang shoot out with the police. On April 19, 1939 Harry, his son Henry and fellow payroll robber Harry Chapman were electrocuted by Old Sparky at the Ohio State Penitentiary as payback for the murder of the two policemen killed in the shootout.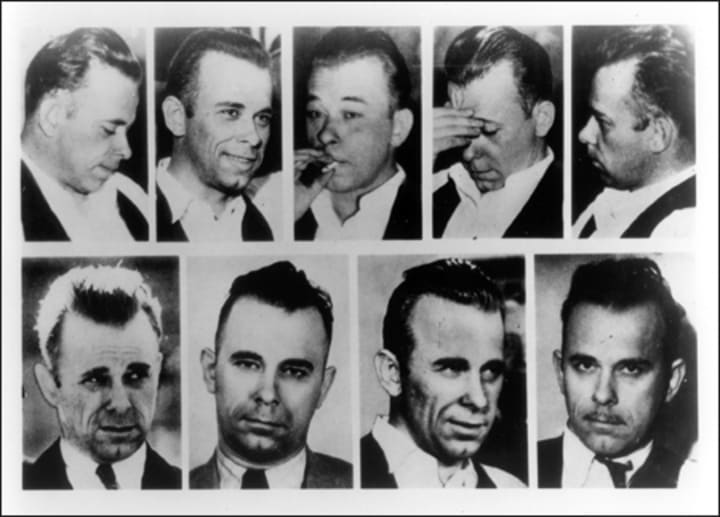 One day the four of us were invited to venture over to the Ramsey's cottage in Crystal Lake. Mrs. Ramsey thrillingly dropped a few more cards on the table that day. Turned out her husband had traveled about the country managing rodeos. Scads of framed and autographed photos of rodeo riders plastered their living room walls. Where our relatives' homes displayed cousins in graduation gowns, the Ramseys' boasted men on horses, girls with lariats and fancy Palomino ponies. For a girl who never forgave herself for outgrowing my favorite pair of cowgirl boots and who still has the autographed photo of the singing cowboy, this was heaven. But there was more. On the fussy side table by an easy chair was the very best - a catalogue of fireworks. Our safety-conscious parents only permitted little sparklers on the 4th of July. The knowledge that a person could actually buy fireworks from a catalog, like underwear from Sears, was absolutely liberating. Our horizons had just expanded.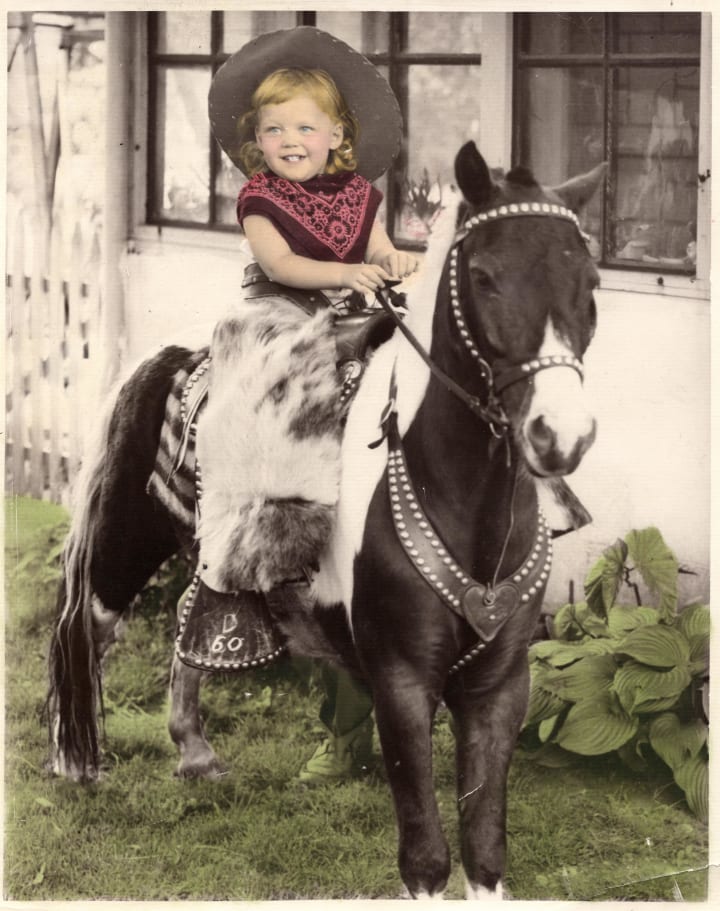 While Mrs. Ramsey captivated us with her great stories and calm presence, her biggest gift to our futures lay elsewhere. One day, after school, she sat the four of us down, brought out a deck of cards and began teaching us poker. Her gnarled hands efficiently slipped out a pile of cards to each of us. She was clear in her explanation; we quickly caught on. The game was just complicated enough to keep us interested and we were competitive enough to not want to lose. Now we had something fun to do on days when harsh Midwestern weather kept us indoors. Our parents no longer came home to chaos. Instead, they'd find us seated quietly around the gray Formica-topped table in the dining nook, intently studying our hands. Each of us had a little note on the table of what beat what, what a "flush" was and other important facts. We were all good math students, but probability was not on the menu at our school. We learned probability (and its partner, risk) from playing poker with Mrs. Ramsey. We also learned how to keep a secret – our hand – and how to keep a poker face. Unlike when I played cards with my cousin (who discerned my hand from studying its reflection in my glasses), there was no cheating. For one thing, Mrs. Ramsey's pale gray eyes missed nothing. For another, things grew physical real fast with my brothers. Mrs. Ramsey may have been an unlikely poker shark, but she did the trick for the four of us, introducing new concepts that engaged our minds in a positive way.
Sadly, we aged out. The family budget was tight, so eventually my parents deemed us old enough to be responsible for ourselves after school. By then, our rambunctiousness had given way to the misery of puberty. Mrs. Ramsey left us, but with a legacy.
Although one brother did finance his college spending money with poker winnings, none of us became professional poker players. Instead, my three brothers grew up to be a geneticist, an engineer and a pharmacist; I became a physician. But the lessons from poker enriched our careers – understanding the playoff between risk and benefit, the importance of playing fair, the usefulness of a poker face, how to cope with the hand dealt, the existence of wild cards and the way that early actions determine the end game.
And, after all, if it hadn't been for dear Mrs. Ramsey, I would never have had the pleasure of playing poker with the Sheriff. But that's another story…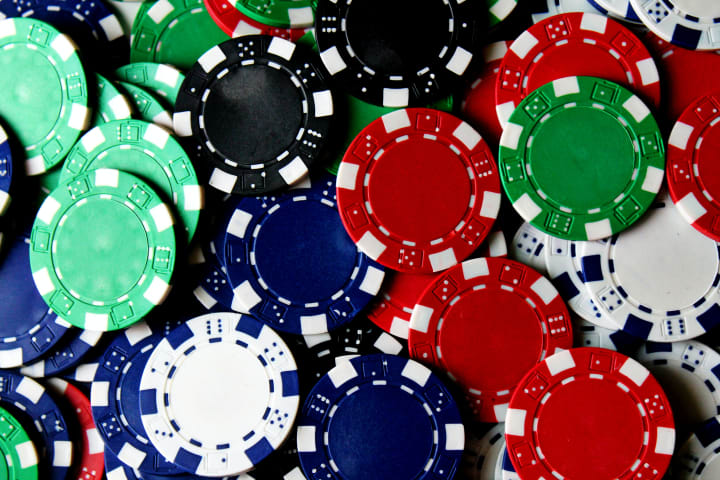 About the Creator
Diane Helentjaris uncovers the overlooked. Her latest book Diaspora is a poetry chapbook of the aftermath of immigration. www.dianehelentjaris.com
Reader insights
Be the first to share your insights about this piece.
Add your insights