The Gaming Hour News Roundup Vol 10
Evil, the Dead, and Rapture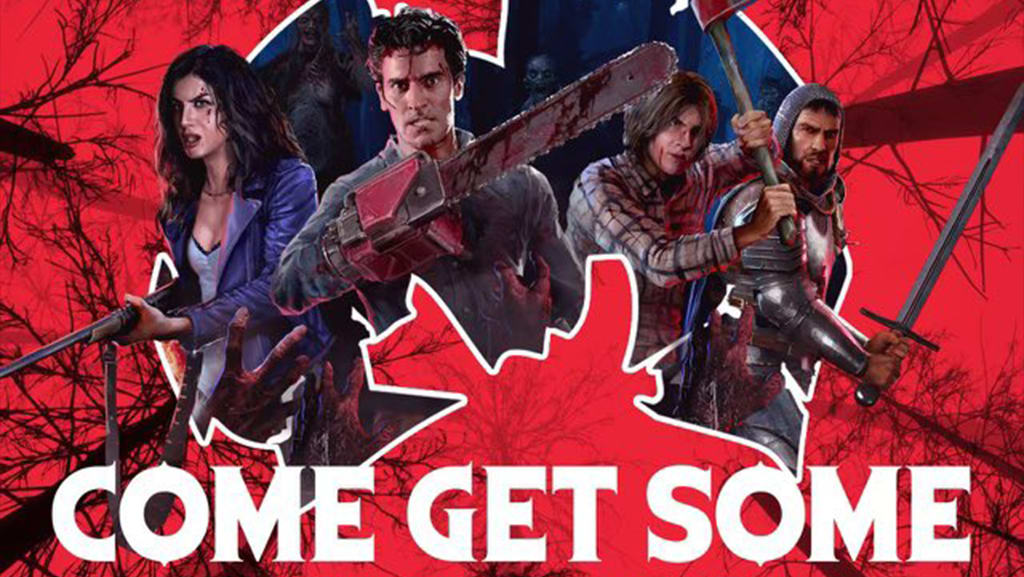 Just because we're slowly approaching the long days and peaceful mornings of summer doesn't mean we can't still enjoy a little horror. Actually, we can enjoy a lot of it thanks to the indie and AAA developers hard at work on the latest interactive digital frights.
This edition of The Gaming Hour rounds up a batch of great announcements for some highly anticipated titles and previously released favorites. Get comfy in your new Resident Evil 2 RPD Umbrella tee and enjoy this overview of the horror news you may have missed last week.
Saber Interactive Reveals First Free' Evil Dead the Game' Map
Players a little nervous about the map variety in Evil Dead the Game can rest a little easier. Last week, Saber Interactive provided concept art for the game's first free map, Castle Kandar. The medieval castle is an iconic Evil Dead location, first seen in Army of Darkness as the site of the movie's fourth-act battle.
Based on the concept art images, it looks like Castle Kandar will feature surface and subterranean routes. Dark dungeons will be perfect for Deadites lying in wait and force even ranged heroes into close-quartered combat. While these tight spaces will surely pose a challenge for the human characters, the potential for different routes also means the Kandarian demon will have more ground to cover. Will it be worth wasting Infernal Energy on dungeon traps? Or should surface coverage take priority? They're not easy decisions, but they must be made.
Saber Interactive confirmed that Castle Kandar is just the start of the game's DLC. "It's one of many groovy DLC updates we are working on for the months ahead. Stay tuned for more information," the team teased. While Saber has been tight-lipped about the DLC potential for Evil Dead the Game, it clearly has a few things up its sleeves.
There's no release date for Castle Kandar, but players should expect it as part of a free update in the months after this Friday's launch.
Listen to Method Man's 'Come Get Some' for 'Evil Dead the Game'
It's not often we get a song created by a known artist specifically for a video game launch. Leave it to Evil Dead to be among the few as Method Man and Statik Selektah collaborated for "Come Get Some."
The duo pulls sound bytes from the Evil Dead films to scatter throughout the rhythmic and haunting track, which fits surprisingly well for the game's release. Method Man also references several horror icons, including Michael Myers and Dr. Loomis. Have a listen to the full track below.
'Zombie Army 4' Season 4 Trailer Reveals Ragnarok Campaign
Zombie Army 4: Dead War may have turned two years old this year, but Rebellion Developments had still been hard at work to support the undead third-person shooter. In a trailer that dropped last week, Rebellion revealed the release of Season Four DLC, which includes the Ragnarok campaign. This two-part mission sends the Allied rebels to hell to stop the last of the cultists from initiating Projekt Ragnarok.
Season Four also unlocks a new outfit for Karl, Marie, and Josiah and a new Horde Mode map, "Death Collector." While Season Four content is $14.99 across all mediums, "Death Collector" launched as part of a free update for all players.
The trailer showcases much of the same chaotic combat the Zombie Army series is known for, including giant zombie sharks swimming in the pits of hell. Season Four and Ragnarok are available on the Nintendo Switch, PS4, Xbox Series X|S, Xbox One, PC, and Google Stadia.
'BioShock' Adapted into Musical by California High School
In news we never thought we'd ever report, a California high school pieced together an interpretation of Irrational Games' underwater thriller, BioShock. The Powerhouse Choir from John Burroughs High School entered the short production into the Hart Encore 2022 competition and walked away with the awards for Best Showmanship, Best Soloist, and Best Musicianship.
The production featured Andrew Ryan, Sander Cohen, Brigid Tenenbaum, and the Little Sisters in an impressive showcase of talent. Songs like Creedence Clearwater Revival's "Proud Mary" were used in the musical, with certain lyrics swapped out to fit the BioShock theme.
It's highly unlikely we'll see a full BioShock musical, but we will get to enjoy a Netflix film and an upcoming return to the series rumored for a Q4 2022 release.
About the Creator
Writer | Avid Gamer | Horror Enthusiast | A Voice for All Industries
Writing and building communities are my passions
Featured on all corners of the Internet
Reader insights
Be the first to share your insights about this piece.
Add your insights