My Thoughts About Billy Mitchell
Keeping it real about the disgraced former competitive gamer.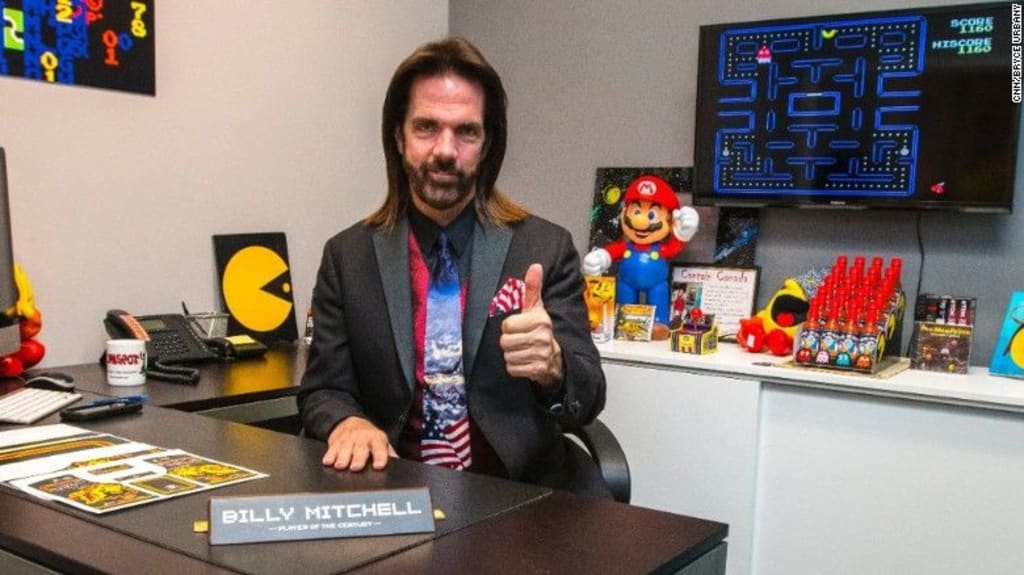 For over 30 years, former competitive gamer Billy Mitchell achieved many accolades and rose to fame as the best gamer of all time. However, back in April, there was an investigation conducted by Twin Galaxies and it concluded that Mitchell, 52, submitted fraudulent and dishonest scores. In result of the controversy, Twin Galaxies had removed his scores and prohibited him from submitting any more scores in the future. The Guinness Book of World Records has also stripped Mitchell of all of his high scores from their record books. Here are some of the accomplishments he has achieved before they were taken away from both Twin Galaxies and Guinness Book of World Records:
Selected as 1983 Video Game Player of the Year in 1984 by Twin Galaxies and the U.S. National Video Game Team
Scored 886,900 points in Donkey Kong in 1982 (achieved the first acknowledged highest score)
Scored 957, 600 points in Donkey Kong, Jr. in 2004
Catapulted world records for both Donkey Kong (1,062,800 points) and Donkey Kong, Jr. (1,270,900 points) on the weekend of July 24, 2010
As a gamer that has been playing video games for almost three decades, I never thought for a second that Billy Mitchell was a cheater. When I was in high school, I read an article about him and was impressed with his accomplishments. This was a man who I looked up to and admired so much. So when I heard about these cheating accusations about him and being deprived of his high scores, I was not only crushed, but disappointed. For years, I never suspected Billy of doing anything wrong. I've always given him props and showed him respect for the awards and high scores he's achieved. Now, I've lost all respect for Billy Mitchell for being dishonest and for all those years. The deceptive things he's done has given gamers a bad name and sends the wrong message to them as well. When you play stupid games, you win stupid prizes. What I mean by that is that there are consequences for your actions. I don't feel bad for Billy Mitchell. It felt like everybody got cheated by him.
I give kudos to professional gamers everywhere who win tournaments and achieving greatness the right way. I got interested in eSports when I was a teenager back in the early 2000s. Watching different tournaments on TV was fun to watch and I wish I was part of the action. Now that I'm in my 30s, I would like to be part of a gaming league. I play almost any kind of games: first-person shooter, racing, fighting, etc. It all depends on if a game peaks my interest and worth playing. Like I said in my last story about modern games, I would definitely be open to playing the ones I have and have not heard of before. In closing, Billy Mitchell realized that the ones who brought him up, have now brought him down. Cheating doesn't get you or anyone anywhere in life. It's despicable and uncalled for. It made me lose all respect for Billy Mitchell. I'll continue to play video games, no matter what. At least I have my favorite gamers on YouTube to look up to and admire: The Angry Video Game Nerd, AlphaOmegaSin, and Pat the NES Punk. Those are the three people that I watch online and respect more than Billy Mitchell. I refuse to praise a cheater who has done the gaming community wrong. He hasn't issued any kind of apology, which we're most likely not going to get any time soon. I'm done with him and so should everyone else.
celebrities