Madden NFL 11: My Bizarro-World Packers-Jets Super Bowl XLV
Brett Favre's Redemption Journey Against Disgruntled Aaron Rodgers's J-E-T-S! Jets! Jets! Jets??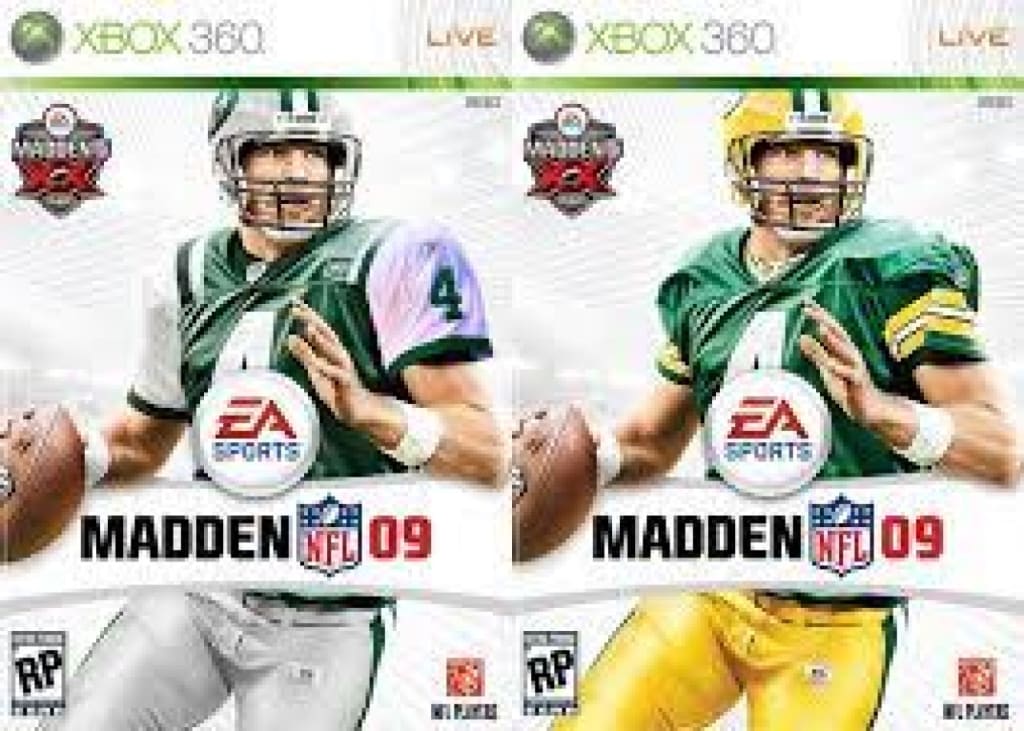 Both Brett Favre's Madden Covers from his 2008 Season with the Jets!
If Aaron Rodgers is Disgruntled Now, he should go back in time and play with Rex Ryan's 2010 New York Jets, haha. Sure real life Rex Ryan is singing his praises on ESPN's Get Up, but AI Rex Ryan just couldn't adjust to having a Brand-New, Proper, Youthful Franchise QB. AI Rex Ryan was still wasting his situation and trying to run Ancient LT 40 Times a Game, lmao. And we thrashed the Jets 52-13 in the Week 8 Regular Season Meeting that Finished 9 to 0 in real life for that very reason!! So to FORCE AI Rex Ryan to go for it more in the Super Bowl I let them borrow the GB-Mike McCarthy Playbook so he'd have less LT Running Options. While maybe not the Shootout I was hoping for...the results you'll find later were still pretty majestic!!
Way back when, when I was playing Madden 09 for real as a frustrated teenager, I took Brett's Side a little bit in the divorce. So I was rooting for a Packers-Jets Super Bowl that Year with Favre on the Winning Side; however, had we actually gotten there...I dunno. I'd like to believe I'd have come around to sticking with my own team as I'd imagine if Aaron Rodgers could've mastered such a Pat Mahomes Run in 2008 surely he'd have won me over #BoomerSooner, haha.
In any case, way back when I'd given those Jets...I kid you NOT...Adrian Peterson, because I really wanted to see both Brett play with him and to have my Sooner Legend transferred out of Minnesota; on his Draft Day I must went into a funk saying 'Darth Peterson, Rise!!!' a hundred times because Revenge of the Sith was fresh in the memory. Not to mention that we came oh so close to Trading with Washington and Getting Him for Ourselves. #BeCarefulWhatYouWishFor, #ThatOneBitMeOnTheAssHARD. And so I played out that Packers-Jets Super Bowl in the family's living room so I could record it to VHS, #TimeSureFlies.
I wish I could've done the same this time, but you know...here in the current age I don't have easy access to such ancient technology. #AncientChineseSecretHuh. Can't remember for sure if I had the Jets be All-Green versus Green Bay All-Yellow in our NFL Shop Never Used Hoax Jerseys, but that's what they were in today!! And for SB XLV the AFC did technically get the choice, Pittsburgh just chose White in Real Life.
Now for some Roster Backstory 1st:
I was originally just playing mostly as is for nostalgia, with Brett Favre phased back over to the Jets of course because Minnesota can #SuckIt, but when our new QB Drama happened I decided to just flip em. Traded Rodgers to NYJ for Brett Favre and their 1st & 2nd Round Picks.
I'd originally flipped Chad Pennington & Mark Sanchez so Miami would have to definitely earn it if they were going to spoil Brett's Jets Party again like that Bizarro 2008 AFC East Season, which also gave the Jets an Ancient QB Room of Brett Favre, Chad Pennington, and Mark Brunell #TheBackups, Brunell in particular starting his career in Green Bay Backing Up Brett to Finishing his Career in this World Backing Up Brett for New York was hilarious, but you know... that was in the previous paragraph, still:
Queue Elton John: Benny & The J-E-T-S, Jets! Jets! Jets!!
As an OU Guy, and considering Jermichael Finley was hurt for the Super Bowl Run anyways, I'd traded him to Jacksonville for Marcedes Lewis in sort of a Flash Forward for Aaron Rodgers to get him his weapon back in his prime, but...
Lewis was in a Contract Year, so it was actually a bad trade. Plus he was pissing me off with his lack of run blocking skills holding back Ryan Grant & James Starks, and surprise, surprise Samkon Gado!! I'd just had to add our St. Louis University Hospital Surgeon who was one of the brief highlights of the dismal 2005 Season!
We originally had 4 Running Backs then with Brandon Jackson around as well, but...in Week 2 when I decided I'd had enough of Marcedes Lewis's One Dimensional Game I traded Lewis, Mark Tauscher, and our 2nd Round Pick to New England for Baby Gronk and Baby Edelman. Brian Bulaga even as a Rookie in 2010 was only a slight downgrade so I decided the Iowa Man was ready. It's true that it sucks running a team as a business though as for one I'm no fan of Gronk and he usually rubs me the wrong way and two it meant removing Wisconsin Local Folkhero and Legend Mark Tauscher from his Super Bowl Team, but such sacrifice turned out great for our season!! Which to be fair, Bulaga became the Starter by Necessity from his injury in real life after 4 Games.
So in the aftermath to get us under roster compliance I cut Brandon Jackson & Brett Swain. Signed Al Harris and Left Tackle Herb Taylor from the Free Agent Pool. You may think Brandon Jackson's Cut was an OU-Nebraska Bias, but it was just wanting to keep Samkon Gado that much!! I'd take Nebraska back in a heartbeat to the Big XII and am glad we're renewing our Respectful Rivalry on September 18th!!
Oh and almost forgot, I'd swapped Greg Jennings and his Viking-Cheating-Ass with Megatron in the Preseason, too. Which being from Western Michigan in his Collegiate Career is bizarrely a homecoming of sorts for our XLV Ring on TV Guy.
In one more OU-Texas Note I swapped Vince Young & Matt Schaub sending Young to Houston and Schaub to Tennessee because VY10 notoriously does well on Madden despite his Bust Real Life Career, so I figured instead of nerfing him I'd just send him to his hometown team so he'd at least be on one of the damn Texas Squads.
I'd also traded Josh Sitton & His Expiring Contract to my Cousin Dylan's Kansas City Chiefs for Ryan Lilja and his 3 Year Deal to assure I had a Pro Bowl Right Guard through 2012.
Similarly flipped Tramon Williams to Cleveland for Rookie Joe Haden!! I'll be a master genius if I can somehow get Tramon back in Free Agency, but I probably won't have the Cap Room. #HinesightIsTwentyTwenty.
Other than that I do believe I left the 2010 NFL Rosters unaffected, haha.
Season Stats:
I know you're salivating for the Favre-Rodgers Comparison, so...we'll look at the Regular Season Passing Stats for both Favre, Rodgers, and their Weapons:
Green Bay: (15-1, I lost the Atlanta Game just like the Real Life 2010 Packers did, but I think in my case it was I needed to simulate to finish quick and leave for something my wife needed, haha.)
Brett Favre: Rating 117.7/4,829 Yards/44 Touchdown Passes/13 Interceptions/Long Pass of 80 Yards/35 Sacks/257 Completions from 439 Attempts/58% Completion Percentage/301.8 Average Game.
Leaving Favre with Rating 87.9/74,158 Yards/541 TDs (Moss Caught Real Life Number 500, here Baby Gronk did.)/330 INTs/6,340 Completions from 10,251 Attempts for a 61% Completion Percentage and a Lifetime Average Game of 243.1 Yards on the Career if He Retires like his Real Life Counterpart. Improving on his 71,838 Yards and 508 Real Life Touchdowns!
Because Madden 11 AI GMs are apparently stupid: Peyton Manning, Michael Vick, and Alex Smith will all be possible options for 2011, if not I'll probably just try to get Landry Jones in the Draft to backup Matt Flynn.
Calvin Johnson Jr.: 75 Catches/1599 Yards/21.3 Avg/99.9 Avg Game/21 TDs/387 YAC/3 Drops/Long of 80.
Rob Gronkowski: 67 Catches/1139 Yards/17.0 Avg/71.1 Avg G/10 TDs/249 YAC/5 Drops/Long of 46.
Jordy Nelson: 49 Catches/1085 Yards/22.1 Avg/67.8 Avg G/ 7 TDs/245 YAC/1 Drop/Long of 55.
Donald Driver: 34 Catches/497 Yards/14.6 Avg/31.0 Avg G/3 TDs/156 YAC/5 Drops/Long of 46.
Ryan Grant: 18 Catches/164 Yards/9.1 Avg/10.2 Avg G/1 TD/120 YAC/1 Drop/Long of 33.
James Jones: 13 Catches/314 Yards/24.1 Avg/19.6 Avg G/2 TD/63 YAC/1 Drop/Long of 45.
Julian Edelman: 10 Catches/170 Yards/17.0 Avg/10.6 Avg G/1 TD/25 YAC/2 Drops/Long of 24.
Donald Lee: 8 Catches/163 Yards/20.3 Avg/10.1 Avg G/0 TD/47 YAC/0 Drops/Long of 32.
John Kuhn: 6 Catches/46 Yards/7.6 Avg/3 TDs/16 YAC/0 Drops/Long of 20.
James Starks: 2 Catches/25 Yards/23 YAC/0 Drops/Long of 14.
Korey Hall: 1 Catch/14 Yards.
Samkon Gado: 1 Catch/12 Yards.
New York Jets: (13-3, Losses to Ravens Week 1, Dolphins Week 3, and Green Bay Week 8.)
Aaron Rodgers: Rating 94.5/3,629 Yards/30 TDs/12 INTs/Long of 80/37 Sacks (surprised it's more than Favre, I was running for my life all season with the old man because of his lack of mobility.)/231 Completions on 426 Attempts for 54% Completion Percentage/226.8 Average Game.
Santonio Holmes: 61 Catches/1254 Yards/20.5 Average/78.3 Avg G/13 TDs/476 YAC/9 Drops/Long of 80.
Braylon Edwards: 49 Catches/866 Yards/17.6 Average/54.1 Avg G/8 TDs/288 YAC/8 Drops/Long of 68.
Dustin Keller: 36 Catches/470 Yards/13.0 Average/29.3 Avg G/3 TDs/172 YAC/6 Drops/Long of 66.
Jerricho Cotchery: 29 Catches/427 Yards/14.7 Average/26.6 Avg G/2 TDs/143 YAC/3 Drops/Long of 76.
Tony Richardson: 18 Catches/193 Yards/10.7 Average/12.0 Avg G/1 TD/105 YAC/1 Drop/Long of 25.
Ladainian Tomlinson: 16 Catches/191 Yards/11.9 Average/11.9 Avg G/0 TDs/104 YAC/0 Drops/Long of 27.
LT's Rushing Stats: 1425 Yards/13 TDs/347 Attempts/4.1 Average/89.0 Avg G/3 Fumbles/29 Broken Tackles/618 Yards After 1st Hit/9 Runs of 20 Plus/Long of 85. Shonn Greene also added 440 Yards and 5 TDs.
New York technically has more players that caught a pass, but that's all the ones that were household names, haha.
Super Bowl XLV Team Stats:
GB Qtrs: 14, 14, 0, 0: 28
NYJ Qtrs: 7, 6, 0, 7: 20
Green Bay 28, New York Jets 20!!!
Total Offense: GB 240, NYJ 323
Rushing Yards: GB 105, NYJ 58
Passing Yards: GB 135, NYJ 265
1st Downs: GB 8, NYJ 6
Total Yards: GB 334, NYJ 397
Turnovers: GB 1, NYJ 1
Both Green Bay Pro Football Hall of Famers had 4th Quarter Interceptions, Rodgers's Mistake being more critical as it was a Charles Woodson Redzone Touchback Interception to Save The Day!! Ryan Grant also had a 4th Quarter Fumble that Chad Clifton Recovered to Save Our Bacon as well.
3rd Down Conversions: GB 0-8, NYJ 3-14, (21%).
4th Down: GB 0-0, NYJ 1-2.
Red Zone %: GB 4-4, NYJ 3-4
Red Zone TD: GB 4, NYJ 1
Red Zone FGS: GB 0, NYJ 2
Penalties: GB 1-5 Yards (Got a Delay of Game from taking too much time making Hot Routes.) NYJ 0-0.
Time of Possession: GB 18:09, NYJ 9:51 , (7 Minute Simulation Style Quarters if you don't feel like doing the math.)
Green Bay Passing:
Brett Favre: 87.5 Rating/10-24 (41%) for 164 Yards/3 TDs/1 INT/ Long of 43.
Green Bay Rushing:
Ryan Grant: 8 Rushes/33 Yards/1 TD/1 Fumble/3 Broken Tackles/22 Yards After 1st Hit/0 20+/Long of 9.
James Starks: 7 Rushes/75 Yards/0 TD/0 Fumble/1 Broken Tackle/11 1stH/2 20+/Long of 30.
John Kuhn: 1 Rush of 1 Yard.
Green Bay Receiving:
Rob Gronkowski: 5 Catches/83 Yards/2 TDs/34 YAC/0 Drops/Long of 32.
Calvin Johnson Jr: 3 Catches/62 Yards/0 TDs/5 YAC/1 Drop/Long of 43.
John Kuhn: 1 Catch/7 Yards/1 TD.
Jordy Nelson: 1 Catch/12 Yards.
I didn't do a good job of spreading the ball around, because that's it!!
New York Jets Passing:
Aaron Rodgers: Rating of 91.7/ 12-27 (44%, lol.) for 281 Yards/2 TDs/1 INT/Long of 86.
New York Jets Rushing:
Ladainian Tomlinson: 22 Rushes/56 Yards/0 TDs/2 Broken Tackles/84 1stH/1 20+/Long of 67.
New York Jets Recieving:
Braylon Edwards: 5 Catches/62 Yards/0 TDs/8 YAC/1 Drop/Long of 46.
Dustin Keller: 4 Catches/178 Yards/1 TD/121 YAC/0 Drops/Long of 86.
Jerricho Cotchery: 2 Catches/35 Yards/1 TD/Long of 16.
Santonio Holmes: 1 Catch for 6 Yards.
So Aaron didn't do any better at distributing. Both Defenses were on great form, especially in the Scoreless 3rd Quarter.
Green Bay Defensive MVP:
Charles Woodson: 1 Tackle, 1 4th Quarter Red Zone Interception, and 2 Pass Deflections.
Honorable Mention to Cullen Jenkins and his 4 Tackles for Loss on LT.
New York Jets Defensive MVP:
Jim Leonhard: (ironically a Wisconsin Badger.) 4 Tackles, 2 Tackles for Loss, 1 Sack, 1 Interception, and 2 Pass Deflections.
Scoring Summary:
Quarter 1:
Green Bay: Rob Gronkowski, 2 Yard Pass from Brett Favre, (Mason Crosby PAT), 4:08.
New York Jets: Dustin Keller, 86 Yard Pass from Aaron Rodgers, (John Carney PAT), 3:30.
Green Bay: Ryan Grant, 9 Yard Run, (Mason Crosby PAT), 0:04.
Quarter 2:
New York Jets: John Carney 27 Yard Field Goal, 5:44.
Green Bay: Rob Gronkowski, 6 Yard Pass from Brett Favre (Mason Crosby PAT), 2:08.
Green Bay: John Kuhn, 7 Yard Pass from Brett Favre (Mason Crosby PAT), 0:51.
New York Jets: John Carney, 30 Yard Field Goal, 0:05.
Quarter 4:
New York Jets: Jerricho Cotchery, 19 Yard Pass from Aaron Rodgers, (John Carney PAT), 6:40.
And now that you have the full Box Score, Aaron Rodgers has yielded his real life Super Bowl XLV MVP to...
Brett Favre!!
I'm a bit shocked because of the low yardage, but the 3 Passing TDs pull it out and give Favre his missing personal silverware.
Now to wrap this up, I don't really expect this to be a series or anything unless Favre doesn't retire and we get a rematch. This was just a Personal Good Time I decided to share with my fellow Green Bay Packers Shareholders and the General Public. So in closing Brett Favre has Retired! As well as Donald Driver joining him in finalizing the timing of their real life retirements!!
Time to go Chase Peyton Manning if he doesn't Re-Sign with the Colts!! Who lost the AFC Championship Game in a Thriller I had the CPU Demo Mode for Me.
So anyways, that's your brief look at me with my Classic Madden 11 since Modern Madden needs TONS of Improvement before I give them anytime of day!!
And to show Aaron Rodgers just a little bit of Love in this admitted a bit of a smack piece I'll share all of my old awesome Green Bay Themed YouTube Videos Here:
2007 Green Bay Packers Retrospective
Brett Favre Hates Everything (Minnesota Blues)
2010 "13thTitle" SB XLV Champion Green Bay Packers Tribute
Special Bonus:
Peyton Manning-That's The Way We Loved You
Since I could possibly Hit a Free Agency Game Slam and get my Mom's Favorite Player to Green Bay for 2011!!
Thanks for reading My Fellow Cheeseheads and Rivals Alike!!