Looking for an Upgrade?
The PC I Bought for the Betterment of My Gameplay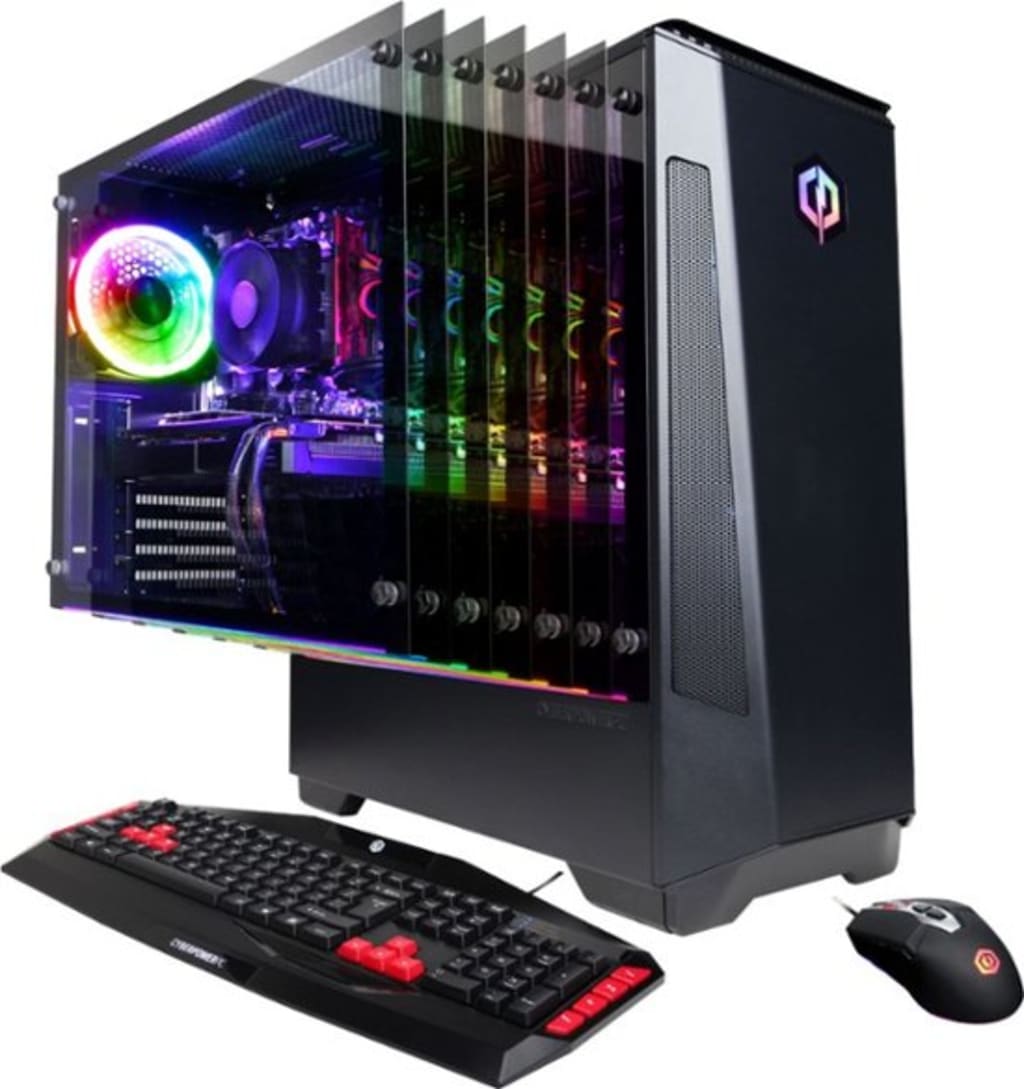 CyberPowerPC - Gaming Desktop AMD Ryzen 3, 2300X 8GB Memory, AMD Radeon RX 570, 1TB HDD, 240GB SSD
When it comes to upgrading things I'm more of a "wait and see" type of person. I don't like to just go out and buy the latest and greatest until I've done some research. That's the key when deciding what you want. You have to make sure you're making the right choices. Especially when it means shelling out money for it. The computer I have has carried me through 5 years of gaming, but now it's time to retire the motherboard and get into something more updated. Especially when the games that are currently being made are for more up to date rigs. So I had to make the tough decision and look into a new PC.
I must have spent at least 6 months looking at new PCs that could help me get through my gaming addiction better than my current model. Any PC gamer will tell you that if you blindly buy something without looking into it then you've basically bought an expensive paperweight. Especially if you need it for gaming. You have the have the space, the memory, the graphics card and processor speed to keep up with todays market. So again if you're looking into a new rig, DO YOUR HOMEWORK!!!
That's when my new rig showed up on the BestBuy website and I knew I had to have it. Two things that are important in gaming on a PC are graphics quality and processor speed. Especially if you're playing an online game. You need to be able to play without interruption or lag or any other number of things that can happen. So I clicked buy and it came to my house in 2 days. Yes, I bought a Cyberpower PC specifically for gaming. The specs on this thing were excellent for the more up to date games I wanted to play. Not only was the rig a good setup, but the price was unbeatable. Currently it runs for $599.99 which, for a gaming PC, is a good deal. Especially one that can run games like Black Desert Online, The Secret World or any other high end game with graphics all the way up. I can even play WoW with the graphics on full! Let me explain how much that means to me. I have never....NEVER....been able to play WoW on full graphics until now. I'm talking from 2004 to a couple months ago! Yeah, that's 16 years with low graphics! Now I look at my game and it just blows my mind being able to see everything the way it's meant to be seen! Plus being able to play the higher end games without problems is also adding to my gaming addiction.
If you're in the market for a new PC I definitely suggest the CyberPower Gaming Desktop. Not only is this things fast and reliable, but it's fully up-gradable when the time comes. Now, there is no monitor with this, but I use a 35" Smart tv as a monitor so I didn't need to worry about that. It comes with a keyboard & Mouse. The best thing about this PC is the air flow. There are a LOT of vents in this tower for proper airflow so your rig wont overheat. Another great feature is the FreeSync compatibility. This synchronizes the refresh rate between the graphics card & compatible monitors so there's literally no choppiness when playing your game. Click the link above to see the full specs and information as I only have the base specs listed here:
Processor: AMD 2nd Generation Ryzen 3
Speed(base): 3.5 gHz
Graphics: AMD Radeon RX 570 (Discrete)
Memory (base): 8 gig
Hard Drive: 1TB
Operating System: 64 bit