Little-Known Mods that You Can't Play the Sims 4 Without
A comprehensive list for simmers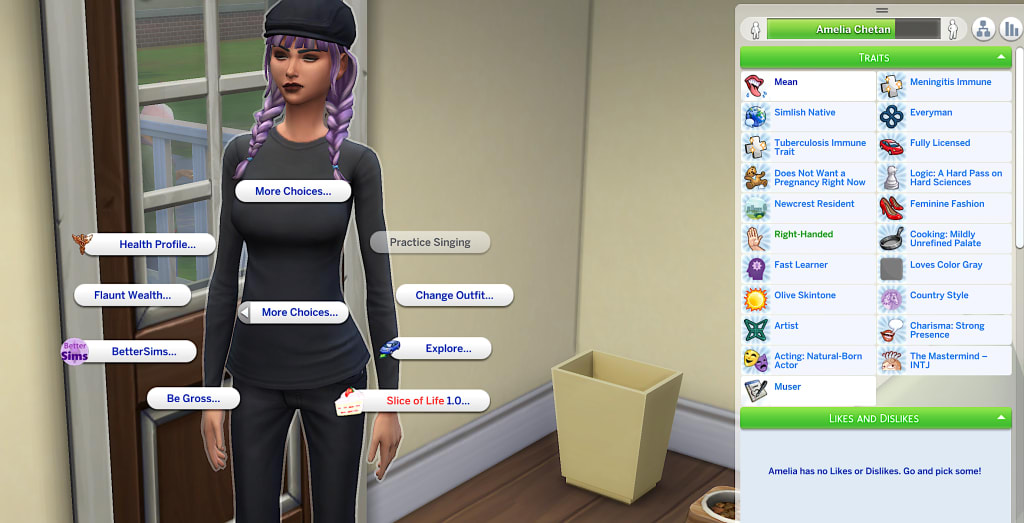 I have a confession to make: I research mods for fun. Constantly. While others will watch TV, read books, or, as a simmer, play the sims, I look up new mods and modders whenever I can. I love seeing the talent and creativity in the modder community, and I enjoy the many ways in which players expand this game to make it a true story-telling device.
Here are some of the mods I found and implemented into my game. They were a lot of fun, and I hope you decide to check them out!
This list doesn't include nearly all the mods and modders I want to recommend, but I'm hoping to make another post about them to showcase their work.
Death by Fright
I didn't really do much with the new scared emotion -- my sims felt terror, but they could still do everything normally. With this mod, there's a real chance they could perish from this new emotion. And as a stereotypical simmer, I love seeing what other ways they can die!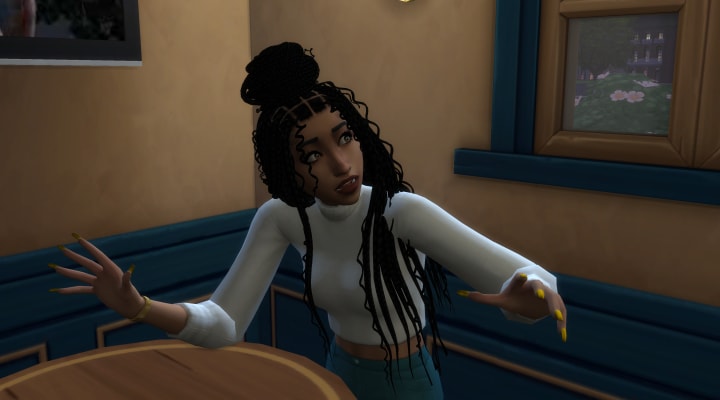 Service Animal pack
Diversity is necessary! I was tired of having the same kinds of sims in my game, and this mod just expanded their potential. People are finally starting to realize that mental illness and emotional scars have a profound impact on who we become. This mod helps compliment some of our sims' hidden struggles by allowing their pets to support them.
Snow, but Better
Winter is my FAVORITE season! I loved winter in the sims 3, and this brought the magic back into my game. This mod improves snow graphics, and makes even summer-loving people like my husband look forward to sim winter.
Mousehole tweak
Animals are my favorite addition to the game (always has been, always will be!), and I love how this mod makes animals even more lifelike and significant in the game.
With this mod, cats will hunt the mice and rats that run out of the holes in apartments.
Childhood Dollhouse Story (This mod is tough to find, but I'll look for it and link it soon!)
My sims tend to gravitate towards my hobbies and special interests (surprised?), and I was definitely grateful to have my sims do what I did as a kid: write stories based off the games I played with my toys. Kids with high enough writing skill can write stories inspired by their time with their dolls. It's a very sweet mod, and great for any player who wants to boost child activities.
Borrow Books
I love this mod even more with the new patch update. Sims can visit the library, get a library card from the librarian, and take a book home for a few days. To return it, they can just click on the book (or any one, really) to return it before the coordinating moodlet expires. This mod makes the librarian useful, and provides an extra activity for book-loving sims!
Peek-a-Boo
I love building up family life and creativity whenever I can, and by far, this is one of my favorite additions to the game. This mod overrides the funny faces interaction with an adorable peek-a-boo animation. It's great for pictures, storylines, and developing positive relationships.
Pufferhead Stuff
Harry Potter in the Sims? Need I say more? Just in case you do need more -- this pack comes with new clothes, toys, furniture, decor and best of all, THE ENTIRE SIMS VERSION OF POTTER BOOKS!
One-Time Jobs for Kids and Teens
It's never too early to develop a good work ethic! Kids and teens can search for short-term jobs, kind of like odd jobs for adults. They disappear into a rabbit hole for a few hours with the option to stay away longer for more money if desired. This works well with the Little Entrepreneur aspiration, Sim Realist's banking system, and for families like mine -- overcrowded and overspending their funds!
Knit straight from the Basket
I'm not the only one who loves the knitting pack, am I? The only thing that frustrates me was needing to keep the basket in my inventory when I wanted to keep the basket out. It looked too adorable to hide away. This mod overrides the current knitting function so you can relax anywhere and knit away.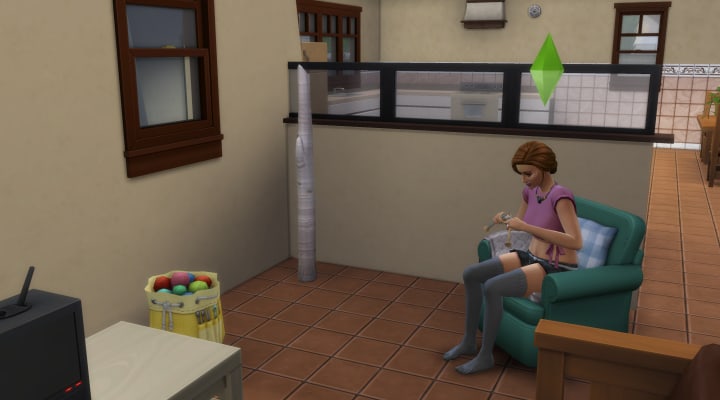 No Holiday Failure
Completing holidays always stressed me out! I didn't look forward to them after a while, especially for the minor ones I wasn't too keen on celebrating (neighborhood brawl?). Also, I was frustrated when I entered a family during a holiday and didn't have time to complete the traditions. This mod replaced the default sad moodlet with one that makes more sense for your sims based on their personalities. Reactions range from sad, to fine, to angry.
Small Vegetarian Overhaul
Any mod that allows you to add traits in-game is super helpful. Sims change just as much as we do, right? This mod allows your sim to announce their dedication to being a vegetarian (being one FOREVER if they are feeling confident). The vegetarian trait will be added, and they will start enjoying their new diet. This works well with the mod that prevents vegetarians from choosing meat-based foods (I think it's here).
Island Event Notification
I understand the desire to keep Sulani's festivals spontaneous and community-centered, but when playing in other worlds, I felt like I was always missing out. I enjoy the events here, and I wanted to know when they happened. Especially ones that didn't happen very often, like the turtle hatching! This mod notifies you like any other festival, just without the button to head there directly. Enjoy the pao and turtle babies!
After School Activity Bundles One and Two (with the Debate , Science Show and Talent Contest events)
I had tried other after-school mods, and I didn't understand why my teens and kids wouldn't learn anything while they were away. If they're involved in sports or the arts, why not develop those skills? These mods are fun, engaging, and happen on different days so you can join more than one (Turbodriver's Unlimited Jobs mod is helpful here if you choose two or more activities that overlap each other). Choose an instrument to practice at home if you're in the orchestra, show off your new singing skill at the talent show if you're in the choir, and interview sims to write an article for the school newspaper.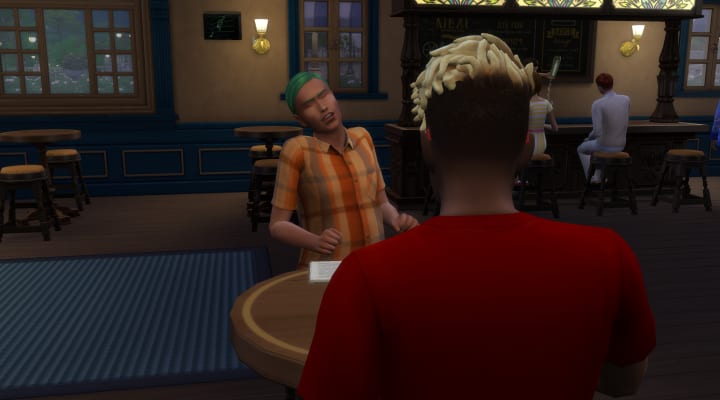 University Activities
This is similar to the mod above, just for university students. Activities include a student newspaper that can turn into an internship, pride alliance, and the TA club.
Video Station Adds Followers
Why split your time between two different things you need to rise in the social media field? Whenever your sims uses the station and posts videos, they can gain followers, just like in real life! The same modder also has one that allows your sims to gain extra skills when using the music producer station.
Side Gigs
This is so helpful for the days your sim needs to stay home, like for sick days, or if they're strapped for cash. They work like odd jobs from home, where sims can teach Simish, edit posts, or do other computer tasks for a few dollars.
Progress Bar for University Projects
I was tired of sitting around waiting for my university students to complete their ever-long projects and papers. This mod helps these activities to function like regular homework so you know when they'll finish and start enjoying university life!
Treacherous Fox mods
This is easily one of my new favorite modders. They enabled more interactions for children, including making fizzy drinks, lemonade, and fire dancing. They also enabled more fridge and food options, stocking fizzy drinks and ice cream for sims to grab whenever they're ready.
I hope you enjoy these mods!
list
About the author
Reader insights
Be the first to share your insights about this piece.
Add your insights