Level Up: Gaming for a Cause
Extra Life

Official logo for Extra Life - charity organization
Over recent years, gaming has become more mainstream, having found its way into more homes, stores, merchandise, and more recently, fundraising. One of the major forces behind gaming fundraisers is none other than Extra Life. Extra Life is a non-profit charity organization run through the Children's Miracle Network. While fundraising takes place year-round, a major event is an annual 24 hour gaming marathon where gamers band together to raise funds and awareness for their selected Children's Hospital. This charity organization started in 2008 in memory of middle schooler Victoria Enmon, who died after her four year battle with leukemia. As of 2017, participants, known in the community as "Extra Lifers," have raised over $40 million since the charity started. Being partnered with Children's Miracle Network has enabled this charity to reach millions of kids around the world, ten million of whom are in the United States alone.
But what does this charity have to do with gaming—other than in name? Well, being a gaming based charity means that these Extra Lifers pledge to dedicate time to do just that: play games for a great cause. These range from sports to board games to what is probably the most popular format: video games. One of the partners of Extra Life is Twitch.tv, a popular streaming platform where gamers around the world broadcast their gaming to viewers. This enables participants to reach a broader audience, which in turn, provides more opportunities to raise money for sick kids. Gamers also utilize other forms of social media. Some people use Facebook, Twitter, Mixer, YouTube—even Instagram and LinkedIn. Whatever platform they choose, they implement it to reach out to people asking for donations, and even recruiting more people to come and dedicate time to the cause.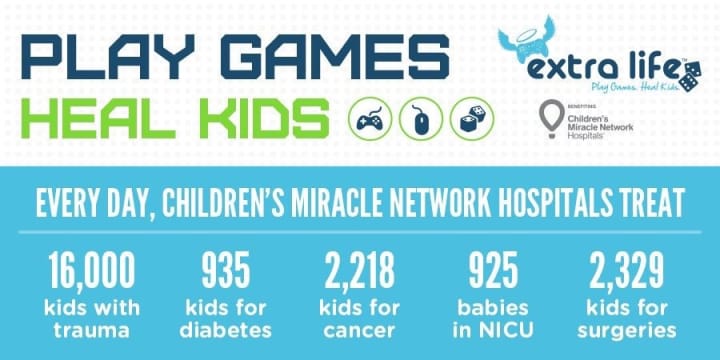 Motivation to participate in Extra Life varies from gamer to gamer. Combining the passion for gaming in all its different forms with the will to do some good in the world seems to be the main driving force behind all of them. While participants do try and participate in "Game Day," the 24 hour marathon, some go above and beyond expectations to fundraise all year long. Extra Life is not bound to just one day. For some people, it is a day to day experience. Some members participate by joining up with teams from major community partners such as Twitch, Reddit, Wizards of the Coast, and Rooster Teeth, as well as smaller communities in their hometowns.
Some people may get concerned with an all-day gaming marathon, claiming it is "unhealthy" to do something like that. Technically, those people aren't wrong. Gaming for that long non-stop can have a negative effect on a person's health. Effects range from fatigue to migraines caused by eye strain. This is why both the people behind Extra Life and its veteran players make a push to ensure no harm comes from helping fundraise by providing tips and guidelines for its participants. They suggest you take breaks, get up, stretch, eat healthy while you play, and more.
As far as goals for the future, Extra Life as a charity organization plans to keep reaching out and raising money and awareness for the 170+ hospitals they serve. As for the participants, you will find that each has their own. Some aim to raise the base goal of $100, while others such as Rooster Teeth and their partners aim to raise over one million dollars. Most participants aim to reach a goal that means something to them. For example, Jeromy Adams, one of Extra Life's founders originally set a goal of $5,115. His total was five dollars for every day that his friend had spent fighting leukemia. The ambitious goal struck a chord with donors and together they were able to reach almost double his goal. No matter the endgame plans, participants in this charity are an amazing part of the gaming community and will continue to do their part for sick and injured kids.
Want to get involved? Go on and check out extra-life.org to see what you can do #ForTheKids
Sources
https://www.extra-life.org/index.cfm?fuseaction=cms.page&id=1306
https://www.extra-life.org/index.cfm?fuseaction=cms.page&id=1185
http://community.extra-life.org/articles.html/extra-life-news/best-practices/gaming-marathons-the-healthy-way-r16/
http://therecordlive.com/2008/01/22/victoria-enmon-dies-from-leukemia/

Hunter Delles
Hunter is an avid reader and writer. Obsessed with video games, D&D, Harry Potter, and more, you can count on her for fun, factual, and fantastic stories. Hunter lives in Missouri with her ginger Viking and their two cats.
See all posts by Hunter Delles →