How to Master Fortnite On PC?
Start the PC version of Fortnite Battle Royale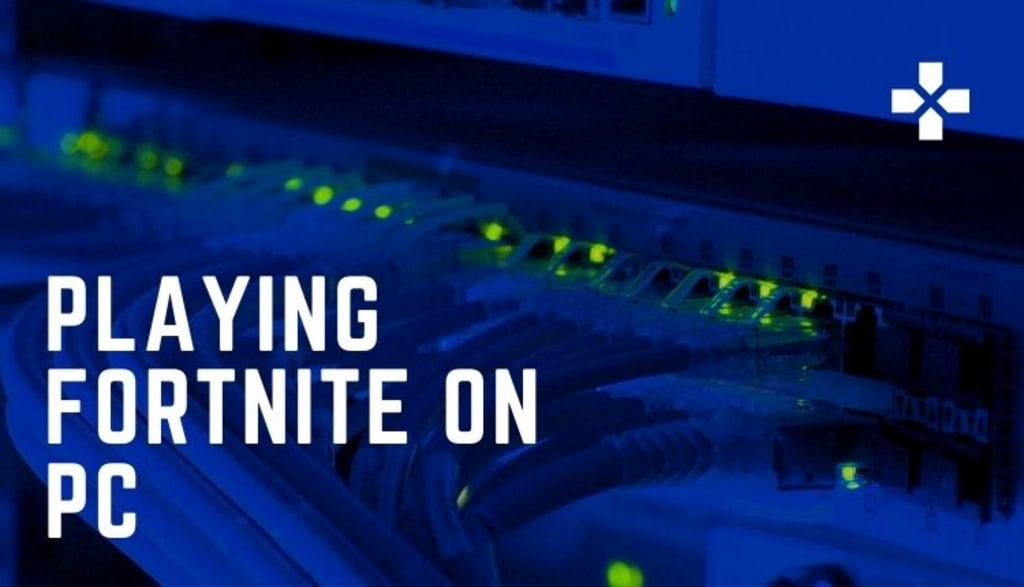 It shouldn't be necessary to introduce a game that has over 125 million players. Fortnite Battle Royale, despite still being in beta, has already become a touchstone of pop culture.
A year after its release, it has gained acclaim from grade-schoolers and college students alike, as well as parents and administrators, and has taken the gaming community by storm. The following is a short primer on Fortnite Battle Royale and how to play it.
Start the PC version of Fortnite Battle Royale
You can click "Play Free Now" on the Fortnite site to install the game and then launch it by clicking "Battle Royale" on the left-hand side of the screen. There is a lobby where you will be. Select your game mode once you're there.
How to choose your game mode
The game mode is set to "Solo" by default in the lower-right corner of the screen. Click this to choose from six game modes:
Solo: Fight it out on your own.
Duos: Play with a friend.
Squads: Pick two to three others.
50v50: Play in one of two teams of 50 players (you'll find more loot here, but the storms are more lethal).
Playground: Build massive structures and practice with weapons in this low-pressure environment.
Steady storm: Prepare for relentless storms.
With friends, you can play Fortnite
You can play solo or with a friend in any of the other game modes besides solo.
Click the "Party Finder" icon in the lobby to play with friends.
To email this link to friends, you can also click on the "Friend Link" in the upper-right corner.
Fortnite Battle Royale supports cross-platform play so you can play with your friends on any device or platform. It was released on Windows, macOS, PlayStation 4, Xbox One, Nintendo Switch, iOS, Android devices.
How do Battle Passes work?
The top of the lobby will display a few tabs, one of which is the Battle Pass. The Battle Pass rewards players as they complete in-game challenges and gain experience points.
The Battle Pass is available to every player at the beginning of every Battle Royale Season.
Battle Royale Seasons of Fortnite
Battle Passes are tied to a 10-week in-game season. Upon purchasing a Battle Pass, you have until the end of the season to unlock everything it has to offer.
The Battle Pass Season 5 kicked off on June 12th and concludes on September 24th.
Is Fortnite open-source?
Fortnite Battle Royale is available for free download. You must, however, either earn or purchase certain items and experiences using in-game currency called "V-Bucks," which is an in-game currency. Ten thousand V-Bucks, for example, are $9.98.
How to play the game?
One minute of practice
When you're ready, click "play," and you'll be taken to the holding area called "Spawn Island." You can practice here by picking up weapons, ammunition, and building materials, but you have only about a minute before 99 other players join the game. Those items won't be allowed in the game itself, as well.
A Battlebus flight
As soon as you spend a minute in the holding area, you will automatically be transferred to the "Battle Bus," which flies over the game's map. When you're ready to play, the game's message will let you know (just press the spacebar on your keyboard to jump). You can slow your descent by pressing space again.
As soon as you land, you're on a mad dash to find weapons and resources while avoiding being killed by other players who have found them before you.
Once you are eliminated from the game, you can either continue watching the game from the perspective of the person who eliminated you or just quit and start over.
Choosing the latter allows you to gain insight into what makes a great player - since you'll end up riding the coattails of the winner.
When you play for a few minutes, an indicator will appear to let you know that the storm is shrinking. When on your map, press "M" to find a safe area, which is everything inside the circle. You can go through the storm, but doing so will negatively affect your health and eventually eliminate you from the game.
As the circle shrinks, remaining players are forced into smaller and smaller spaces, until one player remains. You've reached a Victory Royale if that player is you!
Some Fortnite in-game mechanics
Look for treasure chests, which contain loot and medical supplies like first aid kits, bandages, and shield potions, as well as ammunition. You will need to build defensive structures quickly if you want to protect yourself and hide from attackers.
Fortnite: Building fortifications
Building supplies come in three types: wood, brick, and metal. Your pickaxe (the only weapon that you begin with) can be used to cut wood and destroy walls of existing structures (trees, houses, rocks, etc.). You can take as much as you want of the building materials in your backpack since they take up no room.
Dancing, or emoting, your way to victory
Among those experiences are the awesome dances, known as "emotes," that you've no doubt seen the cool kids doing at some point in the past few months.
As soon as you eliminate an opponent, you can choose a dance "emote" to rub it in their face...or just dance if you want.
In addition to skins, gliders, and other cosmetic rewards, dozens of emotes are added regularly, including the "Floss" (aka "The Backpack Kid's dance").
Build walls, roofs, stairs, ramps, doors, and ceilings using your building supplies. You can view an image of the structure you will build through your blueprint (F1 through F4, as shown above). Press the left mouse button to place it. Getting started with Fortnite keyboard and mouse controls is easy with these:
In order to fully immerse yourself in the Fortnite world, and especially if you're playing with others, you may want to invest in a good gaming headset.
You can more easily hear in-game sounds like an enemy approaching or gunfire with a headset. You may end up winning or losing (or even losing) a game if you can communicate clearly with your teammates.
With the right gaming keyboard, gaming mouse, and gaming controller, you can boost your gameplay and tactical advantages.
To get you started, here are some Fortnite keyboard and mouse controls:
Jump: Spacebar/Up arrow (You can use spacebar counter to increase your spacebar speed. The fast you hit the spacebar, the fast you will jump. )
Run/sprint: Shift
Crouch down: Ctrl
Use/interact with objects/pick up items: E
Reload: R
Fire: Left mouse button
Change weapons: Scroll wheel on mouse
Aim down sight: Right mouse button
Map: M
Rotate building structure: R
Change building material: Right mouse button
Building slots: F1 through F4
What is Fortnite anyway?
Fortnite is an online game that was released in 2017 with two different game modes.
Fortnite: Save the World plays as a player-versus-environment (PvE) game, while Fortnite Battle Royale is a last-person-standing, player-versus-player (PvP) game where up to 100 players compete in increasing confined spaces. Fortnite Battle Royale is the subject of this article.
What's the deal with the name?
Fortnite: Save the World is a PvE game that lasts for two weeks (also called a fortnight) and involves building forts to defend yourself. This is why Fortnite Battle Royale exists.
Battle Royale: What is it?
Fortnite Battle Royale is a popular video game in the "battle royale" genre. Combining survival elements with elements of the "last person standing" gaming genre, this genre is unique. Massive multiplayer online games (MMOs) like Fortnite tend to attract large numbers of players.
Battle royales are free, online games in which a large number of players utilize a limited number of gameplay items to search for weapons, armor, and other gear, eliminate opponents, and avoid being trapped outside of a limited "safe area." Mechanics in Fortnite.
What Fortnite Battle Royale is all about
Fortnite Battle Royale features up to 100 players: you can play solo, in a duo, or with four other players. To be the last player or group standing is the goal.
It is necessary to eliminate your opponents or remain within a small safe zone while avoiding the others because of an incoming storm. For strategies from the best players, check out our article about the best Fortnite players.
Fortnite system requirements
Fortnite Battle Royale's minimum and recommended PC specs are listed below. Be sure to check back with Epic Games periodically, as they may update these in the future.
The following PC requirements are recommended:
DX11 GPU equivalent to Nvidia GTX 660 or AMD Radeon HD 7870
VRAM of 2GB
2.8 GHz Core i5
RAM of 8GB
Mac OS X Sierra (10.13.6+) + Windows 7/8/10 64-bit
Minimum PC requirements include:
A PC with Intel HD 4000 or a Mac with Intel Iris Pro 5200
2.4GHz Core i3
RAM of 4GB
OSX Sierra (10.12.6+) and Windows 7/8/10 64-bit
Macs must support Metal API
So, that is all about playing fortnite on PC. If you want to play fortnite like a pro on your computer, you can take help from this post. Hope this guide will help you.
About the Creator
Greeting! I am a professional with 5+ years of experience and have been writing articles related to tech.
Reader insights
Be the first to share your insights about this piece.
Add your insights