Chris Metzen Has Retired from Blizzard Entertainment and Gaming All Together - His New Job is Family!
With Chris Metzen's departure comes the brontide of fans sniffling and tears falling.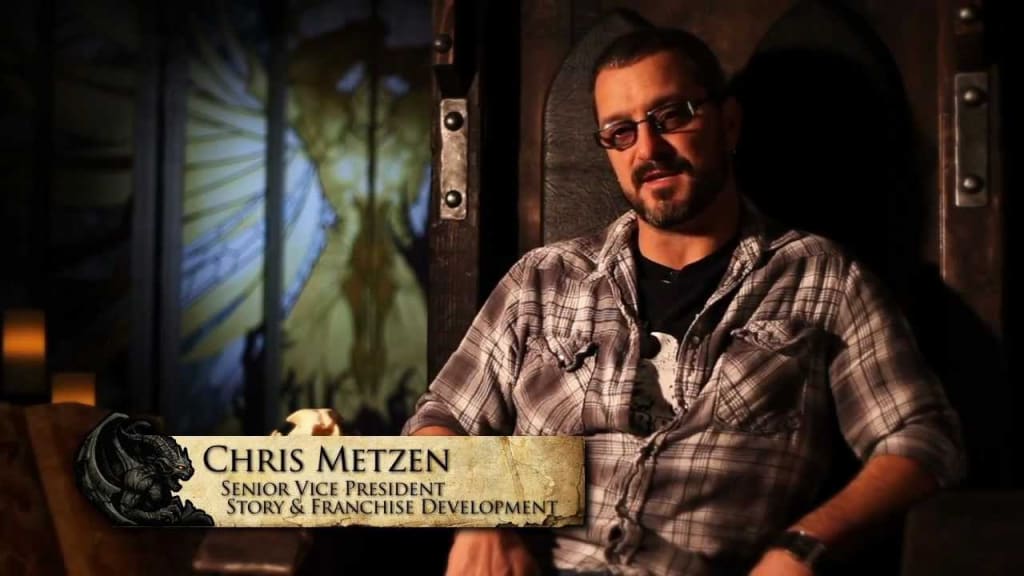 It wasn't until almost 23 years ago millions of us would come to know about Chris Metzen and his enigmatic future at Blizzard Entertainment. Much like anyone, he was another Joe, working another job, and bringing the games I've loved almost my entire life to reality. From watching his name roll across credit screens to hearing murmurs of his name as titles such as Warcraft came to life in new iterations of itself whether it was from Warcraft: Battle.net Edition or the mega-hit MMO World of Warcraft.
Known for his outgoing personality, his charisma, and his overall talent - Chris Metzen has been a name among the industry due to his talent and creativity. His prestige among the industry as a writer, a developer, but also a fan of the franchises has shown over the years. With his departure comes the brontide of fans sniffling and tears falling. His spirited personality is one that has captivated fans from around the world.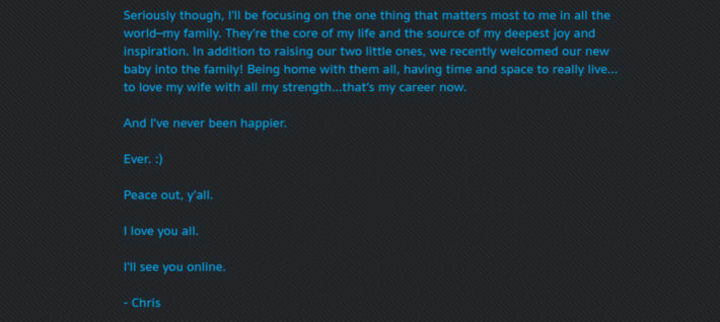 Chris Metzen's retirement letter is truly a heartfelt one.
If you've not read my colleague Dan O'Hallaran's write-up over on Blizzardwatch.com, you definitely should as it contains Chris Metzen's full letter to us fans. His letter stated openly that he's ready to take on his new job, which includes "getting fatter" and raising their "two little ones". A noteworthy job to take on for a family one and one he greatly deserves with the hard work he's been putting down for the last twenty-three years.
To back his statement of retirement, Metzen continued on to define his variant of "retire". It's because he won't be going to some new company, he won't be working on any new projects, but he looks to spend some time, in his own words, laying around on the couch and getting fat. He also continued on stating he's "hangin' up my guns. Clockin' out. Takin' the last gryphon out of Stormwind."
Well Chris, you've earned it. Let me know when you need the gold so I can help you find your way back around, but not as a developer, not as an employee, but like an adventurer like myself. We'll see you on Overwatch, World of Warcraft: Legion, Hearthstone, and many others. We love and appreciate you for everything you've done.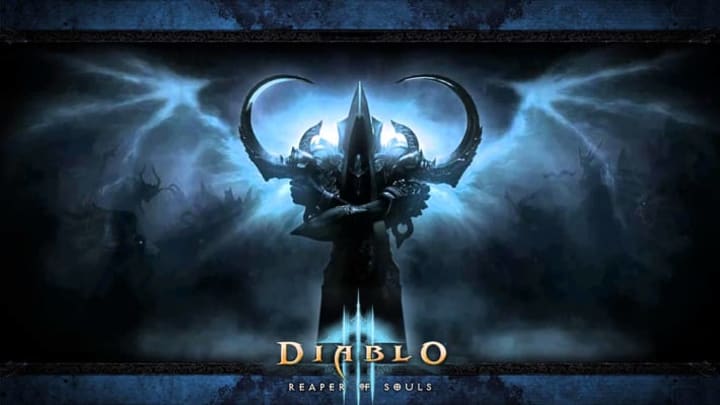 A Farewell to Chris Metzen.
As a long-time fan of his works, Chris has been an integral part of many gamers experiences including my own. The worlds, the stories, the art, and the creativity he helped share has remained an impactful mark on our lives. He helped bring Stormwind, Orgrimmar, Earth, Terran landscapes, and many more to life. He has given us the utmost top-notch creations to the world around us as we take on demon's, soldiers, and even a newly created fantasy variant of Earth that we've gotten to know.
Chris, on the behalf of all of us who have enjoyed your experiences, I want to thank you for the things you've brought to life. From exploring across the mystical lands of Pandaria, to the demon ridden mountainous landscapes of Harrogath, and to the newly imagined Watchpoint: Gibraltar.
We want to thank you for the stories, the characters, and the worlds you helped shape with the teams at Blizzard. Your work will not go unappreciated nor will it go unrecognized in years to come. We look forward to seeing your future endeavors whether it's consulting, writing, or just goofing around on social media.
We'll miss you Chris, enjoy the sofa, and we look forward to seeing you online.
celebrities
About the author
A video games journalist and Content Creator. He has been featured on sites such as AppTrigger and MoviePilot. He's the president and editor-in-chief of the independent news publisher Blast Away the Game Review.
Reader insights
Be the first to share your insights about this piece.
Add your insights