Best Gaming Keyboard: Top 4 Picks in 2023
Review of top 4 best gaming keyboards in 2023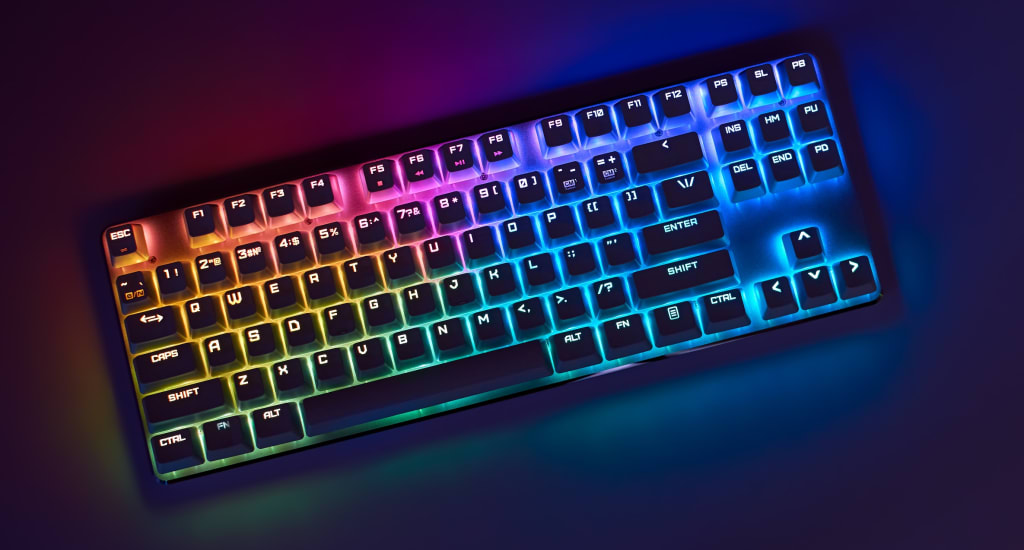 You've invested in a top-notch gaming PC, and now it's time to elevate your battle station with the best gaming keyboard. The finest gaming keyboards not only deliver a seamless typing experience and rapid responsiveness but also serve as the focal point of your gaming rig.
Gaming keyboards come in all shapes and sizes, finding the best gaming keyboard for your unique needs is crucial. Are you seeking more flexibility and a clutter-free desk? A wireless gaming keyboard may be your perfect match. On the other hand, if you prioritize advanced features and don't want to worry about recharging, a premium wired keyboard could be the way to go.
Mechanical versus membrane? That's another critical decision to make when searching for the best gaming keyboard. If you love a consistent, tactile experience with satisfying clicks, a mechanical keyboard might be your best bet. However, if you're sharing a living space or on a budget, a quieter and more affordable membrane keyboard could be your ideal option.
Discover the best gaming keyboard for you today and elevate your gaming experience to new heights!
(Disclosure: This article contains affiliate links, which means that if you click on a product link and make a purchase, I may earn a commission.)
Specifications
Type: Tenkeyless wireless mechanical gaming keyboard
Connection: LIGHTSPEED wireless technology
Switches: Low Profile GL Tactile Key Switches
Backlight: LIGHTSYNC RGB technology
Keycaps: Doubleshot ABS plastic
In the quest for the top gaming keyboard, ASUS brings to the table its first true contender, the ROG Azoth. This keyboard doesn't just check the required boxes, but it surpasses expectations, shaking up the gaming keyboard industry. ASUS has had its hands on mechanical keyboards before, but the ROG Azoth stands head and shoulders above the rest. Its unrivalled build quality and gaming-focused features ensure an unmatched typing experience.
Supreme Build and Design
The ROG Azoth serves as ASUS's vow to serious keyboard enthusiasts. The keyboard's superior construction and substantial heft testify to its lasting durability. Pre-lubricated, buffered, and sound-dampened, the ROG Azoth delivers everything a gamer or typist could wish for in a premium, comfortable, and enjoyable keyboard experience.
Exhilarating Typing Journey
Typing on the ROG Azoth is nothing less than first-class. The keyboard arrives with ASUS's in-house ROG NX switches, similar to Cherry MX Reds, but its hot-swappable function means users can install their preferred switches. This adaptability is a nod to keyboard fanatics who revel in fine-tuning their keyboards to get just the right feel.
Hot-Swappable Keys and a Much-Loved Keycap Puller
An essential feature for a serious keyboard is hot-swappable keys, allowing for easy customization. The ROG Azoth not only includes this feature but also packages a top-tier keycap puller that has become an instant hit among users.
OLED Display and Personalization
The ROG Azoth comes with a two-tone OLED display at the top right, supplemented by a customizable three-way switch. Despite relying on ASUS's Armoury Crate software—which can be a bit slow and tricky to navigate—once you're in, the array of customization options is astonishing. You can tweak the control knob to execute various actions, like opening websites, launching apps, controlling multimedia, and more. This high degree of personalization makes the ROG Azoth a formidable ally for both gamers and professionals.
Could It Be the Best Gaming Keyboard?
The ASUS ROG Azoth sets the bar high as the best gaming keyboard that ASUS has ever offered, challenging others in the enthusiast keyboard market. Its stellar construction, customizable traits, and high-grade typing experience put it in close competition with other notable brands. While the Everest 60 and its detachable numpad still hold sway, the ROG Azoth presents itself as a reliable choice for anyone seeking a superior gaming keyboard.
The Verdict: ASUS ROG Azoth - The Ultimate Gaming Keyboard Experience?
To sum it up, the ASUS ROG Azoth gaming keyboard unites excellent build quality, remarkable customization potential, and a top-notch typing experience. Even though its software could use some improvements, the overall package delivered by the ROG Azoth is beyond impressive. For gamers and professionals on the hunt for the best gaming keyboard, the ASUS ROG Azoth is a serious contender that deserves attention.
Specifications
Type: Tenkeyless wireless mechanical gaming keyboard
Connection: LIGHTSPEED wireless technology
Switches: Low Profile GL Tactile Key Switches
Backlight: LIGHTSYNC RGB technology
Keycaps: Doubleshot ABS plastic
In the vast cosmos of gaming, the quest for the ultimate tool of engagement, the best gaming keyboard, often leads to a maze of overwhelming options. Your search, however, may be nearing its triumphant end with the emergence of the Logitech G915 TKL gaming keyboard - a compact marvel that seamlessly blends aesthetics, innovation, and functionality.
Compact, Yet Mighty - Unveiling the G915 TKL
Sitting in the spotlight, the first attribute that demands attention is the compact form of the G915 TKL. It successfully bids adieu to the numpad and macro keys, unlike its larger sibling, the G915. This trimmed-down width of just 368mm ensures that your gaming station is clutter-free, allowing you to navigate your mouse unimpeded. For gaming connoisseurs, the transition to this space-saving model is smooth and convenient.
An Ingenuous Spin to Macro Functionality
Despite the absence of dedicated macro keys, Logitech doesn't compromise on the macro functionality. The G915 TKL cleverly assigns these capabilities to the Function keys, managed via the Logitech G gaming software. With a simple toggle, the users can prioritize their gaming commands and strategies, turning the function keys into a virtual command center.
Next-Gen USB Storage and Wireless Connectivity
Digging deeper into its design features, a small USB storage slot nestled on the underside of the G915 TKL catches the eye. This thoughtful addition prevents the petite USB receiver from being lost in the chaos, especially when you are on the move with your keyboard. Furthermore, the G915 TKL expands its connectivity beyond Logitech's Lightspeed technology to include Bluetooth, making wireless connections as simple as a button press.
Exceptional Battery Life with a Splash of RGB
Gaming marathons are no longer a concern, courtesy of the G915 TKL's 40-hour battery life with the RGB lighting engaged. Opting for a gaming session sans lighting boosts this impressive longevity to a staggering 135 days. The customizable RGB lighting adds an extra dimension to your gaming ambiance, giving you the power to tailor your keyboard's aesthetics.
Verdict: Is the Logitech G915 TKL the Best Gaming Keyboard?
Summing up, the Logitech G915 TKL gaming keyboard is more than just a peripheral - it is a confluence of compact design, macro functionality, versatile connectivity, and long battery life. Its sleek aesthetics and the flexibility of wireless operation ensure an immersive, clutter-free gaming experience. So, when the question arises, "What is the best gaming keyboard on the market today?" the G915 TKL isn't just a contender - it is a formidable challenger.
Ultimately, it's your gaming journey, and only you can decide the tools that best equip you for it. But rest assured, choosing the G915 TKL could very well be your checkmate move.
Specifications
Type: Mechanical gaming keyboard
Connection: Wired or wireless
Switches: OmniPoint 2.0 adjustable switches
Backlight: Customizable RGB backlighting
Keycaps: Higher-quality PBT keycaps
Taking the world of gaming keyboards to unprecedented levels, the SteelSeries Apex Pro TKL blazes a new trail. This state-of-the-art, wired gaming keyboard builds on the legacy of its predecessors and brings innovative features to the fore, making a strong case for being the best gaming keyboard out there.
Customization at Its Best: Revolutionary OmniPoint Switches
The Apex Pro TKL, a standout in the series, brings you the revolutionary OmniPoint switches. This gives you the power to customize the actuation point of individual keys. With the Apex Pro TKL, you can tweak the actuation points from a scale of 0.2mm to a whopping 3.8mm. This range opens up a world of versatility, letting you assign two different actions to activate at separate actuation points within a single keystroke.
Durability Meets Comfort: Upgraded Double-Shot PBT Keycaps
Don't overlook the keyboard's upgraded double-shot PBT keycaps. They're not only more durable, but also provide a textured top for a better grip. This is a significant step up from the ABS plastic keycaps that the earlier models used.
Your Way, Your Style: Wired and Wireless Options
The Apex Pro TKL comes in both wired and wireless variants. While this review focuses on the wired Apex Pro TKL, the wireless version, known as the Apex Pro TKL Wireless, should offer a similar experience.
Unmatched Gaming Performance: Low Latency and Adjustable Sensitivity
When it comes to gaming performance, the Apex Pro TKL is second to none. Experience amazingly low latency and enjoy the liberty to fine-tune keypress sensitivity to your liking. Add to that the solid build of the keyboard, comfortable PBT keycaps, and a rare wrist rest inclusion for TKL keyboards—you've got yourself a gaming powerhouse.
Standing Tall: Comparing the SteelSeries Apex Pro TKL to Other Gaming Keyboards
Comparing the SteelSeries Apex Pro TKL to other gaming keyboards helps highlight its advantages. Unique to the mechanical gaming keyboard market, the Apex Pro TKL uses proprietary OmniPoint 2.0 switches. These switches let you adjust the actuation point of each key, offering a personalized gaming experience. Similar technology can be seen in the Wooting two HE and Wooting 60HE, which use hall effect switches, and the Razer Huntsman V2 Analog, using optical switches. Yet, the Apex Pro TKL stands tall among them all.
Final Thoughts: Is the SteelSeries Apex Pro TKL the Best Gaming Keyboard?
In conclusion, the SteelSeries Apex Pro TKL makes an impressive statement with its fusion of cutting-edge features, customizability, and top-notch gaming performance. Between its game-changing OmniPoint switches, adjustable actuation points, and sturdy PBT keycaps, the Apex Pro TKL offers an unparalleled gaming experience. For those on the hunt for the best gaming keyboard, the SteelSeries Apex Pro TKL is a formidable contender that deserves serious consideration.
Specifications
Type: Mechanical gaming keyboard
Connection: USB 2.0 Type-A
Switches: Razer Green Mechanical Switches or Razer Yellow Mechanical Switches
Backlight: Per-key RGB lighting with Razer Chroma™ RGB
Keycaps: ABS material
Even though the Razer BlackWidow V3 isn't the newest kid on the block, it firmly holds its ground as one of the best gaming keyboards in Razer's repertoire. Wired for maximum efficiency, this keyboard showcases stunningly low latency, which gives competitive gamers the millisecond advantage they crave. With its custom switches, special media keys, and lively RGB backlighting, the BlackWidow V3 delivers an unparalleled gaming experience that withstands the test of time.
Personalize Your Game: Smooth or Tactile Switches
What makes the Razer BlackWidow V3 shine are the choices it offers gamers when it comes to its switches. Do you prefer a smooth, almost silent gaming experience? Then the linear Yellow switches are your perfect match. If you relish that tactile feedback with each keypress, then the Green switches will satisfy your needs. Tailoring your keyboard to your personal gaming style has never been easier.
Ease of Access: Built-in Encoder Knob and Media Keys
Adding to the convenience, the BlackWidow V3 features an encoder knob and dedicated media keys placed neatly along the top of the keyboard. These features allow for seamless control of your media directly from your keyboard, eliminating any need to juggle between screens during your gaming sessions.
An Aura of Aesthetics: Vibrant RGB Backlighting
The Razer BlackWidow V3 is a treat for the eyes with its vibrant RGB backlighting. Perfect for gamers who revel in an aesthetically pleasing setup, the bright, well-mixed colors can be customized on a per-key basis. The result is a plethora of lighting effects tailored to your taste.
Your Space, Your Choice: Full-Size or TenKeyLess
The Razer BlackWidow V3 is a full-sized keyboard and occupies its fair share of desk space. But don't worry, if you prefer a smaller footprint or need more room for your mouse, Razer has got you covered with the more compact Razer BlackWidow V3 TKL version.
Closing Thoughts: Is the Razer BlackWidow V3 the Best Gaming Keyboard?
In conclusion, the Razer BlackWidow V3 is a worthy contender in the quest for the best gaming keyboard. Combining low latency, customizable switches, intuitive media controls, and captivating RGB backlighting, this keyboard stands tall among its competitors. The fact that it comes in both full-size and TenKeyLess versions ensures that every gamer can find the perfect match for their gaming setup and preferences.
About the Creator
Demystifying technology, one gadget at a time. Welcome to TechMaster Reviews - your reliable source for unbiased, comprehensive tech product reviews.
Reader insights
Be the first to share your insights about this piece.
Add your insights