21 Gold Review: Playing Skill-Based Cash Games
Delving into the world of skill-based games
If someone had told me I could play skill-based cash games for real money last year, I wouldn't have believed them. After constantly being blasted by scams and ridiculous stipulations, it's no wonder people are pretty skeptical when it comes to offers that sound "too good to be true".
But thanks to the COVID-19 pandemic, I had some time on my hands and decided to check out Pocket7Games 21 Gold game to see if I could really make extra money. The game was pretty easy to grasp as it's based off of a few blackjack concepts.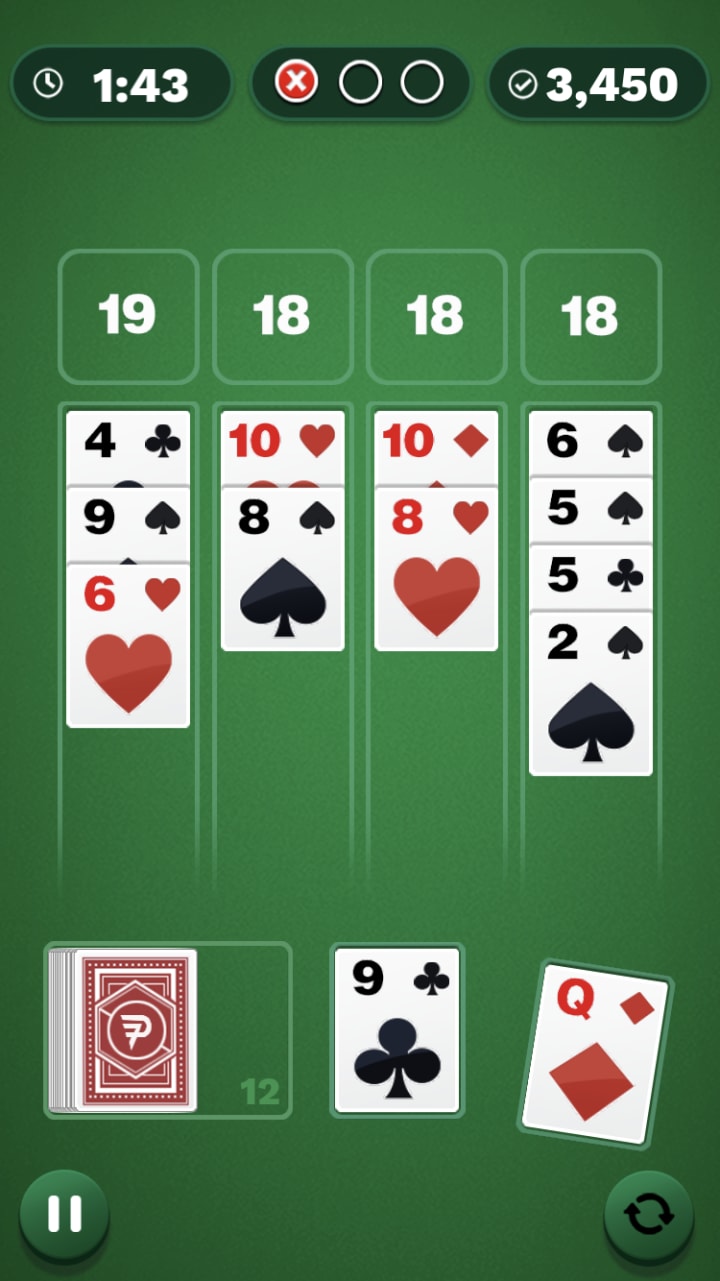 There are four different columns that you can assign your cards to, and the goal is to have a combined total of 21 in a column. Once the column hits 21 then the cards disappear, and it resets back to 0 so you can start again.
It's a simple and straightforward blackjack game, but it can get difficult when you are trying to manage all four columns at the same time. The 'Hold' function can be very helpful for saving easy to use cards like an Ace or a '2' so you can easily capitalize on quick plays.
The game ends once you get rid of your entire deck of cards or you 'bust' three columns by going over 21. You only have three strikes, so it's important to make sure you always have some room to maneuver. I generally try to keep at least one column open just in case I get a card that can't fit anywhere else .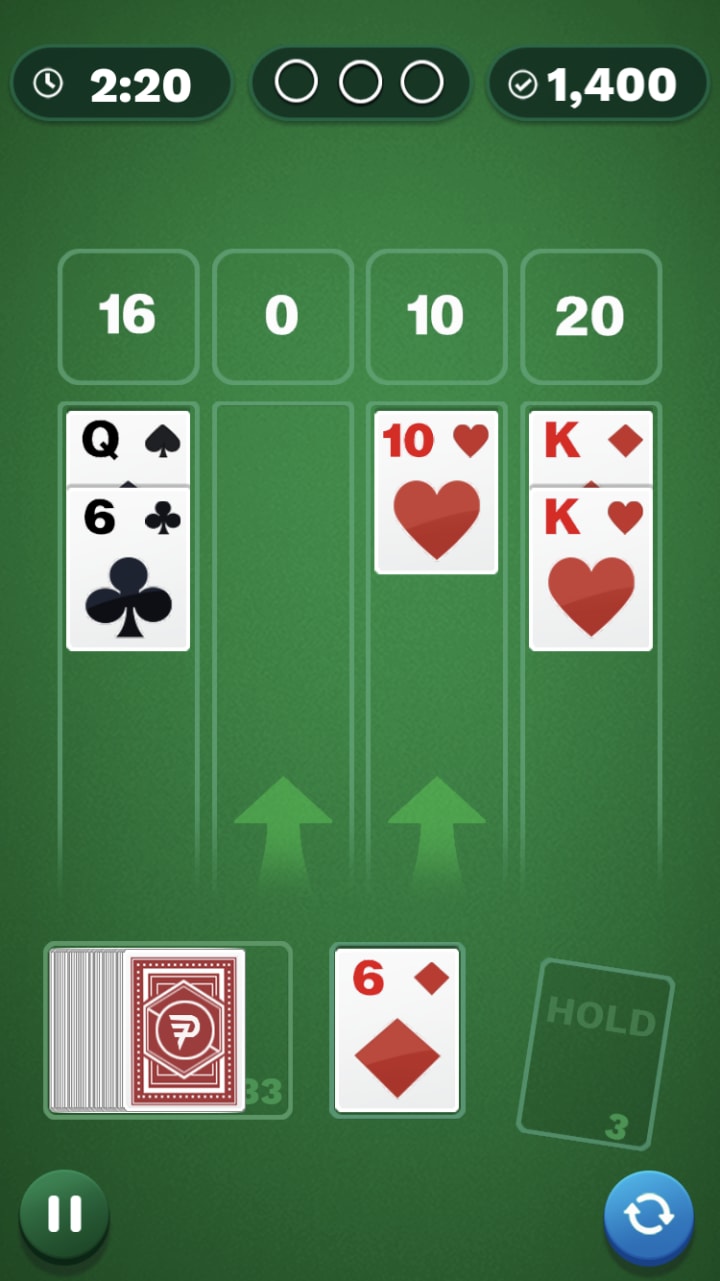 Like all of Pocket7Games skill-based cash games, 21 Gold pits you against another player of similar skill. The goal of the game is to get as many points as possible before the time runs out. If you can finish your deck before the timer ends, you can get additional points based on how much time is remaining. When the game ends, your score will be compared to the other player and the person with the highest score gets the winnings.
If you're a competitive person like me, then skill games are an excellent way to show off your competitive edge. Especially in the numerous tournaments and events that are offered within the app. Many of these have cash prizes and offer the chance to make some extra money.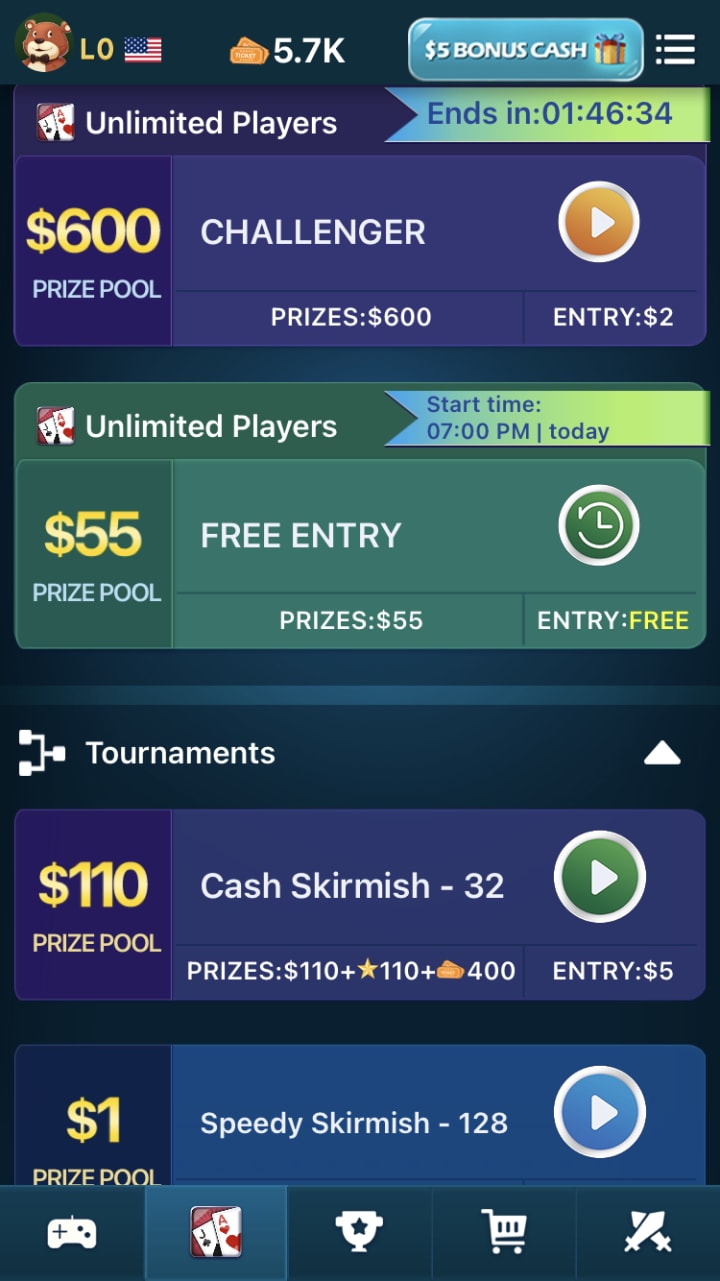 The tournaments and other events are offered pretty consistently, so you will want to make sure to check in regularly to see what is being offered and to collect your daily bonuses. Winnings can include anything from Tickets to real money, so get some practice in before jumping into one of the bigger tournaments.
So if you are looking for a fun way to make some real money, try out Pocket7Games skill games. Whether you are a fan of cash prizes or you just want to play the game for fun, there are plenty of options and other games to check out. In fact, if you're a fan of numbers you can check out a similar review on 2048 Blitz, another one of Pocket7Games' skill games. 2048 Blitz is a pretty addicting game that focuses on combining numbers while managing a limited number of tiles.
You will need an iOS device to download the app which can be found here. But the great thing is that you only need to download a single app and you will have access to all of the reward games. It only requires a single account to play any of the games in the app, and you can even use an existing account like your Apple ID to register and start playing.
product review
About the author
I am a 26-year-old copywriter with a passion for fitness, finance, and traveling. Self development is my goal, and I love to share my experiences and what I learn along the way.
Reader insights
Be the first to share your insights about this piece.
Add your insights