Unsinkable Sam
The Cat Who Survived the Sinking of 3 Naval Ships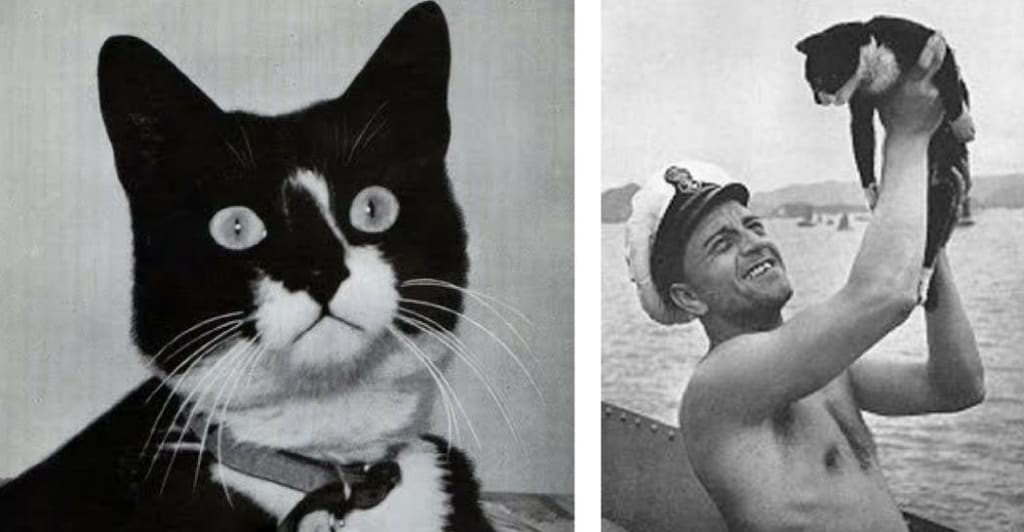 photo by Wikipedia
Ship's Cat
"Unsinkable Sam" was a tuxedo cat who led a charmed life. He served as SC (Ship's Cat) aboard warships on both sides in World War II, German and British, surviving three separate ship sinkings.
The ship's cat has been a common feature on many trading, exploration, and naval ships dating back to ancient times. Cats have been carried on ships for many reasons, most importantly to control rodents. Vermin aboard a ship can cause damage to ropes, woodwork, and more recently, electrical wiring. In addition, rodents threaten ships' stores, devour crews' foodstuff, and can cause economic damage to ships' cargo, such as grain. Rats are also a source of disease, which is dangerous for ships that are at sea for long periods of time. Rat fleas are carriers of plague, and rats on ships were believed to be a primary vector of the Black Death. - Wikipedia
The Luckiest Cat in Naval History
Unsinkable Sam, as he later became known, started his naval service as an official SC in 1941, aboard the Bismarck, a German battleship in the Kreigsmarine - the navy of Nazi Germany between 1935–1945.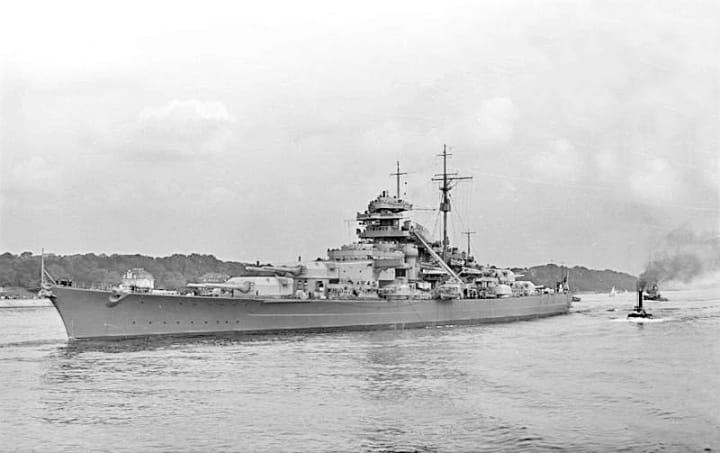 On the Bismarck
The handsome feline fellow was thought to have been brought aboard by a German crewman when the Bismarck set sail on May 18, 1941, for its first and only mission.
On May 24, after a fierce gun battle with the British Navy, the Bismarck sank Britain's lead battleship, HMS Hood, the pride of the Royal Navy.
Only three days passed before the Bismarck was chased down by four of the Royal Navy warships.
On May 27, 1941, the Bismarck, pummeled and torpedoed for hours, sank into the depths of the unforgiving Atlantic.
Of the 2100 German crewmen aboard, only 115 survived.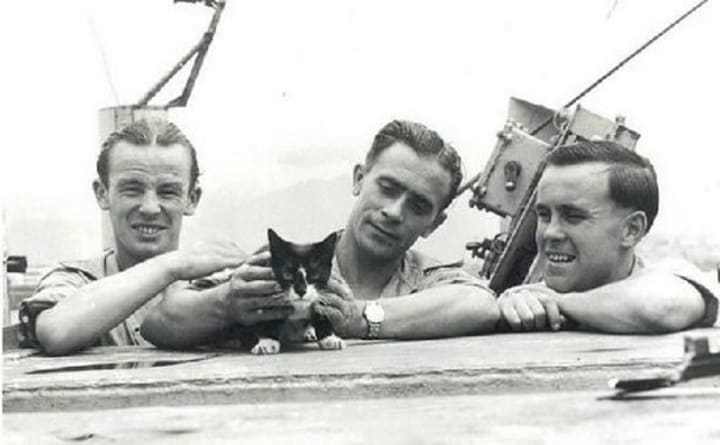 The scrappy tuxedo cat was found floating in the wreckage, and was rescued by crew members of the British destroyer, HMS Cossack.
Not knowing his name, it was suggested that his name begin with "O", for "Man Overboard".
The crew later decided to call the cat Oskar, and he began his new post as SC aboard the HMS Cossack.
On the Cossack as "Oskar"
Poor Oskar was not destined to have a peaceful life. After only a few months in service aboard the Cossack, which was engaged in convoy escort duties, things took another hairy turn.
On October 24, 1941, the HMS Cossack was escorting a convoy from Gibraltar to Great Britain, when it was struck by a torpedo by the German submarine U-563.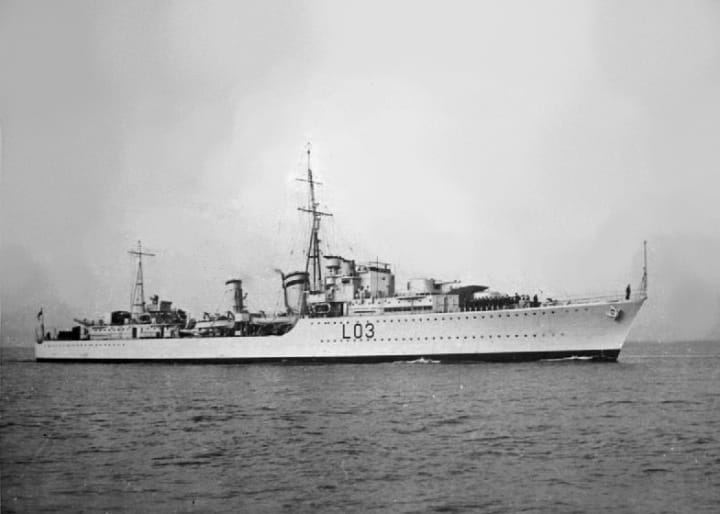 The Cossack was severely damaged and subsequently sank.
156 crew members were killed, but Oskar, once more, survived. He was brought to shore in Gibraltar, where the Royal Navy bestowed a new nickname upon him: "Unsinkable Sam".
You'd think at this point, they'd let this noble cat retire, right?
But no, having survived two different ship sinkings, the Royal Navy considered him to be doubly lucky…their own good luck charm.
Instead of letting Sam pursue a purely feline agenda, getting fat and happy in the English countryside, he was pressed into service…again.
This time our hero was to serve aboard the HMS Ark Royal, a British aircraft carrier.
Coincidentally, the Ark Royal had played a part in the destruction of the Bismarck, though it's quite possible this information never reached Sam's ears.
On the Ark Royal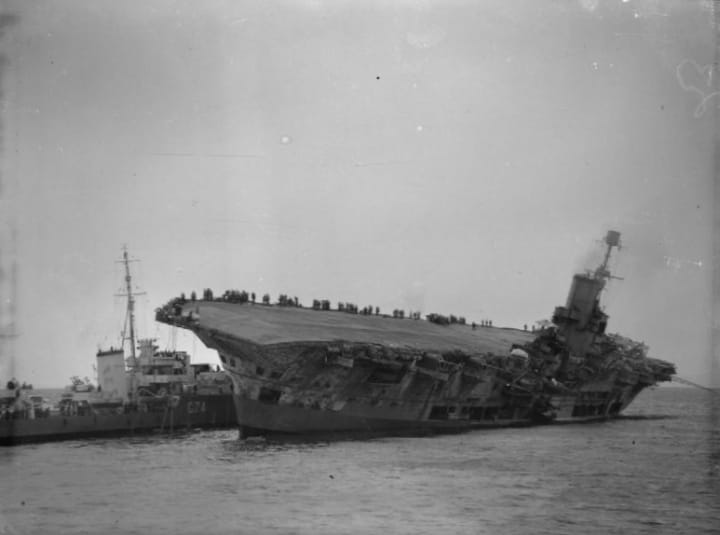 A short two weeks later, on Nov. 14, 1941, the Ark Royal was torpedoed by German submarine U-81, as it returned from Malta in the Mediterranean Sea.
Although the damage was severe enough that the Ark Royal could not be saved, fortunately for the crew - and kitty - the ship sank very slowly, and only one crew member was lost.
All of the survivors, including Sam, were found clinging to the wreckage when rescued by a British Motor Launch, who reported to the press that the cat was "angry but quite unharmed."
I believe at this point, the brave and lucky feline said, "Enough's enough…Sir."
It was decided that Unsinkable Sam would finally be allowed to retire.
He first found a home at the offices of the Governor of Gibraltar, and later was sent back to United Kingdom, to live a peaceful life in Belfast, at a place called "Home for Sailors".
Unsinkable Sam lived another fourteen years, dying of natural causes in 1955.
A pastel portrait of Sam (titled Oscar, the Bismarck's Cat) by the artist Georgina Shaw-Baker is in the possession of the National Maritime Museum in Greenwich.
---
references
https://en.wikipedia.org/wiki/Unsinkable_Sam#/media/File:HMS_Cossack.jpg
https://en.wikipedia.org/wiki/Ship's_cat