Top Qualities of a Swimming Pool Service You Need to Consider!
Swimming Pool Service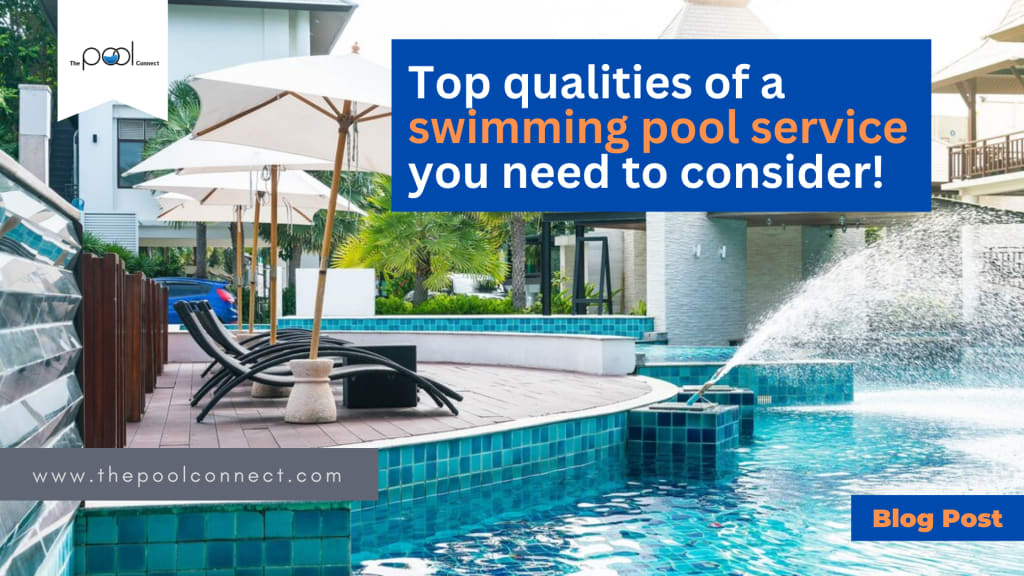 A swimming pool is not something that'll just help you stay cool or unwind after a day at work. When maintained in a good condition, it boosts your property value. When it comes to maintaining a swimming pool, it is important to find a reliable and professional pool service that can handle your pool needs. However, with so many pool service companies out there, it can be overwhelming to choose the best fit for you.
In this article, we will go over some of the top qualities you should look for in a swimming pool contractors service. By considering these qualities, you can be confident that you are choosing a service that will keep your pool clean, safe, and well-maintained. So, let's get started!
First things first!
Does your swimming pool really need a pool maintenance service? We believe it does!
Do you need a Swimming Pool Service Provider?
Having a pool in your home is fun! It is perfect for those sweltering summers and an ideal place to gather around with friends and family. Most importantly, a well-maintained pool skyrockets your property value. A pool is functional and beautiful only when it is maintained well. Otherwise, it's just a deep pit of stagnant water that nobody wants. While cleaning a swimming pool might seem like a cakewalk, it rarely is.
Although some tips to keep your pool clean and healthy would work for some time, they won't be effective for long. You will need a professional swimming pool service provider, and here's why.
The Expertise of Pool Contractors Works in Your Favor
A swimming pool service provider has the knowledge and experience to properly maintain your pool, ensuring that it is always clean, well-maintained, and safe to use. Not every pool owner knows about the nitty-gritty details of pool maintenance, it is best to leave the complex workings of the pool to the experts.
Saves you a Ton of Money in Costly Repairs and Steep Energy Bills
Hiring a professional pool service provider can save you money in the long run, as they can help prevent costly repairs and equipment failures. A well-maintained pool will also be more energy-efficient, which can result in lower energy bills.
Keeps your Pool Clean, Safe, and Hygienic
A professional pool service provider knows how to properly care for and maintain your pool, ensuring that it is safe and hygienic for use. This includes checking and maintaining the pool's filtration and circulation systems, maintaining proper pH levels, and ensuring that all equipment is in good working order.
It is just Hassle-free and Convenient!
A swimming pool service provider can handle all aspects of pool maintenance, from regular cleaning and chemical balancing to repairs and equipment installations. This can be especially convenient for homeowners who don't have the time to care for their pool.
Hiring a swimming pool service provider can save you time and effort, as you won't have to worry about maintaining the pool yourself.
Top 7 Must-Have Qualities to look for in a pool service provider!
Since most swimming pools are exposed to harsh external elements, they need TLC once in a while to keep them at their prime. However, most of us do not know what to look for in a pool service provider. Not anymore! Here are some of the prime qualities and skills that you need to look for in a pool subcontractor.
1. The Knowledge
Regardless of whether you use your pool every day or not, the pool is generally filled with water. And as water makes the pool worthy, the professionals you choose should have an excellent working knowledge of water chemistry. The quality and status of water filled in your pool determine not only the quality of your pool but also the people enjoying a swim!
Therefore, you need to ensure that the service provider knows what chemicals and chlorine need to be added to the water, how much alkalinity the water should have, and the ideal way to sanitize the water.
2. The Experience
Theoretical knowledge can take you only so far - you need a pool contractor with practical experience handling a variety of swimming pool maintenance requirements. They should have the required verifiable experience along with pool knowledge.
Here are some ways to verify the experience of a pool contractor!
Verify if they have a license
Research the people with whom they have worked. Talk to them and find out how well they deliver their services.
Go online and check the user reviews and recommendations.
It is best to check if they have been booked for misconduct by regulatory bodies.
If the pool contractor satisfies all these conditions, you are in safe hands.
3. The Price
The factor that can bother anyone is the pricing offered by the swimming pool contractors. You need to be informed about the ideal pricing of the services rendered. To make an informed decision, make sure you survey various pool contractors and shortlist the one that has the best services at an affordable price.
Along with this, also check if the contractor uses the right and quality equipment for their operations.
4. The Repair Expertise
Maintenance is just one part of the picture. When you are hiring a swimming pool service provider, you need to factor in the repair part of the pool too. With time your pool will need repair along with maintenance. Therefore, you need to confirm that the hired pool service provider possesses hands-on experience with repair work.
This will not only save you time but will also save you the money required to hire a new pool contractor for the repair work.
5. The Equipment
The equipment used to clean the water, filter, and repair the pool is of utmost importance and concern. While hiring swimming pool contractors, take a look at their equipment. Make sure that they use good quality certified equipment.
Keep in mind that these things are non-negotiable. Every professional pool service provider would have the right and the best equipment for work.
6. The Availability
While hiring a swimming pool contractor, one may forget to factor in the availability aspect. While some contractors work on the weekdays, some work on the weekend. Other than that, some do not work at a certain time during the year.
Now, no matter what schedule the same swimming pool contractor follows, ensure that it aligns with your timeline. On top of that, opt for the swimming pool contractor that is closer to your location.
7. Communication Consistency
What do you think causes people to provide a negative review of a pool service provider? One of the common reasons for a negative review is communication. As pool contractors have multiple projects to handle at a time, it can be tough to maintain communication with all the clients. However, the best pool contractor is the one that can make it happen.
Hire a contractor that keeps timely communication with you. You can make sure of it by contacting their previous client and asking for their feedback. It will help you shortlist the ideal service provider.
Final Words
In conclusion, it's critical to carefully consider the top qualities of a swimming pool service when making your selection. Look for a company with experience, licensing and insurance, attention to detail, reliability, good communication, fair pricing, customization options, and a commitment to safety.
By choosing a swimming pool service provider that possesses these qualities, you can feel confident that your pool will be well-maintained and safe to use all year round. If you are actively looking for one, connect with pool contractor on The Pool Connect app!
Reader insights
Be the first to share your insights about this piece.
Add your insights