Thousand Cranes.
The story of one thousand cranes.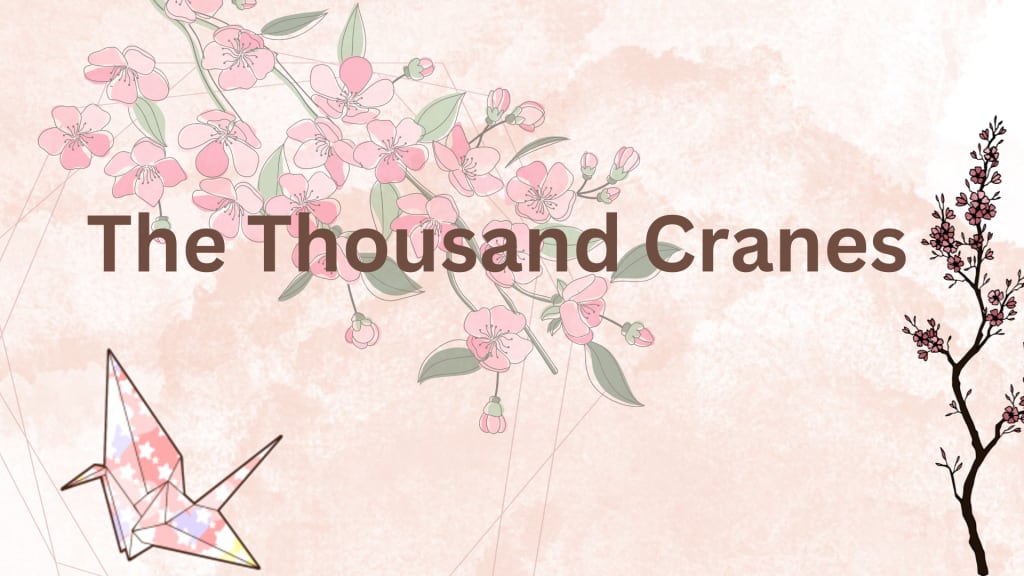 "I will write peace on your wings,
and you will fly all over the world"
Sadako Sasaki was a young girl who lived in Hiroshima, Japan, during the Second World War. She was just two years old when the atomic bomb was dropped on the city, but she miraculously survived. However, years later, the radiation from the bomb would take its toll on her young body, and she was diagnosed with leukemia at the age of 11.
While in the hospital, Sadako learned about the Japanese legend that said if a person could fold a thousand origami cranes, their wish would come true. The legend is believed to have originated from the story of a young girl named Senbazuru, who folded a thousand cranes in the hope of recovering from an illness.
Sadako began to fold cranes with the hope that she would recover from her illness, but as her condition worsened, it became clear that she might not reach her goal. Despite this, Sadako continued to fold cranes, hoping against hope that she would recover.
One day, Sadako's best friend Chizuko came to visit her in the hospital. She brought a golden crane with her, which she had folded herself. Chizuko told Sadako that the crane was her last wish, and she hoped that it would help Sadako's wish come true.
Overwhelmed with emotion, Sadako replied, "I will write peace on your wings, and you will fly all over the world." These words would become her most famous wish and a testament to her unwavering hope for peace and healing.
As Sadako's health declined, she was visited by many of her friends and family. One of her closest friends, Kimiko, also helped Sadako fold cranes, hoping that it would bring her friend some comfort. Kimiko later recalled, "Sadako never lost her hope, and she never lost her smile. Even when she was so weak, she would always find the strength to fold more cranes."
Despite her determination and bravery, Sadako's condition continued to deteriorate, and on October 25, 1955, she passed away with only 644 cranes completed. Her classmates, determined to honor her memory, finished folding the remaining cranes and buried them with Sadako.
Sadako's story has become a powerful symbol of hope and peace around the world. The legend of the thousand cranes has become synonymous with her story, and it has inspired many people to work towards a world without war and nuclear weapons.
The Children's Peace Monument was built in Hiroshima's Peace Park in 1958 as a tribute to Sadako and all the children who lost their lives due to the atomic bombing. The monument features a statue of Sadako holding a golden crane and has become a symbol of the desire for peace and an end to nuclear weapons.
Today, people all around the world continue to fold cranes in honor of Sadako and her legacy. Her determination to fold 1,000 cranes, her unwavering hope for peace, and her final wish have touched the hearts of millions of people.
Sadako Sasaki's story and the legend of the thousand cranes have become a powerful symbol of hope and peace. Her determination and bravery in the face of adversity continue to inspire people today, and her legacy serves as a reminder of the devastating impact of war and the importance of working towards peace. Through her story, we are reminded that hope and healing are possible, even in the most difficult of circumstances. Sadako's final wish to write peace on the wings of a crane and her friend Chizuko's gift of a golden crane reminds us of the power of friendship, hope, and the human spirit.
About the Creator
Hi, I'm Tania.
Passion for travel and trying new foods.
Love learning about different cultures and meeting new people.
Belief in the power of education and empathy to bring people together.
Reader insights
Be the first to share your insights about this piece.
Add your insights