The Supreme Master, Ching Hai & Her Cult of Quan Yin
A millionaire spiritual leader, international schemes, illegal business practices, and an unsanctioned resort in a state national make for a strange spiritual community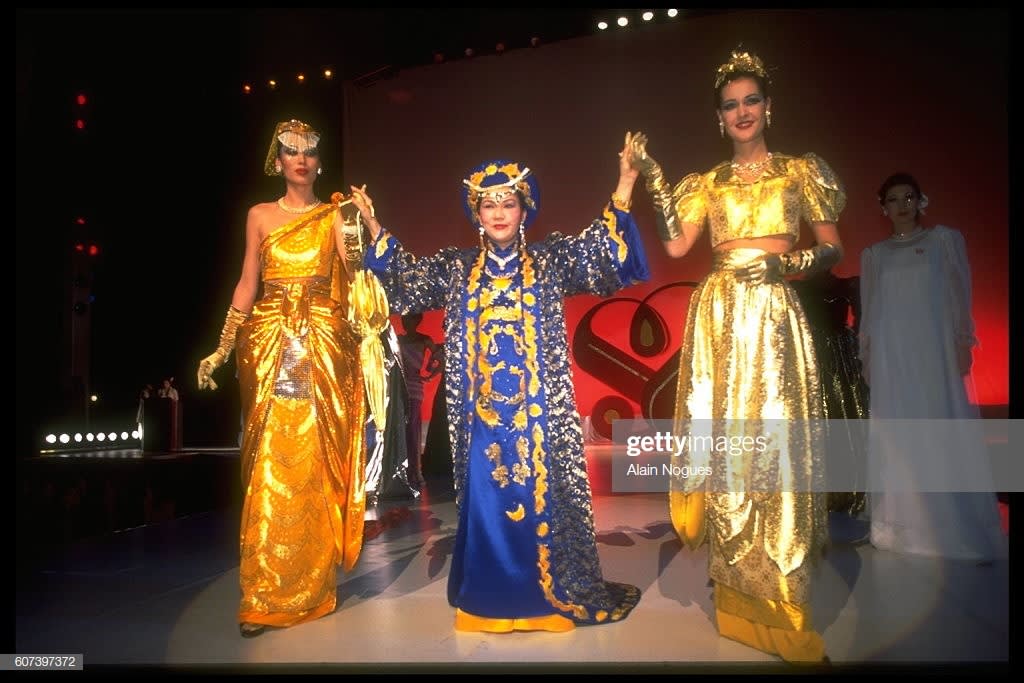 FASHION FROM THE SUPREME MASTER CHING HAI (Photo by Alain Nogues/Sygma/Sygma via Getty Images)
The Supreme Master, Ching Hai & Her Cult of Quan Yin
Ching Hai, aka the Supreme Master, is a millionaire businesswoman behind a global chain of vegan restaurants called Loving Hut. According to the University of Oxford political science professor Patricia Thornton, the origin of Ching Hai's fortune is unknown, but I have an idea. More about that later.
Quan Yin Practices
YouTube houses thousands of video lectures dating back to the 1990s where Ching Hai preaches about a meditation-based philosophy she calls Quan Yin.
Quan Yin blends Christianity, Buddhism, Judaism, Hinduism, and Islam to instruct Ching Hai's followers to attain higher levels of consciousness and speak directly to God. One way to aid acolytes in achieving this is to chant her name for up to 2 1/2 hours daily. Much like the Aetherius Society, Hai recommends her devotees meditate for long hours to help purify the world and drink her spiritually imbued bathwater (not sure why bathwater is such a big thing among cult leaders.) In addition, devotees are warned against the evils of eating animal flesh and dairy, drinking alcoholic beverages, using mind-altering drugs, and avoiding sexual misconduct (please elaborate on this last one).
Ching Hai also advocates breatharianism, which consists of fasting from food and water in favor of spiritual breath. The practice, pulled from much older traditions, is tied to numerous dehydration and starvation deaths.
Worshipers will usually see Ching Hai Seated upon ornate thrones clad in gold lame, flashy jewelry, and gowns with trains that need three or more attendants to control. Like Jesus, Buddha, and Mohammed before her, she is just one in a long line of masters imparting her wisdom of the ages upon the world.
A central tenet of her lectures is one should never be ashamed of making money: "people will make you feel guilty about making money… it's none of their business."
Quan Yin has more than 500,000 followers worldwide. Some reports claim this number to be as high as 2 million. Followers believe Ching Hai has a direct phone line to the mouth of God.
Followers of the Supreme Master regularly set up tents and distribute information on Quan Yin and delicious free vegan food at college campuses, farmers' markets, and festivals.
Ching Hai
According to her website, Hai was born Hue Dang Trinh in Du Lac, Vietnam, in 1950. As a child, Hai read books on philosophy and cried whenever the family slaughtered an animal for food. As she grew older, an astrologer visited her village and reported that Hai was not like other children and would one day become an enlightened one if not married. However, if she chose to marry, that would be an amicable union.
At some point, Hai left home and became a Buddhist nun. In the early 70s, she moved to Germany, where she served as a translator of the Red Cross. While there, she met a German scientist, and the pair married. Some reports have her meeting the German scientist in Vietnam and accompanying him to Germany as his wife. I'm not sure which version is accurate. After several years of marriage, Hai felt that to continue her spiritual growth, she'd have to leave her husband. They split but remained friends.
Ching Hai also goes by the moniker Celestia De Lamour in the United States, where she is currently based, has been described as a cult leader for decades. According to Humanewatch.org, Hai "inspires feverish adoration like a king or diety-cum-rock star."
In the 1980s, Ching Hai developed her meditation method and esoteric knowledge with the help of Thakar Singh, who had the role of Guru at Sawan Ashram in Delhi in the late 1970s.
A no longer available VegNews article by Abigail Young decried Hai's lavish lifestyle at odds with her teachings. The so-called vegan Supreme Master wears furs and other animal products.
Supreme Master Ching Hai International
After splitting with her husband, Hai began working on growing her brand and founding Supreme Master Ching Hai International, where she sells jewelry, clothing, meditation gear, "art," and books she's written. Later, a media empire and worldwide fashion business would increase Hai's income.
Supreme Master Ching Hai International relies on the Internet for self-promotion, recruitment, and donations. It is considered a transnational 'cybersect,' a phenomenon of new religious movements and other groups (sovereign citizens and hate groups) utilizing the Internet to distribute philosophies and recruit.
The Loving Hut Franchise
Image from my visit to the Portland Loving Hut.In 2014, the vegan restaurant chain Loving Hut began opening locations internationally. Four years later, in 2018, there were more than 200 individual chain restaurants under the Loving Hut umbrella. But unlike a typical chain, each Loving Hut location has its own menu. The only must is that all dishes are vegan, Hai's photo much be present, and Supreme Master TV is on.
Loving Hut locations are also encouraged to buy faux meats from EcoVegan, Hais own company, further sweetening the deal.
While Loving Hut franchises owners don't preach to partons, they are very open to chatting about Ching Hai and Quan Yin.
Supreme Master TV Network
Supreme Master Ching Hai International also produces a television network broadcast in forty languages. Broadcasting the network is required in Loving Hut restaurants and played during my visit to the Portland branch. Supreme Master Television features Hai's image digitally superimposed onto glittering backgrounds while reciting aphorisms about time travel and other dimensions.
Iffy Business Practices
In 1996, Hai donated $640,000 to Bill Clinton's Whitewater Defense Fund, but it was returned due to its suspicious origins. $400,000 of this came from one of Quan Yin's sects in New York, where Hai traveled to ask for the funds to "help someone in need." The group later discovered who the actual recipient of the funds was. The Taiwanese authorities have also targeted Hai's businesses for illegally transferring money in and out of the country.
Thakar Singh, who had the role of Guru at Sawan Ashram in Delhi in the late 1970sIn 2001 UNICEF also turned down a $100,000 donation from Hai after looking into her organization.
Her followers in China came under fire when they used an electronics company as a front to recruit new Quan Yin members and held initiation rituals.
Yet, unlike well-known cults, Hai doesn't ask her followers to cut ties with their friends and family, nor does she seem to ask them to hand over worldly possessions and bank accounts. Based on her website, all of her lectures, which hundreds of devotees attend, all are free of charge.
Loving Hut Scandals
A few former workers at Loving Hut have also levied various complaints, including mismanagement, withholding tips, tax irregularities, and utilizing underpaid and unpaid labor.
In 2010 the Loving Hut in France was investigated by authorities for illegal and unethical business practices such as using undocumented & unpaid labor resulting in 9 arrests. Investigators discovered a dozen followers who had "volunteered" to build the Loving Hut location.
Later that year, Hai herself was arrested with some of her followers at a posh villa in Italy. Investigators seized a luxury sports car, 40,000 euros, and at least eight illegally imported Macaws and a veritable Noah's Ark of animals.
Illegal Boardwalk
In 2004, an artificial island and a 330-foot long boardwalk were constructed in Biscayne National Park by followers of Ching Hai on land she owned adjacent to the park. The path cut through a protected mangrove forest on federal land. It cost the state $1 million to remove the boardwalk, and National Park workers replanted 500 mangrove trees damaged by the illegal boardwalk. However, the island was a different story. Constructed of large limestone rocks, removing without further damaging the shallow seagrass below will be much more costly. The private property owned by Ching Hai was seized by police and later sold at auction to the village of Palmetto Bay, where they built a library.
Giving Back
According to the Quan Yin website, GodsDirectContact.org, Ching Hai gave $30,000 to Rohingya refugees from Myanmar to help feed their children and aid their elderly. The displacement of the refugees started in 2015, so this may not be super current news, but it makes excellent propaganda.
The Celestial Shop
The Supreme Master operates her online store where one can purchase gaudy fake gold jewelry, meditation blankets and tents, melody chairs (?), and pictures of Hai. One such portrait is of Hai meditating under a tree. The photo is taken from some distance and behind foliage which partially obscures the camera's lens. This gem will set you back $350.
But what about your fur babies? What can you get them? Fear not. Your canine friends have a few options as well. From coats to vegan treats to tiny wooden dog houses, they've got lap dogs covered. Big dogs need not apply.
Art prints, some of which look like they're drawn in crayon, can set you back several hundred dollars. Whether the Supreme Master or her disciples create the prints is up for debate.
References
Caffier, Justin." Visiting the Vegan Restaurant Chain Owned by a Cult." Vice, July 15, 2016. https://www.vice.com/en_us/article/kwkaz9/the-restaurant-chain-owned-by-a-cult
Cruz, Alia. "Know thy master." Newsreview.com, December 2010 http://www.newsreview.com/sacramento/know-thy-master/content?oid=1896856
HumaneWatch.org. "Ching Huh?" March 15, 2010, https://www.humanewatch.org/ching_huh/
Thornton, P.M. (2003). The New Cybersects: Resistance and Repression in the Reform Era, in Elizabeth Perry and Mark Selden (Eds.), Chinese Society: Change, Conflict, and Resistance, (2nd ed.), Routledge, London, and New York, 2003: 247–270.
Schumacher, Elizabeth. "Vegan restaurants run by a cult leader who 'speaks to God.' DW, August 13, 2018. https://www.dw.com/en/vegan-restaurants-run-by-cult-leader-who-speaks-to-god/a-45061424
A/N: This article initially accompanied the podcast, Demiworld's episode on Eastern Cults. This version has been updated.
Humanity
About the author
An aspiring novelist and award-winning short story writer. Hangs at Patreon with All That Glitters is Prose. Writer and producer of the podcast, Demiworld. Cynthia resides in Portland, Oregon with her husband, son, and kitties. She/Her
Reader insights
Be the first to share your insights about this piece.
Add your insights