The OG "Nepo Babies"
As we (hopefully) pass peak "Nepo Baby" discourse, take a look back at some of the original celebrities with famous parents through archival magazine issues.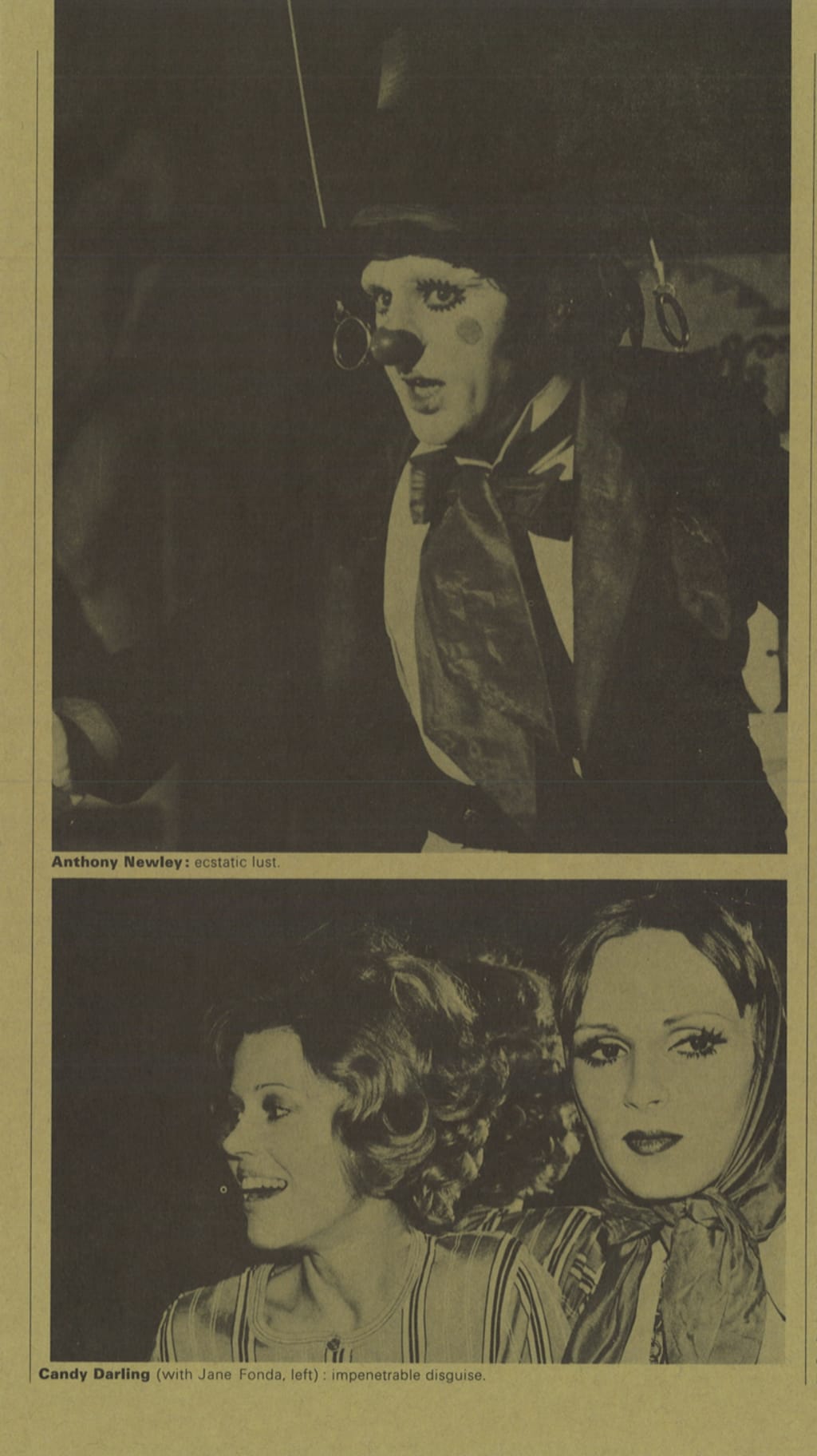 Penthouse, September 1969. The OG Collection.
On December 19 Vulture published a collection of stories about "The Year of the Nepo Baby." The very on-the-internet term has been used to discuss the current rise of celebrities' children in the entertainment industry, where an actor who emerges from obscurity seems to be the exception and not the rule.
Before there was Maya Hawke, daughter of Uma Thurman and Ethan Hawke, and Jack Quaid, son of Meg Ryan and Dennis Quaid, there was another generation of iconic children who defined the 1960s and 1970s. Delving into archival magazines shows how the entertainment industry, much like political and religious leadership, has always included celebrity children who may or may not have had a leg up on their competition.
Jane and Peter Fonda
Multi-Academy Award winner Jane Fonda has been a household name since her breakthrough in Cat Ballou in 1965. Her star has continued to grow and may have eclipsed that of her parents to younger fans. Fonda was born on December 21, 1937 to socialite Frances Ford Seymour and actor Henry Fonda, followed by Academy-Award nominated actor Peter Fonda, born on February 23, 1940. Henry Fonda was one of the most well known American actors for his roles as an "everyman" in films including 12 Angry Men (1957) and The Grapes of Wrath (1941), as well as was an Academy Award winner for On Golden Pond (1981), which also starred Jane. Henry became the patriarch of an acting family as Jane and her brother Peter became stars in their own right, followed by their own children.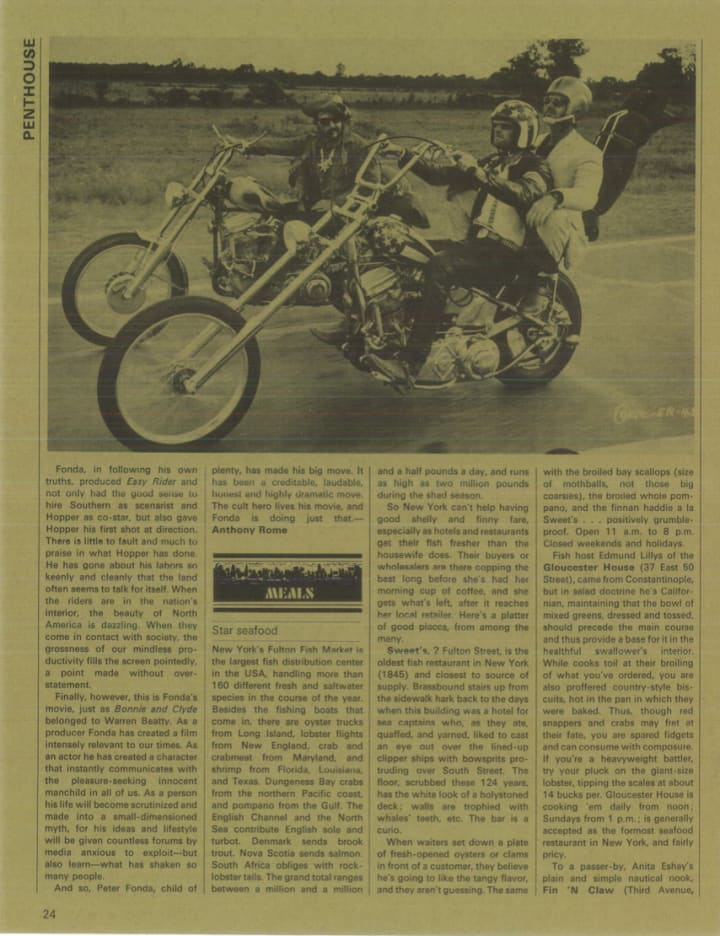 As soon as 1969 Jane Fonda was seen with cutting edge artists and socialites, such as Warhol muse Candy Darling as photographed in the September 1969 issue of Penthouse. Archival issues show that Jane's fame overlapped with that of her brother, with an extensive section of "View From the Top" in the December 1972 issue dedicated to the cultural impact of Easy Rider (1969), which credits Peter Fonda as star, writer, and producer.
Margaux Hemingway
A celebrity perhaps lesser known to current tabloid readers is Margaux Hemingway, who was an American supermodel of the mid-1970s and also the granddaughter of Ernest Hemingway, one of the great American novelists. Margaux Hemingway was the second daughter of Jack Hemingway, Ernest's eldest son. She graced the covers of Cosmopolitan, Elle, Harper's Bazaar, Vogue, and Time, as well as Playboy in May 1990. As remembered by her sister Mariel Hemingway, who is a Golden-Globe and Academy Award nominated actress, Margaux was a survivor of abuse and had a difficult life perhaps connected to the struggles of her ancestors.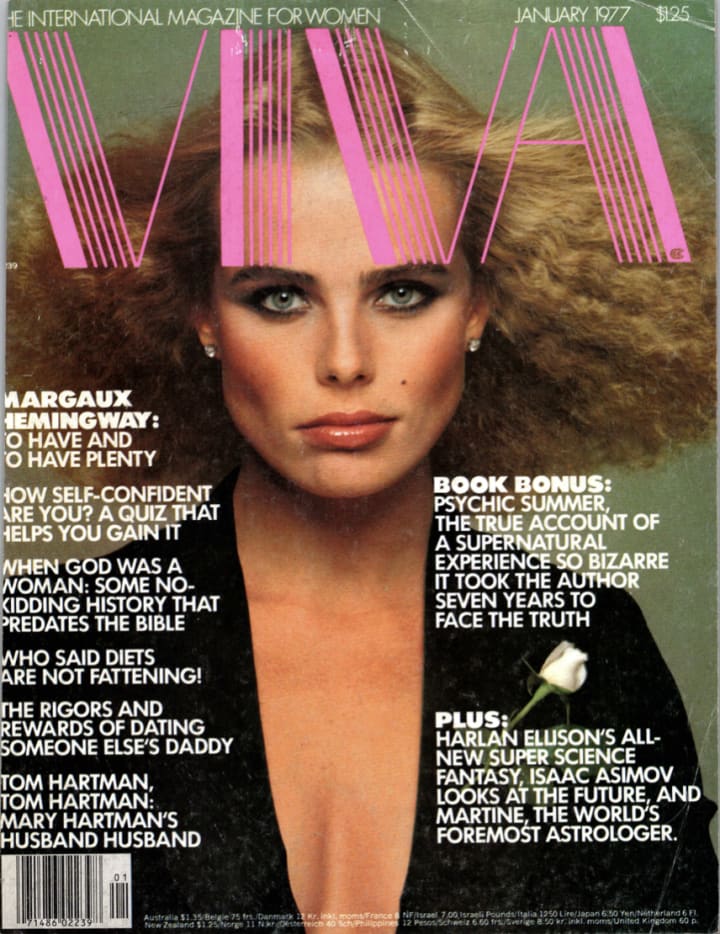 An issue of Viva from January 1977 gave the rare insight into Margaux's life and career in her own words, through a feature interview.
Tina Sinatra and Taryn Power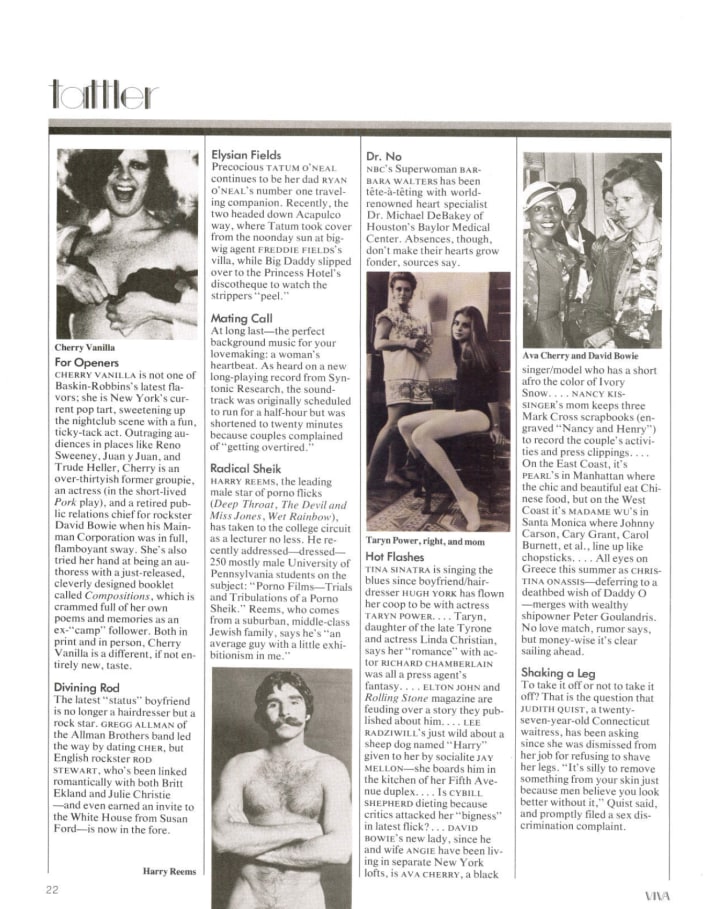 The July 1975 issue of Viva proves that while Vulture's reporting is quite comprehensive it is not new, as celebrity reporting has paid special attention to their star's offspring for nearly 50 years. The column in Tattler, Viva's quick news section, begins by reporting on a love triangle including two "nepo babies," Tina Sinatra, daughter of Frank Sinatra, Jr., and Nancy Sinatra, and Taryn Power, daughter of actors Tyrone Power and Linda Christian. Tina went on to become a businesswoman and film producer, and Taryn was an actress, starring in The Count of Monte-Cristo (1975).
Children of celebrities, from the well known to the more obscure, have always been a part of celebrity culture, where breaking into the entertainment business is often the most difficult part. Yet taking a look at popular culture history shows how a famous parent, or two, can be a stepping block on the road to success, to pain and strife, or to obscurity.
About the Creator
Exploring the most significant and hidden stories of the 20th century through iconic magazines and the titan of publishing behind them.
Check out our AI OG sandbox - https://vocal.media/authors/og-ai
Reader insights
Be the first to share your insights about this piece.
Add your insights