Hulu's "God Forbid" Uncovers the Legacy of Sex, Power, and Money Passed Down from Jerry Falwell, Sr., to Jerry Falwell, Jr.
This new documentary paired with a 1981 bombshell interview with Jerry Falwell, Sr., in Penthouse makes clear the thorough-line of religious and political impact and threat of downfall that runs through the most influential U.S. evangelical leaders in recent memory.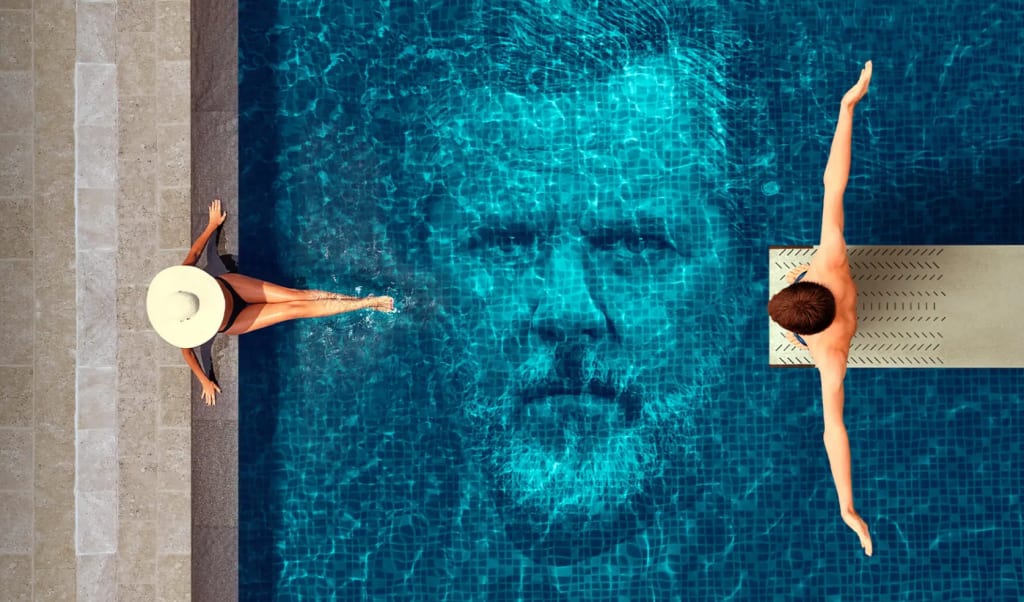 Cover image for "God Forbid" on Hulu.
On November 1 Hulu released "God Forbid: The Sex Scandal That Brought Down a Dynasty," a thoughtful documentary about the bombshell news in 2020 that Jerry Falwell, Jr., and his wife Becki Tilley had a years long affair with Giancarlo Granda. The scandal, which involved another photo of Falwell, Jr., in a state of undress alongside a former Liberty University student, as well as questions about Falwell, Jr. 's financial ethics, led him to resign as president of Liberty University in August 2020.
While Falwell, Jr.'s fall from grace is much more sordid, it has an interesting lineage to the materials in the OG Collection about his father Reverend Jerry Falwell, Sr., who created a new kind of public figure by combining religious leader with political force. Learning more about Falwell, Sr. 's battle with Penthouse informs us about how politics and religion are intermingled in the U.S. through power and money, no matter how much we espouse the separation of church and state.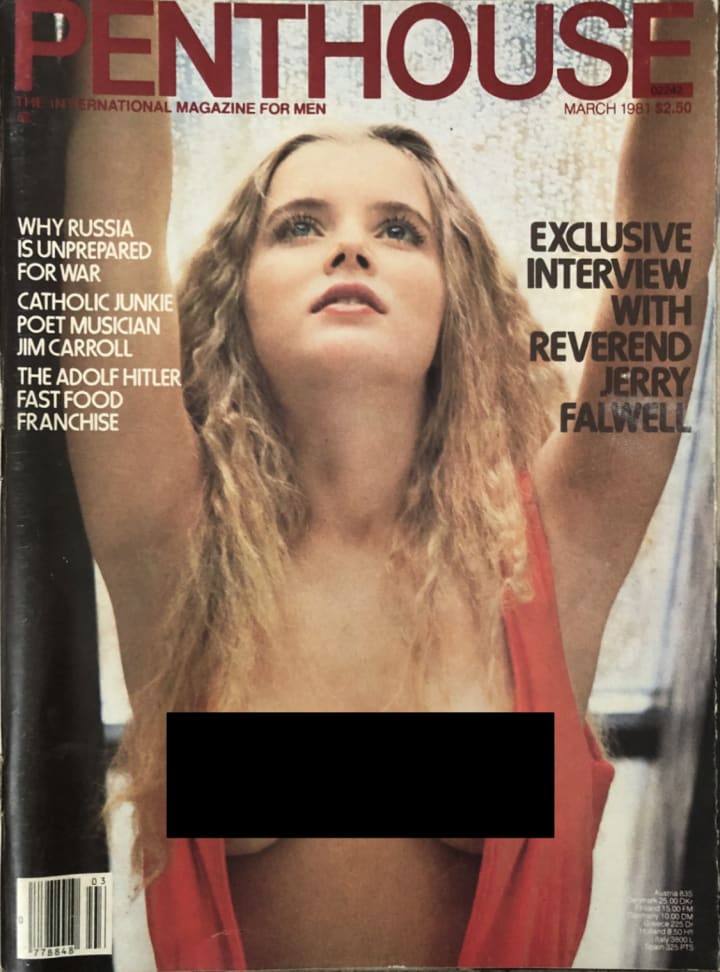 The March 1981 issue of Penthouse featured an interview with Falwell, Sr., from two taped conversations with journalists Sasthi Brata and Andrew Duncan. Introducing the article, Penthouse staff writers describe Falwell, Sr.'s beliefs as the following:
"As [Rev. Falwell] has revealed in his recent book Listen, America! and in countless speeches and sermons across the country in the past year, the Bible proves that God does not approve of ERA, rock music, sex, abortion, welfare, detente, defense cuts, SALT II, homosexuality, liberalism, and secular humanism."
In "God Forbid" Dr. Anthea Butler, Chair of the Department of Religious Studies at University of Pennsylvania provides historic perspective on the politicization of Falwell, Sr. Dr. Butler states that there was a moment in the early 1950s where evangelical ministers needed to pick a side, asking themselves "would they be on the side of the civil rights movement, or would they be on the side of white supremacy. Jerry Falwell made a choice." Falwell, Sr., first proclaimed that ministers should not be involved in politics, but when Brown v. Board declared segregation unconstitutional in public schools in 1954 Falwell, Sr., started his own segregation academy. The legalization of abortion through Roe v. Wade in 1973 further galvanized Falwell, Sr., and other powerful evangelical figures, making their seemingly most prominent mission to change the political current towards their own agenda.
Between his growing political power through his political organization the Moral Majority and the fact that as of 1981 Falwell, Sr.'s Thomas Road Baptist Church and Moral Majority pact had over 950 employees and an annual operating budget of $56 million tax-free, Falwell established himself as a highly influential American leader, building an empire on exclusion and wealth.
Falwell, Jr., built a similar empire, as "God Forbid" makes clear. He built close relationships with Republican politicians, coming to a crescendo with his early endorsement of Donald Trump on January 26, 2016. Giancarlo Granda remembers Falwell, Jr., sharing that Trump offered him the position of Secretary of Education, but Falwell, Jr., rejected it because "my father told me it was better to be a kingmaker than king." Falwell, Sr., built an architecture for religious leaders to become political deciders, a structure that Falwell, Jr., replicated in 2016. "God Forbid" further illustrates this by juxtaposing Falwell, Sr.'s endorsement of Ronald Reagan with Falwell, Jr.'s of Trump. Randall Balmer, Episcopal Priest and historian of American religion, states "One thing Jerry, Sr., taught us was that politics, demagoguery, and hysteria is a way to make more money, give him more influence, and more power. And so Jerry, Jr., recognizes this and really picks up what his father had started."
The 1981 interview, which Falwell, Sr., was unaware would be published in Penthouse, reveals a more piercing perspective on Falwell, Sr. 's true beliefs and strategy. Penthouse publisher Bob Guccione stated that he believed that Falwell, Sr. 's supporters deserved to hear his statements loud and clear, particularly if they were giving money to Falwell, Sr., and his (tax-free) organizations.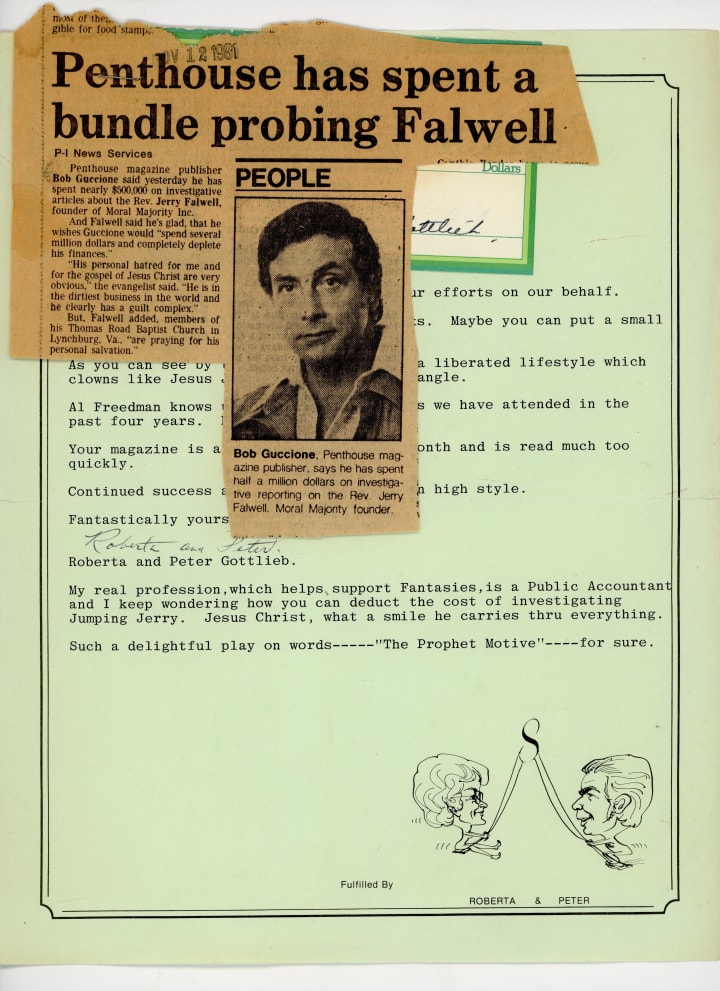 On the Equal Rights Amendment (ERA), Falwell, Sr., boldly stated that "I am more for equal rights for women than the true feminists are. What the true feminists are doing is advocating a unisexual society, which I think is demeaning to womanhood," instead advocating for discrimination "in favor of women." Falwell, Sr., used a similar structure to comment on sex in the media, asserting that while he was all for the discussion of the biblical representations of love and sex he objected "to taking that same story and cheapening it to a Playboy or Penthouse level, where four-letter words, vulgar applications, [and] unholy relationships were applied." Falwell, Sr.'s personal agenda greatly affected the political and legal direction of the U.S., as his Moral Majority held real influence amongst Republican politicians and evangelical voters.
Falwell, Sr., also affirms Guccione's nightmare in the 1981 interview, asserting that if a large number of Moral Majority-backed politicians were elected, a pornography ban would be high on the agenda. Meanwhile, Falwell, Sr.'s own nightmare came true when the interview was published in Penthouse, which helped the March 1981 issue to sell an extra 200,000 copies. Falwell, Sr. 's condemnation of sex outside of the biblical context is now made even more complicated by the fact that extramarital sex led to his son's downfall.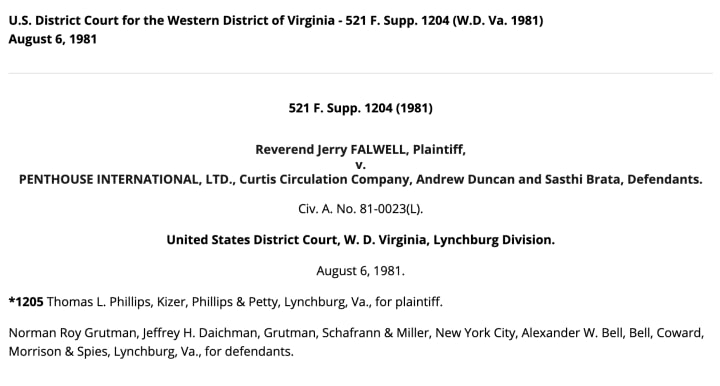 In response to the unapproved 1981 Penthouse interview Falwell, Sr., sued Penthouse and Guccione for $50 million in damages. This suit was unsuccessful, as a judge declared that Falwell, Sr., had "willfully and freely participated in the interview," and that Falwell, Sr., "conceded that the account as published is accurate, truthful, and totally consistent with his statements at the time of the interviews." The ruling might have been partly to blame for the ensuing Penthouse ad campaign promoting an additional 6 part series on Falwell, Sr., with the provocative headline "He may not be Pet of the Month but he's uncovered in this issue of Penthouse." Ironically, Falwell later used the same lawyer who defended Penthouse for his own 1983 suit against Hustler publisher Larry Flynt.
Guccione was passionate about freedom of speech and the ways pacts like Falwell, Sr. 's Moral Majority blurred the lines between church and state. He emboldened Penthouse journalists to investigate and publish stories exposing leaders like Falwell, Sr., for hypocrisy, especially when they made millions of dollars from their often vulnerable followers. While Guccione did of course stand to gain from this reporting, fighting against powers that wanted to take his publications off the shelves, his campaign had lasting impacts on American culture. Reporting on Falwell, Sr., Jim Bakker, and Jimmy Swaggart helped to burst the bubble of highly profitable televangelists and wealth gospel preachers of the 1980s whose influence reverberates to leaders like Jerry Falwell, Jr., today, making his rise and downfall much more predictable.
About the Creator
Exploring the most significant and hidden stories of the 20th century through iconic magazines and the titan of publishing behind them.
Check out our AI OG sandbox - https://vocal.media/authors/og-ai
Reader insights
Nice work
Very well written. Keep up the good work!
Top insights
Eye opening

Niche topic & fresh perspectives

Masterful proofreading

Zero grammar & spelling mistakes

Easy to read and follow

Well-structured & engaging content
Expert insights and opinions

Arguments were carefully researched and presented

Heartfelt and relatable

The story invoked strong personal emotions

On-point and relevant

Writing reflected the title & theme
Add your insights