The Adirondack, or Burnell, or Westport, or Muskoka, Chair
Unknown History of the Adirondacks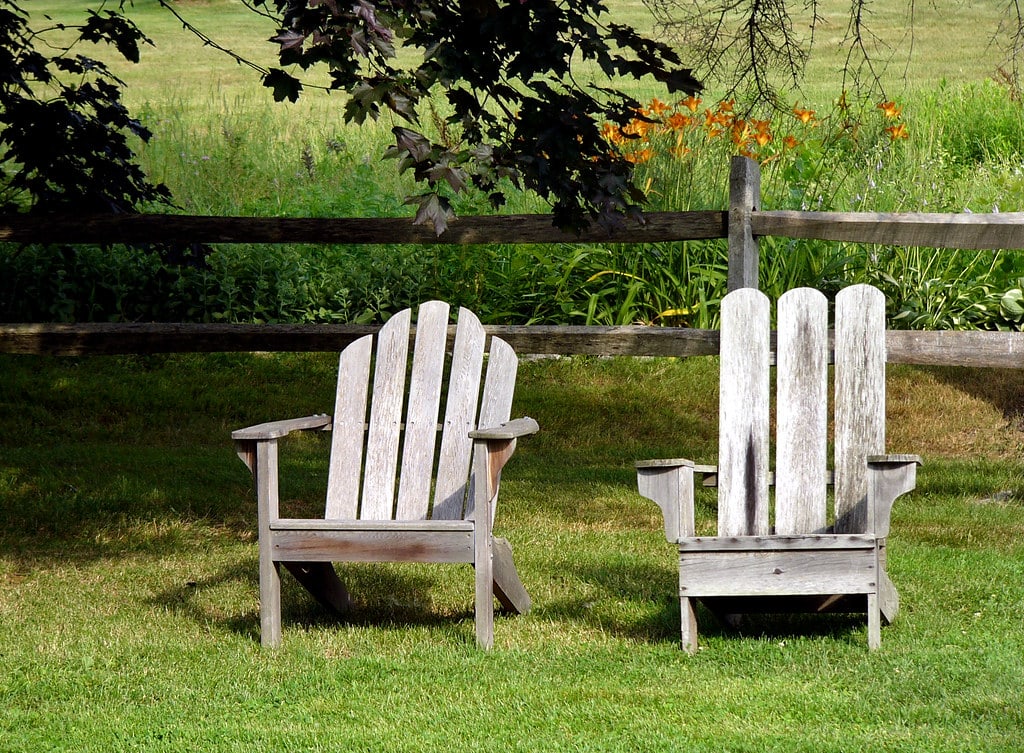 Anyone who has ever been to the Adirondacks, or even remotely close to them, knows what an Adirondack Chair is: big, broad back, high enough to rest your head on; large, over sized arms; built on a slight slant to adjust for the steep mountain terrain. All made out of wood. But what is a Muskoka Chair? The same exact thing, except if you call an Adirondack Chair a Muskoka Chair, then you must be a Canadian. And what about a Westport Chair?
Ahhh...not many people alive today have heard of a Westport Chair. Why? Because a Westport Chair was the original name for the Adirondack Chair. Westport? Westport Connecticut? Nope.
There is in fact a small town populated by about 1500 people called Westport, New York, on the western shores of Lake Champlain. It is on the very eastern edge of the Adirondack Park, and is quite a picturesque vacation destination. In 1903 one Mr Thomas Lee set about to build the perfect chair for such a spot, as all his relations had taken up those in his mountainside cabin.
Mr Lee went through several trials and errors, using the excess wood outside his cabin for test chairs and all his relations for test subjects. He finally settled on a design using only eleven pieces of wood, brilliant in its simplicity. His family and friends loved the chair. Lee gave the design to a local friend, Harry Bunnell, a carpenter looking for something to do during the dreary Adirondack Winter months, something that would also bring in a few extra dollars.
This chair was it. Burnell improved the design a slight bit and the 'Westport Chair' sold to the Summer visitors like hotcakes. They sold so well, in fact, that two years later Burnell got the patent for the chair. By all accounts, he didn't ask Lee, but also by all accounts, Lee took no offense to this. Burnell continued to make these chairs for 20 years, selling them for $4.00 each, fashioning them out of hemlock and painting them all green or dark brown. All of Burnell's chairs are signed by the craftsman himself, and stamped with his patent number; some are still around today.
So how did the name change from a Westport chair to the well known Adirondack Chair? That is also due to Burnell.
Burnell was more than just a local carpenter and clever businessman. He saw even more in the design of these chairs than dollar signs from the tourists. Burnell saw a chair that could be used not only as a place to relax on the porch or lawn of a Summer camp, he saw a chair that would be of great benefit to the thousands of invalids that visited the Adirondacks every year. A chair that would enable them to rest their entire body and still enjoy the views around them. In our modern life of Barcaloungers and La-Z-Boys, we don't know how important that was to an Edwardian invalid.
Time goes on, the Adirondack chair continues in popularity even after Burnell no longer makes them. In the 1940s mail order kits were created so these wondrous chairs could be made all over. Burnell had designed additional chairs for kids, and double chairs, sharing one arm rest between them, known as tete-a-tetes. Now Adirondack chairs can be found as swings, gliders, and benches.
Gone are the days of only brown and green chairs as well. Artists find that they make a beautiful canvas for oils, ceramic tiles, even mixed media. Some places celebrate this artwork by holding outdoor art exhibits or fundraisers. Glens Falls, NY, just south of the Adirondack Park, has a project called "Have a Seat in Glens Falls", from Memorial Day through Labor Day, with 35 chairs scattered throughout the city. All the chairs are up for auction at the end of the season.
What if one Summer Thomas Lee and Harry Burnell decided to walk down the streets of Glens Falls and have a seat in some of the modernly decorated chairs. The chair no longer quite resembles the patent, but they would surely recognize their co-creation. Bright colors aside, I am sure they would still find them just as comfortable as t he Adirondack, Burnell, Westport or Muskoka Chair.
About the Creator
I write about history, travel, and whatever crosses my mind. I love to explore and learn, and love history as much as science. I take a different view of the world, and do my best to convey that view when I write.
Reader insights
Be the first to share your insights about this piece.
Add your insights