Make Your Fruits and Vegetables Last Twice as Long
Wash and clean your fruits and vegetables and store them in jars to keep them from going bad.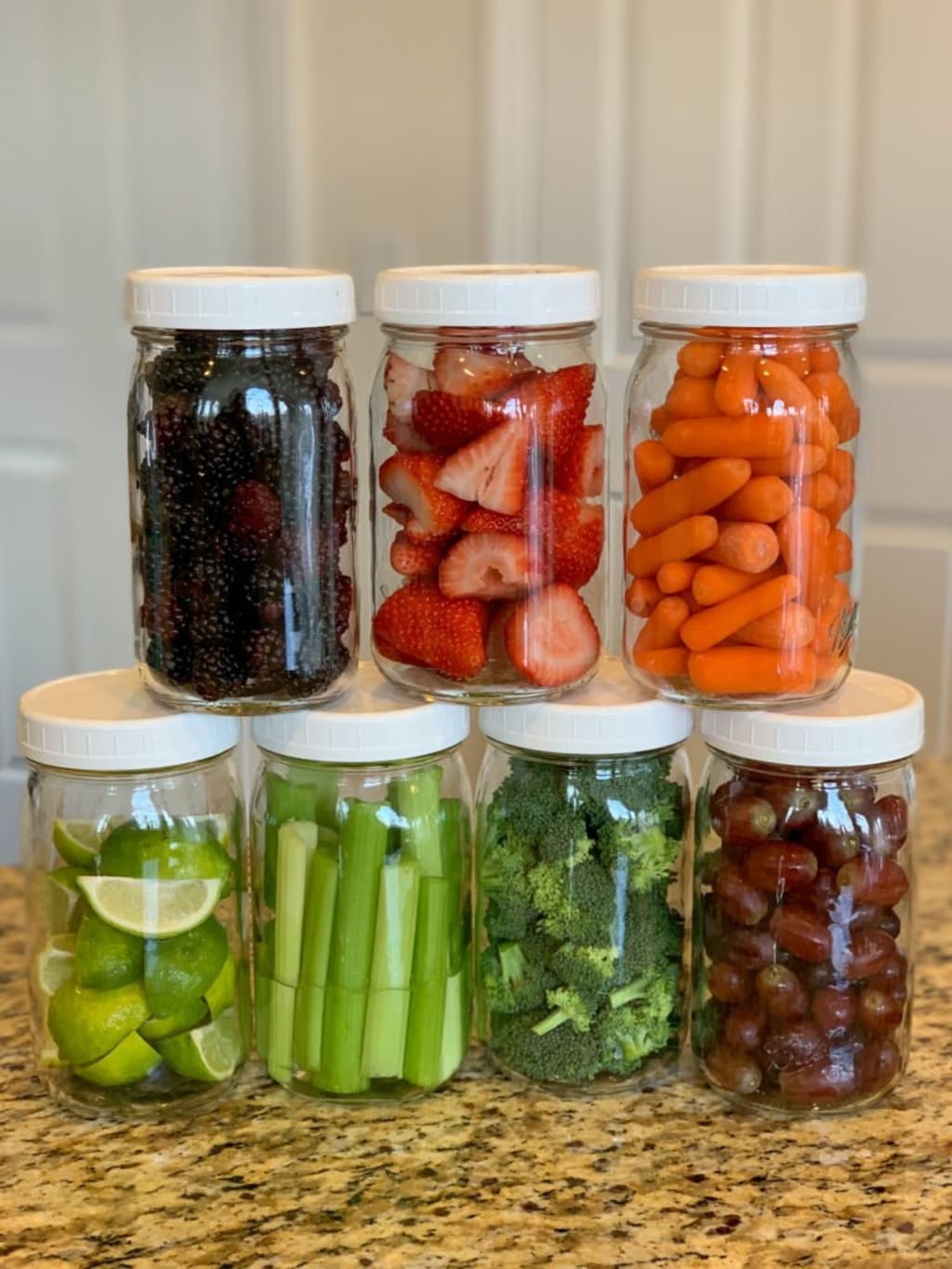 (Photo via Pinterest)
I was tired of my fruits and vegetables going to waste before my family could consume them. I would often purchase a carton of strawberries one day, and they were moldy the very next day. I had decided to give up purchasing them until my sister enlightened me about washing and cleaning them and storing them in Mason jars or other jars. I was happy to discover that this method works for not only strawberries but also for other fruits and for vegetables.
You might be wondering how the method works. Like you, I was curious and skeptical at first. Since I was at my wits' end, I decided to give it a try. Therefore, I purchased some jars and from now on I am saying "good riddance" to ruined fruits and vegetables.
When you prep your produce and store them in jars, they stay fresher longer. You will be able to eat foods that are fresh for many days after you purchase them. You are saving money by not wasting food. Besides, the fruits and vegetables will be ready whenever you want to eat them.
There are only five quick and easy steps to help you save money and time.
Step 1: Wash and Rinse
Wash your fruits and vegetable thoroughly by pouring about ½ cup of white vinegar and 2 ½ cups of water into a large bowl. Soak your fruits and vegetables in the mixture for a few minutes. The vinegar will get rid of mold spores and bacteria that make your produces spoil quickly. Your produce won't taste like vinegar after you have washed them in vinegar and thoroughly rinsed them.
Step 2: Dry
Dry your fruits and vegetables thoroughly so there is absolutely no water left on them. Leave your produce on the counter for a couple of hours. Use a paper towel to help speed up the drying process.
Step 3: Cut
The way you cut your produce depends on its type. Remove grapes from the stems. Cut vegetables into bite sizes so they will be easy to grab and eat. Store only celery hearts instead of the whole celery stalk. (See celery hearts in the photo above).
Step 4: Put in Jars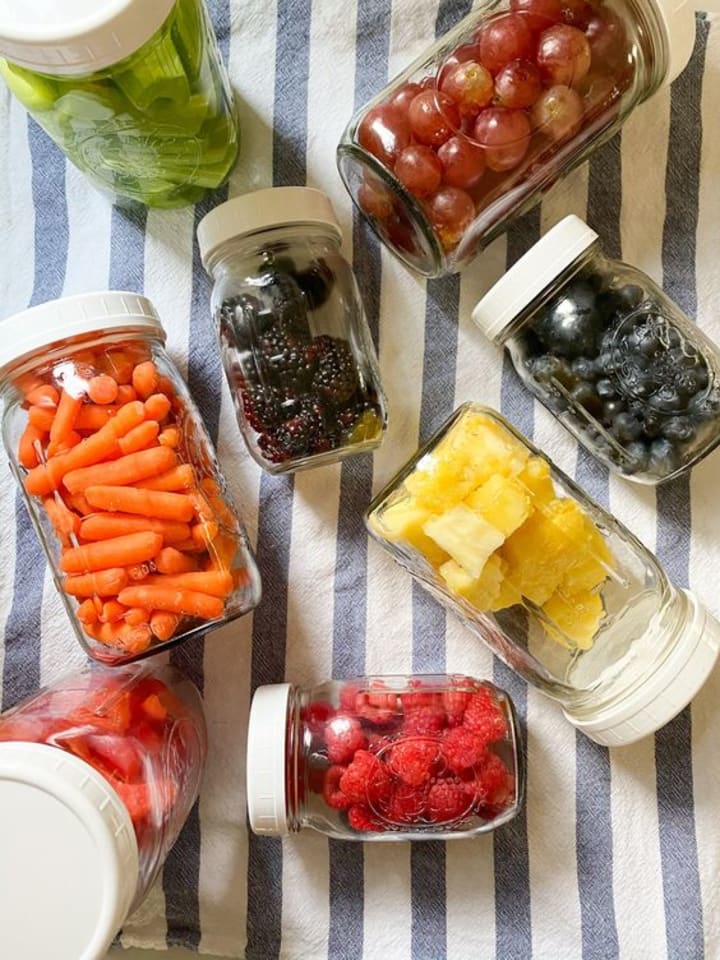 You can use any type of jars, but most people prefer using wide-mouth Mason jars with plastic lids to keep their produce fresh much longer in the refrigerator. The jars help preserve the freshness of fruits and vegetables.
Most people also prefer not to mix the fruits and vegetables unless they intend to eat all of them in a salad right away. In other words, use a jar for each fruit and for each vegetable as shown in the above photos.
Step 5: Store in Refrigerator
After you have prepped fruits and vegetables and put them in jars, store the jars in the refrigerator until you are ready to consume the produce.
Strawberries in Jars
My major concern was about my strawberries going bad as soon as I brought them home. After doing some research on Pinterest, Instagram, Facebook, and Twitter, I was delighted to find out that strawberries can last up to three weeks after they have been washed, dried, cut up or left whole, and stored in jars in my refrigerator. After three weeks, they will be as fresh as when they were first purchased.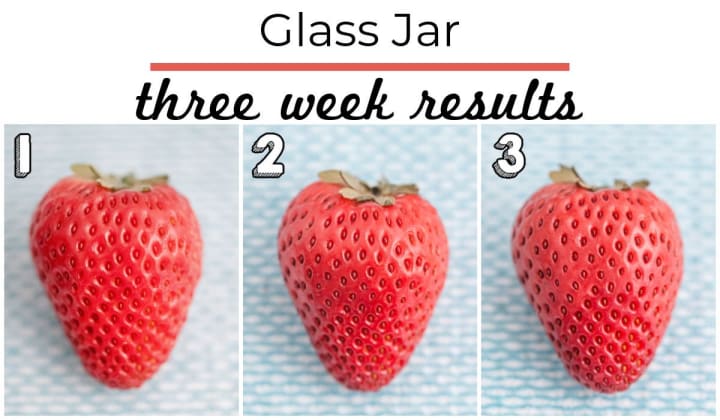 Reasons You Will Love This Method
Fruits and vegetables stay fresh much longer when stored in jars. They don't spoil, get mushy or moldy like they do in the original plastic package they come home in from the store.
This method saves time because fruits and veggies have already been prepped. They are ready and convenient for family members to just grab something from the jars to eat as a quick snack.
You save money because you don't end up throwing away spoiled produce.
Please share this information with others so they can stop their fruits and vegetables from going bad.
Science
Margaret Minnicks shares articles with readers all over the world. Topics include celebrities, royal family, movies, television, foods, drinks, health issues, and other interesting things. Thanks in advance for TIPS that are sent my way.
Receive stories by Margaret Minnicks in

your feed