India Finding the rare "Matryoshka" diamond
The Indian company VD Global, which works in the field of diamond mining and manufacturing, discovered what is known as the "Matryoshka Diamond" in the state of Gujarat, a diamond that contains another diamond that moves freely inside it.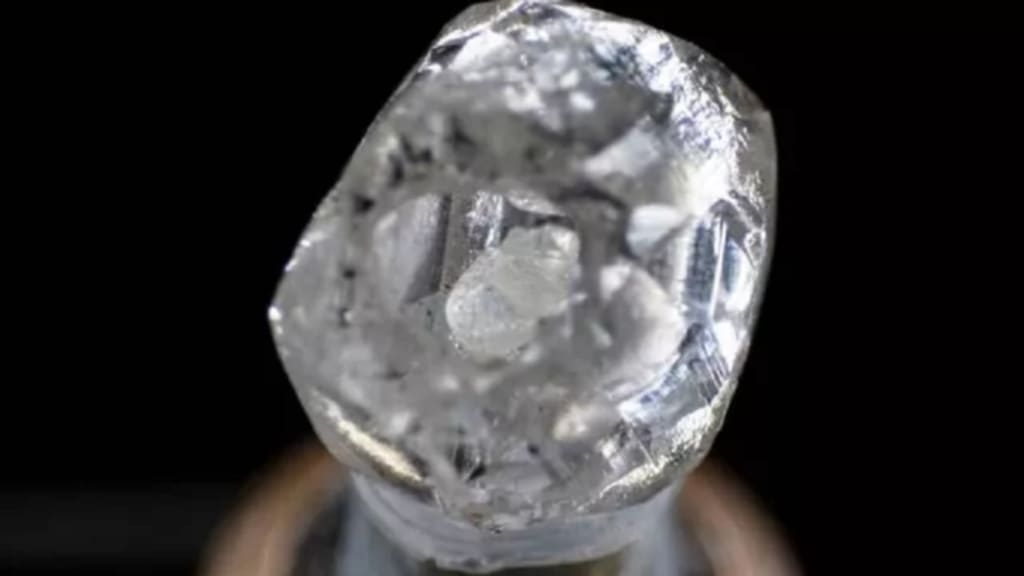 India the diamond was foundNewspaper: The Group of Seven is preparing for sanctions against Russia that will affect 3 million jobs in India
And the Indian channel Wion reported, quoting VD Global, that the discovery of this diamond is considered one of the rarest discoveries ever, and it is called the "beating heart", and it weighs 0.329 carats (0.0658 grams), and it was discovered in October 2022.
It is noteworthy that the Russian company ALROSA extracted a unique "matryoshka" diamond in 2019 In 2019, ALROSA extracted an unusual diamond in the Nyurba mine.
According to the experts who studied the diamond, this was the first discovery of its kind in the history of diamond mining in the world. Source: Novosti
Does it really take 21 days to form a new habit? A new study reveals the secret!
In 1960, a plastic surgeon named Maxwell Maltz published a bestseller that produced a false reality - it only takes 21 days to change your habit and form a new one.
This number was based on Maltz's observations of the time it took his patients to adjust to their new faces. And while this has nothing to do with changing behaviors, many of us still cling to the promise that in just a few weeks, we can make small but impactful changes in our daily lives.
Now, scientists from the California Institute of Technology, the University of Chicago, and the University of Pennsylvania, have challenged that already incorrect notion using data from more than 30,000 gym-goers who worked out nearly 12 million times over four years, and more than 3,000 hospital workers who washed their hands regularly. collectively 40 million times during approximately 100 bouts.
Using machine learning tools to analyze when people's behaviors become predictable — and therefore, habitual — the researchers found (perhaps not surprisingly) that some habits take longer than others to form. It takes about six months, on average, to get into an exercise routine, for example.
"Contrary to popular belief about a 'magic number' of days to develop a habit, it usually takes months to form a habit of going to the gym but it takes weeks," wrote a team of behavioral scientists, led by Colin Kammerer, at Caltech. To develop the habit of washing hands in the hospital.
And trying to understand habits—how they are created and how to break them—is of enduring interest to psychologists for obvious reasons. Habits, good or bad, can have huge ramifications for our health and well-being: simple habits can relieve the stress of making simple decisions in one day; A life shrouded in addiction can quickly unravel.
Interesting though, this new research is one of the few studies that has looked at how quickly people form new habits in real-world conditions, outside the synthetic confines of psychology labs.
One 2009 study found that it took nearly two months to establish a habit associated with a daily cue to eat breakfast, for example. But there was significant variation among the 96 volunteers: It took anywhere from 18 to 254 days for people to feel their new habit was becoming automatic.
However, these studies relied on people filling out surveys to report their behaviors, while this new study analyzed point source data on gym visits and hand-washing practices to see when actual, repeated behaviors became predictable.
And just as gym members had to check in upon arrival, employees participating in a separate study monitoring handwashing in hospitals had to scan an ID card every time they washed their hands. The data included details that allowed the researchers to study specific variables, such as the time of day or day of the week, to determine if they had any effect on an individual's behaviour.
"Using machine learning, we can observe hundreds of context variables that may be predictive of behavioral execution," explains behavioral scientist Anastasia Boyalskaya, who now works for a French marketing company after completing her graduate studies at Caltech.
If more time had passed since they last hit the gym, gym-goers were less likely to return, but the time of day had little effect on people's usual attendance. As with previous research, maintaining some flexibility in your exercise routine seems to be important, but consistency is also important.
And two-thirds of gym-goers stuck to the same days of the week, with Mondays and Tuesdays popular — again, this mirrors other studies suggesting peak motivation around so-called new start dates.
In terms of making a new exercise habit stick, it took between four and seven months, modeling suggests, which is more than double what previous studies found. On the other hand, it only took weeks before health workers started washing their hands routinely.
He explains that forming a new habit really depends on the person, but also on the behavior itself, the amount of time and effort it takes, and the cue that triggers it.
The study is published in PNAS. Source: ScienceAlert
Sinking a ship to create a coral reef
A ship was deliberately sunk off the coast of Florida, USA, with the aim of creating artificial coral reefs.
Officials from the Okaloosa County Coastal Resources Team worked with Destin-Fort Walton Beach Tourism to deploy the RMS Cyclops four miles out in a lake southeast of Destin at a depth of 72 feet (more than 21 meters).
The ship will rest upside down, providing a structure for marine life to create an environment for living.
"Marine life is looking for structures to live and thrive in," officials said. "These artificial structures provide this habitat for these creatures. It provides marine life with a strong ecosystem that was previously lacking on the shores of our shores in the Gulf of Mexico."
The ship is one of dozens of structures the county has deployed in recent decades, including concrete piles, custom-built units and other shipwrecks, to help develop coral reefs in the area. Source: storyful
Elephant Nour Jehan dies in Pakistan after surgery she underwent
The 17-year-old elephant, Noor Jehan, has died after undergoing a critical operation that was recently performed by an international team of veterinarians at a Pakistani zoo.
Noor Jehan was brought to Karachi along with 3 other elephants more than 12 years ago, and Kanwar Ayub, a senior official at the Karachi Zoo, said the female elephant died after an accident just days after a procedure conducted by a team of experts based in Austria to assess her condition. .
Karachi's top local government official, Syed Saif-ur-Rehman, said the city and zoo managers did everything they could to comfort the female elephant, who was suffering from a long illness after the procedure this month.
Videos of Noor Jehan leaning her head against a tree and struggling to stand have caused alarm in Pakistan and around the world.
The team included veterinarians from Egypt and Bulgaria and an elephant breeding expert from Germany, and was headed by Dr. Amir Khalil from Egypt.
In turn, Khalil said that her death came after an accident that occurred on April 13 in her barn, which made her unable to leave the swimming pool in her barn for hours. Indicating that because "Nour Jehan" was already weak from her condition, she did not have the strength to stand up again. And she died after a struggle that lasted 9 days. Source: AB
Reader insights
Be the first to share your insights about this piece.
Add your insights