Fuck It; I'll Do It Myself
From a self-inflicted c-section to creating a cult movie, these individuals made their own success.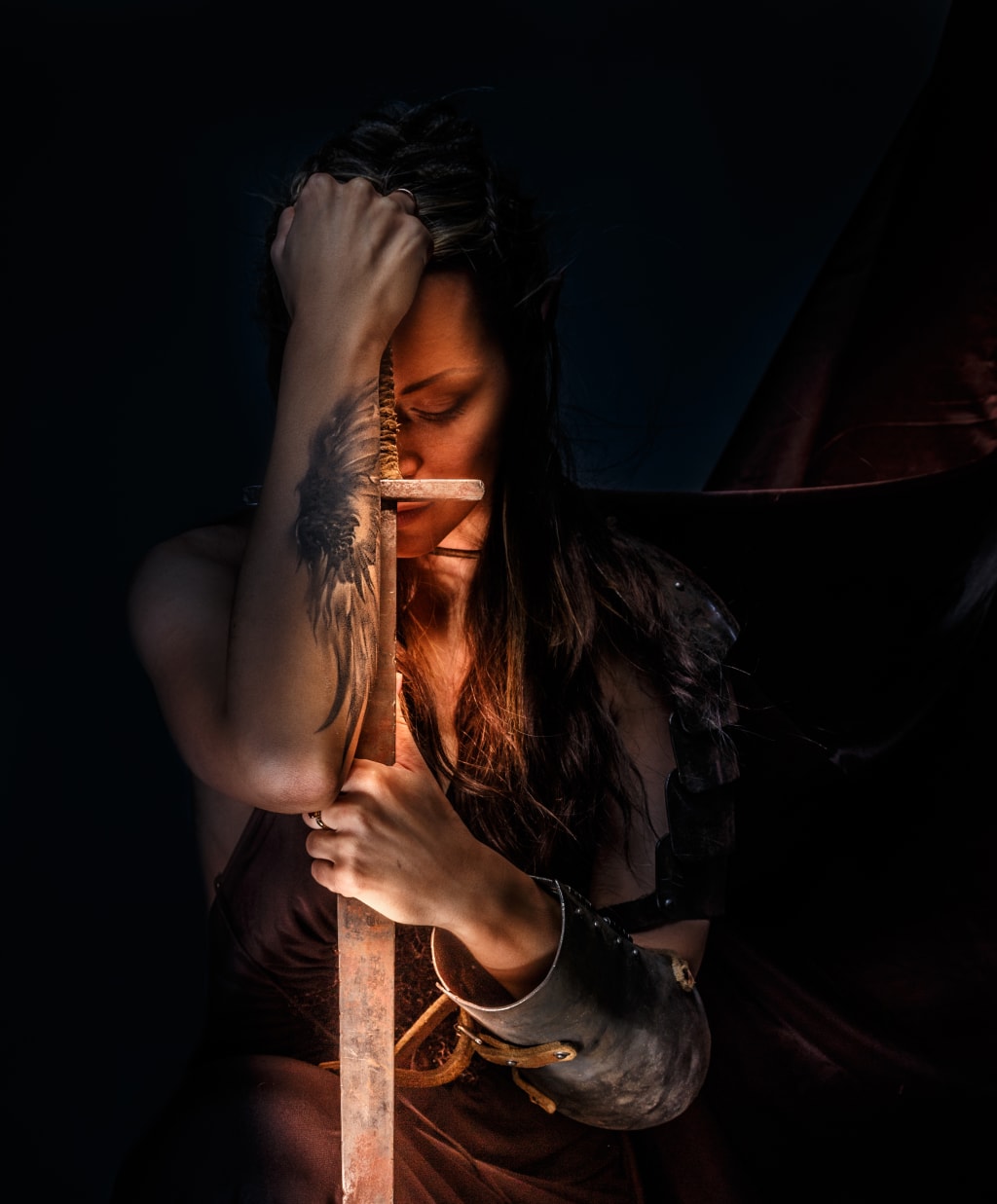 Image courtesy of FXQuadro via Shutterstock
Inés Ramírez Pérez
It was just after midnight on 5 March 2000 in Rio Talea, a secluded mountain community in southern Mexico. A mother would make history in a one-room cabin with a dirt floor.
Inés Ramírez Pérez, then 40 years old, was in labor. 
She had already been in labor for half a day, and her discomfort and agony increased as the hours pressed on. However, because of its extreme isolation, this community did not have any contemporary medical facilities. No medical professionals, such as doctors or nurses, could be contacted for aid. 
The nearest hospital was more than 50 miles distant over rugged terrain and unpleasant roads, and her husband, her lone aid during a half-dozen previous births, was socializing at a cantina.
And to top it all off, there was only one phone in Rio Talea, and neither Inés nor the cantina possessed it. 
Soon to be a mother of seven, Inés knew she was in a precarious situation. As the minutes ticked by, her thoughts kept going back to a couple of years previously when she was pregnant. When her water broke, a midwife examined her and indicated she needed a cesarean section. However, there was no feasible method to quickly transport her to the hospital. 
Consequently, she gave birth to a stillborn baby girl. She vowed to herself that she would never allow something like that to happen again.
Realizing that she could not give birth vaginally, Inés drank several swigs of hard liquor to dull the agony and reached for a six-inch-bladed knife. She lacked medical training but relied on her experience in butchering animals to do self-surgery. Rather than cutting horizontally along the bikini line, she made three separate incisions in her abdomen while squatting, cutting vertically adjacent to her belly button. 
She sawed through skin, fat, and muscle under the faint light of a single light bulb before reaching into her uterus. It took her nearly an hour of strenuous work before she could extract the baby boy from her womb successfully. Inés grabbed a pair of scissors and cut the baby's umbilical cord before collapsing into unconsciousness.
Upon regaining consciousness, Inés sent her six-year-old son Benito into town to ask for aid. 
Several hours later, Benito returned with the village health assistant, Leon Cruz, who stitched up Inés wounds using an ordinary needle and thread.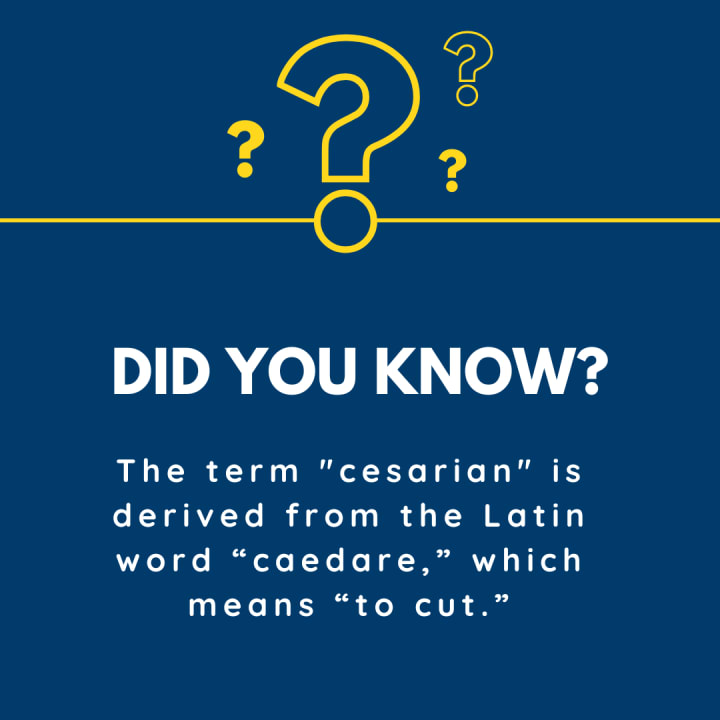 Leon Cruz and another health worker assisted Inés in transporting her and her newborn boy, whom she named Orlando, on an eight-hour drive to the hospital. There, 16 hours after Orlando's birth, physicians were able to stitch her up completely.
Doctors were amazed by Inés' ability to perform a successful c-section on herself. Upon examination, the doctors reported that her internal organs were spared damage as a result of her cutting technique, which most likely kept her alive. Moreover, internal hemorrhage and sepsis were absent, and her uterus was acting almost exactly as it would have following a standard delivery. 
She would later tell reporters:
"I couldn't stand the pain anymore. If my baby was going to die, then I decided I would have to die, too. But if he was going to grow up, I was going to see him grow up."
After some time had passed, those doctors would publish Inés' case study in the International Journal of Gynecology and Obstetrics, thereby drawing much-needed attention to the situation of women like Inés, who live in rural areas and lack access to competent medical care. 
Inés was also given well-deserved credit as the first and so far only known woman to have performed a cesarian section on herself in which both the mother and the baby lived, according to the published study.
Elisha Graves Otis
Elisha Otis, the American Industrialist, is often credited as the inventor of the elevator, but that is a common misconception. 
Elevators using human, animal, or water wheel power have been used since the third century B.C.E. 
In the early decades of the 19th century, elevators were sold commercially to transport freight and passengers. However, the ropes used to support the elevators would get worn or damaged and frequently snapped, causing the elevator to plummet to the ground. 
Such failings left whatever freight the elevator carried susceptible to damage, and the fall frequently killed human passengers.
As such, these elevators were not widely trusted for the transportation of passengers. 
That was until Elisha Otis entered the picture. 
In 1852, Otis had been hired to transform a sawmill into a bed factory in Yonkers, New York. As the master mechanic, his role was to oversee the opening of the new factory and the setting up of its equipment.
Otis soon realized he needed a secure way to move heavy building supplies while renovating the factory. With his sons' help, who also worked in the factory, Otis conceived of and erected the first elevator to feature an automatic safety device to keep it from plunging to the ground if the hoisting chain or rope snapped, which he termed the "safety hoist."
Otis knew his invention was a game-changer. The following year, he quit his job and opened an elevator company in Yonkers. He sold his first elevator on 20 September 1853. 
In the subsequent few months, he sold a handful of freight elevators, but he needed more customers. To save his company, he needed to prove to New Yorkers and the world that his elevators were safe. And he would do so in spectacular fashion!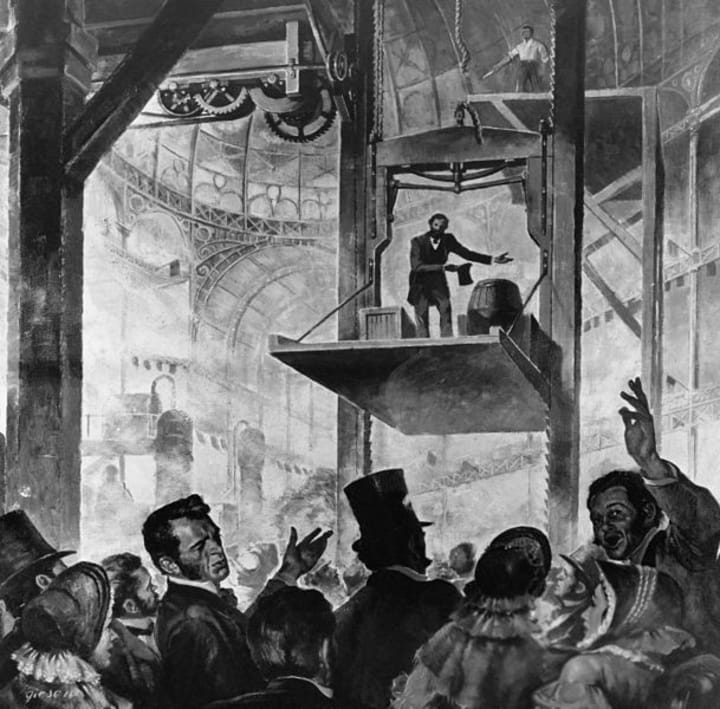 At the 1853–1854 World's Fair in New York, Otis exhibited his "safety hoist" concept.
Otis rode a platform to a great height in front of a crowd of onlookers at the New York Crystal Palace. He then shocked the public when he ordered the only cable holding the platform he was standing to be cut.
An axe sliced through the hoisting cable, and Otis declared to the audience, "All safe," as his safety gear prevented the fall.
The publicity stunt worked, and in 1857, Otis erected the first passenger safety elevator in a New York department store.
Tommy Wiseau
Tommy Wiseau couldn't land an acting job in Hollywood, so he wrote, produced, directed, and starred in his movie, The Room. All despite having no experience in any of those fields. 
The rest is pop-culture history. 
The Room follows the dramatic tensions that arise between the film's protagonist, a charming banker played by Wiseau, his fiancée, played by Juliette Danielle, and his confused best friend, played by Jason Schwartzman. The film spends a good chunk of its running time on several side stories concerning the protagonists' close circle of friends and family members that have neither a clear resolution nor seem to have any bearing on the main story.
On 27 June 2003, a select number of Los Angeles area theatres played the first screenings of The Room. During the film's self-distribution run, Wiseau included a free CD of the film's score with every ticket and ran a TV and print ad campaign that likened The Room to the works of Tennessee Williams.
Additionally, Wiseau rented a billboard on Highland Avenue featuring a close-up of his glowering face, he then submitted the picture to the Academy Awards, where it was unsuccessful. Robyn Paris, one of the film's cast members, recalls the premiere showing as "a big thing," with Wiseau chauffeured around in a limousine. There was even a spotlight set up for the occasion.
Truly the epitome of, Fuck it; I'll do it myself, The Room is the culmination of Wiseau's exorbitance and determination to attain long-term success, fueled by his seemingly unlimited money at the time of its production.
Despite Wiseau's attempts to portray The Room as a black comedy, moviegoers and even some of the performers featured in the film have mostly viewed it as a poorly produced drama. The film was panned by critics and underperformed at the box office, but its popularity and earnings have since surged.
The Room quickly became a cult film following its first limited release in California due to its bizarre and unorthodox storytelling, technical and narrative issues, and Wiseau's off-kilter performance.
Reader insights
Nice work
Very well written. Keep up the good work!
Top insights
Easy to read and follow

Well-structured & engaging content

Masterful proofreading

Zero grammar & spelling mistakes

Excellent storytelling

Original narrative & well developed characters
Heartfelt and relatable

The story invoked strong personal emotions

Compelling and original writing

Creative use of language & vocab

On-point and relevant

Writing reflected the title & theme

Expert insights and opinions

Arguments were carefully researched and presented

Eye opening

Niche topic & fresh perspectives
Add your insights