Cocoon
The place I am most comfortable in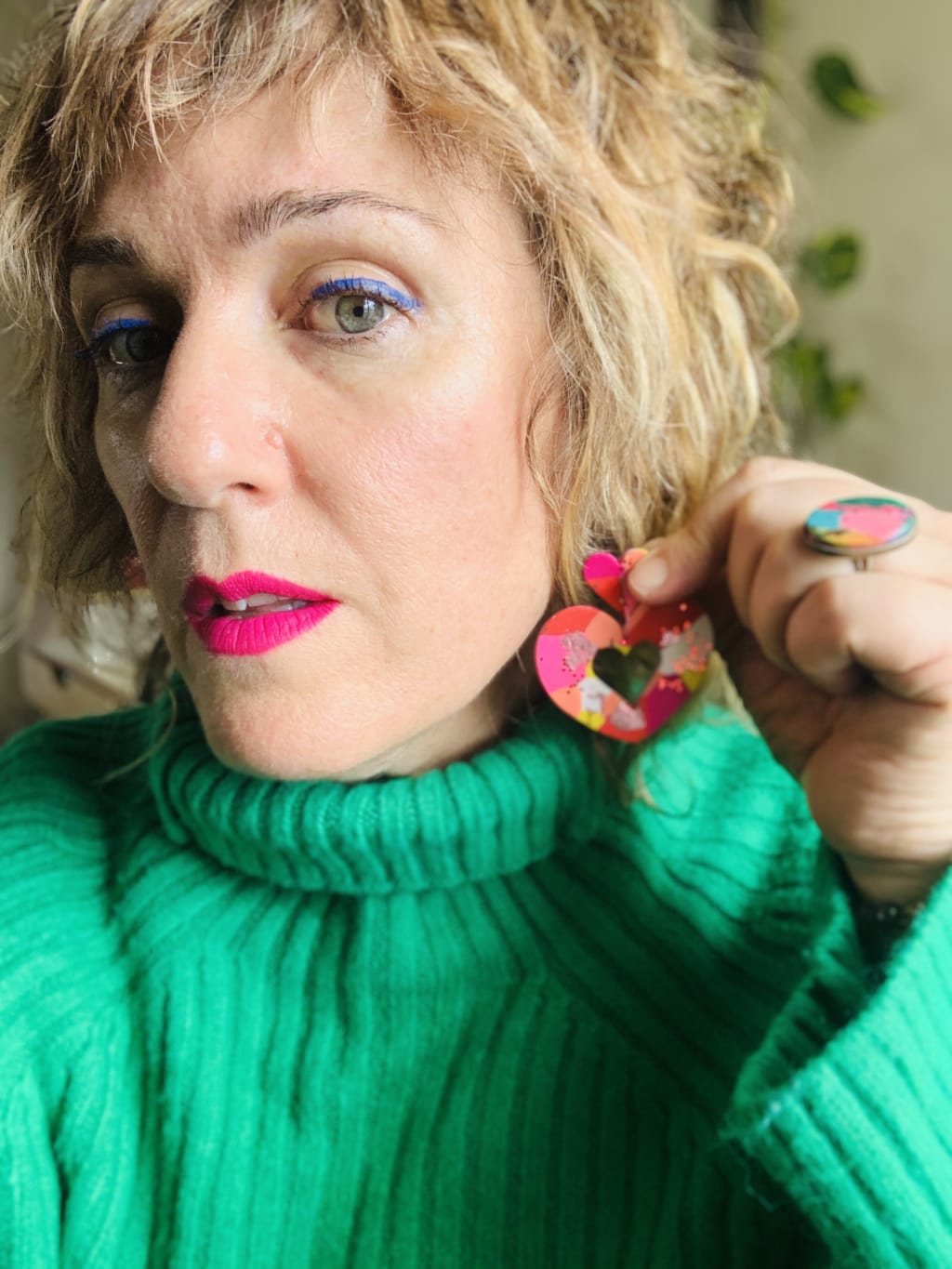 Ba, bump. Ba, bump. Ba...bump......My heart rate slows and I am totally in the zone. Shut off to the outside world, my noise cancelling headphones protect me from interruptions. I am itching to get going. Ideas swim like colourful, tropical fish around and around in the glass bowl that is my head. A podcast is playing. Check! A freshly brewed, strong coffee is steaming at arms reach. Check! Colourful polymer clay is lined up. Check! My tools are prepared. Check! Hands are at the ready, desperate to make something so I can find release. Hang on! Where is the chocolate? Phew! It's hidden in the creases of the couch. I may desire this later to keep me focused in my happy place. Now, to begin.
I listen to soothing tones of the podcast presenter filtering through my headphones while the clay is softened by the warmth of my palm. This requires work, but I have the time. It circulates around, each finger and my thumb playing their part. The texture of the clay calms me. My husband is trying to speak to me. I pretend that I hear him and nod. This is my time. Go away! As selfish as this may sound, my body requires me to cocoon myself in this space so I can cope with the outside world. I think of nothing else but the colours, the technique and what sparkling baubles I will make today. I am the caterpillar making a butterfly.
The clay is ready. I flatten it, placing it on the baking paper. My wooden guides at the side, I move the plastic rolling pin over the softened surface. The abstract patterns and vivid colours that popped into my imagination this morning, come into play. The ideas are forming. Decisions are defined and made. I reflect for a moment why I love this craft- I think of nothing else but the process, which takes me away from the stressors of my real life job. It goes without saying that teaching is emotionally taxing. On taking time-out from this world, I soon realised a release is required to cope. Something just for me. Expressing one's self is a truest form of gratification. Grateful for the freedom of expression, I feel the luckiest person alive when I'm wrapped up in my blanket of creativity. If I'm honest, I'd prefer to do this than eat or work.
Colours before me, I pick and chose my palette with inate intuitiveness. Whether I tear, cut, shape, mould or sprinkle elements onto the surface, the process threads back to what I have imagined and visualising the idea with pure clarity. Right now, I am full to the brim with satisfaction. Like someone who has just eaten the most delectable meal. Satisfied, I cut the shape of the earring, smooth the edges and create a hole for the wire. I decide to add a touch of sparkle. There is always room for shiny metallic. Always, as it complement the vibrancy of my colour palette. I sense the butterfly's wings spreading.
I reach for my shape cutters again. Which stud will go best? I mull this over, pairing shapes to create the best design and the most fluid curves. Ah, yes. That will do nicely. Everything has to balance in my world, otherwise the world doesn't feel right. The last hole is created, edges smoothed and then into the oven. We are almost there. Timer on. Check! Sandpaper ready. Check! Now I wait.
Diddle, diddle, diddle, diddle, der! I jump up from my cost spot to retrieve the jewels. I can barely wait to sand them to perfection. The butterflies will soon adorn someone's ears, and I am now at peace.