A majestic scene to perform the Eid al-Fitr prayer in the city of Qarara, in the Algerian state of Ghardaia
Pictures and videos of the Eid al-Fitr prayer in the city of Qarara, Ghardaïa Province, Algeria, yesterday, Friday, were widely circulated on social media, according to the owner of the pictures.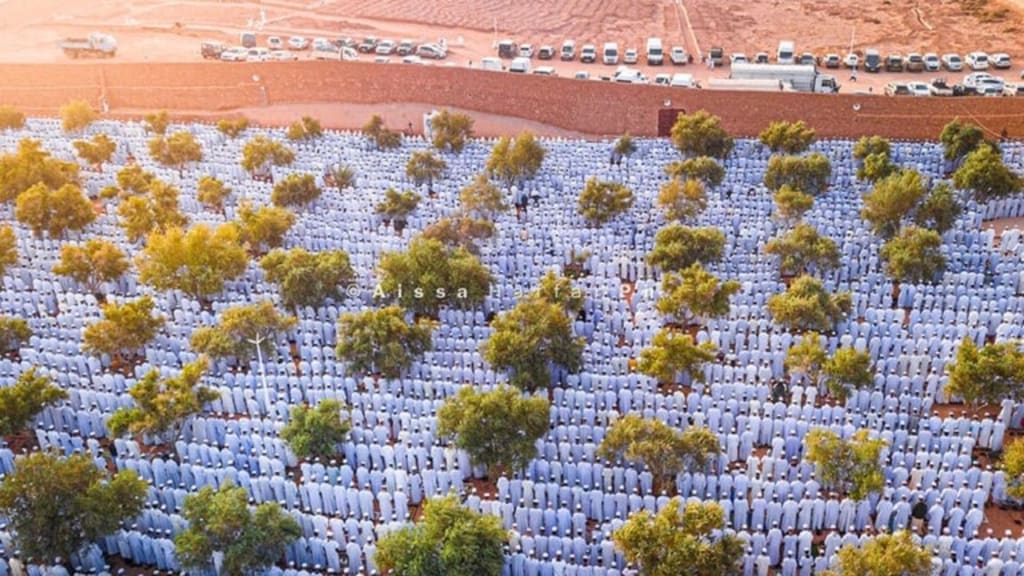 The residents of Al-Qarara city have been performing the Eid prayer in the backyard of the mosque, which is the largest space in which worshipers meet, in a festive and tradition that has become a mark registered in their name.
The crowds of worshipers wear a unified, white mantle that makes them equal, in an imaginary homogeneity and unique consistency among all age groups.
The video and photos were circulated widely, even in the foreign press, where the pioneers of social networking sites expressed their fascination with the painting drawn by the residents of Ghardaia in their registered trademark. Source: An-Nahar Online Algerian
How do we deal with stress?
Dr. Vadim Gagin, a psychiatrist at the Department of Psychiatry at the Institute of the Human Brain of the Russian Academy of Sciences, revealed how to deal with problems related to mental health.
In an interview with Gazeta.Ru, Gagin notes that in order to face all psychological problems, a person must learn to manage all his emotions and the emotions of his loved ones and relatives.
He says: "According to statistics, one out of every four people suffers from a mental illness in his life. This does not only include anxiety and depression, but also other diseases, from which no one is immune. Therefore, it is very important for a person to learn how to monitor his condition. It is also necessary Also reduce the level of refusal to see a psychiatrist and psychotherapist.
According to him, it is important to talk about potential problems so that they do not become more complicated.
He says: "We do not differ much in terms of psychological structure and nervous system from our distant ancestors. The question here is how we will deal with our emotions and thoughts. I personally believe that future generations will be more knowledgeable about mental health, and therefore will consult specialized doctors in a timely manner. Not only to treat The problems they suffer from, but rather to prevent them through periodic psychological treatment. Source: Gazeta.Ru
"The richest young man in Egypt" raises the controversy again with "Eid al-Fitr dollars"
On the second day of Eid al-Fitr, Mahmoud Badr, nicknamed "the richest young man in Egypt," sparked controversy on social media by publishing a picture of a wooden board carrying wrapped dollars with his picture and commenting, "Baba's people's feast."
The controversial young man published the aforementioned photo and commented on it, saying: "Baba's family feast the rest of Mama's family, $ 2,900 thanks to his father's family."
Followers commented, including those who said: "Happy New Year," "The text remains," "No, but I hung up on the number of the past year," "I used to complete them with 3,000 thousand dollars."
It is noteworthy that last October, Mahmoud Badri, nicknamed "the richest young man in Egypt", caused an uproar on social media after he appeared while sipping a cup of cappuccino mixed with layers of 21 carat gold, as the cost of this matter amounted to an imaginary amount. Source: Sada El Balad
A great debate about the talk about the origins of Saddam Hussein
A video clip of Sheikh Qais Khazali spread about the late Iraqi President Saddam Hussein, which sparked widespread controversy among social media activists.
A great debate about the talk about the origins of Saddam HusseinOn the 20th anniversary of the occupation of Baghdad.. Raghad Saddam Hussein attacks "sick parties" that accompanied the American occupier
Al-Khazali, who is the Secretary-General of the Shiite "Asa'ib Ahl al-Haq" movement in Iraq, said in his Eid al-Fitr sermon that, based on a DNA test conducted by the United States, it was found that "the origins of former Iraqi President Saddam Hussein belong to India."
During the sermon, he said, "We are an authentic people and not a bastard society like some societies that have now become superpowers. We are an authentic people. Our people have their extensions on this land for thousands of years."
Al-Khazali continued: "We did not come as an import, as Saddam al-Hadam claimed when he accused the indigenous people of this country that they came from India, and then after that when they analyzed the DNA, it turned out that he was the one who came from India, not that this people is authentic and has its roots deep in history."
And "Twitter" was filled with thousands of opinions, between supportive of what Khazali said, and opposition, and this is some of what was reported.
One of the tweeters wrote: "Quoting the genealogist Ahmed Al-Bandawi Al-Kaabi: What Sheikh Qais Al-Khazali preferred is real and identical to what was indicated by the ancient Arab genealogical books, as the Al-Nada clans from which Saddam Hussein descends came from the Indian regions of Punjab."
Another commented: "They feel ashamed of it and deny it, and they want to accept it as it is in the case of the Juridiyah pit of imbalance with it, accustomed to your falsification of the facts from the time of the ten heralds of Paradise."
And another wrote: "They saved it for us, once by subordination, once by Persians, once by Magi, once by Iranians, once by non-Arabs, once by Safavids, and once by tails. Next, their idol is Indian. I swear to the group, why do they like to worship rulers and sultans and sanctify symbols? Maybe the subject is related to the cows of India!!"
Another commented: "By God, who is the Indian and of East Asian descent in this picture? Saddam the Sunni Arab who possessed the honor of rivalry and courage, and these are the most important characteristics of the Arabs. As for Al-Kawli Khazali, who does not have any honor for rivalry or an iota of courage!"
Another wrote: "The act Saddam was not an Arab. The news that spread after Saddam's arrest and the disclosure of the results of the genetic tests that were conducted using the Autosomal STR test also allows the determination of the male or paternal lineage by reading the replicators in the genetic computers to match the ratio of the bodies of Uday and Qusay after their mutilation." ". Source: RT
United States bars boycott a beer brand promoted by a transgender
Grills, a Florida chain of restaurants, has removed Bud Light beer from its menu, after the beverage company hired transgender Dylan Mulvaney to promote its drinks.
United States bars boycott a beer brand promoted by a transgender India.. Deaths and serious cases as a result of a tank of "fake" alcoholic beverages in Bihar
And the owner of the restaurant justified the cancellation of Bud Light beer from his menu, by saying that he does not support homosexuality because it contradicts biblical beliefs.
The American company that produces Bud Light beer lost about $ 5 billion (410.5 billion rubles), after the transgender Dylan Mulvaney promoted the drink.
According to the New York Post, shares of the Anheuser-Busch chain of companies have fallen nearly 4% since March 31.
American bar owners reported that customers stopped ordering Bud Light beer, after Mulvaney promoted the brand, and even a New York bar, known for its large and active gay community, reported that sales of Bud Light bottled beer decreased by 58%, and sales of bottled beer decreased. Bottles of this brand are 70% less.
Grills Seafood Deck and the owner of the Tiki Bar also plans to get rid of all advertising products bearing these brands, saying: "I am disgusted by what you are doing and what you are going to do."
In a related context, a recent poll of 1041 people showed that 54% support the boycott of Anheuser-Busch, the company that produces Bud Light, while 30% oppose it, while 16% expressed that they are not sure of their decision. Source: RT + dailymail
Reader insights
Be the first to share your insights about this piece.
Add your insights